15 Las Vegas Proposal Locations for a Magical Engagement Experience
Bet big on a Sin City proposal.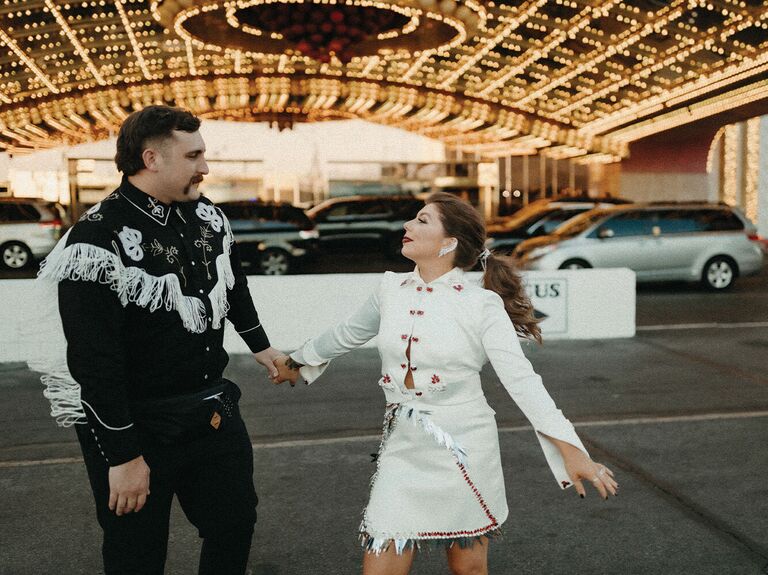 Photo: Logan Cole
If a Las Vegas proposal is in your future, you've come to the right place. Whether it's a restaurant proposal you're seeking out or one that's more private, there's no shortage of Las Vegas proposal ideas to choose from.
We spoke with proposal planner Marvin Velazquez, co-owner of The Heart Bandits with 13 years of experience, and proposal planner Amber Walker, CEO of Amber Walker Events since 2016 and CEO of Pop Box Proposals since 2020, about the best places to propose in Las Vegas in addition to key tips and considerations to make note of when creating the checklist for your romantic proposal.
After you find a proposal planner you feel comfortable working with, visit The Knot Vendor Marketplace to view hundreds of proposal photographers, proposal venues and other vendors you can work with to successfully execute a memorable Las Vegas proposal for you and your partner.
In this story:
How to Decide Where to Propose in Las Vegas
Choosing where you'll present the ring and ask your partner to be yours forever is a personal experience and should be treated as such. "People wanting to propose in Las Vegas should think about the view they want, the crowds and the temperature," says Velazquez. "Most people think of the Las Vegas Strip. There are a number of places on the Strip that are nice, but because of the crowds there, you may want to consider places outside of the Strip." It's also essential to keep your partner's preferences in mind, as you should ideally want your day to consist of elements that appeal to both of you. Walker recommends picking a place where a potential backup plan could be implemented if any unexpected circumstances such as inclement weather were to occur on your special day. If you choose to hire a photographer, it is crucial to be aware of the location's rules (if any) when it comes to photography and videography.
The Best Time of the Year to Propose in Las Vegas
The best time of year for a Las Vegas proposal will vary by couple. However, you should keep the weather conditions of each season in mind as you begin planning as the weather drastically varies throughout the year. "Las Vegas is a desert," says Velazquez. "If you're planning on proposing during the summer, it's best to propose after sundown as direct sunlight would be very uncomfortable. Some people don't realize that winter months are very cold as well." With that being said, choosing your attire based on the weather conditions is vital so you're comfortable (especially on a day that may be striking up some nerves).
"I believe October-April is perfect for a memorable Las Vegas proposal," explains Walker. "Even with the rain showers that may occur during those cooler months, there are plenty of indoor attractions, restaurants and entertainment options in Las Vegas giving you a wide range of choices for your proposal."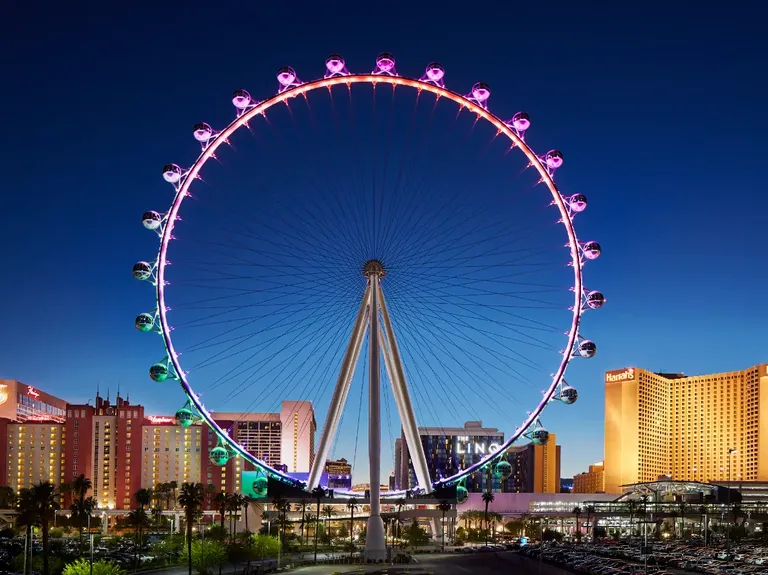 Best Places to Propose in Las Vegas
Las Vegas is home to many of the best places to propose. It was challenging to narrow them down, but these are our favorites.
High Roller
Take a ride on the 550-foot High Roller Ferris wheel for breathtaking views. Although each cabin can hold up to 40 people, you can contact the team in advance to inquire about a private cabin for your special moment if you're looking to just keep things to only you two or only your partner and closest friends and family.
Maverick Helicopters
For a helicopter proposal in Las Vegas, Maverick Helicopters offers romantic flights from the Las Vegas Strip which you can embark on together before popping the question above ground–just make sure your partner isn't afraid of heights!
Red Rock Country Club
If your partner has yet to experience the beauty of red rocks, treat them to a day at the Red Rock Country Club. Whether you plan to propose on one of their golf courses or in front of a mountain, this Las Vegas staple will leave your partner in awe of both their surroundings and the ring.
Romantic Places in Las Vegas to Propose
From gondolas with singing pilots to inviting Italian restaurants, these are some romantic places where you can pop the question in Las Vegas.
Gondola at The Venetian
Whether you'd prefer an indoor or outdoor gondola ride, the Venetian Resort Las Vegas has what you're looking for. To make your gondola proposal an even more special one, you can inform your singing gondola pilot of your plans ahead of time and potentially request a love song or two.
Carmine's Las Vegas
Share a plate of spaghetti with your partner before giving them the ring (or maybe place the ring in the plate of pasta for them to find). Either way, a proposal at Carmine's Las Vegas is nothing short of romantic with its family-style dining and home-like feel.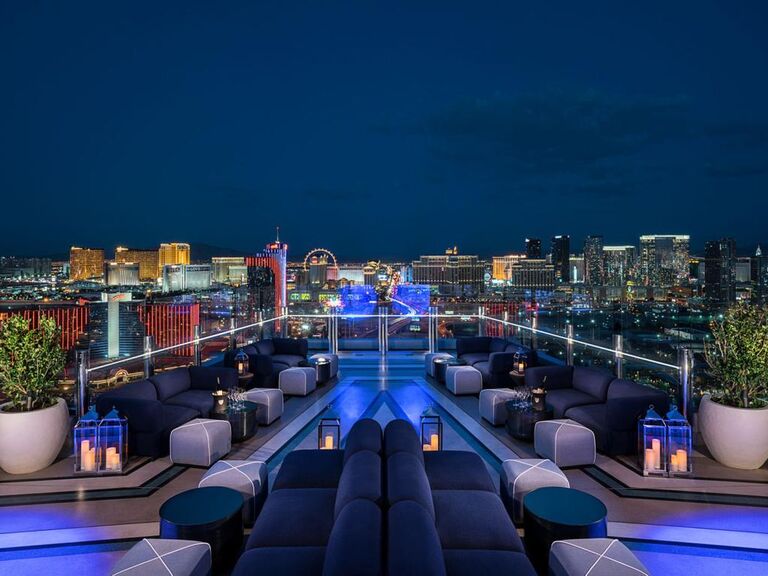 Scenic Places for a Rooftop Proposal in Las Vegas
Rooftops are very popular in Las Vegas since there are so many beautiful sights to see. Read on for some of the most scenic places for a rooftop proposal in Las Vegas.
Ghostbar at The Palms
For a rooftop proposal in Las Vegas, Walker recommends heading over to Ghostbar at The Palms. "Ghostbar offers stunning views of the Las Vegas Strip from the 55th floor of The Palms," says Walker. "The outdoor patio and glass-floored balcony add to the thrill, providing a unique backdrop for your proposal."
Bellagio Conservatory and Botanical Gardens Bellagio Resort
If you're looking for a particularly scenic nighttime proposal spot in Las Vegas, the Bellagio Conservatory and Botanical Gardens Bellagio Resort is it. Home to more than 11,000 plants and flowers, "this location provides a serene and enchanting environment for a proposal with its lush gardens and tranquil surroundings," explains Walker. "It also features seasonal floral displays that are beautifully illuminated in the evenings."
Skyfall Lounge at Delano Las Vegas
For scenic views of the Las Vegas Strip, Skyfall Lounge at Delano Las Vegas is a solid choice. "Its elevated location offers a unique perspective of the city's iconic lights and skyline," says Walker.
The Neon Museum
Although The Neon Museum may not be what first comes to mind when thinking about scenic places for a Las Vegas Proposal, you should give it a try–especially if you and your partner are fans of outlandish decor. Filled with large signs and displays, this museum will offer a great backdrop if you decide to capture proposal photos.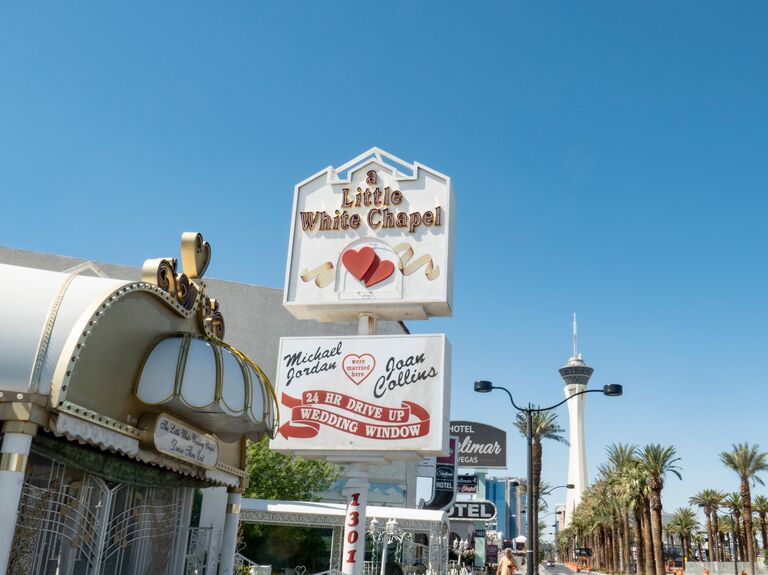 Private Places to Propose in Las Vegas
If you're looking to keep your proposal more private, these are some of the best places to execute your magical moment in Las Vegas.
A Little White Wedding Chapel
If you're looking to propose in stereotypical Las Vegas fashion, A Little White Wedding Chapel is a fantastic place. Although many elopements and weddings happen here, you can also propose to your partner–and maybe even say "I do" at this spot earlier than expected.
Board & Brush Las Vegas
Art lovers will be sure to appreciate a proposal at Board & Brush. Even if you're not the best artist, you can still have fun painting some wood pieces with your partner. We'd recommend painting "will you marry me?" onto your board for an extra romantic touch.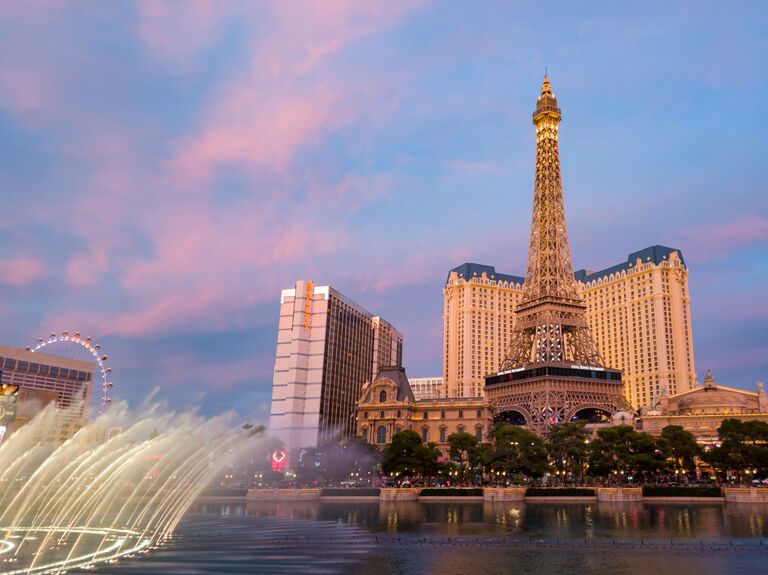 Best Restaurants To Propose At In Las Vegas
There's no shortage of restaurants on the Las Vegas Strip and beyond. These are a couple of the ones we'd recommend for a proposal serving good food and beautiful ambiance.
Eiffel Tower Restaurant
Propose over a meal at one of Las Vegas' most popular yet intimate restaurants. Velazquez recommends The Eiffel Tower Restaurant located on the 11th floor of the city's Eiffel Tower replica. This restaurant will provide you and your partner with stunning views of the Bellagio Fountains and the Las Vegas Strip and elevated French cuisine making it the perfect place to pop the question.
Lago Restaurant at Bellagio
If you're looking for somewhere to eat after your proposal at the Bellagio Fountains, Lago Restaurant at Bellagio Resort is the perfect spot. "Lago Restaurant is amazing because of its proximity to the Bellagio Fountains," explains Velazquez. In just under one minute by car or 10 minutes on foot, you can arrive at the restaurant to start your festivities after your fountain proposal–that sounds pretty convenient if you ask us.
Top of the World Restaurant at The STRAT Hotel
Your partner will feel on top of the world with a proposal at The STRAT Hotel's Top of the World Restaurant. Not only does this restaurant provide scenic views of Las Vegas, but it rotates 360 degrees every 80 minutes so you can experience a panoramic view of this Southwestern city while you dine.
TAO Las Vegas
Treat your partner to a meal at TAO Las Vegas before asking for their hand. This chic Asian Bistro serving sushi, dim sum and more will leave your partner full, happy and ready to say "yes!" You may even see a celebrity or two.