Exclusive: Why Content Creator LaurDIY Isn't DIY-ing Her Wedding
We break down the allure of Laur in The Knot's latest cover story.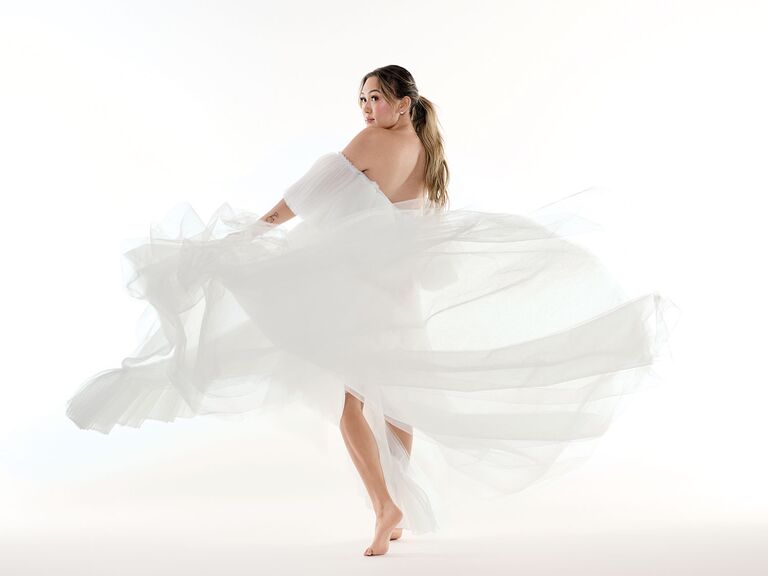 Photography: Eric Ray Davidson

,Styling: Debbie Hsieh, Hair: Andre Gunn, Makeup: Bethany Garita, Set Design: Danielle Von Braun, Production: C A M P Productions
It took three apps for Lauren Riihimaki and her fiancé, Jeremy Lewis, to finally reconnect. "This is the most millennial story—probably a lot of others can relate to it," laughs the crafting expert and content creator behind LaurDIY. She's in her element: at home in a relaxed crewneck sweatshirt. "He saw me on the dating app Raya…He saw I was single and interested, so he DM'd me on Instagram, but I missed it. I wasn't following him because we hadn't crossed paths in many years. Then, I saw him on Hinge."
When Riihimaki joined dating apps—which, according to The Knot 2022 Real Weddings Study, is now the most popular way engaged couples meet—she wasn't looking for anything serious. "Whatsoever," she reiterates. "I had just gotten out of another relationship, and I hadn't been single since moving to LA…But we went on our first date, and we've been pretty much inseparable since then."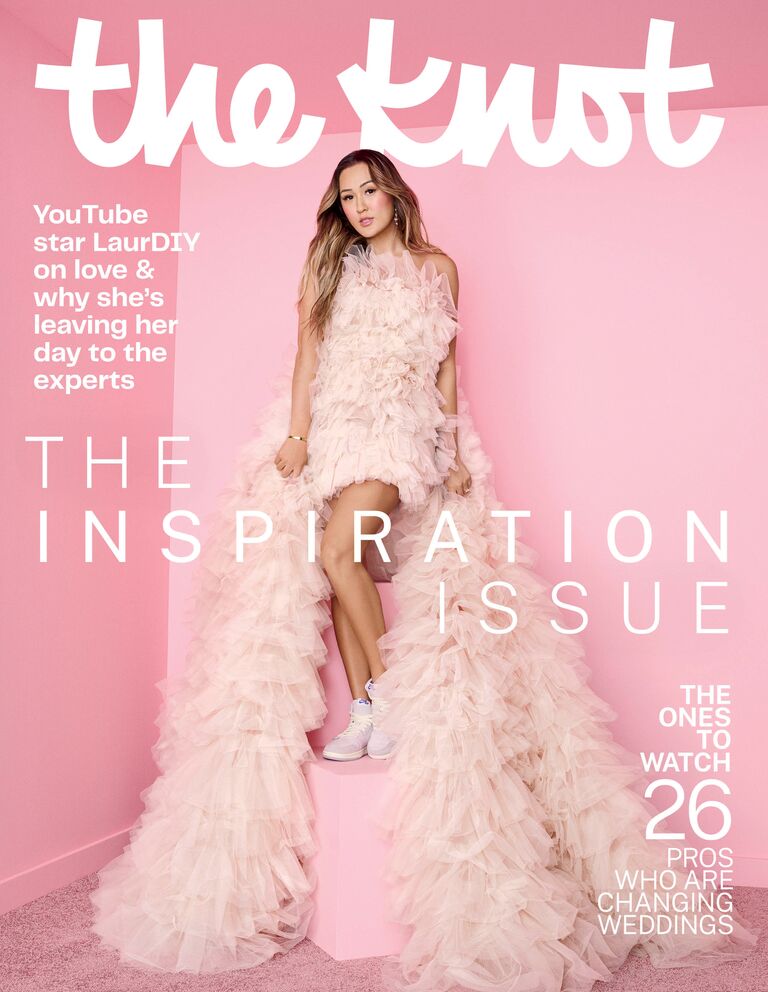 Years before, the LA-based pair had worked together on a project; both were in other relationships at the time. "We had each other's contact information, but it still took us three apps to officially cross paths again," she continues. "I don't even know if I want to use the words 'meet-cute,' but it's very millennial."
It also inspires hope that in the madness of supposed missed connections, what's meant to be will very well be.
Riihimaki's story begins in Canada. The 29-year-old started her YouTube channel in 2012, while studying in Toronto. She used the platform to share her passion for crafting, as well as the inner workings of her life, and today counts over 8 million subscribers and over 4 million followers on Instagram. Her life has become more than crafts, with fandemonium interest in her authentic reaction videos, her podcast with Lewis, and the adorable life she's built with her dogs, Diggy and Moose (also social media influencers). But that's just the tip of the iceberg: HBO Max tapped Riihimaki to host two seasons of Craftopia and, just this winter, she inked a fresh deal with Roku.
What makes her tick isn't fame. It's finding long-term comfort for herself and her future family. "Jeremy and I align on so many of the foundational elements of life that lead you to success," she reflects as she lists them off. "What we want family-wise, career-wise, how we like to travel and how we like to navigate our day-to-day lives. We're aligned on so much. It felt natural falling into life with him."
Riihimaki's engagement was nearly foiled by her nail artist. Lewis had arranged a couple's weekend in Malibu, which he positioned as his Christmas gift. "Within the same hour Jeremy had initially texted me, my nail girl texts me saying she had to reschedule our appointment to the day before we were supposed to leave," she recalls. That sparked the excited spiral (something Riihimaki describes as a positive or negative devolving of thoughts) that the proposal would inevitably happen that weekend. Lewis caught wind of his then-girlfriend's accurate conjecture and casually suggested they move the outing to after the holidays. Though they went ahead with their original plan, Riihimaki was thrown off track.
Imagine a beach picnic, 100 steep steps down an incline and a trail of roses leading to the Pacific Ocean. "Even at that point, there was a large doubting portion of me that thought it might have been for someone else," Riihimaki recalls of her December engagement. "It was in my mind that someone was getting engaged. As we got closer, I realized it was, in fact, for us. I started crying, 'It's not a beach picnic!' It was the proposal of my dreams."
The push and pull between privacy and public life updates has been an eye-opening process for Riihimaki. "I didn't go to school for accounting, so learning how to hire my first employee, how to navigate contracts and hiring a manager was very much a learn-as-you-go process," she reflects. "It's been a fun journey, learning how to grow and evolve. Now, there are so many creators making content, and you really have to learn how to change with the times: learn the platforms and dive into your analytics to stay on top of your content and your game."
She's decided to make her engagement and wedding public. "I'm happy to share so much of it," she reflects. "A lot of my audience is going through similar life stages, which is really fun…They'll send me vendors—planners and photographers they've used—which is incredible. It feels like a totally different community now that I'm transitioning into this period of my life."
As Riihimaki has built a reputation for crafting her way through life and creating kitschy decor, why wouldn't her wedding be the same? The bride-to-be argues the opposite: She wasn't prepared for the deluge of decisions she had to face so soon. "I was never the type of girl to have her dream wedding planned, nor did I know exactly what I wanted," she says. For her, it's been a crash course in wedding planning for beginners. "What decisions do I start making? What's the first thing to do? When I started looking into inspiration, I questioned whether I wanted neutral tones or a colorful and vibrant wedding." She pauses, "You have to start making big decisions early."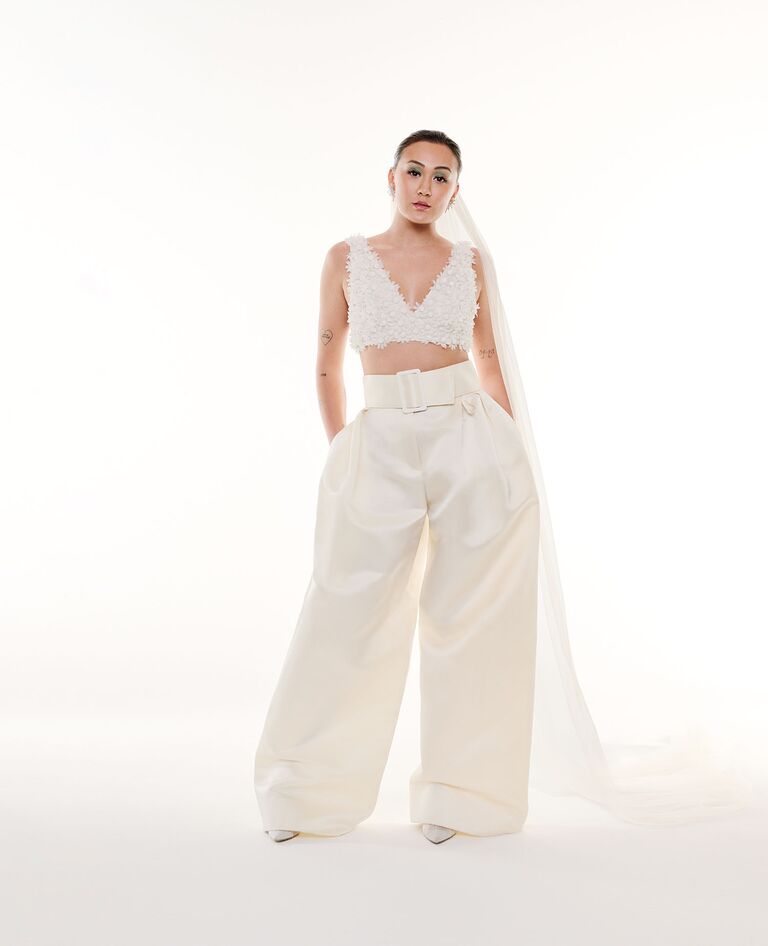 As she had this awakening, of sorts, the crafting royal reached a conclusion: LaurDIY will not be DIY-ing her own nuptials. She would compartmentalize work and her personal life. With a lot of her own input, Riihimaki will outsource the professional work to her vendors. Independently, she'll create wedding crafting content along the lines of "how to embellish your wedding shoes." (She proudly holds up her latest project for me to see: a pair of simple white pumps, adorned with tiny pearlescent beading and slinky straps.) She also plans to learn calligraphy, partly for the challenge and to see if LaurDIY flourishes can be added to her own wedding.
Even Riihimaki acknowledges her limitations. "I want to focus on making DIY content for other brides," she says. "On the day of my wedding, I'd love to just be as present as possible—without worrying about whether the floral arrangement I put together is actually up to par with what a professional would've done. I am, by no means, a professional. I'd say I'm a master of none, but very creatively inclined to problem-solve anything in the DIY realm."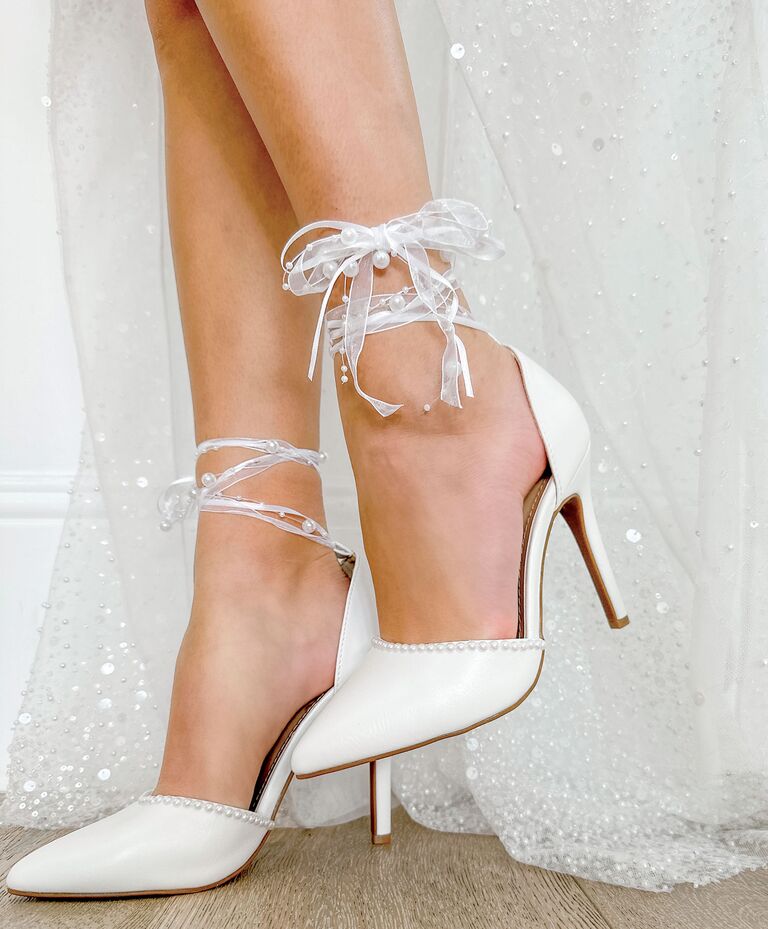 You could argue that Riihimaki's vision for her wedding is better developed than most. Four months into her engagement, she at least has a sense of the setting and creative direction. "We'd like the wedding to be somewhere like Hummingbird Nest Ranch—it's so beautiful. To have the built-in backdrop of Southern California makes me feel so lucky," she says. "There's so much beauty in nature, plus it's easy to have that backdrop of palm trees against string lights." There will be fewer than 100 guests. "We both have small families," she says. "That's the advice everyone has given me: 100 is the perfect number in terms of being able to enjoy yourself and say hello to every guest."
The dogs, "100 percent," will have a role in the wedding. "I've already ordered four different colors of bow ties for Moose that hopefully will match the outfits for my cover shoot," she says. "I've also seen these new companies pop up, like wedding dog concierge services…Honestly, we have so many friends and family members who would love to be the Moose and Diggy dogsitters of the wedding, but we want our guests to be as present as possible. We also want our dogs to be there. What's the happy medium?"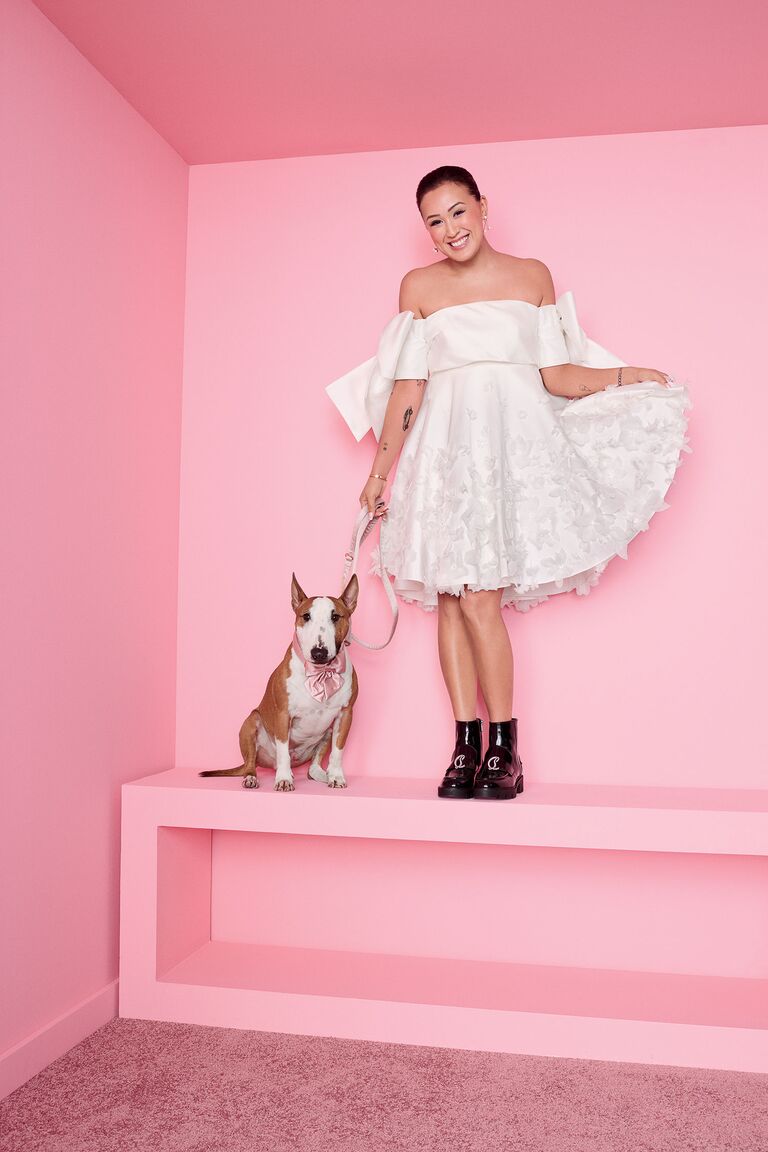 Running a business has taught Riihimaki to be certain about her nos. "I did a video reacting to an old wedding Pinterest board and it was pretty cringey. It was relevant in the times of doughnut walls and Mason jars. It was very timely for what was trending at that time." She will also skip the bridal shower and garter toss. ("Thinking about having to do that in front of my soon-to-be mother-in-law makes me want to put my head through a wall," she deadpans.) "But I saw the viral video of a bride who tossed the cat plushie and the recipient had to adopt an animal. That obviously has more commitment to it, but there's something fun we can incorporate that embraces customs and tradition, that has a more personal spin on it."
She has a big announcement toward the end of our conversation. "I'm committing to color, 100 percent," Riihimaki says. "I'm not someone who wears a ton of color, but I think about what my office looks like and there's color everywhere. It's spilling with color…Pouring over this decision of color or no color, color or neutral colors, or neutral tones [put it all into perspective]. My friends were like, 'Lauren, look around. Look at your house. Look at your office and immediate spaces: There's so much color and so much life breathed into every room through bright vibrant colors.'" Even if she hasn't processed the connection, her proposed wedding palette of pinks, oranges, blues and purples is an extension of the sunset hues from Lewis' proposal.
Creativity will be a common theme in Riihimaki's wedding content, but it's the power of being present that will shine on the day she exchanges vows. "I'm really excited about making DIY wedding and engagement content over the next year. I would love to be a source of inspiration," she reflects. "Just having been a wedding guest and seeing my friends go through the wedding planning process, I've seen how emotionally and physically draining it can be. I am in a place where I'm able to have the luxury of having a planner who can help me through a lot of it. I plan on being really involved in the planning process and being a part of it. Very hands-on."
In true LaurDIY fashion, she adds, "But I would love to be able to have little DIY moments."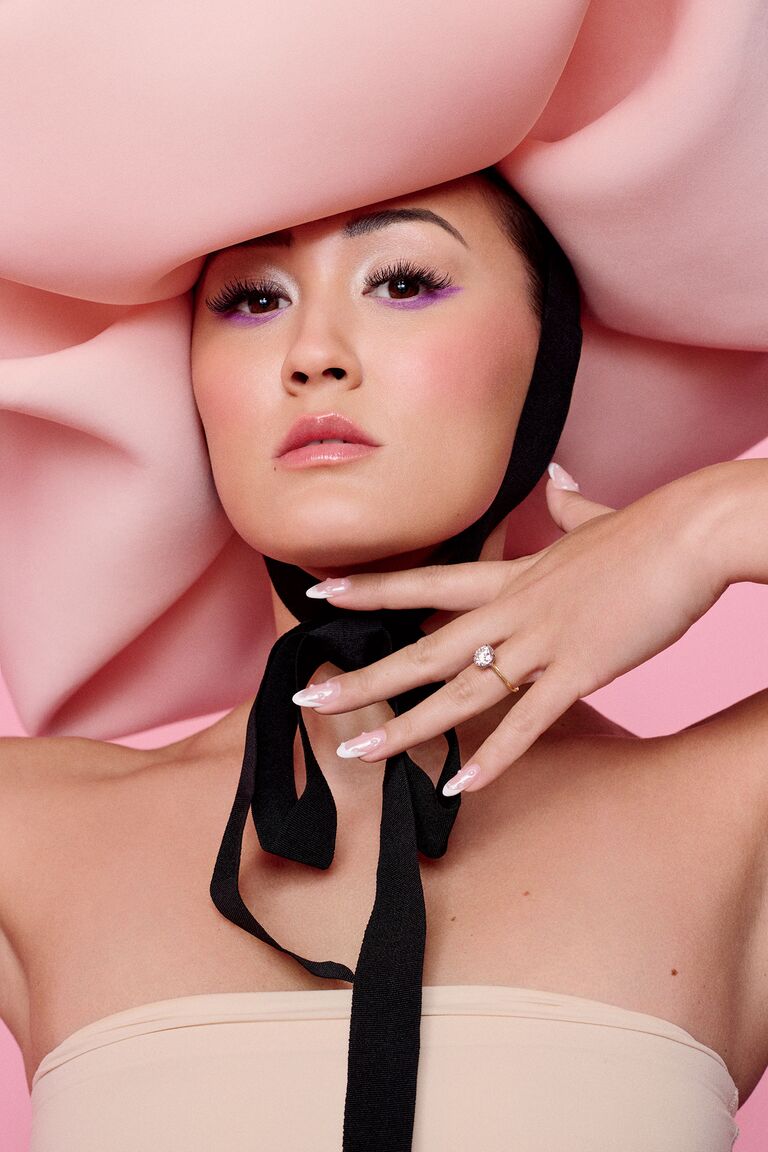 Credits:
Photography: Eric Ray Davidson | Styling: Debbie Hsieh | Hair: Andre Gunn | Makeup: Bethany Garita | Set Design: Danielle Von Braun | Production: C A M P Productions | Writer: Esther Lee | Creative Director: Nathalie Kirsheh | Photo Producer: Lauren Kill