Exclusive: Ross Mathews Reveals His Wedding and Love Story Details
From the red carpet to the aisle, the RuPaul's Drag Race star reflects on finding love during the pandemic, navigating loss and now, planning a wedding with purpose.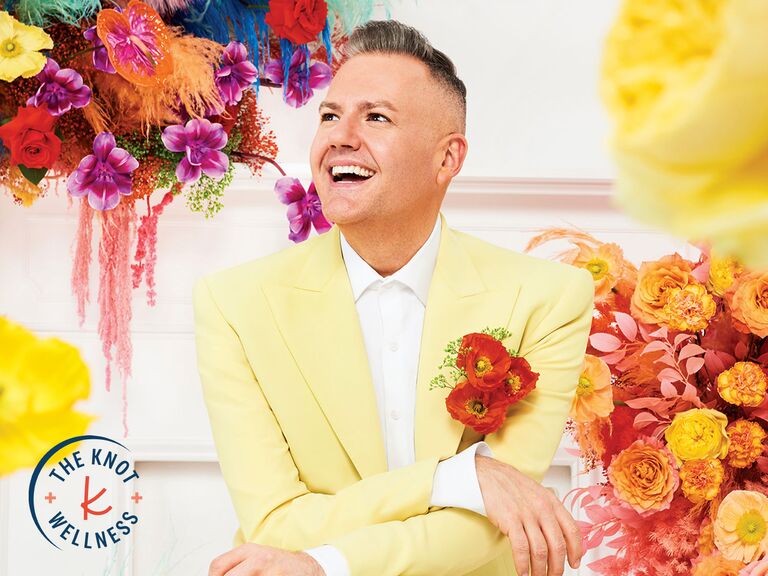 You may know Ross Mathews from his red carpet interviews or RuPaul's Drag Race. A voice of reason in the entertainment industry and a mainstay in pop culture, Mathews and his fiancé, Dr. Wellinthon Garcia, met just as the world was shutting down and they're now getting married. They open up to Deputy Editor Esther Lee in The Knot Summer 2022 issue about falling in love in the time of COVID, grappling with grief and loss while wedding planning, and intentionally positioning their relationship in the public eye. (Oh—and did we mention Drew Barrymore's a member of the wedding party?)
It's the tail end of the Omicron wave of COVID-19 in New York City when I greet Ross Mathews and partner Wellinthon Garcia over video. It's a cozy night in. A ring light is reflected in their window; laundry, in mine. Ross is seated to Wellinthon's left—hair coiffed, he's fresh off work. Wellinthon is in a cream turtleneck sweater; his demeanor is confident and calming. It's something Ross noticed right off the bat when they met in Puerto Vallarta, Mexico.
Wellinthon's friends had stood him up for breakfast. "I was hungry, so I ended up going down for a breakfast burrito," he says. When he brought it poolside, there was a greater distraction: a nearby pair whispering and staring. "I didn't know who they were," he laughs. "It was weird because they kept looking at me."
In fact, Ross and a girlfriend were in cahoots over the man reading by the pool. Some eye contact later, Mathews (whose breakout role as "Ross the Intern" on The Tonight Show with Jay Leno launched his TV career) sauntered across the rooftop to introduce himself. "He said, 'Hi, I'm Ross Mathews,'" chuckles Wellinthon, who is clueless when it comes to pop culture and didn't know who Ross Mathews was. "I replied, 'Hi, I'm Dr. Wellinthon Garcia.'"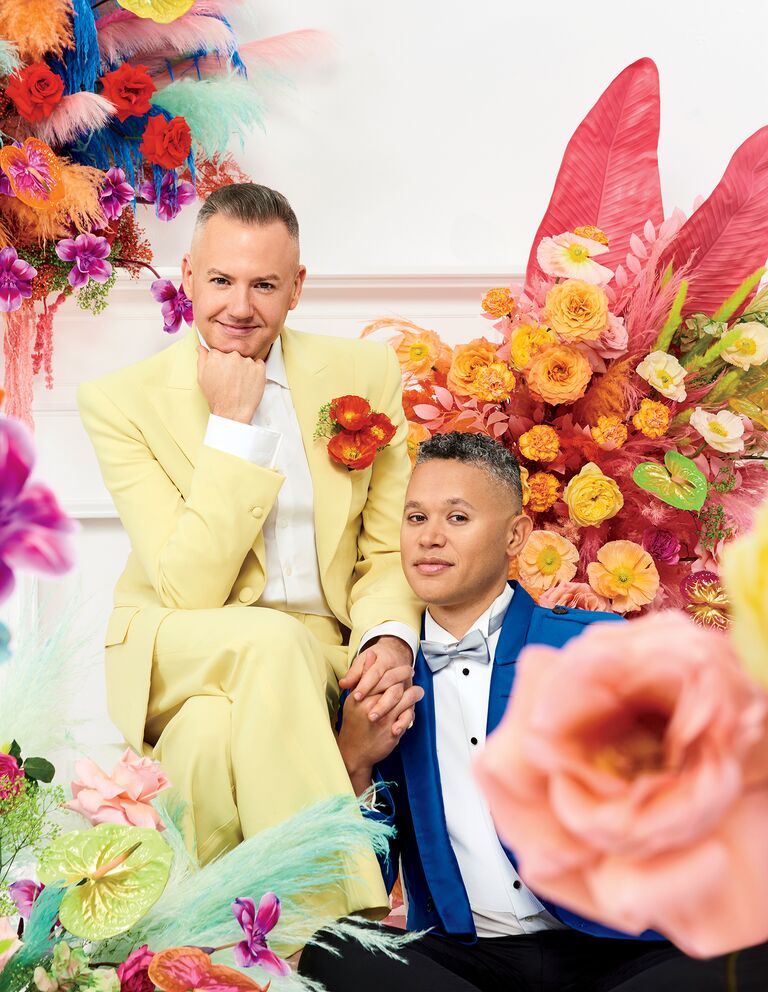 Wellinthon, an educational administrator, previously worked in Big Pharma. ("I wasn't a fan of pharmaceutical sales for moral reasons," he says.) He then pivoted to a think tank as a research associate. "One day, I was taking the subway and there was an ad that read, 'Do you remember your first-grade teacher's name?' And I did. I applied and got into the New York City Teaching Fellows Program. That launched my career in education."
Born in the Dominican Republic, Wellinthon arrived in the United States at age five without speaking a word of English. "I tell Ross all the time that education is a field where every career has to pass through you before people become who they are," he says. "We're building society." That's emerged as their overall purpose as a couple. Both acknowledge the scrutiny that comes with a public romance, yet they have experienced the other extreme. Raised in the farm town of Mount Vernon, Washington, Ross didn't see himself in love stories.
"That's what drives us, and that's why we're sharing our story," he reflects. "We don't need any more attention. Wellinthon doesn't seek it—he's an educator. But we chose, purposefully, to talk about our wedding because we didn't have that example growing up. So if we can, by announcing our engagement on The Drew Barrymore Show or sharing our love story on the cover of The Knot? These are mainstream [outlets]. We know there will be kids out there who look at this and see it as perfectly wonderful. Screw normal! Wonderful. And that they can't wait to find their person. That's the goal."
On Finding Love in the Time of COVID
Weeks after they met, the world shut down. "I went on a tour for my second book, Name Drop, and I was all over the country until March," says Ross, who lived in California at the time. Wellinthon was in New York. "He would visit me in cities, whether it was Chicago or Philly or Miami. And then bam! Everything shut down. We went from March until almost August without seeing each other. We dated over Zoom and FaceTime. We put the effort in: We'd do Taco Tuesdays [recipes below] or watch the same movie and be like, '3-2-1-play.' We would find different ways to go on dates. In a way, it actually forced us to have deep conversations and get to know each other in a way that we wouldn't have if we were just, you know, hitting it."
We all laugh. They are a classic example of how opposites attract. "He has a Ph.D. in education and I have a Ph.D. in pop culture," says Ross, whose ascent to pop culture fame in the last two decades has spanned The Tonight Show to stints on Chelsea Lately and RuPaul's Drag Race. "It's very, very different. But there's just such value in what we both do. Our worlds are so completely different that I'm in awe of him every day."
On Drew Barrymore as Their Flower Girl
It was multi-hyphenate Drew Barrymore who played an unlikely role in their relationship. "Drew has been instrumental in our love story," says Ross. "I came to New York to visit Wellinthon, and she asked me to come on her show for a day." The production team then requested he return a week later, then again to stay on for the season. "We were like, 'I guess this means I'm supposed to be here.' So we got an apartment. I don't know that we would have been on such a fast trajectory if Drew hadn't given me work in New York."
Editor's Note: Listen to Ross and Wellinthon's "getting ready" playlist on Spotify as they share exclusive wedding details below.
She's also been a confidante in the planning process. "I have immense guilt that people are flying to our wedding. Drew said, 'Just do it where you want to do it, and the people who are supposed to be there will come,'" says Ross. "I just want to make sure people have a party when they're there." This includes Barrymore, who is also a founder of Flower Beauty and will be a flower girl at the wedding.
"It just came up as we were talking about the wedding [on the show]. And she was like, 'Well, who's the flower girl?' I was like, 'You want to do it?' And she was like, 'Wait, are you being serious?'" recalls Ross. "And I was like, 'Wait, are you being serious?'" She was serious.
"Drew and I talk about everything on the show, whatever the hot-button issues are, including relationships. We really go deep into them," says Ross. "We challenge each other on our thoughts, feelings and who we want to be now. Drew's had public relationships, and she holds nothing back. What I love about her is she's the kind of friend who will give you the real truth. She's the friend you would call if you did something bad and needed help covering it up. She would just be there, no questions asked: 'I brought a shovel. What are we doing?'"
Ross Mathews & Wellinthon Garcia's Wedding Plans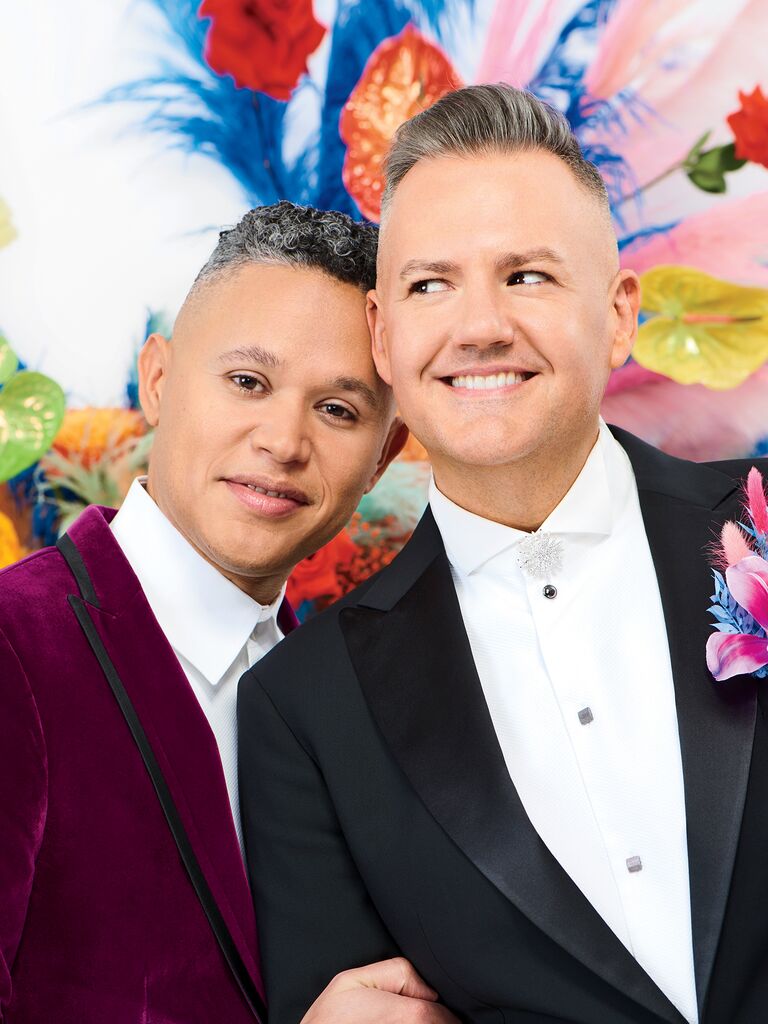 The couple also signed on Michael Russo as their event planner. Russo—known for planning Shark Tank judge Robert Herjavec's wedding in 2016—heard about their engagement and reached out over Instagram. Their mutual friend Carson Kressley, who emceed the Herjavec wedding, attested to Russo's talents. "He just sang his praises," says Ross. "I never thought I'd be the type of person who had a wedding planner. That always seemed like something a Kardashian would have."
The wedding events will be an extension of their West Coast lifestyle. "When we're not in New York, we live in Palm Springs, which is a happy hour lifestyle. We are a caftan people. We are a poolside people. We live like active senior citizens," Ross laughs. "So, I want to infuse part of our life in Palm Springs into the wedding." He pauses and adds, "I wouldn't be shocked if the night before there was some sort of karaoke party. I also wouldn't be surprised if the day after the wedding, there was a drag bingo brunch. We love a really gay activity like that. And we want to bring that sense of fun into our wedding."
"Our approach is classic and chic with a tropical, festive flair," Russo elaborates over text. Close to 100 guests, from all walks of life, will converge in Mexico for the couple's wedding week. "I wanted a chicken finger buffet with a barbecue sauce fountain," gushes Ross. "I was told no. I guess the barbecue fountain isn't COVID-appropriate, now that I think about it. But we're planning the menu. I'm hyper-focused on the appetizers and Wellinthon's more focused on the seated dinner options."
When the weekend is over, the couple simply wants their guests to feel valued. "I want them to understand how important they are to us," reflects Ross. "And how important our wedding is, in general. This is for us. This is the one time we'll ever do this."
On Loss and Honoring Their Late Loved Ones
Just as the pandemic hurtled into summer 2020, Ross' mother, Gaye, died from breast cancer; 16 months later, Wellinthon's mother, Marianela, passed away. It wasn't Ross' first time grieving a direct family member; he lost his father when he was 24. "She was pretty far gone by then," Ross says of his mom. "When I showed her a picture of Wellinthon, I said, 'Mom, I met somebody.' She looked at his picture and said, 'I think I know him.' And I said, 'I think you do, I think you do.' Maybe she could have pictured this, you know?"
"My mom actually got to meet Ross," recalls Wellinthon. Their sit-down involved homemade guacamole—heaping mounds of ripe avocados. [Recipe below.] "She was one of those people who, if you said you wanted something, she would not only do it, but she would do it in abundance. I'm glad my mom got to interact with him. Her approval of Ross meant the world. I don't think I'd be as overjoyed with everything that's happening if my mom wasn't happy with him."
"We loved each other," affirms Ross. "I didn't speak Spanish. She didn't speak English. But we had great conversations."
"It's such a time of great joy right now," says Ross. "Like, 'Hello, it's the fairy tale.' I met this extraordinary, smart man who loves me and [whom] I love. And we're going to proclaim it in front of everyone we love. But there are going to be empty seats there, and those empty seats are so symbolic—of the holes in my soul because my parents are both gone."
When someone is recovering from a traumatic experience, psychologists say acknowledging your feelings is an initial step toward healing. "I want there to be actual seats that are empty—space for them," reflects Ross. "I think about [my loss and my wedding] when it's just me. I get very, very, very sad that they're not going to be there. I would've loved an RSVP from them. They would've had such a freakin' blast at this wedding too. My dad was hilarious. My mom would've loved Wellinthon and been involved in every part of the planning. The goal is just going to be to honor them at the wedding in every possible way and hope that somehow they are there."
"We'll have photos of late loved ones placed around, and we're incorporating family heirlooms into the ceremony," says Russo. "They will be surrounded by family on their wedding day."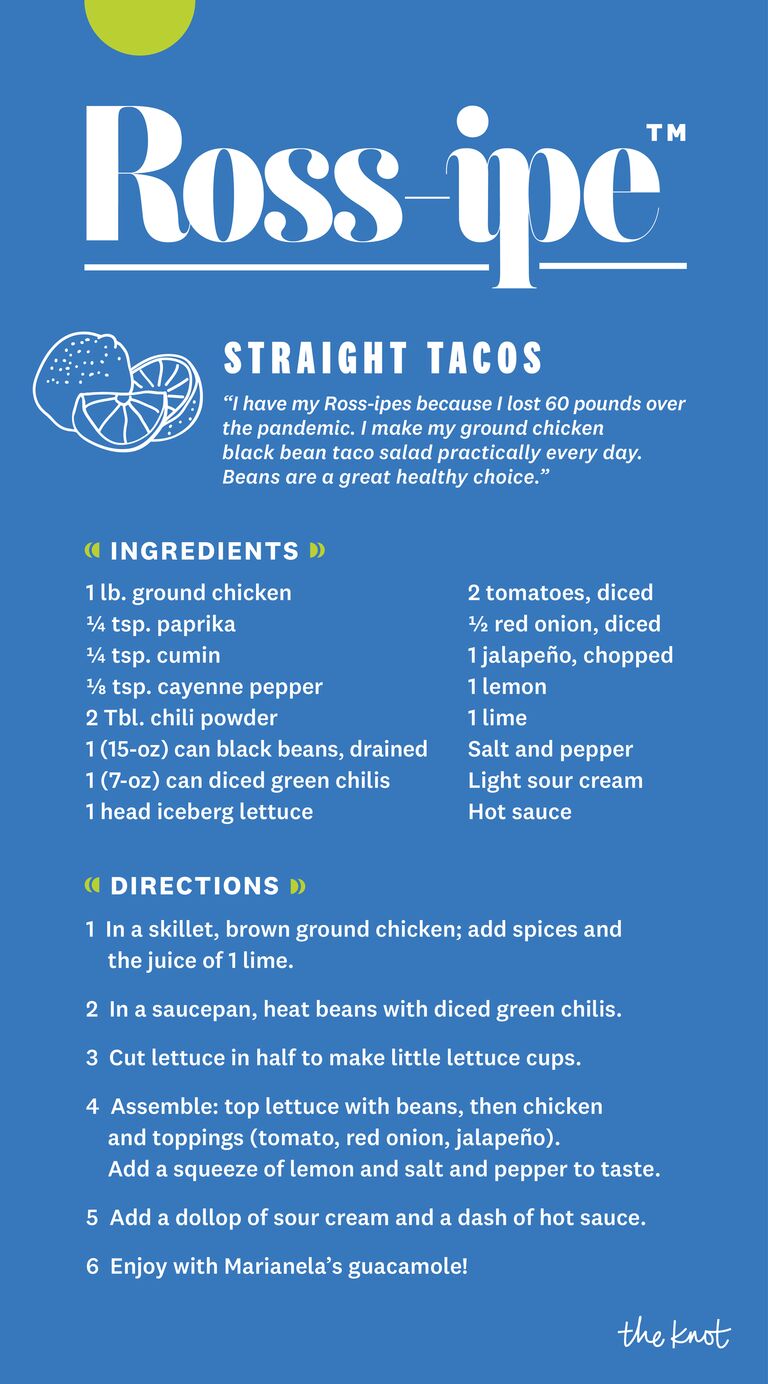 After they both lost their mothers within two years, the couple bonded over the emotional fallout. "When Ross went through it first, I wanted to make sure I was [with him] the whole time," says Wellinthon. "Then the same happened to me."
In September 2021, Wellinthon's mother died. "I was very much like, 'I need to process this.' I need to understand what's happening," he recalls. "I got to the point where I said to Ross, 'Babe, I think I really need to see a grief counselor.' Now I share with him the things [the therapist and I] talk about in those sessions. It's been cathartic and therapeutic in the sense that he's gaining from what I'm sharing. And vice versa."
"It's hard when someone you love is going through that kind of pain, because you want to fix it," Ross sighs.
"You can't fix it. So all you can do is be there. I could be there so he didn't fall, and he was there so I didn't fall." When you lose a parent, they say, you join a kind of secret club. "If anyone reading this [has lost a parent], you know you aren't just dented, scratched or damaged goods. You also know something that other people don't," Ross elaborates. "You know how great it is that you're here. You know how precious it is that you are alive. Not to be a blind optimist, but I have to find that joy in it. I know how grateful I am to be here and what I want to do with my time here."
On the Proposal and Hopes for the Future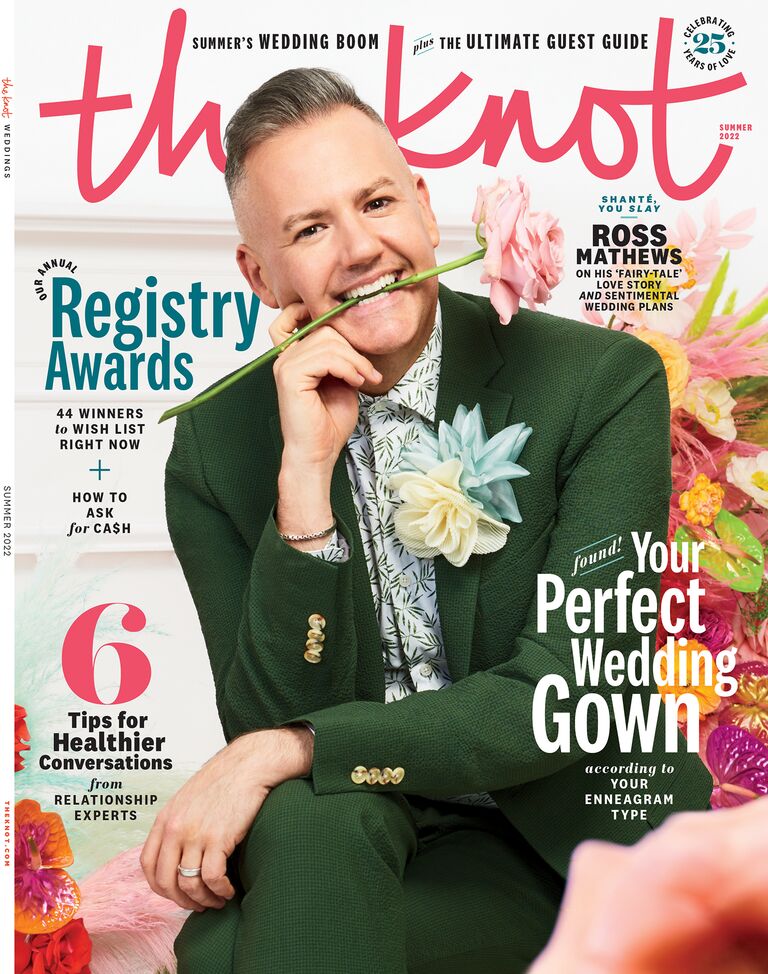 In their New York City living room, Ross proposed in February 2021. "I had coordinated over 50 people from across the world to be on Zoom: friends, colleagues," Ross recalls. "Wellinthon was running late. When we finally opened [the call], there were 50 people waiting for us. He just yells, 'Pam from work? What's Pam doing here?' He was so confused."
Wellinthon at one point was so overwhelmed by the gesture that he left the room just as Ross was about to drop to one knee. "I started crying. I was elated and just relieved," Wellinthon says. "One thing both of us have in common is that we didn't think it was possible. I grew up thinking that I would never be able to get married because we didn't have the right to marry when I was a kid. So I needed that moment to walk away from the scene and reflect."
Moments later, he returned and tearfully declared, "Yes."
Shortly after this piece is published, the couple will have another pinch-me moment when they exchange vows in their dream destination wedding. "A gay wedding is simply a wedding," says Russo. "Have you ever heard someone say they're attending a hetero wedding? It's a wedding."
It's their wedding.