A Complete Wedding Planning Checklist From Start to Finish
Bookmark this page—it's going to be your best friend.
We have included third party products to help you navigate and enjoy life's biggest moments. Purchases made through links on this page may earn us a commission.
Congratulations—you're engaged! First, take a moment to soak up that just-said-yes bliss. This is one of the most exciting seasons of your life, after all, and you deserve to enjoy every second of it. Planning a wedding is a big deal, and it'll be accompanied by so many joyous moments to be shared with your fiancé, your family, and your closest friends. But, if you feel overwhelmed by the thought of planning your big day from start to finish, that's where we come in.
As your new best friend, we're here to guide you through every step of the wedding planning process. To help, we've created this simple (yet comprehensive!) wedding checklist timeline. We've tapped industry pros to share everything you need to know about pulling together the wedding of your dreams without a hitch. Below, you'll find a detailed wedding checklist to follow through each step of your journey, from the moment you get engaged to the six-month mark and through the day after. And, while this is labeled a complete 12-month wedding checklist, you can actually use this template regardless of how long your engagement will be—but more on that below. It's also important to know that this wedding checklist can be adapted for you. Each couple's wedding planning journey is different, so make adjustments to this guideline as it fits your needs.
Planning a wedding doesn't have to be stressful—in fact, we're big believers that it can be downright fun. So, once you're ready to get your plans in motion, use this simple wedding checklist template to mark off each of those to-dos on your list. We're here to make wedding planning a breeze.
Post-Pandemic Planning Tip: As we emerge from the coronavirus pandemic, there are some new planning considerations to keep in mind. Experts predict that 2022 and 2023 will be huge years for weddings—which is great news for couples like you! "The world of weddings will not only bounce back: it's going to be a completely different landscape, says celebrity event planner David Tutera. "After a difficult period, people have a newfound sense of what it means to celebrate joy. We are about to experience an abundance of brilliance, innovation and creativity in our world of weddings."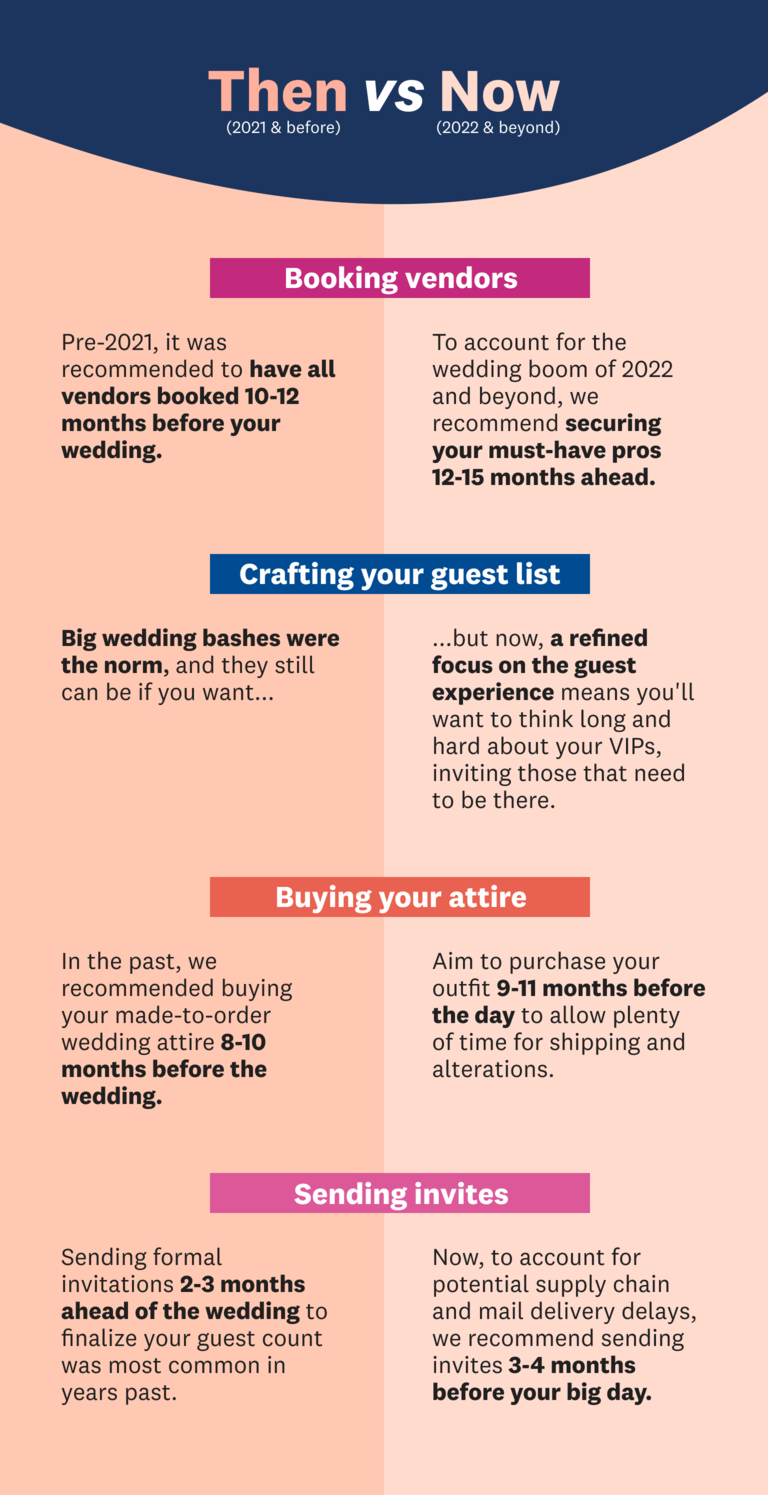 But, increased demand for vendors and wedding supplies has created timing complexities to keep in mind. To get your preferred pros, date and venue, it won't hurt to start planning as early as possible. Getting a head start on your wedding checklist will ensure that you and your S.O. have plenty of flexibility for bringing your vision to life. Read on to learn how to plan a wedding in 2022 and 2023.
Skip Ahead to Your Month:
How Do I Start Planning a Wedding?
If you're just engaged and not sure where to start, we're here to help. Planning a wedding can feel like a lot at first, because it is! But staying organized from the beginning is key for completing your wedding planning checklist with ease. Before you jump into the nitty-gritty, take some time to enjoy your fiancé status. Post those Instagram pictures and show off your sparkler to everyone who comes your way—after all, when else will you get the chance to?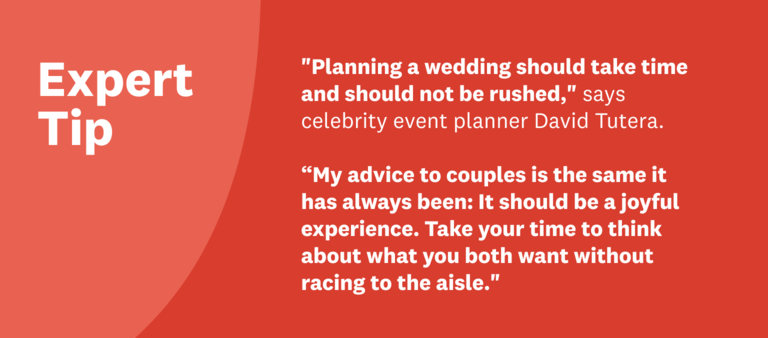 When you are ready to dive into planning, treat yourself to a brand new wedding planning notebook to keep yourself on track and motivated. We also recommend making an account on The Knot, and not just because we're biased. Our comprehensive suite of wedding planning tools exists to simplify and streamline the planning process. On our website (and app!), you can make your registry and wedding website, keep track of RSVPs, connect with vendors, and use the checklist and budgeting apps to keep your planning on the right track. Our tools will literally walk you through every step of the process. And, not to mention, it's all 100% free. So, what are you waiting for? Get started here.

12+ Months Out From Wedding
Fact: There's no such thing as the "right" engagement length. Every couple is different, which means there's no pressure to follow a timeline that doesn't fit your needs. While some couples want a longer, multi-year engagement, others might prefer to say their "I dos" mere months after getting engaged. A wedding planning timeline is not one-size-fits-all, which is why we've crafted this checklist to work for you regardless of how much time you have to plan. While it's modeled as a 12-month wedding checklist, you can use this guide for whatever amount of time you do have—just follow the order of tasks and you'll be good to go.
In general, most couples take over a year to plan their wedding. In fact, according to The Knot Real Weddings Study, the average engagement length is 15 months. So, when you're 13-15 months out from the big day, use this time to research, gather ideas, and create a vision.
Now's the time to think about what you want your wedding to look like. What colors speak to you? Would you like to follow a theme? Where do you want to exchange vows? What do you think you'd like to wear? We recommend browsing Real Wedding galleries to gather ideas and inspo from other couples just like you, which will help you create a vision for your own wedding. Social media can also be a powerful tool for getting inspired.
The Knot Editor Tip: "If you're newly engaged, I recommend following wedding planners on Instagram, especially those who are local to the area where you want to get married," says MaryKate Callahan, Associate Director of Digital Content Strategy. "Getting these accounts on your feed is a passive way to start researching and gathering inspo. Anytime you see something wedding-related that sparks joy, save it! Pro tip: Check the tagged vendors and see which ones seem to be popping up more than others—it's a great way to narrow down your list of which vendors to contact through The Knot."
If you want to have an engagement party, now is a great time to do so as well. After all, we totally recommend letting loose and celebrating before getting into the weeds of your wedding checklist. While it's common for friends or family to host a soirée in your honor, you can also throw one yourself. There's no such thing as celebrating your engagement too many times.
12 Months Out From Wedding
You're officially a year out from the big day—yay! Now's the time to put those high-level plans in motion. Here's where we dive into that wedding planning timeline.
Have a Conversation with Wedding Stakeholders
Before you can get into any planning details, you'll need to have a conversation with potential wedding stakeholders—AKA any additional people beyond you and your S.O. who will help fund the wedding. Once you have a general idea of who's contributing (and how much), you can move forward with setting a concrete budget and finalizing details.
The single most important wedding checklist task to complete first is setting your budget, because this number will influence every subsequent planning decision. If you and your S.O. will be paying for your nuptials on your own, think about a number that's feasible for you. Or, if you'd like to ask your parents to contribute, have that conversation to nail down what they're able to pay.
As you begin to set your budget, this will require you to think about the potential size of your wedding too. The guest list count will influence the overall cost, as well as the venue you book. Now's the time to determine whether you want something small and intimate or large and lavish, because this will have a direct impact on the cost of your wedding. "Brainstorming your guest list and talking about an overall budget are the first tasks you should do," advises Ashley Tangerini, wedding planner for Mavinhouse Events. "These two go hand in hand and will help shape the venues and vendors you procure. It's important to know the financial limits you may be working with, as well as who are your key contributors."
Discuss Your Priorities
Once your budget is set, talk about your wedding day priorities. Determining what is most important to you (and therefore where you'll spend your budget) will help clarify a lot of the below steps. Is having a great live band a must for your reception? Perhaps you'll allocate more funds to entertainment and spend less on late-night snacks. Or, if a large, fresh floral installation is at the top of your wish list, maybe you'll opt for simpler table rentals to balance out the budget. It's important to be on the same page about what you need, what you want, and where you're willing to compromise.
Next, think about whether or not you'll use a planner. Of all the vendors who will join your squad of pros, a planner will be the most involved from start to finish. If a full-service planner fits into your budget, hire them as soon as possible so they can guide you through the process. Or, if a month-of- or day-of-coordinator is better fit for your needs, this is still something you'll want to decide when you're 12 months out from your wedding day. "Don't wait until the last minute to seek out help," says Sheavonne Harris, wedding planner and founder of Events by Sheavonne. "Lock in a wedding coordinator sooner than later. Most coordinators are available to assist you in the weeks leading up to the wedding."
Picking your venue is another wedding planning checklist task that should be accomplished early on. As we mentioned above, it'll be helpful to have a general idea of the size of your wedding when you begin researching. Most wedding venues have minimum and maximum guest counts, which will help you narrow down the list of potential places to exchange vows. A small loft that can only hold 50 guests max, for example, might not be the place for you if you're envisioning 200+ people. It's also helpful to note that the wedding boom of 2022 and 2023 means many venues will book faster than years past. If you have your heart set on a specific barn for a fall Saturday wedding, you'll want to book it as soon as possible.
According to The Knot Real Weddings Study, 73% of all weddings fall between May and October (hence why we call it wedding season!) With this in mind, book your venue as early as possible, especially if you want a day that's highly in-demand, like a Friday or Saturday.

Begin Pulling Style and Decor Inspiration
Consider this one of our favorite detailed wedding checklist tasks. Picking a theme or style allows you to get creative and think about the ways your personalities can shine through your wedding. Take our Style & Vision quiz to narrow down a look that's right for you. (You'll also get tons of personalized inspiration and planning tips at the end.)
The options for your wedding style are truly endless. Whether you're dreaming of a whimsical cottagecore garden soirée, a high-class glam party at a modern loft, or a bucolic rustic barn party, this is your chance to make your big day a reflection of the colors, themes and styles you love most.
11 Months Out From Wedding
With just under a year left until your nuptials, here's what's next on your wedding planning timeline.
Touch Base with Non-Negotiable Guests and Vendors
If you're stuck between a few potential dates, we recommend touching base with your must-have wedding guests and vendors. If your maid of honor will be at another wedding the weekend you're considering, you may have to shift your date. Or, if you've had your eye on a particular photographer for years, reach out to gauge their availability for your preferred date. This will help you eliminate days that won't work for the people you need in attendance.
Finalize Your Date and Venue
At this point, your date should be set in stone. It is the most important piece of the puzzle, after all! "Hotels and event venues are now filling up quickly with weddings, so couples wishing to confirm their perfect location should plan to book one year out," remarks Kate Thompson, Area Director of Sales and Viceroy Washington D.C. You'll need to know your date and venue in order to book your vendors...
...which is next on your wedding planning checklist. While there's not a specific order in which you have to book your vendors, the venue typically comes first. You'll need the location to book all other pros. It can be helpful to earmark priority vendors during this time—those are pros whose services need to be confirmed before others (think: photographer, videographer, caterer if necessary, and florist.)
With more couples getting married and hosting anniversary parties, vendor schedules are quickly booking up well into 2022 and 2023. In order to have your pick of the pros you really want, it'll be beneficial to start securing them as soon as you can. We recommend using a tool like The Knot Marketplace to connect with local pros in your area. Not only can you read reviews from real couples, we make it easy to reach out and set up interviews to help you hire the experts who are best fit for your wedding vision.
Determine Your Wedding Party
Now, it's time to think about who you want standing beside you in your wedding party. While you don't need to send out those proposal boxes just yet, get a general idea of who you'd like to ask to be your maid of honor or best man, as well as your bridesmaids and groomsmen. Crafting your lineup may take some time, so start thinking about it early on before you need to shop for wedding party attire later on in your wedding planning calendar. Once you know who you'd like to ask, start planning those wedding party proposals as soon as possible.
Finalize Your Guest List
Your wedding party and guest list go hand in hand. You already have a general idea of how many people will be invited, but now's the time to sit down with your S.O. and bring the guest list to life. Have important conversations about who definitely needs to be there, as well as who doesn't. If making hard cuts sounds like a hard ask, we've got you covered: here's how to respectfully tell people they aren't invited to your wedding. And if you're looking for a guide on how to make your guest list without drama, we can help with that too.
10 Months Out From Wedding
Your 10-month wedding checklist is all about diving into important details, like your attire and hotel room blocks. We take you through it step-by-step.
Start Shopping for Wedding Day Attire
The 10-month wedding mark is also the time to start shopping for your outfit. *Cue happy dancing.* What you wear on your big day is so important, so set yourself up for success by shopping early. You'll need plenty of time to peruse local wedding dress salons and suit shops to find the perfect look, so begin early to allow time for browsing, fittings, alterations and any potential customizations.
Post-Pandemic Planning Tip: "Shipping and fabric lead times increased greatly during the pandemic," explains Sarah Swann, Chief Creative Officer of AMSALE. "For that reason, it's incredibly important to leave yourself at least 10 months to find the perfect gown. We always recommend shopping for your wedding gown 10 to 12 months out, especially for gowns that are made-to-order. You'll want the gown to arrive two months before the wedding to leave time for alterations."
The same consideration applies to shopping for wedding suits and tuxedos as well. "It's never too early to start shopping for a wedding suit or tuxedo, but we find that most of our couples begin shopping between three and six months prior to the wedding," says Jeanne Foley, co-founder of SuitShop. With pandemic-related supply chain issues in mind, we recommend starting as early as possible. "Much like shopping for a wedding dress, you'll first want to decide on the style, level of formality, and color scheme for your big day, then begin shopping for suits," she explains. "Considering your budget is a great way to start narrowing down your suiting selection."
If you won't be shopping off the rack for your wedding day attire, finalize your purchase by the end of this month.
Book Hotel Room Blocks and Transportation
Your out-of-town guests may be traveling far from home to attend your nuptials. It's common for couples to provide room blocks at a nearby hotel (or onsite at your venue if you'll be celebrating at a resort or another space with lodging). "It's ideal to have family and friends staying together at one location, especially so you can truly enjoy your time together," says Tosha Wollney, Senior Catering Sales Executive at Westin Cape Coral Resort at Marina Village. "We offer group room blocks during the booking of the wedding venue, as this is the ideal time to secure the guest rooms for couples and their guests."
While Wollney notes that most hotels or resorts will discuss block options at the time of your booking, some locations may only confirm your room reservations up to a year in advance. So, if you're starting the planning process early, you may only be able to confirm a "soft hold" until the year mark. Talk to your venue or a potential hotel about the options they have and how those can fit into your planning timeline. Also, look into local transportation services if you'll be shuttling guests to and from the ceremony and reception venues.
9 Months Out From Wedding
You've got nine months to go—hooray! Here's what to focus on for your nine-month wedding checklist.
Invites, save-the-dates, and programs, oh my! At nine months out from the big day, it's time to start thinking about your invitation suite. What's that, you ask? Your wedding stationery includes all of the paper for your big day, from save-the-dates to RSVP cards to formal invitations and even your ceremony programs and place cards.
A lot of paper goes into planning your nuptials, but here's the good news: You can find everything you need at The Knot Invitations. At this stage in the free wedding checklist guide, it's time to choose a design that reflects your wedding style. You'll want to have these finalized during this time period, because next month your save-the-dates should go out in the mail.
If you do want specialized stationery, it's important to begin shopping as early as possible. "It's often a surprise to new couples that specialized stationery can take a lot of time to produce," explains Heather Wiese Alexander, etiquette expert and founder of stationery brand Bell'INVITO. You'll want plenty of cushion time to test samples and land on the perfect design.
Right now, finding a save-the-date design is your top priority. You'll have more time to choose formal invites in a few weeks.
Plan Your Entertainment
Let's talk music. It plays a big role in your wedding day, from the moment you walk down the aisle until the last song ends at your after party. If you haven't already booked live performers, think about what kind of pro is right for your party, whether it's a live band or a DJ. Book their services around this point, and start thinking about specific song requests you want to make. (Psst: Now's the time to pick a first dance song, the parent dance tunes, your processional and recessional hymns, and more.) When your wedding date is closer, your pro will likely ask for a list of must-play songs, as well as a do-not-play list.
Begin Booking Rentals
Rentals are a huge part of your wedding. From large pieces like tents and tables to smaller details like chargers and linens, rentals are essential for completing the ambiance and setup of your ceremony and reception. And, because supplies are limited, it's imperative to secure what you need early on. "Rentals should be booked at least nine months to a year out from your wedding," explains Carey Bisonet, President of Alpine Events. "Inventory is limited for most suppliers and events book up fast so the sooner the better."
Ultimately, there's no such thing as renting too early, especially for large pieces like tents or flooring. In fact, according to Tim Sperry, CEO of Sperry Tents, tent rentals are now being booked up to two years in advance due to COVID-related timing challenges. "It's very important to consider a region's busy season," he tells us. "For example, coveted weekends in June and September always close first, oftentimes many months in advance. Also, as tent reservations increase in the off-season, our most in-demand tent sizes become unavailable as well. So, to get the tent of your dreams on the date of your choice, plan way ahead."
Coordinating your rentals far in advance will also help the rest of your wedding vision (and your budget) fall into place. "One reason to start early is because the tent and other 'big picture' items like flooring and lighting play a major role in budgeting, particularly when they are in addition to venue fees," Sperry adds. "A site visit might bring up unforeseen costs, such as generators, electric panels, catering tents, and more. You'll want to reserve your equipment as early as possible to lock in your desired tent size and wedding date."
If you haven't already, consider booking an engagement photoshoot. We recommend working with your wedding photographer if you've secured one, as this is a great way to get to know them before the big day and establish a connection. (The more comfortable you are with your photographer, the more comfortable you'll feel in front of the camera—which will result in stunning photos.) You'll be so grateful to have photos documenting this special time in your life. Plus, you can use your favorite shots on your wedding website and your invitations—how's that for multi-tasking?
8 Months Out From Wedding
Now things are really getting into motion. Need an eight-month wedding checklist? We've got you covered.
Make Your Registry & Wedding Website
We're of the mindset that making your wedding registry is actually one of the most exciting tasks on your wedding planning checklist. Why, you ask? You get to shop for gifts for your newlywed life that other people will buy for you. That's pretty epic in our eyes. And, in case you aren't aware, registry gifts are insanely amazing these days. You might associate wedding registries with department stores and scan guns, fine china and endless sets of extra linen. But did you know you can register for cash funds, gift cards, experiences and really cool gifts, like state-of-the-art espresso machines or money for adopting a pet? It's true—and it's safe to say that registries are better than they've ever been before.
It's important to make your registry in advance, as this will help you avoid receiving unwanted gifts from well-meaning loved ones. (Read: If you don't want another set of pots to clutter up your kitchen cabinets, a registry will help you avoid that.) Plus, your friends and fam will want to start showering you with presents as soon as possible, so a registry will help keep their shopping on track.
Your wedding website is also a great resource for guests. It's a hub that houses all of your wedding details that can be easily referenced to answer questions. Plus, you can have a lot of fun customizing your site to match your wedding theme, thus creating an engaging guest experience. Dedicate part of your early wedding planning tasks to making your website a creative (and helpful) guide for your loved ones.
Your save-the-dates will go out this month, so we recommend having your registry and wedding website in tip-top shape by the time your stationery hits mailboxes.
Send Save-the-Dates
It just got real. Now's the time to pop your save-the-dates in the mail! Sending out these stationery cards at least eight months before the big day will give guests plenty of time to clear their schedules. But if you're excited to get them in the hands of your guests, you don't have to wait until the eight-month mark. "Save-the-dates can go out as early as a year in advance," Alexander says. If you're planning a destination wedding, you could even do this step when you're at the year mark or earlier. What matters most, though, is that guests have plenty of time to plan accordingly.
If there's one thing the pandemic taught us, it's that you shouldn't skip wedding insurance. Understanding policies and their terms and conditions can feel overwhelming at first, but making sure you and your loved ones are protected is a top consideration when planning. Use these comprehensive wedding insurance guide to find coverage that fits your budget.
Here's a bright spot in your wedding planning journey: It's time to start thinking about your honeymoon! Where do you want to go? Do you want to depart right after your wedding, or would you rather give yourself time to unwind and soak up that just-married bliss before extending the celebration? Regardless of what you choose, we're big proponents of taking a honeymoon—you deserve it after all this planning.
The Knot Editor Tip: "You'll only be newlyweds once, making the honeymoon a trip to savor as you embark on marriage," says Esther Lee, Senior Editor. "If you're crunched for time, book a minimoon to an easily accessible destination (a short flight and/or a car ride away) after the wedding. This can be an extended weekend getaway with the eventual plan to enjoy a full latermoon at your dream, far-flung honeymoon destination. Plus, a trip for yourselves is the perfect way to decompress after the wedding…especially when it involves a luxury resort and a delicious Piña colada."
To stay on top of travel deadlines, start looking into potential locations to see how they match up to your wedding timeline now. (Think: Would your trip fall into your potential location's busy or off-season? Are there any weather-related concerns to keep in mind?) While you can definitely start planning this on your own, we also recommend using a honeymoon travel agent if you'd rather have someone else take on the majority of the planning for you.
7 Months Out From Wedding
Give yourself a pat on the back, because you've made it so far. And, can we just say—you're crushing this whole wedding planning thing. Here's your official seven-month wedding checklist.
Shop for Wedding Party Attire
Once you have an idea of what you and your S.O. will wear on the big day, it's time to think about your wedding party too.

The same is true of groomsmen suits or tuxedos too. Think of wedding party outfits as puzzle pieces—you'll need the big pieces first, like the location, wedding dress and wedding suit, in order to find outfits for your crew that fit in perfectly. Then, order them as early as possible to leave time for fittings and alterations. "We highly recommend that you order bridesmaid dresses at least three months in advance," Lee says. "Not every dress is going to fit like a glove, so you'll want ample time for exchanges or alterations."
Finalize All Vendor Hires
By now, almost all of your vendors should be booked. You'll be able to complete contracts a few months from now, especially because not all of them can be finalized until product amounts are determined (like flowers, for example). But, at this stage of the wedding checklist timeline, you'll need to be sure your pros are locked in and ready to help you finalize planning.
As the precursor to your wedding day, your rehearsal dinner is one element you'll want to pay attention to. Some wedding venues may have the ability to host your rehearsal dinner one or two days before your wedding date, which you'll want to inquire about as soon as possible. Or, if you want to host this prewedding gathering at a nearby h
The discussion of style of food and food service can begin early on but usually clients aren't working with their caterer until six-ish months before their wedding. During that time frame, you can customize your menu and brainstorm out of the box ideas such as sliders, or grazing stations.
otel, a favorite restaurant or a neutral location, book your event as early as possible. In fact, given pandemic-related timing considerations, you can book your rehearsal dinner location up to a year in advance to lock in your preferred spot. If someone other than you and your S.O. will be hosting (perhaps either of your parents), they can take control of booking the location.
6 Months Out From Wedding
Take a moment and breathe deeply: You're officially six months out from your wedding date. Here's what comes next on your wedding planning calendar.
While not necessary, attending premarital counseling can be a great way to prepare your relationship for marriage. In these sessions, you and your S.O. will work with family counselors, religious leaders or even other married couples to communicate your wants and needs while aligning your goals and expectations for life after the big day.
Don't forget about your wedding jewelry! This is one of the most exciting tasks on your wedding planning checklist. Around six months out from the date, start shopping for your wedding bands. It's common to buy through the same retailer or jeweler that designed your engagement ring, especially if you want a wedding band that corresponds with the design—but the choice is ultimately yours. What matters most is that you give yourself ample time to try different styles to find the perfect fit. "I tell people to really take their time and think about what speaks to them and to find something that represents their love and partnership," says Toni Zehrer, SVP and Chief Merchandising Officer of Signet Jewelers (which houses brands like Kay, Zales and Jared). "Couples often come into a store thinking they want one thing, and sometimes choose something completely different, yet still perfect for them."
This process generally takes six to eight weeks, though it may take longer if you're opting for custom designs. We recommend starting to shop as early as possible to ensure the rings are in your possession long before the day of the wedding.
Renew Your Passports
If you're heading to a far-flung locale for your honeymoon, make sure those passports are up-to-date. Check the status of your passports early to leave plenty of time for any needed updates or exchanges.
Post-Pandemic Planning Tip: Processing operations for US Passports have extended due to the pandemic. As of October 2021, the US Department of State estimates that routine processing for passports is 8 to 11 weeks, while expedited processing (for an additional $60) is 5 to 7 weeks.
Secure Your Hair and Makeup Team
While you can certainly do your wedding hair and makeup on your own, you may prefer to hand that over to the pros. When you're six months out from the wedding date, your glam squad should be confirmed—you'll want to book your HMU trial a few months from now to decide on a look.
Complete Your Invitation Suite
At this point, you'll need to finalize the design for the rest of your invitation suite, because formal invites will need to be ordered next month. If you want all of your stationery to match, from the invites to the seating cards to the menu and even your table numbers, we recommend using The Knot Invitations. Or, if you'd like to get custom wedding invitations, now's the time to reach out to a stationer and begin bringing your paper dreams to life.
5 Months Out From Wedding
You've got five months to go! Here's what's included on your five-month wedding checklist.
Order Formal Invitations
Your save-the-dates are already in the hands of guests, so now it's time to order your formal invitations. These don't have to go in the mail until two or three months before the wedding day, but it's crucial to buy them now so you have time to make sure they're in perfect condition before sending them out. (Plus, you'll need plenty of time to address those envelopes.)
Plan Your Menu
Consider this one of our favorite wedding checklist tasks to complete. Food is the key to a great party, and now's the time to finalize what you want to serve on the big day. "The discussion of style of food and food service can begin early on but usually clients aren't working with their caterer until about six months before their wedding," says Tangerini. "During that time frame, you can customize your menu and brainstorm out-of-the-box ideas." Now is also a great opportunity to set up a wedding cake tasting—you know, for research.
Buy Additional Prewedding Outfits
Ready to go shopping again? While you already have your wedding dress or suit picked out, you'll need to shop for additional wedding outfits for all the fun parties coming your way. Think about what kind of attire you'll want to wear for your shower, bach party, rehearsal dinner, after-party, and any additional wedding weekend soirées, like a day-after brunch or a kickoff happy hour. Now's the time to buy those outfits so you have plenty of time to steam, alter, and prepare them.
Finalize Honeymoon Plans
You've done the necessary honeymoon daydreaming, so now it's time to finalize those plans. At this point in the wedding planning timeline, you should aim to have flights, lodging, and excursions booked.
The Knot Editor Tip: "This is where attitude matters," says Esther Lee. "There's a chance you might feel exhausted after experiencing the highs and lows of wedding planning. The honeymoon is a reward for all the hard work you've done while wedding planning, and it's also time for you and your partner to rejuvenate and reconnect alone."
If you aren't getting married in a religious institution, you'll need an officiant. (For those getting married in religious settings, this step will come earlier when you book your ceremony.) Whether you'd like to have a trained officiant, a close friend or a family member preside over your ceremony, reach out and book their services now so they have plenty of time to prepare.
Begin Wedding Beauty Upkeep
Interested in trying out a teeth whitening treatment or a new skincare routine? Now's the time to begin prewedding beauty upkeep. Keep in mind that this wedding checklist step is completely optional—but, if you do want to try out any new treatments, it's important to start now to allow your skin and body time to adjust. This will give you leeway to experiment and find what works best for you. (Read: You don't want to try a brand new skincare facial treatment a few weeks before the date, in case it doesn't work or you aren't pleased with the results.)
4 Months Out From Wedding
With four months to go until your nuptials, here's what comes next on your free wedding checklist.
Send Shower Invites
This wedding checklist task falls to the person hosting your shower. Now's the time to send out wedding shower invites—but since a shower is often hosted by the wedding party or family members, it's up to them to put the invitations in the mail.
Create a Music Wishlist
Most wedding DJs and bands will ask you for a list of must-play songs, as well as a do-not-play list too. Sit with your S.O. to talk about the songs you need to hear on your wedding day. This is also a great time to finalize standout music moments, like your processional and recessional song, your first dance tune, parent dance hits, and your wedding exit song. Make sure to share these music requests in a timely manner so your pro has plenty of time to plan.
Plan Personalized Details
Here's where you can really let your personality shine. Having a memorable wedding all comes down to the standout moments and details that will make your guests think, "Wow, that was so them."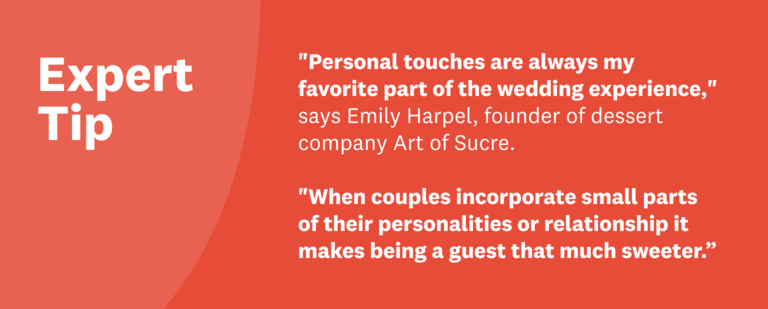 You can personalize just about everything and anything for your wedding, like vow books, bar menus, signage, cups, toothpicks, napkins, and even food packaging. (Custom french fry holders, anyone?) But, because custom details take time, you'll need a few months to design the details and have them delivered to you. "Sometimes couples wait to add these extra touches until the last minute and, sadly, that often means we can't create their exact vision or at all due to timeline limitations," says Harpel, whose company produces custom wedding cotton candy and drink glitter bombs. "When it comes to planning personalized details, I always say the earlier the better, but not later than four to three months before the big day."
If you've opted to purchase ceremony programs for guests to read as you exchange vows, finalize the design and get it printed now. You'll want the complete booklet in your possession well before the wedding date, that way you aren't worried about printing any final paper goods in time.
3 Months Out From Wedding
Can you believe it? The end is in sight. With three months to go until your wedding day, this is what's most important on your wedding checklist timeline.
Attend Your Wedding Shower
Sit back, relax, and enjoy your shower with your nearest and dearest. Assuming your wedding party or a few close family members banded together to host this event, you have nothing to do but to enjoy celebrating your upcoming wedding while being showered with love. Bridal showers typically fall between three months to a few weeks out from the wedding date, but you can enjoy this prewedding perk whenever it makes sense for your timeline.
It's common for to-be-weds to purchase gifts for close family and wedding party members. Not only is this a thoughtful way to thank them for having a role in your wedding, it serves as a token of appreciation for their time and help offered in the months leading up to the wedding. These gifts are often given on the wedding day, so start browsing now to find the perfect items that express your gratitude.
Reach out to your stylist and makeup artist and schedule a glam trial. This wedding planning checklist item is essential because it'll help you finalize your wedding day look.
The Knot Editor Tip: "Not only will a hair and makeup trial ensure you and your glam team are on the same page, it's also your chance to see what the style you're envisioning looks like in real life—and how it will hold up throughout the day," says Shelley Brown, Senior Fashion & Beauty Editor. "This is also your opportunity to voice any specific questions or concerns you may have (i.e.: are you committed to using only clean products? Do you have a special headpiece you want to incorporate into your hairstyle?). Don't be afraid to speak up and (politely) ask for what you want."
Send Formal Wedding Invitations
Formal wedding invitations typically go in the mail two to three months before the wedding date. (Note: If you're hosting a destination wedding, these should be sent even earlier: four to six months in advance is ideal.) To ensure your stationery ends up in the hands of guests in a timely manner, we recommend sending them now to account for potential mail delivery delays.
2 Months Out From Wedding
Looking for a two-month wedding checklist? We've got you covered right here.
Enjoy Your Bach Party
After all this planning, you deserve some R&R. Generally around this point of the wedding timeline, plan to embark on your bachelor or bachelorette party with your crew. Like the shower, this is often planned by a wedding party member. All you have to do is let loose and enjoy quality time with your closest friends.
We're big proponents of writing your vows early (read: not the night before the wedding). After all, the words you say at the altar are pretty important. Prevent any potential headaches or writer's block by starting early—that way, you have a lot of time to nail down exactly what you want to say.
Plan Your Favors & Welcome Bags
If you're going to surprise your guests with special gifts like wedding favors or welcome bags, we recommend purchasing them now. While these extra add-ons aren't necessary, they are a nice touch if they fit in your budget. All of your gifts should be packed and ready to go about two months before the date. "Favors are a nice touch, but they are an added expense," says wedding planner Alyssa Pettinato, founder of Alinato Events. "I tell my couples to put them on the end of their budgeting list and explore it if leftover funds allow. Plan to purchase them roughly two months out to give time for shipping."
1 Month Out From Wedding
It's the final countdown. You're one month out from your wedding day—hooray! This last month can feel overwhelming, so take a deep breath and take a peek at what's on your to-do list. Don't forget to take care of yourself too, because that's equally as important as tackling that checklist.
The Knot Editor Tip: "Those last few weeks before the wedding day should be all about celebrating and relaxing," says Morgan Gibson, Director of Digital Content. "Schedule a spa day, make some time for date nights (that don't revolve around the wedding!) and soak up those last few days of being just fiancés. The wedding weekend will get here soon enough, so take the time to enjoy the present as much as possible."
This is one of the most important month-of wedding checklist tasks to complete—after all, you can't get married without a marriage license. This legal document is your ticket to saying "I do." Once you know the municipality where your nuptials will take place, locate where you can obtain your license. This can be at city hall, the city or town clerk's office, or the marriage license bureau. Requirements vary by state, as do the timing deadlines. Some states require a several-day waiting period between granting the license and your nuptials taking place. Also, most marriage licenses are only valid for a window of time—anywhere between 10 days and a year—during which you must have the ceremony, sign the license (together with your officiant) and file for a certified license and marriage certificate. Start this process now to make sure your paperwork is ready to go.
Make Final Wedding Attire Alterations
At this point, ensure that your wedding day outfit is ready to go by finalizing your alterations. You'll need at least one month to work with a seamstress or tailor to make any necessary adjustments.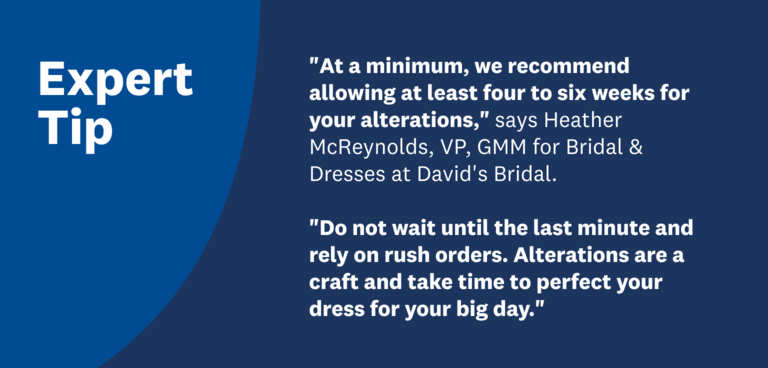 Confirm Wedding Party Attire is Ready to Go
In the same vein, touch base with your wedding party and ask them to confirm that their outfits are ready as well. Any last-minute hems or adjustments should be handled now.
You'll need to pass your finalized seating chart off to your planner, day-of coordinator or the venue staff, so make sure you know exactly where everyone is sitting at this point in the planning process.
2 Weeks Out From Wedding
The end is in sight! With just two weeks left to go, here's what you need to focus on in your wedding planning checklist timeline.
Confirm All RSVPs
Do a final sweep to make sure you've got all RSVPs accounted for. You'll need to give your venue a final headcount next week.
Schedule a Final Meeting With Your Planner or Day-Of Coordinator
Now is a great time to touch base with your planner or day-of coordinator to go over your wedding day schedule and make any last-minute adjustments. Make sure you're on the same page about what's to come over the next two weeks.
We always recommend having a list of photos you definitely want to take on the wedding day. Not only will this make our photoshoot session smooth and efficient, it'll ensure you get those "must-have" shots that you've been saving on Instagram and Pinterest. Hand over a shot list so your photographer has plenty of time to prepare themselves.
Touch Base With Your Vendors
In addition to connecting with your planner and photographer, we also recommend reaching out to the rest of your pros too. It won't hurt to follow up and confirm that they're all set (and have what they need) for your wedding date.
Share Your Music Requests
Remember those music requests you made a few months ago? Make sure your "must play" and "do not play" lists are passed off to your wedding DJ or band by now.
Book Final Beauty Appointments
If you want to have any final beauty appointments like a spray tan, a lash refill, a teeth whitening session, or a trusted facial, do so now. (If you're going to get a prewedding manicure or pedicure, save that for next week so your nails are nice and fresh.) It's important to note that now's not the time to try out a brand new treatment, though—the last thing you want is a facial that won't react well with your skin. Only book appointments you've had (and loved) before.
Finalize Your Vows
Make sure those vows are in their final edits by this stage of the wedding planning timeline. You'll need to start practicing next week!
The Week Before the Wedding
It's the home stretch. You have one week until your wedding! Take this moment to soak up all of the excitement—this is a big deal. Here are the last planning tasks to tie up before the day arrives.

If you have the ability, consider taking time off from work to focus your attention solely on wedding prep. Not only will this eliminate stress, it'll help you soak up the experience. "If you are able to take a few days off of work leading up to the wedding, that always helps take some pressure off and allow you to be fully present," suggests Tangerini.
Give Your Venue the Final Head Count
Get in touch with your venue and give them the final wedding head count. They'll need this for planning purposes on their end.
Press and Steam Your Outfit
Have your wedding dress or tux pressed and steamed. When you look back on photos, you'll be so grateful to see that you took the time to make sure your look was in pristine condition. After all, no one wants to sport wrinkles down the aisle.
Confirm Timing With Your Vendors Again
Do a final touch-base with your wedding vendors to ensure everything is good to go for next week.
Pack Your Overnight Bag
If you'll be spending your wedding night at a hotel or any location other than your home, you'll need to pack an overnight bag with the essentials (like a toothbrush and toothpaste, skincare, pajamas, a pillow, etc.) Now's also the time to pack your wedding purse, your wedding day emergency kit, and a tote bag of any essentials you'll need with you on the big day.
Treat your wedding jewelry to the TLC it deserves. Your rings will be at the center of attention, so give them a deep clean so that they shine to their fullest potential.
Practice Your Vows Out Loud
Practice makes perfect, so rehearse your vows out loud a few times. This is the best way to shake those prewedding jitters, especially if public speaking makes you nervous. Plus, with practice, your words will flow confidently once you're up on the altar.
Write Your Partner a Day-Of Note and Package Their Gift
It's common for couples to write each other private notes to read on the wedding morning, so take care of that now. And, if you've decided to buy your S.O. a wedding day present, make sure it's packaged up and tucked in your day-of tote bag.
The Day Before the Wedding
Can you believe it? Your wedding day is tomorrow! We're so excited for you. Before the party starts, here are the very last items on your wedding checklist.
Give Your Pros Day-Of Contact Information
Your pros already know how to contact you, but you'll be a little preoccupied tomorrow to answer last-minute texts or calls. Give them contact information for someone who can handle any logistical questions, like your maid of honor or best man, your parents, or your planner or day-of coordinator.
It's customary to tip your pros for excellent service, so organize your cash now so that it's ready to be passed off to your vendors at the right time.
Hand Off Your Marriage Certificate
Once your marriage license has all necessary signatures, hand it over to your officiant. They're responsible for dropping it off to the county clerk by mail or in person. Once that's completed, you're all set! Keep an eye out for the certified copy in your mailbox.
Give Gifts to Your Family and Wedding Party
Remember those thank-you gifts you purchased a few months ago? This is a great time to give them to your loved ones. Set aside some time for them to open their presents the night before the wedding.
Bring Small Decor to Your Venue
If you're supplying any decor, like candles, signage or DIY accents, drop them off at your venue. We recommend calling ahead to make sure they're able to hold your decorations overnight.
Rehearse Your Ceremony
Gather your crew and rehearse your wedding ceremony. Make sure to work through all logistical questions, and confirm that everyone is one the same page when it comes to timing, positions, and expectations. "Everyone needs to know when they are walking down the aisle, as well as what their cues will be and exactly where they will be standing," says Pettinato. "The logistics of the processional are important to understand, so attention should be spent telling everyone exactly when they need to go and to where."
Pass Off Your Wedding Bands
While the best man traditionally holds the wedding rings during the ceremony, the choice is ultimately yours. Just make sure the right person gets the rings the day before the wedding and keeps them in a safe place until the actual ceremony.
Enjoy Your Rehearsal Dinner
Now it's time to party! Once the "rehearsal" part of the evening is over, enjoy dinner with your nearest and dearest. This is the true kickoff to your wedding festivities.
The Day Of the Wedding
It's time to celebrate—you finally made it! After so many long months of planning, your wedding day is finally here. Relax and enjoy every minute of your special day. "Once you get to the day of your wedding, have fun and take it all in," Tangerini says. "You have spent months planning and preparing, so let your vendor team take care of everything for you that day. They are professionals and know what they are doing!"
After the Wedding
Congrats...you're married! Give yourself a pat on the back. After many long months of planning, your hard work has paid off. But, believe it or not, there are a few things on your postwedding to-do list. From writing vendor reviews to sending thank-you notes and, yes, enjoying your well-earned honeymoon, here's a guide of what you should accomplish after the wedding day.
Please take 2 minutes to share your thoughts with our editors! You'll have a chance to win a $100 gift card.