A Lisbon Honeymoon With Fairy-Tale Vibes and Historic Charm
Castles, waterfront views and romantic hotels await in the Portuguese capital city.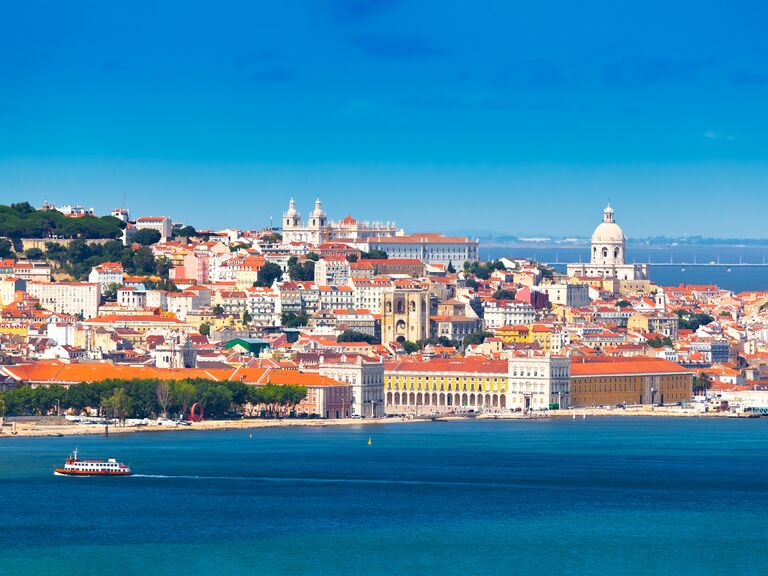 INTERPIXELS/Shutterstock
We have included third party products to help you navigate and enjoy life's biggest moments. Purchases made through links on this page may earn us a commission.
Stepping into Lisbon feels like walking through the pages of a fairy tale. A Lisbon honeymoon exudes romantic charm at every turn—the Portuguese city is filled with cobblestone streets, old-world architecture and Michelin-starred restaurants.
Lisbon is a place where the city meets the sea. The beaches have plenty of space for waterfront wandering, or newlyweds can take in stunning vistas of the Tagus River from luxury hotels.
Portugal isn't the world's longest trek for honeymooners flying from New York City, especially when compared to other destinations like Thailand or Australia. Expect an eight-hour direct flight to Lisbon from NYC. Couples in San Francisco have an 11-hour nonstop flight, while those traveling from Atlanta should expect at least a 14-hour trip with at least one layover.
As of December 2021, air travelers must show proof of a negative COVID-19 PCR test taken within 72 hours of boarding or an antigen test taken within 48 hours of departure.
Is Lisbon Good for a Honeymoon?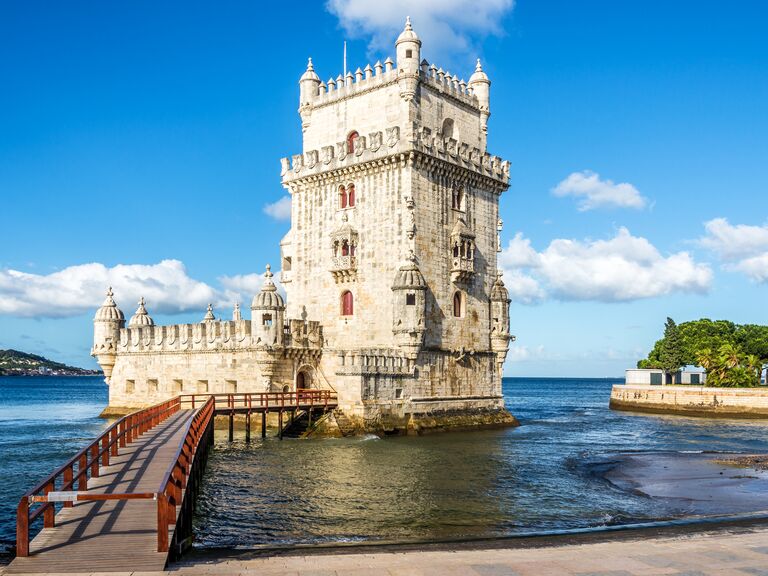 Pros of a Lisbon Honeymoon
Lisbon is a romantic city and one of the best honeymoon locales for couples craving a getaway that caters to all five senses. Its beauty, history and beaches make it a prime spot for sightseeing, too.
Portugal is a noted wine region, so expect world-class vinos to sip and swirl while toasting to new beginnings. The lower-key-but-bustling cafes serve up mouthwatering pastel de nata, a custard tart pastry with a touch of cinnamon. Fado, the Portuguese version of the blues, often provides the soundtrack to meals. Romantic hotels offer all the necessary comforts to help you feel relaxed and at home. Lisbon also serves as a good home base for day trips to other areas around Portugal, including the beaches of Algarve.
Cons of a Lisbon Honeymoon
You'll be spending a ton of time walking in Lisbon, and the streets can be hilly. Newlyweds who would prefer easier walks may want to look elsewhere. Though Lisbon is full of unique experiences, couples can typically see most of the city in a week or less. Newlyweds looking for longer getaways will want to consider day trips. Sintra, a whimsical locale that's home to the Pena Palace and the Moorish Castle, makes for a good day trip, as it's just about 30 minutes away.
The Best Times of Year to Go on a Lisbon Honeymoon for Good Weather
Lisbon is home to all four seasons, and spring and fall tend to bring the mildest temperatures, making them the best times to visit. Expect 70-degree weather in April, May, September and October—it'll be warm enough to enjoy a beach day but cool enough for a walking tour.
Places to Visit in Lisbon on a Honeymoon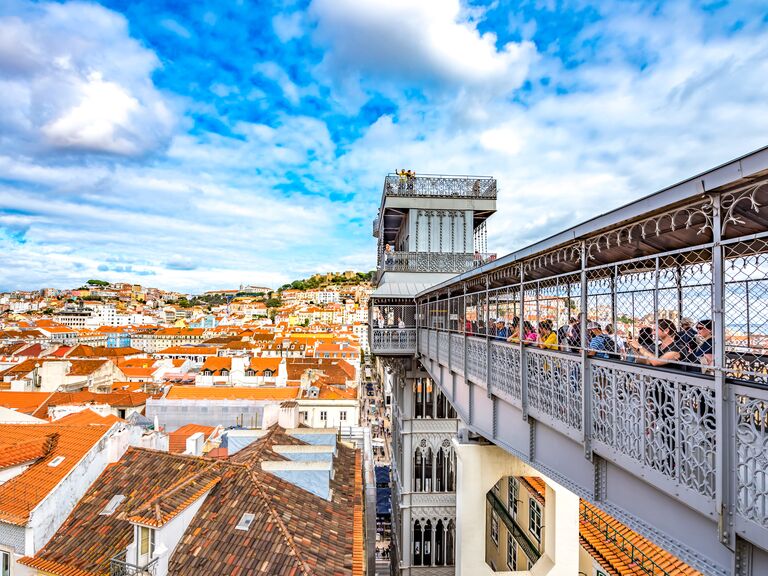 Lisbon is brimming with everything from natural beauty to fun nightlife. There are plenty of opportunities to relive history while also savoring every moment of present-day Portugal.
Alfama
One of Lisbon's oldest areas, Alfama, has steep cobblestone streets, but it's worth walking them for a chance to browse the unique shops and cafes. When the sun sets, fado musicians croon inside the area's restaurants.
Couples can skip the steep walk and take the 28 tram line up to the Castelo de S. Jorge. Perched on a hill, the Moorish citadel has been everything from a royal palace to military barracks since about the 8th century BC. Today, honeymooners can discover the area's history and take in some of the best views of the neighborhood and the Tagus River from atop the hill. Some walking tours of Alfama include the castle (and a good workout).
Belem
This area along the Tagus River boasts its share of historical sites, and the locals are as easygoing as a sea breeze. Expect friendly service at the numerous highly touted seafood restaurants, where the fish relies more on freshness than frills.
Belem Tower, a 16th-century fortress, is a popular draw. The UNESCO World Heritage Site is temporarily closed, but honeymooners can snap a photo of the impressive exterior. The tower once helped protect the Jeronimos Monastery, another stunning monument from the Age of Discovery built using Moorish and European architectural styles.
Chiado
Chiado serves as Lisbon's center for shopping and theater. Peruse Rua Garrett for a mix of businesses selling everything from pastel de nata to silks. The National Museum of Contemporary Art also calls Chiado home, as do many Michelin-starred restaurants. Alma's extensive wine list and sea-to-table menu make it worth the splurge (expect to drop more than €150 here). Meanwhile, Loco's intimate setting and 16-course tasting menu make it a perfect place for a dinner you'll never forget.
Baixa
This neighborhood was rebuilt from the ground up after an earthquake in 1755. Many of the neoclassical buildings remain. When in Baixa, head to Rossio Square (or Praca do Rossio). The boisterous plaza flanked by two baroque fountains has a seemingly endless number of cafes. Many of them have outdoor seating, making it a perfect place for people-watching. Avenida da Liberdade's 19th-century buildings and garden terraces give it a sophisticated charm.
Bairro Alto
Move from Baixa to Bairro Alto with ease by hopping on the Santa Justa Lift, a Gothic elevator connecting the two areas. Bairro Alto is perhaps best known for its spirited nightlife. Bar hopping is easy in these parts, and you can hear a mix of fado music and modern hits playing as you walk by. Tasca do Chico has a rustic and brooding scene with plenty of fado music, though the notable sausage and red wine give it a happier buzz.
Cais do Sodre
This trendy neighborhood is known for its colorful nightlife scene. Pink Street, located near the port, is like trick-or-treating for adults. There's a high concentration of bars ideal for couples hoping to toast to the years ahead. And the name isn't simply a misnomer—the street has actually been pink since 2013.
Best Hotels and Resorts in Lisbon for a Honeymoon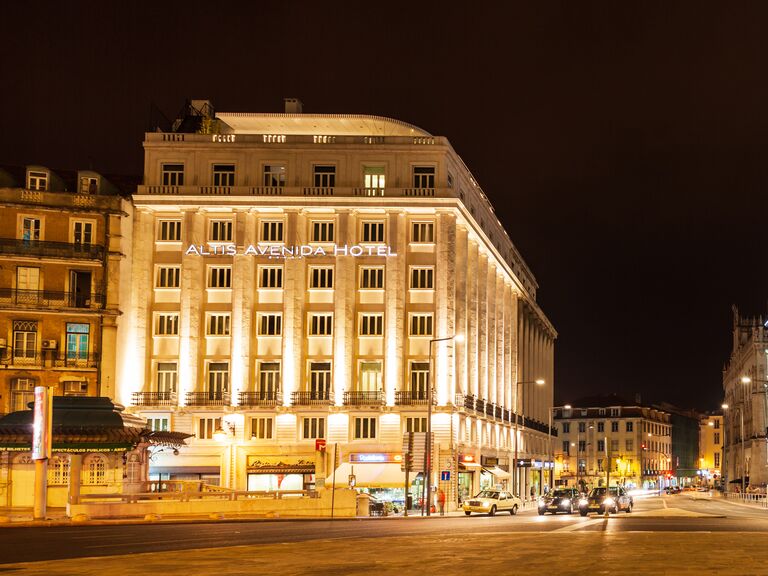 This five-star boutique hotel is perfect for couples who want easy access to nightlife. It's also within walking distance of Rossio Square. Each room has unique decor, and there's a refined ambiance throughout the hotel. Suites offer balconies with sweeping city views. Speaking of vistas, the on-site rooftop bar gives guests a bird's-eye view of the Tagus River.
This hotel's opulent exterior sets the stage for a notably sophisticated experience from check-in to departure. It's walking distance from Praça do Comércio, where couples can find a bevy of cafes and shops. Castelo de São Jorge is a short drive away. Altis Avenida Hotel's rooms have tasteful decor and city or garden views. Some also have balconies. Rossio Gastrobar serves seasonal Portuguese cuisine with a side of city views.
Set in an 18th-century building by Municipal Square and the waterfront, Alma Lusa/Baixa Chiado is a 20-minute walk from Castelo de São Jorge. Its rooms are comfortable and modern. Couples can book experiences through the concierge service—walking tours, water-sport adventures and massages are all options.
Another stunning boutique hotel, Pousada de Lisboa's golden facade assures guests they're in for a luxury experience from the get-go. Upgraded suites have balconies, and the beds in all rooms are comfortable. It's a good thing, as this hotel provides ample opportunity for adventure. It's a hop, skip and jump away from Praça do Comércio plaza and the Tagus River. It's also not far from metro stations for couples looking to get out and go sightseeing.
The Lisbon Marriott Hotel is contemporary and polished. Its floor-to-ceiling guest-room windows give way to skyline or garden views. The hotel is about 10 minutes from the nearest metro station by foot and a short drive from Rossio Square. Perks include a trio of on-site restaurants and a fitness center.
What to Pack for a Lisbon Honeymoon
Lisbon involves its fair share of walking, so a comfortable pair of shoes is a must. Casual but neat attire—such as nice denim or slacks, polos and blouses—works well while sightseeing or dining at unpretentious-but-upscale cafes. Bring a cardigan or light jacket, as nights can get cool.
Dress shoes, stilettos, chic dresses, pants and button-down shirts are necessary if you plan on going dancing. Pack a swimsuit and towel if you plan to dip your toes in the water or the hotel pool. A hat, sunglasses and sunscreen will help you mitigate not-so-stylish sunburns.