A Fairytale Portugal Honeymoon for Explorers and Wine Lovers
Castles, wine cellars and beautiful beaches make Portugal a dream honeymoon spot.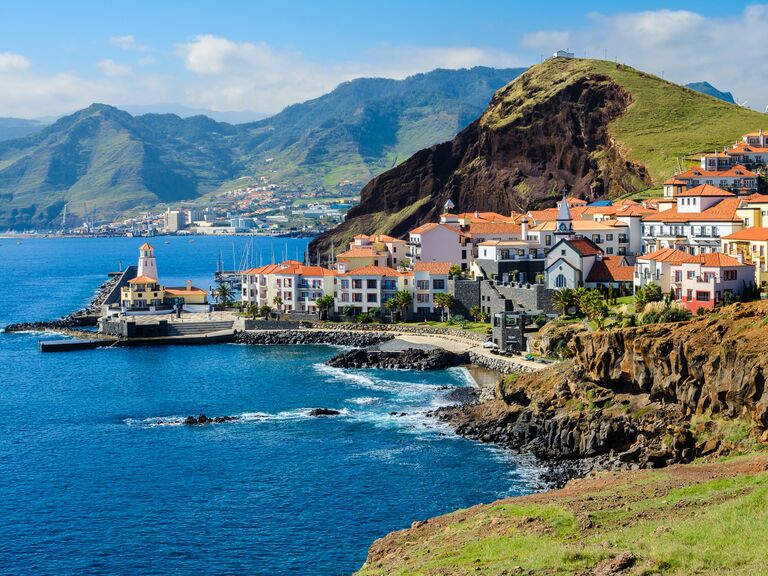 Alberto Loyo/Shutterstock
We have included third party products to help you navigate and enjoy life's biggest moments. Purchases made through links on this page may earn us a commission.
Small in size but big on charm, Portugal is full of history, beautiful beaches, cobblestone streets and world-class wine. There are opportunities to enjoy one-of-a-kind day trips and a lively nightlife scene. Altogether, Europe's westernmost country is a perfect destination for newlyweds who want to go sightseeing and dance.
Portugal will be an easier trek for honeymooners coming from the Northeast. It's about a seven-hour flight from New York City to the Portuguese capital city of Lisbon. But it's more than twice as long for couples flying in from Los Angeles or Houston.
Is Portugal Good for a Honeymoon?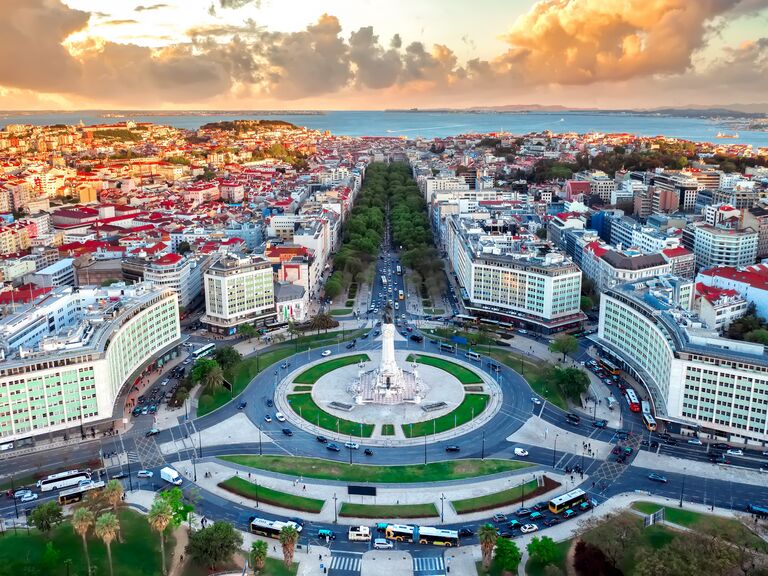 Pros of a Portugal Honeymoon
Portugal is an ideal honeymoon destination for couples who want a range of experiences. Since it's on the Atlantic coastline, most views include a waterfront. The cobblestone streets in beautiful cities like Lisbon and medieval castles in Sintra make a Portuguese getaway feel like something out of a fairytale. A noted region for vino, Portugal also offers plenty of opportunities to explore wine cellars by day. Plus, the nightlife scene has many spots for upscale dinners and dancing after the sun goes down.
Cons of a Portugal Honeymoon
Portugal is a far-flung location for many in the U.S. Couples who don't want to spend 30 hours or more round-trip on a plane will want to find something closer to home. Though the country has its share of beautiful beaches, there's a ton to do in Portugal. Those who want to chill in the sand all day will probably want to look elsewhere.
The Best Times of Year to Go on a Portugal Honeymoon for Good Weather
The water is warmest on the beaches during the summer months (June through August), making it the best time to visit Portugal. Daytime temperatures are usually between 75 and 80 degrees. But don't discount spring or fall—temperatures can still reach the mid to high-70's, and you'll see fresh blooms or beautiful foliage. You'll just want to plan on looking at the water, not touching it.
Things to Do During a Portugal Honeymoon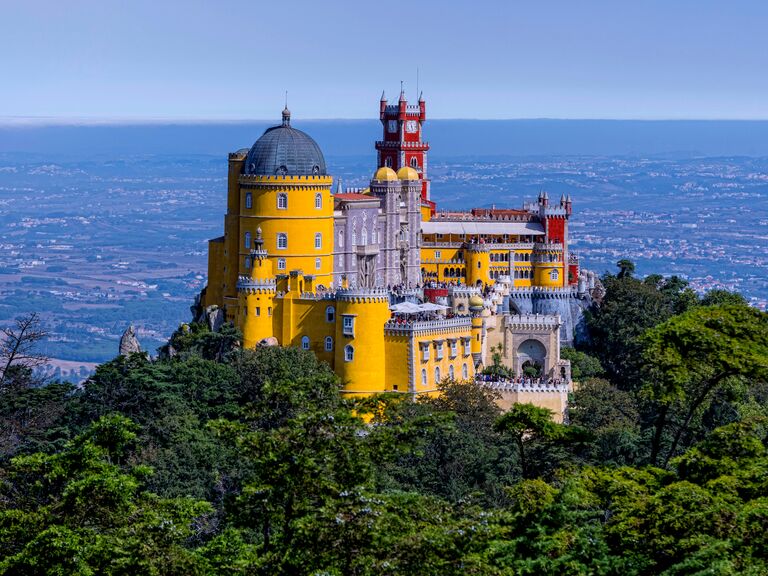 Portugal offers a full sensory experience. There are historical places to see, pastel de nata to taste, port wine to sniff (and savor), live music to enjoy and ocean breezes to feel. These are the top places to do it all.
Lisbon
Portugal's capital is one of its most beautiful cities, and there's no shortage of things to do while there. Start your day with a pastel de nata (a creamy pastry) and espresso for a jolt of energy—you'll need it. Alfama, the city's old town, has one-of-a-kind shops and eateries. You'll hear plenty of Fado, the Portuguese version of the blues.
Other popular things to do include a tour of the 16th-century Belém Tower and a cruise along the Tagus River. A night on the town in Barrio Alto, where cobblestone streets create a path to restaurants and bars, is also fun.
Sintra
With all due respect to Disney, Sintra is a real fairytale experience. You'll find many castles, most notably Pena Palace, Sintra National Palace and the Castle of the Moors. Tour them for an idea of how the royals once lived. The colorful villas add a special character to the landscape. Sintra serves as a good home base for trips to Cascais, a coastal resort town, and Óbidos, another medieval experience.
Porto
Portugal's second-largest city is known for its port wine and views of the Douro River. Experience both by doing a wine tasting and cruise. Then, take a breather post-day trip before heading to dinner at an Old Town restaurant. On day two in Porto, consider heading to Aveiro, where the sweet ovos moles (Portuguese egg yolk sweets) are worth the 50-minute drive.
Algarve
Portugal's Southern-most city is a honeymoon destination for couples who believe sandy shoes are the best shoes. The low cliffs and sandy coves brush up against the pristine Atlantic waters. Kayak and snorkel in Lagos and dolphin watch while cruising through caves. You can also simply sit on the beach and enjoy the breathtaking views. Algarve is the place to slow down.
Alentejo Region
Sometimes overlooked by sightseers but never by oenophiles, the Alentejo Region is a favorite place for wine cellar tours and tastings. Skip driving so you can savor your vino guilt-free by opting for a tour. The region is also home to restaurants serving real-deal Portuguese cuisine and many meals with a side of gorgeous views.
Madeira Islands
The World Travel Awards named the Madeira Islands the top island destination for the sixth year in a row in 2020. It's easy to see why. You'll find Madeira in the middle of the Atlantic Ocean, and the dramatic cliffs and volcanic landscape add to the scenery. Get a gorgeous overview of the islands from the highest seacliff in Europe, Cabo Girao, where a glass-bottomed lookout gives way to otherworldly vistas.
Best Hotels and Resorts in Portugal for a Honeymoon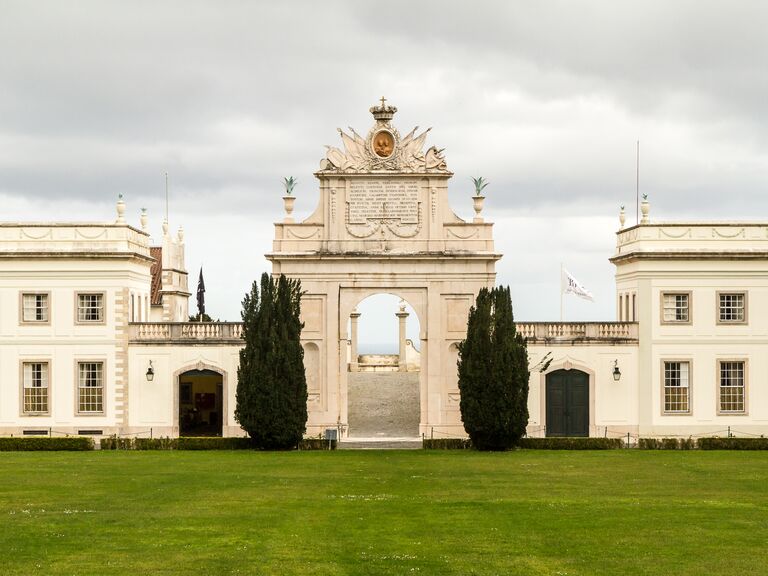 Lisbon Marriott Hotel
Lisbon Marriott Hotel is near the airport, making it an ideal spot to shake off jet lag before exploring the capital city. The four-star hotel has rooms with private balconies and floor-to-ceiling windows. Though you'll likely spend much of your time exploring the city, it's worth trying to spend some time by the pristine pool.
Pine Cliffs Resort
A five-star, luxury resort nestled along a pristine and secluded portion of the Atlantic Ocean features views of the Praia da Falésia beach and Algarve's famed red cliffs. The Marriott property is a haven for active couples who can enjoy amenities like its tennis court, eight swimming pools and the resort's on-site spa.
The Yeatman
The Yeatman is a boutique hotel built for wine lovers. It's about a 15-minute stroll from Porto's Old Town and sits adjacent to the Douro River. Guests can unwind in indoor and outdoor infinity pools or on a private terrace with a glass of port wine in hand.
Six Senses Douro Valley
Perched on a hill overlooking the countryside, Six Senses Douro Valley focuses on guest's wellness and comfort. The spa not only offers luxe treatments like facials but wellness screenings and sleep and skin analysis. The resort's expert sommelier will point you to the area's best vintages.
Tivoli Palacio de Seteais
A stay at Tivoli Palacio de Seteais reads like a trip inside the pages of a fairytale novel. Set in a palace along the Portuguese Riviera, it's earned itself a Sintra World Heritage Site listing. The elegantly decorated ballrooms and guest rooms exude 18th-century charm, and couples can see Pena Palace and the Castle of the Moors from the luxury hotel. There's also a spa.
Vila Alba Resort
Make your best honeymoon even better with a stay at Vila Alba Resort. Set high on the cliff of Praia de Albandeira in Lagoa, it offers easy access to Algarve's best beaches. The comfortable rooms and apartment offer waterfront views and comfy beds.
What to Pack for a Portugal Honeymoon
You'll want to pack for the range of experiences you'll experience during a Portuguese honeymoon. Lightweight clothing is ideal for the summer months, but it's advised couples pack layers like cardigans for evenings. Fashionable, lightweight scarves will look chic while keeping your neck and shoulders warm. Couples will want to prepare stylish clothes and shoes for wine tastings, upscale dinners and dancing.
Heels may be fun for nightclubs and restaurants. But bring comfortable shoes like flats for wine tastings, particularly if you plan on exploring the cellars. A good set of walking shoes or sneakers are also ideal for day trips and sightseeing. SPF, a bathing suit and towels are must-haves for the beach. Don't forget: you'll need a power adapter to charge devices.