The 15 Most Fabulous Los Angeles Proposal Ideas
Make your fiance-to-be feel like a Hollywood star.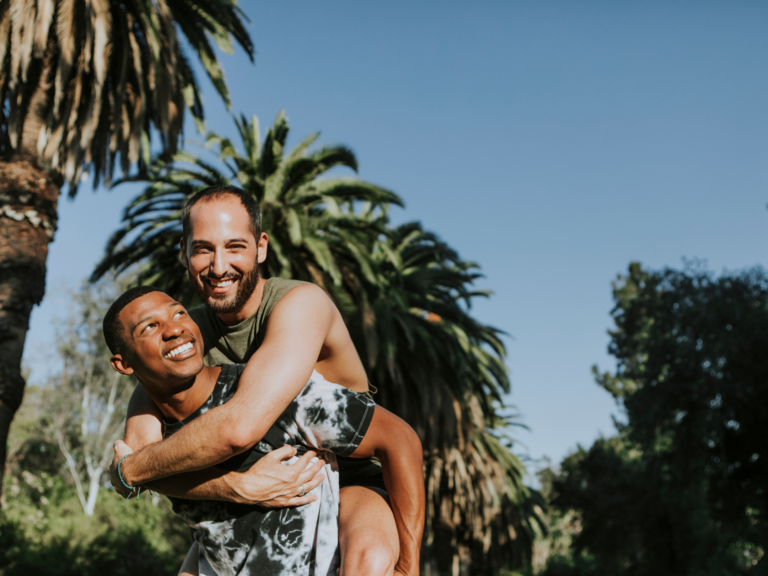 Photo: Rawpixel / Getty Images
When dreaming up proposal ideas in Los Angeles, you may be wondering if there's a secret spot on the beach to drop to one knee or if you should go all-out with family and friends on a rooftop. Knowing this is a tough decision, we've collected a variety of the best proposal spots in LA so that there's something for everyone on this roundup. We also spoke to wedding and proposal expert Nicole Harris, the owner and creative director of Dreams In Detail, a luxury event planning business based in Beverly Hills, California, to get some tips and tricks for pulling off the perfect proposal in this SoCal city.
In this story:
How to Decide Where to Propose in Los Angeles
Los Angeles is an enormous city, and the last thing you want to do when getting engaged is have tourists ruin your moment or get stuck in traffic for hours. So, Harris advises couples to avoid holidays and weekends if they're doing a public proposal. The pro, who boats more than 13 years of wedding experience, emphasized that "a proposal on the beach on a Monday-Wednesday will be way more intimate than a proposal on the beach on a weekend."
Harris also explained that you need to "know your partner" and "consider if they would not be fond of a public proposal and plan accordingly." LA has plenty of iconic spots to choose from, but the star-studded city will lose its luster if your partner is overwhelmed by all the people staring at them when you pop the question. So, consider one of the more intimate spots if a public proposal is not the right way to go.
The Best Time of the Year to Propose in Los Angeles
Harris believes fall is the best time of year to propose in LA "because the weather is usually perfect", but she noted that the holidays are certainly "the most romantic." Outside of these times, it's important to avoid daytime proposals in the hottest months so no one is too sweaty for photos. Lastly, if you opt for a winter proposal, make sure to pack layers as a cool breeze can drop the temperature quickly, especially when at the beach or up in the hills.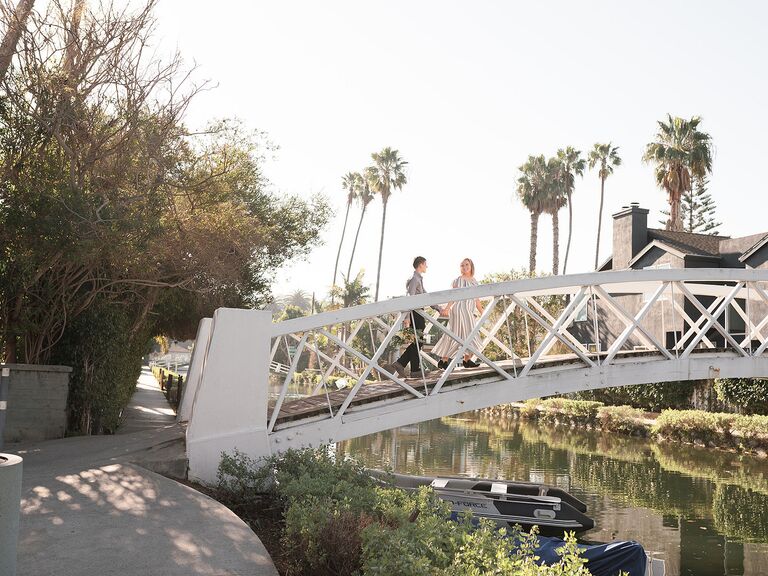 Romantic Places to Propose in Los Angeles
Romance looks different for everyone, so finding the right space to propose can often be difficult. Thankfully, there are professionals who know their industry and city so well that they can dream up the perfect spot and proposal in no time. You can search for the right engagement planner or photographer on The Knot Vendor Marketplace to find someone to help your vision come true. In the meantime, though, consider these romantic spots to ask your love to spend the rest of their life by your side.
Le Merigot Santa Monica
Steps away from the famous Santa Monica Pier and Ferris Wheel sits Le Merigot, Marriott's stunning seaside hotel. With a world-class restaurant on the roof and all the amenities you need to turn your proposal into a weekend to remember while seeing the Santa Monica sites, Le Merigot is hands-down one of the best places to propose in Los Angeles.
Eaton Canyon Falls
Just under four miles long, the hike to Eaton Canyon Falls is doable for most people with an adventurous spirit. The walk to get to the beautiful waterfall will take you through flower fields, over small streams and through a canyon until you stumble upon one of LA's most beloved waterfalls. This spot, tucked amongst the beauty of nature, drips with romance as nature sets the mood.
Aboard The Queen Mary
For a one-of-a-kind experience, propose aboard The Queen Mary, a ship that has been operating since 1933. In the decades since it began sailing, it has stayed true to its classic roots with a sophisticated art deco style. You're welcome to propose after taking a tour of the ship, although we would recommend booking a stateroom or suite to get the full experience.
The Heritage Museum of Orange County
Not far from Anaheim and Long Beach are Santa Ana and the Heritage Museum of Orange County. The incredible museum gives visitors a peek back into the history of the now-bustling city. Visitors love the impeccable gardens for their peaceful and manicured architecture and greenery, and we think they create the perfect setting for a glamorous Los Angeles proposal.
Griffith Observatory
Have you been asking, "Can you propose at Griffith Observatory?" If so, the answer is "yes!" The historic building is a landmark of Los Angeles, and as long as you follow a few simple rules, you can make a memory here. While photography is allowed, it cannot interfere with other guests' enjoyment of the space, and no balloons are allowed inside the building.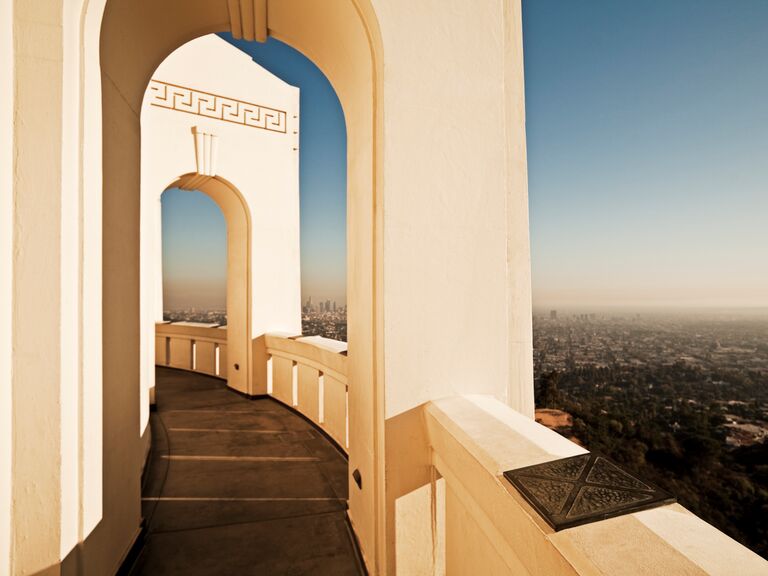 Scenic Places for a Rooftop Proposal in Los Angeles
Rooftops have a certain magic to them, and many spots in Los Angeles have leaned into that to create one-of-a-kind spots for a scenic proposal. Whether you want a mountain view or a shot of the Hollywood sign, there's a rooftop for you on this list.
Sofitel Helipad
For unparalleled glamor and the best that Los Angeles has to offer, propose on the rooftop of the Sofitel LA in Beverly Hills. The hotel has a proposal package for couples to rent the rooftop helipad for their special moment. It includes two hours of set-up, valet parking, hotel access for a photo shoot, a champagne toast and space for guests. This is in addition to the stunning 360-degree view of the city, including the Hollywood Sign and downtown LA.
The Rooftop by JG at the Waldorf Astoria
With one-of-a-kind views of Los Angeles and a hip, green rooftop bar, there's plenty to love about The Rooftop by JG at the Waldorf Astoria in Beverly Hills. The open-concept space and view make it a particularly great spot for a surprise proposal with photos after a round of delectable drinks.
Spire 73 at the InterContinental
The InterContinental in downtown Los Angeles is the tallest building west of Chicago, meaning the views from its rooftop bar Spire 73 on the 73rd floor are unbeatable. While a proposal here will certainly knock anyone's socks off, you can also pair the moment with dinner at the hotel's French steakhouse or sushi restaurant before grabbing a room to celebrate your new commitment.
The Private Rooftop at Petit Ermitage
Petit Ermitage is a boutique hotel hidden away in West Hollywood, but we think it is well worth seeking out. The rooftop, which is only open to guests, has private dining spaces complete with 20th-century art, mounds of greenery and beautiful furniture. It also boasts a poolside lounge, cabanas and luxurious poolside beds, all with a view of Los Angeles. We can assure you a proposal here will certainly become the highlight of your relationship so far.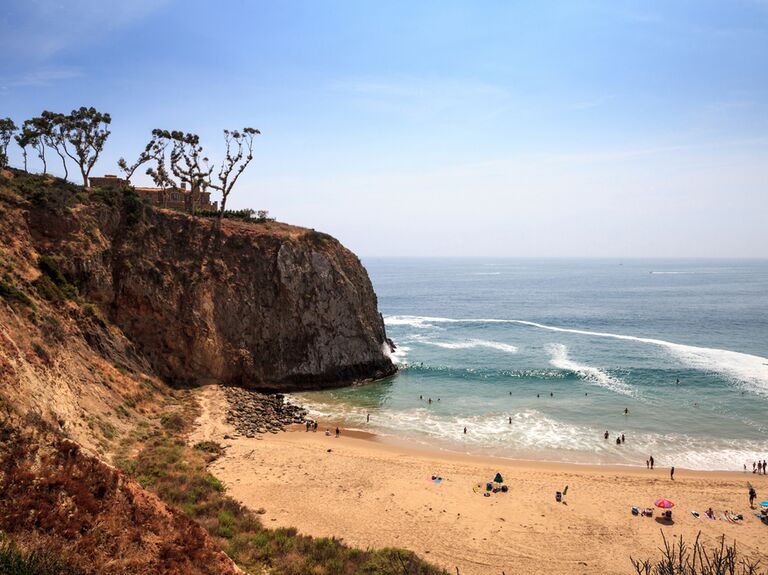 Private Places to Propose in Los Angeles
In a city of nearly four million people, it's easy to feel surrounded by people all the time. But, with just a bit of planning, you'll be able to find a spot for just the two of you to have your special moment.
Crystal Cove State Park
Crystal Cove State Park is one of LA's largest natural spaces open to the public. With 3.2 miles of coastline and over 2,000 acres of wilderness to explore by hiking trail, there are plenty of sneaky spots to tuck away for an intimate proposal here. There are also many campsites and dozens of cottages run by the park system here, making it easy for couples who want a rustic getaway to celebrate the next stage of their relationship.
The Bissell House Bed & Breakfast
The Bissell House will transport you back in time with its ambiance and history without asking you to give up any modern-day luxuries. The 1887 Victorian home is now a boutique bed and breakfast in Pasadena, just 11 miles from downtown LA. A room here and a stroll through the gardens is just right for a romantic proposal.
Cielo Farms Vineyards
With over thirty acres tucked in the Santa Monica Mountains, Cielo Farms is both scenic and private. The Winery, which has countless grape vines and olive trees to explore provides plenty of spots to sneak away with a glass of your choosing. The elegant winery seems to transport you to the Tuscany hillside, all while staying a short drive away from Los Angeles. For these reasons, we think a trip to Cielo Farms Vineyards is an excellent choice to craft your perfect proposal date.
El Matador Beach
One of the most photographed beaches on the West Coast, El Matador Beach is absolutely gorgeous. Even with its popularity, though, the numerous unique rock formations and bluffs still allow for plenty of different places to hide away for an intimate proposal. Close to Malibu and with a myriad of trails and caves to explore, El Matador easily earned a spot on our list of the best places to propose in Los Angeles.
Stonewall Ranch Malibu
For years, Stonewall Ranch Malibu hosted gorgeous weddings at its expansive estate, but now the management is prioritizing photoshoots and filming. If you're up for having an engagement shoot here, Nicole Harris thinks it is one of the best places to get engaged in Los Angeles as it has an "elegant, Italian-inspired feel." Between its glorious mountain views, wildflowers and timeless architecture, every picture here will be worth a thousand words.
Best Restaurants to Propose at in Los Angeles
The Los Angeles food scene is absolutely incredible because of its proximity to the ocean and farmland as well as a community wanting to create and support innovative and delicious restaurants. So, while there are plenty of restaurants to propose at in Los Angeles, here are two that are just a step above the rest because of their ambiance and heart.
Santuari
If you were wishing for a Mediterranean vacation to propose but can't quite pull that off, getting engaged at Santuari Restaurant might be the next best option. The exquisite details put into every aspect of this place, from the cuisine and decor to the view from the garden terrace, make it one of the most romantic restaurants in Los Angeles.
Madera Kitchen
The perfect marriage of bohemian and rustic, elegant yet approachable, Madera Kitchen in the heart of Hollywood is a great proposal spot. Not only is the decor a gorgeous backdrop for photos of the special moment, but the top-notch staff and gourmet food are well loved. You can even get married here too if you'd like to keep all your special engagement memories in one spot!