The Origin of Mexican Wedding Cookies & The Best Recipe for Making Them
It's time to make some tasty treats.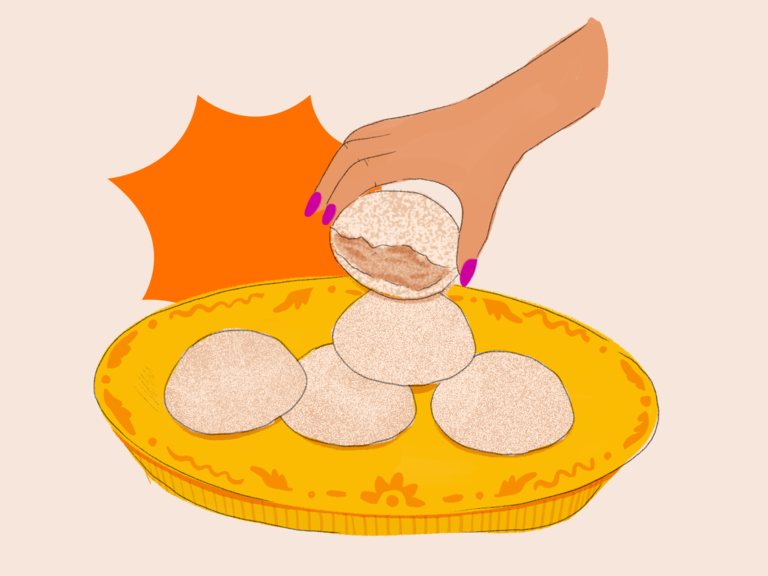 Illustration: Tiana Crispino
There are so many culinary traditions connected to weddings, and Mexican wedding cookies are one of them. A simple cookie made of only a few ingredients, it's a buttery and crumbly delight that goes by many names—at least four, to be exact. And even though this dessert is small, it comes with a big, tangled history. Learn what Mexican wedding cookies are, the tradition behind them, their history, origin and multiple names. And as a sweet bonus, we included a Mexican wedding cookies recipe and gave some ideas for how you can add them to your special day.
In this article:
What Are Mexican Wedding Cookies? | Tradition | Name | Recipe | How to Incorporate Them
What Are Mexican Wedding Cookies?
Mexican wedding cookies are buttery desserts filled with walnuts, hazelnuts, pecans or almonds topped with delicious powdered sugar. These treats are typically found being used as edible wedding favors or at a holiday party.
Mexican Wedding Cookies Tradition
Even though the Mexican wedding cake cookies' history and origin are complicated (we'll dive into that soon), they are known to be traditionally served at Mexican weddings at a dessert bar or given to guests to take home. But there's also a tradition to have Mexican wedding cookies during the holidays because they look similar to little balls of snow. According to the Institute of Culinary Education, Italians prepare these buttery cookies for celebratory meals with a special touch of star anise, which gives the dessert a delicious fragrance.
Mexican Wedding Cookies History
Culinary experts and historians admit the history of Mexican wedding cookies isn't complete. These sweets look similar to Russian tea cakes, kourambiethes or kourambiedes (Greek cookies that have egg yolk and brandy or orange juice) and qurabiya (Arab cookies with egg whites), which makes the Mexican wedding cake cookies history hard to trace with so many lookalikes across the globe.
But one thing is certain. According to the Epicurious writer, Matthew Zuras, a reader of the 1937 American Cookery journal wrote in asking if the editors could send them the Mexican wedding cakes, another name for the cookies, recipe and described them as "small, round tea cakes, rather short, filled with nuts, and rolled in powdered sugar." With this information, we at least know the cookies existed how we know them now.
Find your kind of venue
From barns to ballrooms, discover reception venues that feel like you.
Mexican Wedding Cookies Origin
Since these confections have "Mexican" in the name, one might automatically assume that's their origin, but historians don't believe it's that simple. Some people think Mexican wedding cookies originated from medieval Arab bakers and, because of expanded trade routes, eventually made their way to Europe. There's even talk that European nuns possibly brought the mouthwatering recipe to Mexico or Spanish conquistadors did the deed but for North America in the 16th century.
Mexican Wedding Cookies Name
It's believed that the Mexican wedding cookies' name was originally Russian tea cookies, but changed during the Cold War because of tensions with Russia at the time. But cookbooks referring to the treat with the Mexican name existed before the start of the Cold War, like the one mentioned above, so that idea was slowly been debunked. We can only assume the name is such in North America because of its Mexican lineage and traditional appearance at Mexican weddings.
It's probably not shocking to you, but because of their complex history and origin, there are numerous other names for Mexican wedding cookies. There are plenty of blogs discussing Mexican wedding cookies vs. Italian wedding cookies, snowball cookies vs. Mexican wedding cookies and Russian tea cakes vs. Mexican wedding cookies. Plus, there are polvorónes, which comes from the Spanish word "polvorón" meaning "powder" and is what Mexico natives call the cookies. At this point, the tasty cookies have dozens of names, and unfortunately, bakers can't agree on one. As long as the recipe calls for nuts, butter, powdered sugar, flour and vanilla extract, it'll come out the same, no matter the name.
Mexican Wedding Cookies Recipe
If all this talk about cookies has your sweet tooth aching, why not make yourself a batch? We've looked at dozens of recipes and combined them into one easy method. But if baking isn't your thing and you're about to type "How to find Mexican wedding cookies near me" into your search engine, there's another option for you. Use The Knot Vendor Marketplace and find the best local baker to create these treats for your wedding or the holidays.
The recipe below makes about three dozen cookies and takes about one hour to make.
Ingredients
1 cup of unsalted butter, room temperature
1 cup of almonds (or any nut you prefer), toasted and coarsely ground
2 cups of powdered sugar
2 cups of all-purpose flour
2 teaspoons of vanilla extract
How to Make Mexican Wedding Cookies:
Use an electric mixer and beat the butter until light and fluffy in a medium to large bowl. Next, mix in the vanilla extract and 1/2 cup of powdered sugar until it's properly blended. Then add the flour and nuts and have the mixer on low speed until the dough is combined. Cover the bowl tightly with plastic wrap and place in the fridge to chill for at least 30 minutes and at most two hours––the colder they are, the less likely they'll spread in the oven.

Preheat the oven to 350°F and put 1/2 cup of powdered sugar in a shallow dish to use later.

Using the palms of your hands, shape the chilled dough into 1-inch balls (about two teaspoonfuls of dough each) and put them on an unlined large baking sheet spaced 1/2 to 1 inch apart. Bake the cookies for 15 to 18 minutes when the tops of the cookies have reached a pale golden color.

Remove Mexican wedding cookies from the oven and let them cool for 5 minutes. Roll or lightly toss the cookies in the dish of powdered sugar you set aside earlier, then place them on a wire cooling rack for at least 20 minutes.

Once the cookies have completely cooled, sift the rest of the remaining powdered sugar (or as much as you like) over the cookies and serve. For storage, put them in an airtight container and store them at room temperature.
How to Incorporate Mexican Wedding Cookies into Your Day
Now that you know just about everything there is to know about Mexican wedding cookies, you can include them in your celebration. We love the idea of couples with small guest counts making the cookies themselves and serving them at the wedding, asking their baker to make them as wedding favors, handing out a family Mexican wedding cookie recipe at the reception or having a Mexican wedding cookie cake. There are so many ways you can incorporate these delicious little domes into your nuptials—just ensure you choose whatever will make your stomach happy.