The History Behind Engagement Chicken & How to Make It Perfectly
Could making one roasted chicken result in a proposal?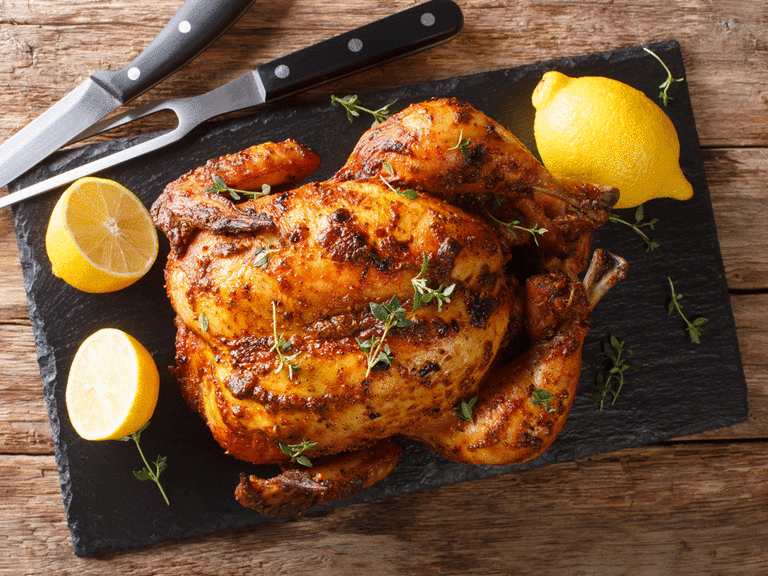 Photo: Sergii Koval | Shutterstock.com
Every relationship reaches a point where the next step is inevitable. But getting there isn't always as speedy as some would like. Some people decide to follow folklore and whip up an 'engagement chicken' to prompt the most important question of all: "Will you marry me?" As you can likely gather from the name, this delicious recipe isn't just good for the soul but beneficial to the heart. As legend has it, anytime you prepare this one-of-a-kind meal for your partner, they'll be prompted to move from boyfriend or girlfriend to fiancé(e). Here's what you need to know about this seemingly magical engagement chicken recipe.
Why Is It Called Engagement Chicken?
It's long been debated that the way to anyone's heart isn't through the words you speak or the gestures you make—but through their stomach. Sure, this isn't the case for everyone, but in the spirit of this folklore, we'll believe it has an impact. Kylie Carlson, a wedding expert and former CEO of The Wedding Academy, says engagement chicken is fun mythology that dates back to the early 1980s.
Carlson says it was a Glamour magazine fashion editor, Kim Bonnell, who created the recipe inspired by Italian cooking writer, Marcella Hazan. She shared it with a colleague who made it for her boyfriend. Shortly after—you guessed it—he proposed. "The recipe started to make the rounds in the office, and a few employees later claimed that the roasted chicken led to their engagements," Carlson explains. "It was then ceremoniously dubbed 'engagement chicken,' when the recipe was first published in Glamour in the early 2000s."
What Is Ina Garten's Engagement Chicken?
You might have noticed that even though Glamour is credited for the engagement chicken recipe, the name Ina Garten always pops up when you type 'engagement chicken' in any search engine. Garten, an author and chef, said in an interview that she heard about the wedding chicken from an editor at Glamour and decided to put her own spin on it. The original engagement chicken recipe is a simple combination of fresh herbs, salt, pepper, lemon juice and chicken. For Ina Garten's engagement chicken ingredient list, it includes salt, pepper, lemon, white wine, chicken stock, onions, garlic, flour and chicken.
Ina Garten's Engagement Chicken Recipe
We can't guarantee witchcraft that results in a diamond engagement ring. But, if you follow this recipe from Garten, your home will fill with sensational aromas to make your tummy growl. And your partner will be thankful you created something so flavorful and tasty for dinner.
Ingredients:
1 roasting chicken (4 to 5 pounds)

Kosher salt

Freshly ground black pepper

2 lemons

1 whole head of garlic, cut in half crosswise unpeeled

2 Spanish onions, peeled and thickly sliced

1/2 cup of dry white wine

1/2 cup of chicken stock (store-bought or homemade)

1 tablespoon all-purpose flour

Olive oil
How to Prepare:
Preheat the oven to 425 degrees Fahrenheit.

Remove and throw away the chicken giblets. Pat the outside of the chicken with a paper towel since it helps it brown while it's in the oven.

Liberally salt and pepper the inside of the chicken. Then cut one of the lemons into quarters. Place two of the lemon quarters in the chicken. Take the halved garlic head and place it into the chicken as well.

Put the chicken into a roasting pan and drizzle a couple of tablespoons of olive oil on top of the chicken (which is another way to help the chicken brown in the oven). Use your hands to spread the olive oil on the chicken. Then add a tablespoon of salt and pepper on top of the chicken.

Put the other two-quarters of the lemon into a medium bowl and cut another lemon into quarters. Add the second lemon and thickly sliced Spanish onion into the bowl.

Drizzle two tablespoons of olive oil into the bowl. Then add a teaspoon of salt and half a teaspoon of pepper to the bowl and toss the onion and lemon together.

Place the lemon and onion mixture around the chicken in the roasting pan. Put the pan on the upper third level of the oven. Roast the chicken for 1 1/2 hours, or until the juices run clear when you cut between a leg and thigh. You can also use a meat thermometer to determine if it's cooked to perfection.

When the chicken is done, place it on a platter (leaving the lemon and onions in the pan) and wrap it with aluminum foil so it can rest for about 10 minutes.

Place the roasting pan on the stove and put the heat on medium-high. Add 1/2 a cup of dry white wine and stir with a wooden spoon to scrape up the brown bits at the bottom of the pan. Then add 1/2 a cup of chicken stock and one tablespoon of all-purpose flour to the pan. Stir constantly until the sauce thickens.

Once the sauce is to your liking, use a slotted spoon to get all the lemon rinds (these have cooked long enough to be edible) and onions and place them around the chicken. Then pour the sauce into a gravy boat so it can be drizzled over the chicken later and serve.
Does Engagement Chicken Work?
Everyone loves a delicious-tasting meal, but what makes this recipe so special that people claim to get proposed to soon after making it? Let's take a deeper look into the sorcery behind this poultry dish.
Celebrity Testimonials
In 2021, actor Emily Blunt mentioned on iHeartMedia's River Cafe Table 4 podcast she made Garten's famous engagement roast chicken for John Krasinski when they started dating––they later got engaged in 2009. Most recently, it made headlines again following the first interview Meghan Markle gave following her engagement to Prince Harry. The prince popped the question on a quiet night at home, while Meghan was roasting a chicken. Was it the engagement chicken recipe? Sources can't confirm—but many believe it was a riff on the Barefoot Contessa, Ina Garten's iconic recipe.
Another infamous tale is the love story between Howard Stern and his long-term girlfriend, Beth Ostrosky. "Howard had claimed he would never marry again and one evening, Beth made the chicken for him. He later went on his show raving about it, and someone called in to tell him that Beth had made Engagement Chicken. Howard called Beth on the air about it and she admitted she had made it, but just because it sounded good," Carlson shares. Years later, they got engaged.
Remember, It Is Just Chicken
But does it work for everyone? Maybe, maybe not—but who cares? Preparing a meal for the person you love is a way to illustrate your love and affection. After all, poultry shouldn't determine if you make a life-altering decision to tie your life to another human being. Engagement chicken is a healthy idea for any relationship, and sure, it may lead to the next step. Or, it could just solidify your union. Or be a great meal you share. Regardless, display your hard work on the countertop, sit back, sip white wine, and enjoy one another. The rest will work itself out.