Ready For the Next Step? Make This Engagement Chicken
Psst: it worked for Meghan!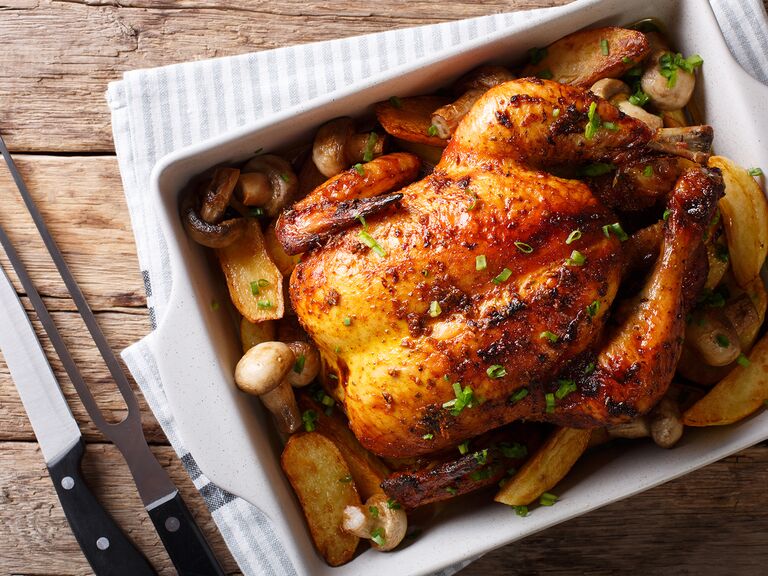 AS Food Studio/Shutterstock
Every relationship reaches a point where the next step is inevitable. But getting there isn't always as speedy as some would like. Some women (and men) decide to follow folklore and whip up an "Engagement Chicken" to prompt the most important question of all: 'Will you marry me?' As you can likely gather from the name, this delicious recipe isn't just good for the soul but beneficial to the heart. As legend has it, anytime you prepare this one-of-a-kind meal for your partner, he or she will be prompted to move from boyfriend or girlfriend to fiancé(e). Here, what you need to know about this seemingly magical recipe.
Why Is It Called 'Engagement Chicken'?
It's long been debated that the way to anyone's heart isn't through the words you speak or the gestures you make—but through their stomach. Sure, this isn't the case for everyone, but in the spirit of this folklore, we'll believe it has an impact. As wedding expert and CEO of The Wedding Academy, Kylie Carlson explains, 'engagement chicken' is fun mythology that dates back to the early 1980s and was recently made trendy again thanks to Meghan Markle and Prince Harry.
As the story goes, Carlson says it was Glamour magazine fashion editor Kim Bonnell who created the recipe inspired by Italian cooking writer Marcella Hazan. She shared it with a colleague who made it for her boyfriend. Shortly after—you guessed it—he proposed. "The recipe started to make the rounds in the office, and a few employees later claimed that the roasted chicken led to their engagements," Carlson explained. "It was then ceremoniously dubbed "Engagement Chicken," when the recipe was first published in Glamour in the early 2000s."
It continued to have it's so-called 15 minutes of fame with a book and many segments on national news and food television shows. Most recently, it made headlines again following the first interview Meghan Markle gave following her engagement to Prince Harry. The red-headed royal popped the question on a quiet night at home, while Meghan was roasting a chicken. Was it the engagement chicken recipe? Sources can't confirm—but many believe it was a riff on the Barefoot Contessa, Ina Garten's iconic recipe that is similar to the original from Glamour.
How Do You Make Engagement Chicken?
If you're not a chef, don't break out in a sweat. Even the most inexperienced home cooks can whip up this easy-to-follow recipe. Carlson describes it as unfussy, crispy, delicious and always well-received. The Bonnel derived her original approach from Hazan's lemon roast recipe that includes a four-pound chicken, coarse sea salt, ground pepper, and lemon slices or whole lemons for the cavity of the bird. After prepping, you place the chicken on a roasting pan and cook in the oven for 20 to 25 minutes per pound. Bonnell's is slightly different since it also utilizes fresh herbs: rosemary sprigs, sage sprigs and thyme sprigs and flat-leaf parsley. Other versions use chicken stock to make it juicier.
These days though, the way to prepare 'engagement chicken' is to follow the legendary Garten since it's rumored to be the route Markle took with Prince Harry. You can follow it below:
Ina Garten's Roast Whole Chicken Recipe
We can't guarantee witchcraft that results in a diamond engagement ring. But, if you follow this recipe from Garten, your home will fill with sensational aromas to make your tummy growl. And your partner will be thankful you created something so flavorful and tasty for dinner.
Ingredients
1 (5 to 6 pound) roasting chicken
Kosher salt
Freshly ground black pepper
1 large bunch fresh thyme, plus 20 sprigs
1 lemon, halved
1 head garlic, cut in half crosswise
2 tablespoons (1/4 stick) butter, melted
1 large yellow onion, thickly sliced
4 carrots cut into 2-inch chunks
1 bulb of fennel, tops removed, and cut into wedges
Olive oil
How to Prepare
Preheat the oven to 425 degrees F.
Remove the chicken giblets. Rinse the chicken inside and out. Remove any excess fat and leftover pin feathers and pat the outside dry. Liberally salt and pepper the inside of the chicken. Stuff the cavity with a wooden spoon with the bunch of thyme, both halves of lemon, and all the garlic. Brush the outside of the chicken with the butter and sprinkle again with salt and pepper. Tie the legs together with kitchen string and tuck the wing tips under the body of the chicken. Place the onions, carrots, and fennel in a roasting pan.
Toss with salt, pepper, 20 sprigs of thyme, and olive oil. Spread around the bottom of the roasting pan and place the chicken on top.
Place the pan on the upper third of the oven. Roast the chicken for 1 1/2 hours, or until the juices run clear when you cut between a leg and thigh. You can use a meat thermometer to determine if it's cooked to perfection. Remove the chicken and vegetables by using tongs to a platter. The chicken rest period should be around twenty minutes.
Slice the chicken onto a platter and serve it with the vegetables
...and hopefully get engaged!
Does Engagement Chicken Actually Work?
In addition to Meghan Markle and Prince Harry, another infamous tale is the love story between Howard Stern and long-term girlfriend, Beth Ostrosky. "Howard had claimed he would never marry again and one evening, Beth made the chicken for him. He later went on his show raving about it, and someone called in to tell him that Beth had made Engagement Chicken. Howard in turn called Beth on the air about it and she admitted she had made it, but just because it sounded good," Carlson shared. "Years later, they did, in fact, get engaged."
But does it work for everyone? Maybe, maybe not—but who cares? Preparing a meal for the person you love is a way to illustrate your love and affection. After all, poultry shouldn't determine if you make a life-altering decision to tie your life to another human being. Engagement Chicken is a healthy idea for any relationship, and sure, it may lead to the next step. Or, it could just solidify your union. Or be a great meal you share together. Regardless, display your work of art on the countertop, sit back, sip white wine, and enjoy one another. The rest will work itself out.