A Miami Bachelor Party City Guide to Plan Your Weekend
Gather the guys in the Sunshine State's party capital.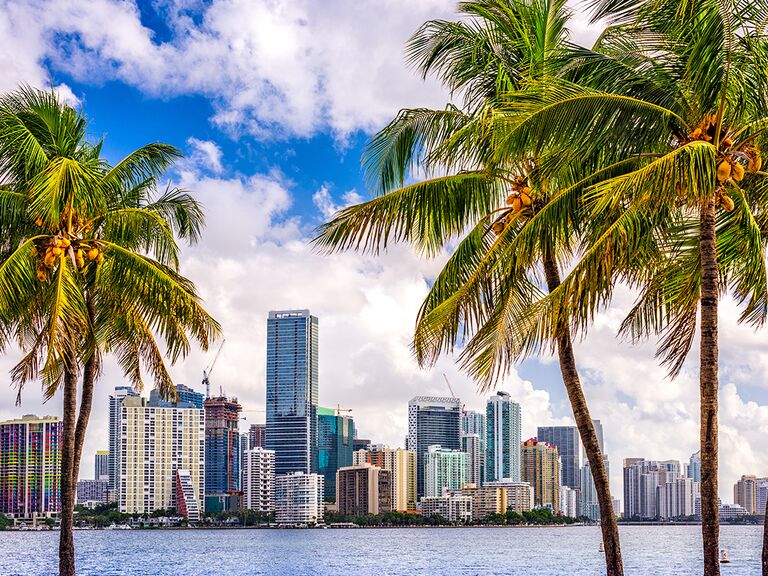 Sean Pavone/Shutterstock
Look no further than Miami for a bachelor party where you can rage all day and night long. A Miami bachelor party is made up of four things: sun, sand, surf, and nightclubs. This beachy hot spot is a party town, with plenty of outdoor and water activities for the day, a delicious food scene, and plenty of nightlife to make it a weekend no groom can forget.
What Are Some Miami Bachelor Party Ideas?
Miami has epic beaches, an awesome Cuban food scene, and plenty of nighttime activities to satisfy every type of group. So if you're looking for a chill vibe, you've found a great spot to soak in the sun and hang in the sand. If you're in the mood for something a little livelier, you've also headed to the right destination: Miami is party capital of the U.S.A., with a ton of bars and clubs that stay open until all hours of the morning. (Grooms: Thank your crew for attending with customized gifts from The Knot Shop.)
For the Water Sports Enthusiasts
If your groom likes time out on the water, Miami is the place to be. Choose between options like renting a yacht for the day that's outfitted with plenty of water toys, deep sea fishing for mahi and tuna, taking a speed boat tour of the coast, snorkeling and diving Florida's reefs, or just enjoying a chill day on the beach.
For the Partiers
A Miami bachelor party is built for those who want to party all day and all night. Case in point: During the day, join boaters, kayakers, and yachties for a fun-in-the-sun sandbar party. After the sun has set, rent a party bus to take you from nightclub to nightclub, with premium liquor, an open bar, and VIP access.
For the Foodies
Don't forget those with hungry stomachs. In Miami, every foodie will find something to satisfy their cravings from authentic Cuban food to the eats on South Beach (consider a foodie tour here). Plus, plenty of gourmet restaurants for those with a refined palate.
What Do You Do at a Bachelor Party in Miami?
With so much on the table in Miami, it may be hard to narrow your bachelor party itinerary down to just a long weekend. Don't worry, we've got you covered, with a three-day Miami bachelor party itinerary that will fit everything in, and make the most of your weekend:
Day 1
Morning: Check in your hotel or AirBnB and then head out for brunch at one of Miami's top spots: Yardbird Southern Table & Bar. Serving classic southern fare like biscuits and gravy, smoked brisket (also over biscuits), and creole steak and eggs, you'll also find an inventive cocktail menu, extensive beer list, and even brews made in house.
Afternoon: If you're waiting for the rest of your crew to arrive, find a spot on the sand and spend the day in the sun and surf. But if everyone's arrived early enough, consider experiencing a Florida icon together: The Everglades. On a guided tour of Everglades National Park, you'll ride in an airboat and get up close and personal with the native gators.
Evening: Make your first dinner count with a feast at South Beach's Red the Steakhouse. Named one of the country's top 10 steakhouses by numerous publications including Esquire, Forbes, and Playboy, you'll enjoy your dinner which includes apps like Alaskan king crab cakes and sausage-stuffed hot peppers, and entree options such as bone-in ribeye, a 40-day dry-aged tomahawk, miyazaki Japanese kobe, or go big and order the "ultimate meat board" with four cuts and seven sauces. If you don't have the meat sweats after dinner, get ready for your first wild night out, which should start at Mango's for DJs and lively dancing and end at LIV, the notoriously fun nightclub in the luxurious Fontainebleau, where you can party to a live DJ until 4 a.m.
Day 2
Morning: Head to the Big Pink for a hefty brunch of hot malted waffles, corned beef hash, breakfast burritos, or a Carolina pulled pork omelette.
Afternoon: A Miami bachelor party isn't complete without attending one of the city's epic pool parties. Make your way to the Cleavlander for their Saturday afternoon Splash parties (starting at 2 p.m.) Entry is free before 3 p.m., and VIP table service packages are available. Top DJs and dancers perform, plus fun activities pop up throughout the day, outside of dancing and jumping in the pool, of course.

Evening: Make dinner a bit more casual tonight at 1-800-Lucky, a 10,000 square foot food hall serving variations of pan-Asian dishes (think: ramen and banh mi), with plenty of indoor and outdoor seating, two bars, and a karaoke lounge. Then make your way to E11Even, one of Miami's top nightclubs, which throws the ultimate party with celebrity DJs, burlesque performances, dancers on poles, and so much more. Plus, bottle service is available if you want to roll big.
Day 3
Morning: If you can handle it, consider waking up early for a last day on the water with a deep sea fishing trip. But if you need something a bit more chill, head to Orilla Bar & Grille for an a la carte brunch with offerings like shakshuka, beef empanadas, and a Wagyu burger, plus bottomless drinks for $20.
Afternoon: Pick your poison for today: Take a tour of Miami's top breweries on a party bus with tastings included. Or go hit a few at Miami's Top Golf in Miami Gardens. Or hit up another iconic Miami pool party at the Raleigh Hotel.
Evening: Start the evening with some beers and live music at a more laidback venue, Wood Tavern. For dinner, head to the Stubborn Seed for an eight-course tasting menu whipped up by a Top Chef alum. Then you have to figure out how to close out the Miami bachelor party weekend: For a more chill night, head to the 41st floor of the EAST hotel for Sugar, a rooftop bar with unbelievable views of the city. For a rowdier night, head to the BASEment, where you will find a nightclub, as well as bowling and ice skating.
Where Should I Stay in Miami for a Bachelor Party?
Downtown Miami is one of the country's most walkable cities, so if you plant yourselves in the heart of Miami you should have no trouble getting around to all the hot spots. Even if you're a bit out of downtown to have more space for a larger group, cabs and Ubers are easily accessible.
Best Miami Bachelor Party Hotels
Looking to stay at one of Miami's top hotels? Here's a list of a few favorites for your bachelor bash.
SLS South Beach is a luxury stay, but puts you and your crew in the same building as the SLS pool party, held every Sunday/
Courtyard Miami South Beach is a great mid-range hotel with modern, luxury amenities, including a rooftop pool.
The Freehand is super-budget friendly for your group, but also offers a poolside bar (The Broken Shaker) with a lively nightlife scene around its pool.
Best Miami Bachelor Party AirBnBs
Prefer to rent a house? Check out these options:
A Two-Bedroom Apartment on Ocean Drive is an affordable option that sleeps up to 8, with easy access to the beach and downtown.
A Four Bedroom Apartment across the bay from South Beach (a quick Uber will be required) overlooks all of downtown Miami, sleeps up to 12, and includes a jacuzzi.
This Vacation Paradise is great for larger groups, with its own private pool, easy beach access, and a quick ride into downtown. (It sleeps 16+.)
For other home rental options, we've found success using sites likeVRBO and HomeAway.com.