6 Bachelor Party Ideas His Crew Will Never Forget
Skip the drinking and gambling; this travel journalist turned wedding-menswear expert has better bachelor getaways awaiting the guys.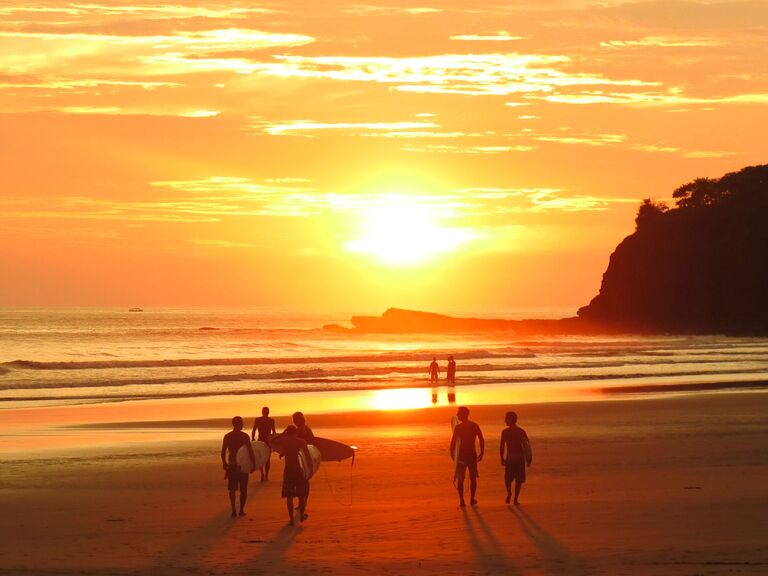 What happens when an expert travel journalist with more than 80 countries under his belt becomes the Chairman and CEO of Menguin, the online tuxedo rental company? You get Justin Delaney and his mind-blowing bachelor party ideas. While most guys just opt for the boilerplate Vegas-style experience, Delaney says there are better, more memorable options available.
"At the core of any bachelor party is a mission, but too often that mission is one of 'get as drunk as possible, go to strip clubs, gamble away money, get the groom blackout drunk,' and so on," says Delaney. "But it doesn't have to be this way. By changing the venue to something more adventurous, you can create a more personal and memorable experience with your friends."
Want an unforgettable bachelor party? Here's are a few of Delaney's top picks.
1. Belize Beach Adventure
When Delaney's brother got married last year, he planned a trip to Belize, which combines beaches, watersports and plenty of great food with a side of night life. Their adventure included swimming with 40-foot whale sharks and dolphins in the middle of the ocean, diving at the legendary Blue Hole and kayaking through a maze of croc-infested mangroves. After a day outdoors, they moved the party to a dancehall.
2. Surf Camp in Nicaragua
While nearby Costa Rica gets touted as a place of paradise, its neighbor Nicaragua shouldn't be overlooked. Nicaragua has some great surf breaks, as well as several inexpensive surf schools lining the coast for great places to spend a long weekend. Bonus: Delaney says flights are inexpensive and crowds are thin due to the country's polarizing history and lack of a tourism budget like its well-known neighbor.
3. Lobsters and Microbrews in Maine
For the East Coast grooms, Maine is full of cool adventures and worthy side quests. "Start the weekend in Portland with a microbrew tour at Allagash or Airline Brewing Co, which hosts a great horseshoe game over a pale ale," says Delaney. "On day two, make like a lobsterman and go on a guided tour to trap dinner. Ocean to plate."
4. Charter a Boat in the Virgin Islands
"If your crew has some dough to spend, look into sailing the Virgin Islands," says Delaney, who recommends finding an all-inclusive trip starting at around $500 for the boat per day. "Some boats can fit more than ten people, and you can explore hidden beaches, islands and just generally chill. You can also hire a captain to train your team to sail."
5. Hike the Rockies
A hot spot in the US for adventure-seekers, Colorado offers a fun setting off point for a camping trip in the wilderness.
6. Scottish Islands
"My dream bachelor party involves island hopping from Islay to Jura and hiking Scotch country," says Delaney, stating this is best if you have a small crew and a ton of airline miles. Take advantage of Scotch distilleries, such as Ardbeg, Lagavulin and Laphroaig, which typically offer tours and sell limited edition bottlings only available on site.
Show Me the Money
If the fellas can't quite make it rain, it may seem like these trips are a no-go. However, many of these options are cheaper than the Vegas route.
"For one, the incremental cost of flying to most places on this list as opposed to Vegas is slight, and you'll make up the cost difference (and more) by being able to book a house everyone can share," says Delaney, who explains that it's not hard to find large houses sleeping eight to ten guests for $200 a night. Compare that to $300 per room per night at the notable Vegas hotels, which sleep a cramped and uncomfortable four to six tops.
If money is a problematic factor for some friends, Delaney recommends finding ways to cut down costs by inviting more friends to reduce overall costs and to share frequent flier miles whenever possible.
"When life starts picking up, people start dropping off," Delaney says. "Your friends have kids. Move to London. Get married. Work at insanely demanding jobs. The bachelor party is an ideal time to reconnect in spite of life putting distance and adulthood between you and your best friends. Doing something new together heightens the reignited bond."