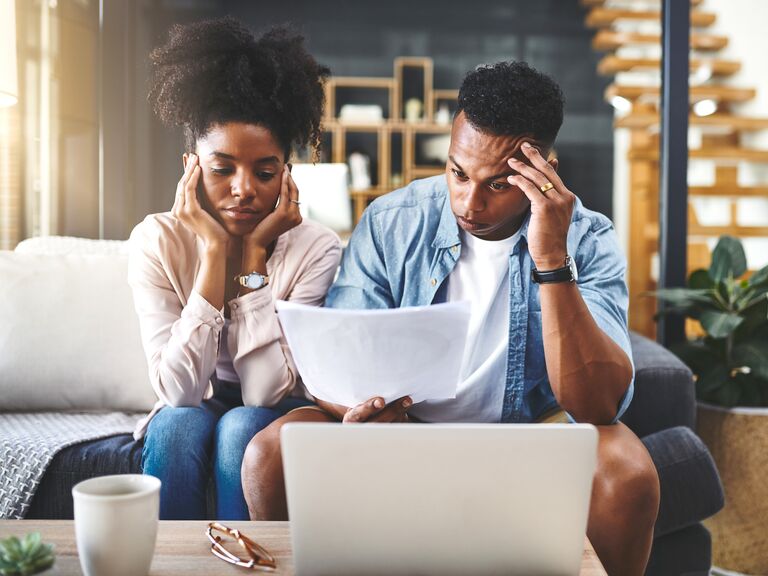 We've all had that fight. The one about budget, spending, or just finances in general. Maybe you want to buy that TV, and your partner wants to take that trip. Or maybe debt on one or both of your parts is holding you back. If this sounds familiar, don't worry. You're not alone. The truth is, fighting over money is one of the most common conflicts in a relationship. Why? Because money is loaded with meaning. When we're fighting over money, we're not actually fighting about dollars in the bank. We're fighting about our conflicting feelings about money. 
In a survey of nearly 126,000 married couples, relationship counseling app Lasting found that 54.7 percent of men and 57.9 percent of women were unsatisfied with their conversations about budgets and finances—that's more than half! And 65 percent of men and 67.2 percent of women were unsatisfied with their savings plan. "While being on the same page financially is critical to a happy, long-lasting marriage, most couples aren't using financial planning as a key part of planning their life together," says Marie O'Keefe, a financial advisor with Northwestern Mutual.
The good news: Having a game plan for how to address these issues and the feelings behind them can help mitigate tension moving forward. The key is to be open and honest early on, before problems creep up. "Having financial talks early in the relationship—usually when a couple gets engaged—takes the guesswork out and helps you start off on the right foot," O'Keefe says. So how do you start the conversation? Follow these steps to get your financial future on track.
Reflect on your own relationship with money—and ask your partner about theirs.
Everyone has a unique history with money, one that influences how you view spending, saving, debt and income. Think about how your experiences form the foundation of your perspective. What was your parents' view on spending? How did money affect your childhood? Do you equate certain possessions with respect or success? Then consider: How does my history with money impact our current situation? What about the future? Next, ask your partner about their history with money or about their family's relationship to finances. This will highlight where you have differences of opinion, which is the first step to finding healthy compromises. Then you can start to find common ground. "One of the first things I recommend couples do is talk about their goals—what's important right now, in five to ten years, and how would they like to live in retirement," O'Keefe says.
Talk to a pro.
Bringing in a neutral third party could be the best thing you can do for your relationship. "Think about a financial advisor as part of your squad," O'Keefe says. "We all have doctors and teachers to provide guidance in every aspect of our lives—so why not have someone help with finances?" In fact, according to a Northwestern Mutual study, nearly 7 in 10 (67 percent) of Americans who use a financial advisor believe they have clarity on how much to spend now and save for later, compared to less than half (44 percent) of those without an advisor. 
Additionally, the study showed that individuals without an advisor are more than twice as likely to say they're "not at all confident" they've found the balance between spending and saving. To help strike that balance, a Northwestern Mutual financial advisor can help couples talk about what matters most, now and in the future, and then help them achieve each goal together. "We first listen to what couples want out of life, helping shape their aspirations and priorities while managing the emotions of choice-making along the way," O'Keefe says. "Only then can we create a customized financial plan designed to make sure nothing stands in the way of getting there."
Keep the conversation going. 
After meeting with a financial advisor, O'Keefe recommends having a 'financial summit.' "Go home, pour a glass of wine or your drink of choice, and continue the conversation we started in the room," she says. Focus on talking with each other rather than at each other. "What's most important is that both individuals are taking part in the conversation, so both perspectives are being heard, whether you're the main earner or not," O'Keefe says. Keep in mind that you'll need to have regular check-ins to stay on course. Some couples find it helpful to put a monthly date on the calendar to discuss their finances and goals. 
Need more guidance? 
Oftentimes, interactions about money are actually attempts to connect and feel supported by each other. In these conversations, you're really asking, "Can I trust you? Will you be there for me?" Sometimes, the best way to show support is to sacrifice for the good of the team. It's in that place of mutual sacrifice that your relationship health is strongest. For more tools to help you talk through your feelings about money, download Lasting today and check out the Money series. For more on how to handle fights, check out the series on Conflict. With these tips, you can work together with your partner to build a strong financial future.
This article is sponsored by Northwestern Mutual. Take the next step: Northwestern Mutual financial advisors are here to give you more of the information you want and the knowledge you never knew you needed to get to your next goal…and the next. Get started.