What Your Myers-Briggs Type Means for Managing Finances in Your Relationship
Which personality type are you? Here's what to do if your partner is different.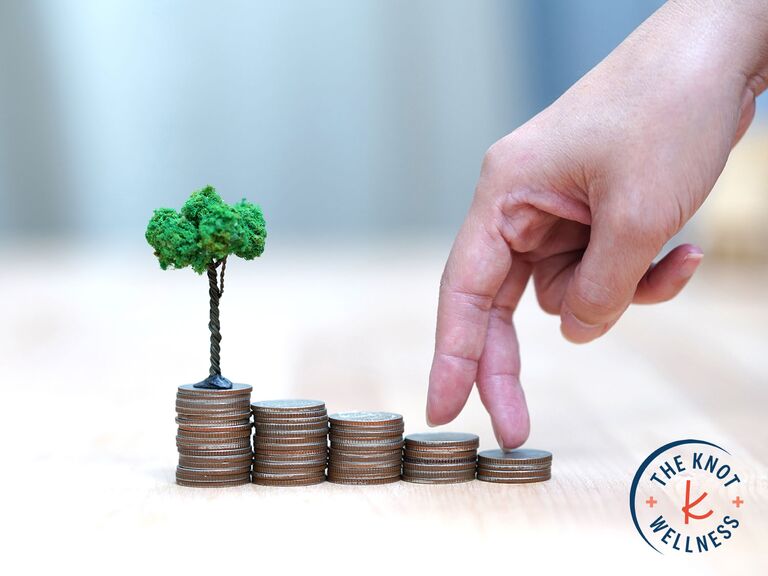 Getty Images
We have included third party products to help you navigate and enjoy life's biggest moments. Purchases made through links on this page may earn us a commission.
Finances are cited as one of the biggest challenges, if not the biggest, in relationships. When it comes to budgeting and financial planning, each individual has a unique approach and personality, at least according to their finance MBTI personality. Of course, personality differences inherently cause communication lapses or different approaches towards lifestyles if not addressed properly. In line with The Knot Wellness, the Myers-Briggs Type Indicator is driven by the idea of personal wellbeing.
"The MBTI framework can change all parts of your life. When it comes to relationships, [money] is one of the biggest issues of success or not of that relationship," explains Michael R. Segovia, M.A., an MBTI Certification faculty member. "We created the financial personality quiz to understand how your financial personality can impact personal financial management and behaviors. The quiz is an extension of that."
Traditionally, the Myers-Briggs Type Indicator is renowned globally for refining 16 personality types to help navigate everything from personal and career growth to family matters. In 2021, the experts created four financial personality profiles with Marcus by Goldman Sachs to jumpstart communication around planning styles. "With financial personalities, it boils down to how we make decisions (extraversion or introversion; sensing vs. intuition)," says Segovia. "And how we communicate those decisions (thinking or feeling; judging or perceiving)? …I see it as a way for people to communicate their hopes and dreams and fears for their financial future, all by using MBTI preferences." Couples can take the quiz here; plus, we provide action items based on your results.
In This Article:
The Short-Term Strategist
Mostly extroverts, this finance MBTI personality tends to be confident in making short-term monetary gains and decisions. This individual prioritizes strategic wins over limited periods of time, as opposed to budgeting and building a nest over the long term. "These are careful planners, though not really long term," explains Segovia. "They tend to not think long term enough and might even miss some deadlines."
The Challenge: While actively engaged over their financial planning decisions, they may fall into a point of analysis paralysis–to the point where they miss valuable potential gains simply due to lagging on the decision marking process.
The Value-Based Planner
Responsible and reasonable, the value-based planner makes decisions for longer durations of gains. Though disinterested in the day-to-day formations of their financial decisions, the value-based planner is rather familiar with IRAs, high-yield savings accounts and the concept of compound growth when related to finances. They know their eventual goals and believe in saving for what's to come–far down the line.
The Challenge: They're also very mindful of family members and loved ones. "They tend to make decisions based on what's important to them and how that impacts other people," says Segovia. "So often, they might overlook their own needs. Some see the news and notice people suffering… but what about their own budgets and needs?"
The Laid-Back Balancer
As the title indicates, the finance MBTI personality has a more relaxed approach to money. They still manage their finances and have a strategic approach when implementing tactics in investments or savings; automation is likely the best form of money management for this personality. Generosity is also a key trait of the laid-back balancer, who automates donations and social responsibilities. And that's because they don't find personal finance to be the end-all in life. They find budgets to be rather confining and would add the oat milk to their latte, at extra charge.
The Challenge: Long-term financial goals aren't exactly top of mind for this personality type, though the Laid-back Balancer might be great at managing their finances at present. "This type likely isn't focused on making financial plans… In fact, the laid-back balancer would benefit from digital planning tools," notes Segovia. "The challenge is, therefore, not having a plan. Learning how to get interested in finances, early on, is crucial in a relationship."
The Confident Money Manager
The name says it all. This personality type is capable and proactive in managing their assets. These types tend to think for the long-term and plan for what's ahead. "They're assured in their financial capabilities and make decisions quickly with then future in mind," notes Segovia. "When we look at four-letter types, we collected a global sample at the end of 2018. The most common MBTI personality type is ISTJ, which accounts for 15% of the global sample. And, they tend to make up confident money managers as well."
The Challenge: "It sounds so great," says Segovia. "The biggest challenge is they make decisions too soon. And they may not be open to new information." One solution is to be open to new financial possibilities with careful research and informed decision-making steps, which is already the case with most Confident Money Managers.
Meyers-Briggs Financial Personalities In Relationships
There's no "right" or "wrong" finance MBTI personality. In fact, understanding your approach to managing finances can help build you up for success in areas like relationships. "First and foremost, honor who you are and don't try to change that," says Segovia. "It starts first with awareness between couples. How do we balance that give and take? …If you're that 'Laidback Balancer,' for example, honor that and think about where you need to flex a bit more."
Flex, in this situation, means to lean into areas of growth to become more balanced overall in your approach. "You and your partner may be aligned on your savings goals," says Segovia. How you get there, however, could involve different tactics that speak to your varying financial personalities. "If you're laid-back, for example, you may want an online savings account with recurring deposits," says the MBTI expert. "It makes things easier for you as a couple."
Are There Optimal Pairings for Finance-MBTI Personality Types?
Though this may be the case with communication styles or even in the astrology world, the Myers-Briggs Company shies away from insisting one personality profile is more compatible with the other. "We're still collecting data on these four personality styles," says Segovia. "There is no real data that shows any is incompatible with the other."
How to Work Through Finance-MBTI Personality Type Challenges
When a couple's distinguished financial personalities differentiate, consider turning to "hacks," suggests Elisabeth Kozack, Managing Director at Marcus by Goldman Sachs. "In many cases, it's been an opportunity for couples to rethink their goals… Same thing for setting up an emergency fund. It's very important to have an emergency fund of three to six months for ongoing expenses. This can be stored in a high-yield savings account."
During the pandemic, some consumers found themselves saving a lot more, allowing them to pay down debt. "When you're thinking of how to pay down debt, there are strategies for what to do there," notes Kozack. "Make your money work harder for you, like with automated investment platforms."
Finally, communication is heralded by relationship therapists as one of the most important pillars between couples. Those with polar-opposite finance personality types may, therefore, benefit from an increased discourse around finances. "You often see in relationships, when things don't work, it's because one or the other isn't flexing or trying to understand where that person is coming from," concludes Segovia.
Please take 2 minutes to share your thoughts with our editors! You'll have a chance to win a $100 gift card.