Why You Shouldn't Skip Wedding Insurance Coverage
What exactly is wedding insurance—and how does it work? Here's the inside scoop.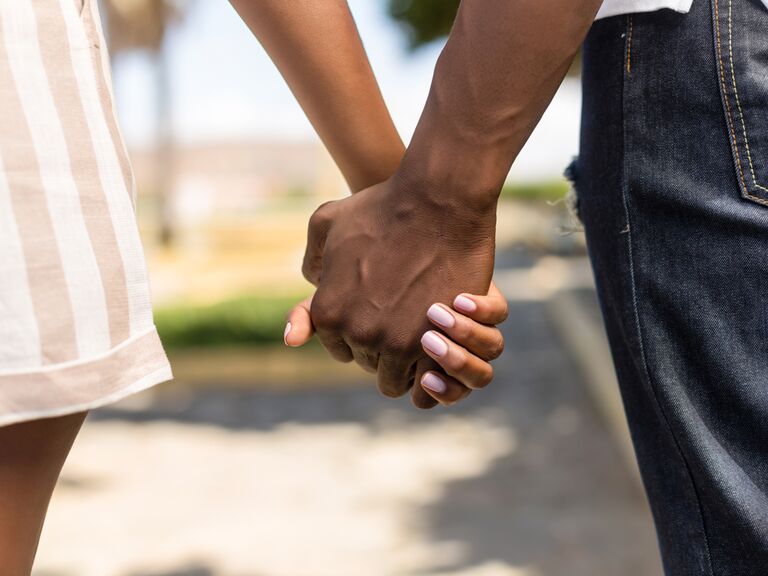 Samuel Borges Photography/Shutterstock.com

Wedding Insurance 101
Though you might not want to think about it, disasters can strike your wedding day. From a sudden cancelation to stolen gifts to a damaged gown, wedding insurance can help protect you against the unforeseen, and can also afford you great peace of mind. But what exactly is wedding insurance—and how does it work? Here's the inside scoop.
Overview of Wedding Insurance
So what is wedding insurance? Basically, wedding insurance protects a couple's investment from circumstances beyond their control, and reimburses expenses incurred. For example, what if your limo driver doesn't show up and you have to book another one the morning of the wedding—for three times the price? Or what if the groom's custom-made tuxedo is lost in airport baggage, and he has to buy a new one the day before the wedding? What if your reception space goes out of business a month before the wedding, and you lose your deposit and have to book another space? These are the types of wedding day financial losses that wedding insurance can help to protect.
Why Get Wedding Insurance?
Consider these scenarios:
Jordan and Blake spend months planning their winter wedding. But on the wedding day, their reception site is made inaccessible by an ice storm. With the right wedding insurance policy, the couple can postpone their wedding and receive every penny they lost (less the deductible)—including money for the invites, cake, catering, attire and nonrefundable deposits for ceremony musicians, a floral designer and other vendors.
The bride's father is injured in a car accident just before the wedding and cannot travel. If the couple has to postpone their wedding, with wedding insurance they could be paid back their expenses to enable them to have the wedding when the father recovers.
Right before the ceremony, Brittany's gown catches a gust of wind. Unfortunately, the tulle dances right over to the end of Uncle Howard's cigar and the dress instantly goes up in flames. Fortunately, the right insurance policy covers the replacement of the veil and gown.
There is an unprecedented, global pandemic that creates undue economic hardship, limits all air travel, and results in laws banning large gatherings. Sound familiar? Wedding insurance protects the costs paid for your ceremony from similar extraordinary circumstances beyond your control.
The Two Types of Wedding Insurance
Insurance can be complicated business, and wedding insurance is no exception. Similar to how your car insurance has both liability and comprehensive options, wedding insurance typically comes in two flavors: liability and cancelation.
Liability insurance protects you from responsibility from any accidents or injuries during your ceremony or reception. This extends to alcohol-related incidents. Some venues require this, and your local jurisdiction may also require it for a liquor permit. Rehearsal dinners are not always covered, but can sometimes be added on as an option.
Cancelation insurance reimburses you for all money spent in the event your wedding has to be called off. There is a very important caveat to this: nearly all policies do not cover a change of heart. There are some exceptions to this and they almost exclusively apply to a third party paying for the wedding.
How Much Do You Have to Spend?
A basic insurance policy that covers loss of photos, videos, attire, gifts, rings and deposits usually costs anywhere between $155 and $550, depending on the amount of coverage you want. General liability insurance, which covers up to $1,000,000 for accidents, costs around $185. Wedding insurance cost can vary significantly, so shop around.
Do You Really Need Wedding Insurance?
Before you buy wedding insurance, check with your each of your vendors to see how well they're covered—your reception site or your caterer may already have their own insurance, so you wouldn't want to pay for overlapping coverage out of your own pocket. Ask your vendors for a copy of their policy, and then figure out where you aren't fully covered.
If a venue doesn't have its own insurance, liability insurance is a must and may even be required. You do not want to be held responsible for any accidents, especially if you have alcohol at your wedding. Cancelation is a good idea in general, but especially relevant depending on your location. For instance, a beach wedding during the hurricane season has a much higher probability of being canceled.
You may not have to buy wedding insurance on its own; if you own a home, ask your insurer if they can add on a rider for your wedding. For instance, items like your rings may be covered under your existing property insurance. Your parents or other family members should also do this if they're paying for the wedding. It's best to check with your insurance provider for details around jewelry and other high-value items.
When Should You Get Wedding Insurance?
The sooner the better. Let's say you put a deposit on your wedding reception hall 12 months prior to your wedding date and then it burns to the ground a few weeks before the big day. With wedding insurance, you'll be sure to get your deposit back. But note: Most insurance companies have limitations on how far in advance you can purchase insurance.
What Does Wedding Insurance Cover?
Problems with the site, weather, vendors, key people, sickness or injury are the top concerns come wedding day. There's usually a specified maximum amount, which can be claimed under each section, and a deductible also applies. Be sure to find out the details of your insurance plan.
Site: Check to see if your ceremony and reception site is already insured. If it's not, wedding insurance can cover the cost arising out of unavoidable cancelation such as damage or inaccessibility to the ceremony site—if your reception hall is unable to honor your reservation because it has burned in a fire, experienced an electrical outage or just plain closed down. Sometimes this policy covers the rehearsal dinner site too.
Weather: Any weather conditions which prevent the couple, any relative whose presence at the wedding is essential or the majority of the guests from reaching the premises where the wedding is to take place. Insurance covers rescheduling the wedding and all the details involved, including ceremony flowers, tent rental and reception food.
Vendor no-show: What if essential wedding people—the caterer or the officiant, for example—fail to show up? What if they go bankrupt or have a permit revoked? A wedding insurance policy usually covers cancelation or postponement of the wedding for these reasons. Some 30% of wedding insurance claims are vendor-related.
Sickness or injury: Wedding insurance may also include sickness or injury to the couple or anyone essential to the wedding.
Military or job: It's true, military personnel may be shipped out at a moment's notice. Wedding insurance can cover postponement of the wedding due to a bride or groom suddenly getting called to military duty. This can also apply to a last-minute corporate move, like the bride's company suddenly relocating her to another city. Note that military deployment isn't always covered. Be sure to read the policy thoroughly.
Wedding Insurance Doesn't Cover...
A change of heart. In other words, cold feet don't count.
Watches, jewelry or semiprecious gemstones or pearls (even if they are attached to clothing) may not be covered.
While the policy may cover your wedding rings, your engagement ring probably will not fall under the same coverage. You can purchase engagement ring insurance separately, or it may be covered by your existing homeowners or renter's insurance. Note that these items may be subject to your policy's deductible.
Additional Coverage
Couples can take out supplemental policies to defend against damages incurred by other wedding-related items such as photography, videography and gifts.
Photography: Some policies pay to retake the photographs after the fact if the photographer fails to appear or the original negatives are lost, damaged, stolen or not properly developed. Some policies will pay to restage the event with the principal participants so that pictures can be retaken. A policy may also pay costs for rehiring a photographer and buying a new wedding cake and new flowers.
Videographer: When a videotape produced by a professional videographer is damaged (he or she used faulty materials, for example), a policy usually pays a certain amount to have either a video montage created, a video compilation made of the photographs and other wedding memorabilia, or, if possible, a retaking of the official video at a restaging.
Gifts: Whether they're mailed to your home or handed to you on your wedding day, valuable items like gifts are something else you might want to consider insuring. Think about a party crasher lifting unattended presents from your reception. Gift coverage pays to repair or replace non-monetary gifts that are lost, stolen or damaged. A police report is usually required for stolen gifts. The damage or theft generally has to take place within a limited time period (ranging from 24 hours to 7 days, depending on the specific policy) before or after the wedding, in order to be covered.
Attire: This coverage pays to repair or replace a bridal gown or other special attire when it is in your possession and is lost, stolen or damaged (including financial failure of the bridal store). Special attire usually includes the clothing and accessories bought or rented that are to be worn by the couple and attendants at the ceremony.
Personal liability: Personal liability covers bodily injury or property damage caused by an accident that occurs during the course of the wedding (your best man trips and falls on his way up to the mic to roast you, or Uncle Dennis suffers a Harvey Wallbanger wall banger). This would also come in handy if things get too rowdy and the venue is damaged (say your cousin dances on a chair and breaks it, or a prankster puts soap in a fountain).
Medical coverage: This covers reasonable medical expenses (up to the policy's limits) for each person who is injured during the covered events from a cause of loss, which would be covered by your personal liability.
Honeymoon: Your honeymoon can cost as much as a new car. But before buying travel insurance to protect your investment, see if your credit card and/or homeowner's policy covers you if your luggage gets lifted, your trip is delayed or you have to cancel. If not, you can buy a separate, trip-only policy. Call your insurer, or ask your travel agent for details. Also, certain wedding insurance packages include optional travel insurance for your honeymoon.
Things to Consider
Every insurance policy and every wedding scenario is different. Be sure to talk to your insurance agent—and have him or her explain the nuts and bolts to you. You want to make sure you understand every detail of your policy.