Why You Shouldn't Skip Out on Wedding Insurance Coverage
Here's the inside scoop on protecting your special day.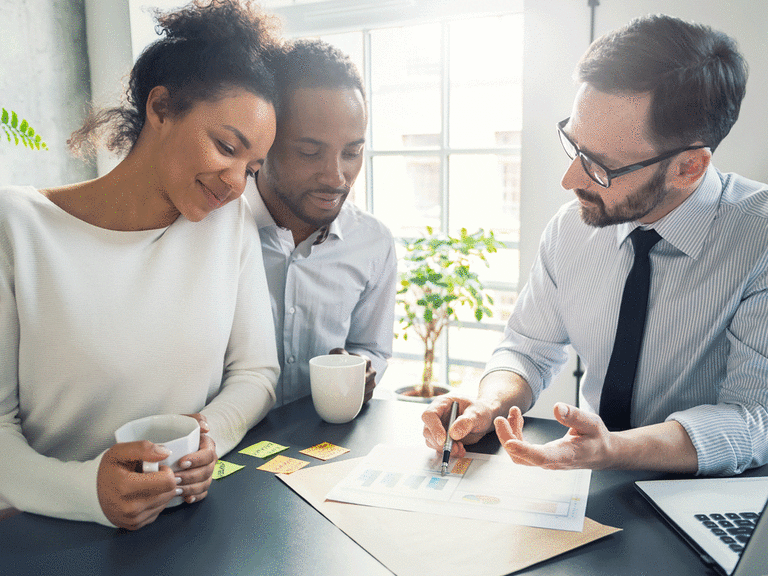 Photo: REDPIXEL.PL | Shutterstock.com
Though you might not want to think about it, disasters can strike your wedding day. From a sudden cancellation to a damaged gown, wedding insurance can help protect you against the unforeseen and give you great peace of mind. But if you're unsure about what wedding insurance is, what it covers or if you should get it, we're here to guide you. Here's everything you need to know about wedding event insurance and why it's worth adding 'get wedding insurance' to your wedding planning checklist.
What Is Wedding Insurance?
"Wedding insurance is a type of special event insurance. So, in essence, it provides coverage before and leading up to an event such as a wedding," Todd Shasha, Senior Managing Director of Personal Insurance Product Management at Travelers Insurance, explains. Weddings are a significant investment—that's why wedding insurance is beneficial no matter how much your wedding costs. Wedding insurance protects a couple's investment from circumstances beyond their control and reimburses expenses incurred.
What Does Wedding Insurance Cover?
Wedding event insurance can help solve problems with the site (wedding venue), weather, vendors, key people, and sickness or injury before, on and after the wedding day. There's usually a specified maximum amount, which can be claimed under each section, and a deductible also applies. Steve Lauro, Vice President at Aon and the program manager of WedSafe, wants couples to know that insurance policy coverage depends on the company. "All types of insurance vary, not only from company to company but from state to state. Insurance in the US is governed by each state's Department of Insurance." Lauro encourages couples to "find a reputable company who specializes in the type of coverage they are seeking, for example, a program dedicated specifically to wedding insurance. Make certain to inquire about what products and benefits are right for you."
Here's a brief description of each item wedding insurance companies usually offer coverage for:
Site: Wedding insurance can cover the cost arising out of an unavoidable cancellation such as damage or inaccessibility to the ceremony site. For example, if your reception hall can't honor your reservation because it has burned in a fire, experienced an electrical outage or closed down. Sometimes this policy covers the rehearsal dinner site too.

Weather: Any weather conditions which prevent the couple, immediate family, wedding party members or the majority of the guests from reaching the premises where the wedding is to take place. Insurance covers rescheduling the wedding and all the details involved, including ceremony flowers, tent rental (if it unexpectedly starts to rain at your event) and reception food. Keep in mind that in most states, an extreme weather policy must be purchased at least 14 days before the event.

Vendor no-show: What if essential wedding people—the caterer or the officiant, for example—fail to show up? A wedding insurance policy usually covers the cancellation or postponement of the wedding for these reasons.

Sickness or injury: Wedding insurance may cover sickness or injury to the couple or immediate family members (parents, siblings, grandparents and children). This doesn't include pre-existing medical conditions. Because COVID-19 is considered a known infectious disease, some insurance companies do not cover COVID-related cancellation or postponement. Speak with your insurance agent for more information.

Military or job: Military personnel may be shipped out at a moment's notice. Wedding insurance can cover postponement of the wedding due to a bride or groom suddenly getting called to military duty. This can also apply to a last-minute corporate move like the bride's company suddenly relocates her to another city. Note that military deployment isn't always covered, so make sure to read the policy thoroughly.
What Wedding Insurance (Typically) Doesn't Cover
A change of heart. In other words, cold feet don't count. (Kerri McDonald, CPCU and director of operations for Wedsure, says Wedsure offers change of heart coverage, but it has to be purchased about 15 months in advance.)

Watches, jewelry or semiprecious gemstones or pearls (even if they are attached to clothing) may not be covered.

While the policy may cover your wedding rings, your engagement ring probably will not fall under the same coverage. You can purchase engagement ring insurance separately or see if it's covered by your existing homeowners or renters insurance. Keep in mind that these items may be subject to your policy's deductible.
Is Wedding Insurance Worth It?
McDonald advises getting insurance for a wedding is worth it since it protects the host or hostess of the event. "[Wedding insurance] offers peace of mind. You cover your car, your house and have health insurance, so your wedding should be covered too," McDonald says.
Before you buy wedding insurance, check with each of your vendors to see how well they're covered. Your reception site or caterer may already have their own insurance, so you wouldn't want to pay for overlapping coverage out of your own pocket. Ask your vendors for a copy of their policy, and then figure out where you aren't fully covered. Another reason you should get a copy of your vendor's insurance is that you may need your vendor's COI (certificate of insurance) for the wedding venue's records.
Scenarios When Wedding Event Insurance Is Helpful:
Jordan and Blake spent months planning their winter wedding. But on the wedding day, their reception site is made inaccessible by an ice storm. With the right wedding insurance policy, the couple can postpone their wedding and receive every penny they lost—including money for the invites, cake, catering, attire and nonrefundable deposits for ceremony musicians, a floral designer and other vendors.

The bride's father is injured in a car accident just before the wedding and cannot travel. With wedding insurance, if the couple has to postpone their wedding, they could be paid back their expenses to enable them to have the wedding when the father recovers.

Right before the ceremony, Brittany's gown catches a gust of wind. Unfortunately, the tulle dances over Uncle Howard's cigar and the dress instantly goes up in flames. Fortunately, the right insurance policy covers the replacement of the veil and gown.

An unprecedented global pandemic creates undue economic hardship, limits all air travel and results in laws banning large gatherings. Wedding insurance can protect the costs paid for your ceremony from similar extraordinary circumstances beyond your control.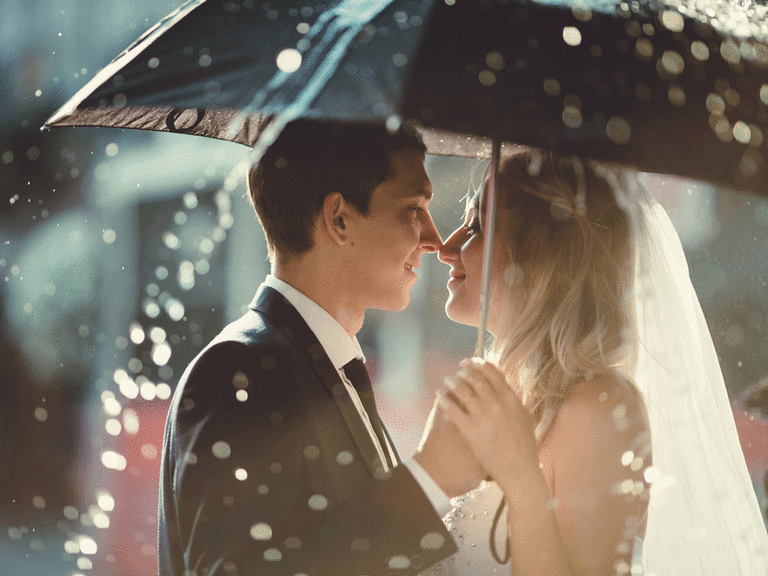 The Two Types of Wedding Insurance
Insurance can be complicated business, and event insurance for weddings is no exception. Similar to how your car insurance has both liability and comprehensive options, wedding insurance typically comes in two ways: liability and cancellation. Here's the scoop on these two types of coverage.
Wedding Liability Insurance
What does wedding liability insurance do? "Liability insurance protects you against financial liability arising from your wedding; required by many venues. This could protect you if a guest was injured, the venue was damaged, or there is an alcohol-related incident," Lauro explains. If a venue doesn't have its own insurance, liability insurance is a must because you do not want to be held responsible for any accidents–– especially if you're having alcohol at your wedding. Rehearsal dinners are not always covered but can sometimes be added to the policy.
Wedding Cancellation Insurance
What does wedding cancellation insurance do? "Wedding event cancellation and postponement protects your financial investment in your wedding; covers cancellation or postponement, lost deposits, and more. If circumstances beyond your control force the cancellation of the wedding, this coverage could reimburse you up to the total cost of your wedding. The reasons could be virtually anything from severe weather to the venue closing to an injury or illness of a person integral to your wedding," Lauro says. Cancellation coverage could extend to no-show vendors too.
How Much Does Wedding Insurance Cost?
A basic insurance policy that covers the loss of photos, videos, attire, gifts, rings and deposits usually costs anywhere between $125 and $550, depending on the amount of coverage you want. General liability insurance depends on the limit of liability selected, which usually covers up to $1 million for accidents, and costs around $185. "Event cancellation coverage is based on the price of the wedding the couple wants to protect. Couples should choose a coverage level based on their total wedding budget. This is the investment you would stand to lose in a worst-case scenario," Lauro says.
Overall, wedding event insurance costs vary because of numerous factors, so research the best one for your wedding. And remember, wedding insurance shopping isn't just for the to-be-weds. "The mother of the bride or the father of the groom can buy policies too. Anybody who might have a financial interest in the wedding can purchase a policy," Shasha says.
When Should You Get Wedding Insurance?
If you ask any insurance company when's the best time to buy wedding insurance, they will tell you the sooner, the better. "My recommendation is to make sure you have coverage in place as soon as you start outlining deposits. A lot of customers might buy a policy up to two years in advance. That way, as your deposits go up, you can start writing checks and have coverage," Shasha explains. McDonald also thinks it's vital to get wedding insurance as soon as possible because the wedding industry, traditionally, only uses nonrefundable contracts. McDonald advises insuring those nonrefundable deposits as soon as you and your partner start planning. For example, let's say you pay your wedding photographer a year before the wedding, and one month before the wedding they drop out. If you buy a policy after the fact, you won't have coverage. That's why it's important you have an insurance policy in place.
Please note: The Knot and the materials and information it contains are not intended to, and do not constitute, legal, financial, tax or medical advice and should not be used as such. You should always consult with your professional advisors about your specific circumstances.