Here's How Much a Wedding Planner Actually Costs
Find the national average here.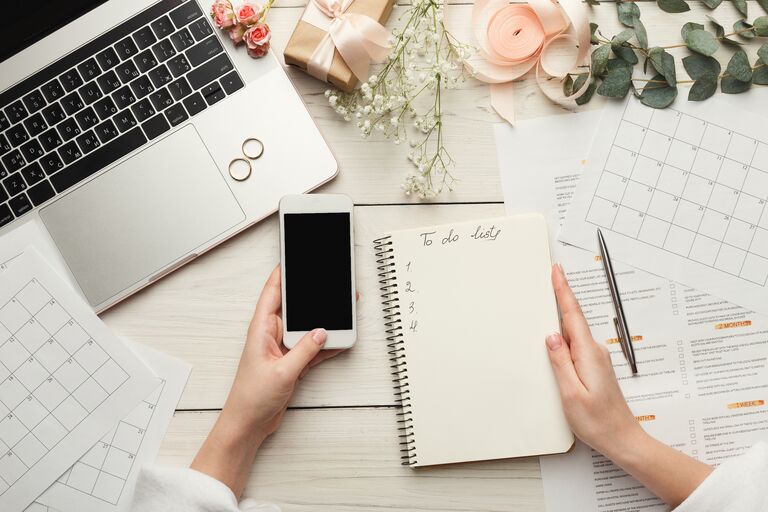 Prostock-studio / Shutterstock.com
When it comes to planning your wedding day, we recommend hiring a professional wedding planner if you can. Not only are they able to juggle all of your wedding vendors, they can also offer guidance on budget, style, timelines and everything in between. Plus, they're pros are handling any day-of crises that might come up (think: weather issues or a timing sanfu). Given that pros suppress so much of the stress during your engagement process, a frequently asked question is exactly how much does a wedding planner cost? 
To be completely honest: the answer isn't simple. The cost of a wedding planner depends on a multitude of factors, mostly because there are different types of wedding planners available for hire (three main types in fact). The most commonly-sought planners are either full-time, partial or month-of pros. 
A full-time planner starts with you from square one. They handle everything from helping you choose your wedding color palette to finding your perfect venue to overseeing day-of festivities. Partial planners (also known as á la carte pros) can help you with specific tasks, like managing a wedding budget or organizing your venue floor plan. They're typically less expensive than a full-time planner, so hiring a vendor to this capacity is a worthy alternative for couples who don't have room in their budget for a full-time pro.
Another budget-friendly option is a month-of coordinator. These pros will help you finalize all of the last-minute details and ensure your wedding day goes off without a hitch. Considering all of the different types of wedding planners, it makes sense that there's a lot of variation when it comes to how much a wedding planner actually costs.
According to an internal study, the average cost of a wedding planner was $1,500. But before you adhere to this particular number, keep in mind that this was the national average in 2019. (Emphasis on both national and average.)
It's important to remember that the ultimate cost of a wedding planner relies on multiple variables. The survey includes data from couples across the U.S., all of whom had different budgets and therefore, types of wedding planners. Our study found that most couples who worked with a planning pro hired a day-of coordinator (someone who helps pull together last minute details and ensures your wedding day goes off without a hitch). See what other types of wedding planners couples hired last year, below.
Day-Of Coordinator: 37%
Full-Service or All-Inclusive Planner: 31%
Month-Of Planner: 16%
Wedding Weekend Coordinator: 4%
Destination Wedding Coordinator: 4%
A La Carte: 2%
If you're still debating how much you want to spend on a planner, consider how much help you want for your nuptials. Then, use The Knot Budget Tool to see if you have the funds to accommodate your needs. Something to note is how it's best to consult multiple pros in order to see how much a wedding planner will cost you for your unique vision.

Something else to consider is that not all wedding planners adhere to the same standard rates. By that, we mean a wedding planner typically charges in one of three ways: a flat fee, an hourly rate, or a percentage of your overall wedding bill—so it totally depends on the type of wedding planner you choose to hire and what your own wedding budget is.
Yes, a wedding planner might seem like a big investment—but it's important to consider the time and stress you save by working with one. Professional planners also typically have strong relationships with vendors, so they can help you get the best bang for your buck. If you're thinking about working with a wedding planner, you're not alone. The Knot study found that 27 percent of couples getting married hired some type of professional wedding/event planner for their wedding day.
Between their solid connections, budget control and creative solutions, you'll be happy you hired a wedding planner. And of course, your wedding planner will help you make the absolute most of your budget, which is a pretty sound investment if you ask us.