Exactly How to Ask Your Parents or Future In-Laws to Help Pay for Your Wedding
We break down what to say during budget discussions.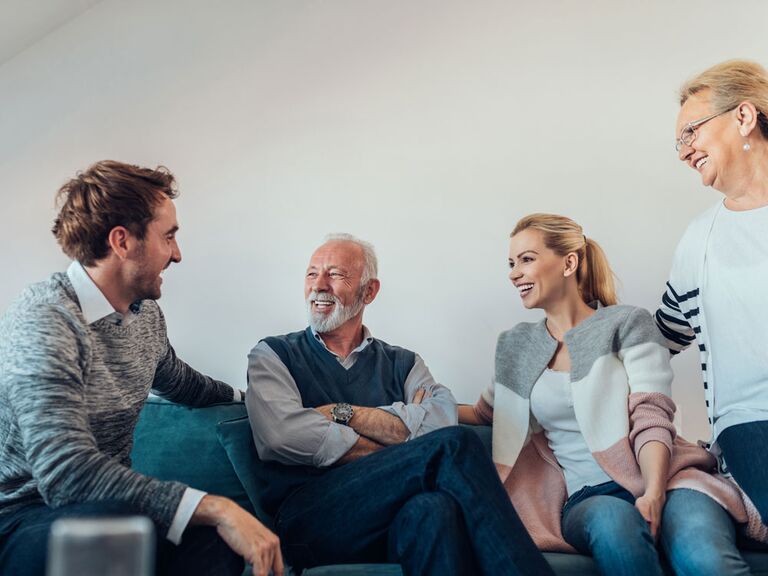 bbernard/Shutterstock.com
Setting a budget is arguably the most important wedding planning task for to-be-weds. And since your wedding budget guides every subsequent decision, it's one of the first tasks you should tackle after getting engaged. Since a wedding is a once-in-a-lifetime event, it's important to set a budget that is both comfortable and realistic. Plus, keep in mind that couples don't always pay for a wedding all on their own—parents might help contribute to the budget. But how do you ask your parents or in-laws for wedding money?
Budget conversations can feel overwhelming at first. Money can be a sensitive topic, so it's important to approach all discussions with an open mind and a respectful attitude. If you're not sure how to ask your parents for wedding money, we've outlined the best tips to approach the budgeting conversation. You'll also find examples of exactly what to say to your parents and in-laws when discussing the financial plan.
Do Parents Help Pay for a Wedding?
You might wonder if parents and in-laws are obligated to help pay for the wedding. The decision varies among couples and their families. According to The Knot 2019 Real Wedding Study, which surveyed over 25,000 newlyweds in the United States, couples paid for approximately 47% of the wedding, while parents covered the remaining 52% of the budget. Keep in mind that this is a national average, though, and the specific breakdown will be different for every couple.
Traditional wedding etiquette indicates that the bride's family pays for some (or all) of the wedding. However, given that it's 2021, couples are putting their own spin on dated wedding "rules." When it comes to the wedding budget, it's up to couples to work with their families to find a realistic plan that works for everyone involved. Below, we share exactly how to ask your parents for wedding money (along with our top tips to keep the conversation productive and respectful).
Talk to Your S.O. First
Before you approach your parents or future in-laws about wedding money, talk to your fiancé first so that you're on the same page. Money can be a tricky subject, so the best way to avoid miscommunications is by being upfront and honest from the start. You are a team, after all, so approach the task together. It's important you determine what exactly you'd like to accomplish with your wedding. If you envision a weekend-long celebration with multiple events, prepare to set a larger budget. The same is true for those who want special experiences, like live entertainment, cutting-edge food displays or trendy reception decorations. If you're planning an intimate wedding with a small guest list, you might have more wiggle room with your budget. Before bringing anyone else into the budget conversation, make sure you and your partner have the same expectations for your wedding day.
If your partner is reluctant to ask their parents for wedding money, find out why. If they think their parents are unable to contribute financially, there are other ways they can get involved (which we share below). It's not a requirement for parents to help pay for the wedding, so it's important to have a clear answer from the start. Once you know where your parents stand, you can move forward with finalizing your budget.
Craft Your Core Guest List
Come prepared with a sample budget before you ask your parents or in-laws for wedding money. According to our data, the average cost of a wedding is $33,900, so use this as a guide. Remember that this is the national average, and wedding cost can vary by region, season and wedding style. It can simply serve as a starting point to kick off the conversation. The Knot's Wedding Budgeter tool will also help you allocate funds and plan your spending accordingly.
When creating your budget, your guest list will have the biggest impact on the overall cost. While you don't need to approach your parents or in-laws with a finalized headcount, have a general idea of how many people you want to invite. More guests will require a higher budget, so this is an important detail to share with anyone who might contribute financially.
Set Realistic Expectations
It's crucial to set realistic expectations during early budget discussions with your S.O. Consult your current financial situation to determine what you can afford to pay before talking to your parents. Read up on the average cost of wedding essentials like the venue, flowers, entertainment, and photography to put the cost of a wedding into perspective. Having a clear understanding of the average price of a wedding will help you plan accordingly.
It's also helpful to have an idea of what your wedding day will look like if your parents are unable to contribute money. Work with your S.O. to have a plan for all possible outcomes. To avoid going into unwanted debt while planning your wedding, stay organized and realistic from the start.
Prepare Conversation Ideas
Since you'll be leading the discussion, it's important to have a plan of what you're going to say (and how much money you're asking for). While it can be tricky to narrow down a specific amount you want to spend without knowing what your parents can contribute, have a ballpark figure to start. When asking your parents for wedding money, talk about additional details that might impact the cost. For example, if you and your S.O. are planning to get married on a Saturday during peak wedding season (from early summer through the beginning of fall), you'll need to account for higher costs in your budget. The more information you can share with your parents, the better—this will help facilitate the discussion and lead to a resolution.
Be Direct with Your Parents
It's best to be straightforward when asking your parents or in-laws for wedding money. Try not to dance around the topic, because this can lead to confusion or miscommunication. Below, we share the best examples of ways to ask your parents for wedding money.
"We've prepared a general wedding budget and would appreciate your help reviewing it. Will you be able to contribute to our day?"
Asking your parents to review your budget is an easy way to start the conversation. If they don't offer financial help after reviewing the budget, ask them directly if they are able pay for some of the expenses.
"We found a venue we love, but it's a little over our price range. Would you be willing to help cover the cost?"
Some parents may prefer to know exactly how their money will be used in the budget. Asking them to help cover a specific vendor is a clear way to show them how their money will be factored into the budget.
"We're asking our parents to contribute 1/4th of the wedding budget. Is this something you can help with?"
This question indicates that every parent will have a shared role in paying for the wedding. This can also be a conversation starter if you have divorced parents and are talking to each person separately.
"How would you like to be included in wedding planning? Are you able to contribute financially?"
Your parents might not be able to contribute money, and that's okay. This question opens up the conversation to other ways they can chip in to the planning process. If they can't contribute financially, they could contact vendors on your behalf, address and mail invitations or help organize prewedding events like a shower or the rehearsal dinner. Together, you can find a role that works best for your family.
Keep the Conversation Respectful
Money can be a stressful topic, so keeping the conversation respectful is a top priority. Don't approach the discussion expecting a certain amount—any financial help is generous, so be sure to express your gratitude. Even if your parents or in-laws can't offer money, they may want to help by offering their time. Have an open mind and be willing to work with whatever help your loved ones can offer.
Keep Your Parents in the Loop
If your parents will be contributing money to your wedding, it's important to keep them in the loop throughout the planning process. Traditional wedding etiquette indicates that whoever gives money to the wedding also has a say in details like the guest list, the venue and other details that can impact the price. This is one rule that remains true today. If your parents are helping pay for the wedding, it's important to take their ideas into consideration. They'll appreciate having some input in how their money is spent. Listen to their thoughts, and work together as a team to make the best decisions for your big day.