How to Ask Parents for Wedding Money In a Respectful and Realistic Way
Test the waters with these conversation starters.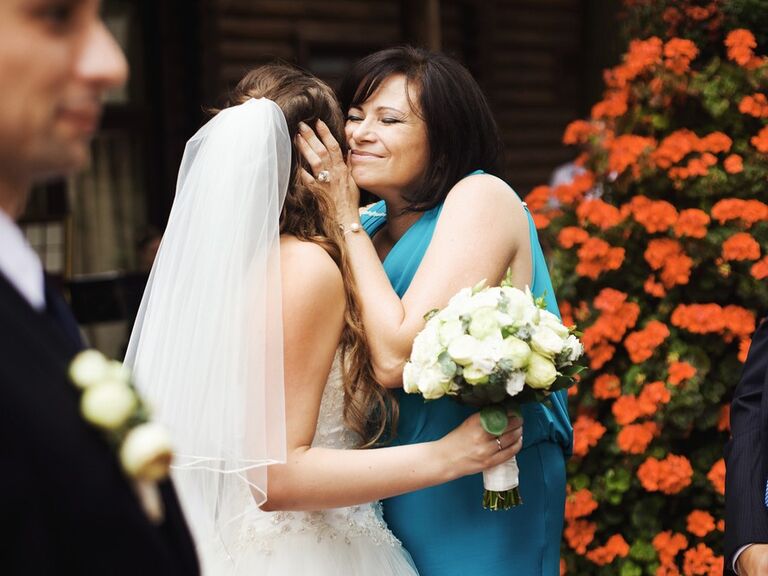 IVASHstudio / Shutterstock
Finalizing your wedding budget is arguably the most important task on your to-do list, since it guides and affects every subsequent decision. But if you're not realistically able to afford the entire wedding on your own, you and your partner may be wondering how to ask parents for wedding money. We know that it's a sensitive topic, so the most important thing is to approach the discussion with an open mind and a respectful attitude. And because how you start the conversation also makes a big difference, we've outlined examples of exactly what to say, along with what you'll want to consider before deciding to ask your loved ones to chip in.
In this article:
Do Parents or In-Laws Still Help Pay for the Wedding?
You might wonder if parents and in-laws are obligated to help pay for the wedding—and if so, how do you decide who's supposed to pay for what? The decision varies among couples, families and also from culture to culture.
For couples that include a bride and groom, traditional wedding etiquette indicates that the bride's family usually pays for most (or all) of the wedding, while the groom's family covers the cost of things like the engagement party and rehearsal dinner. But you shouldn't feel tied to any set of rules, especially since some of them can feel a little outdated or impractical by today's standards. Ultimately, we're in support of deciding what works best for your own situation or cultural background.
How Much Do Parents Help Pay for a Wedding on Average?
According to The Knot Real Weddings Study, which surveyed nearly 12,000 couples married in 2022, parents paid for 51% of the wedding budget on average, with couples covering the remaining 49% of the cost. The key word here is average—the specific breakdown will be different for every couple, and some couples may not have financial contribution from parents or family members at all. Keep in mind that your total wedding budget will also fluctuate depending on your location, guest count and desired style, which could impact how much money (if at all) your parents contribute.
How to Approach Asking Your Parents or In-Laws for Wedding Money
Preparation is key when it comes to asking family for wedding money—it shows that you're respectful of their time and grateful for their contributions. Here's what to do before you sit down with your parents.
Talk to your partner first.
Before you approach your parents or future in-laws about wedding money, it's important that you and your parner are in total agreement about doing so. You should both feel comfortable accepting money from family members who are willing to contribute, and you should be on the same page about if and when you plan to pay the money back. Figure out exactly what you're hoping to accomplish when asking parents for wedding money—are you asking them to contribute toward a weekend-long celebration with multiple events, a destination wedding with travel expenses or simply some extra funds to cover the cost of a basic reception?
If your partner is reluctant to ask parents for wedding money, give them space to honestly explain why. If they think their parents are unable to contribute financially, there are other ways they can get involved (keep reading for our thoughts on this). Remember that it's not a requirement for parents to help pay for the wedding, so it's best to go into the conversation without predetermined expectations on either side.
Find your kind of venue
From barns to ballrooms, discover reception venues that feel like you.
Set your ideal budget and guest list.
Before you approach your parents for wedding money, take some time to outline what your ideal wedding budget, guest list and wedding day would look like. According to our data, the average cost of a wedding in 2022 was $30,000, but the budget breakdown for each vendor will change depending on what's most important to you. When you're thinking about how to ask parents for wedding money, we recommend choosing a few must-haves and agreeing on other areas where you'd be willing to compromise. Maybe you can cover the cost of a wedding photographer on your own, but you need financial help from family to secure the deposit for your dream venue. Read up on the average cost of wedding essentials like the venue, flowers and entertainment to put things into perspective. Create a mock wedding budget of what you'd be able to afford without help from parents, and consider anything they're able to contribute as an added bonus.
Your guest list will have a big impact on your overall wedding cost, so we also recommend picking a ballpark number of people you'd like to invite (don't forget about plus-ones and children, if you're including them). More guests will require a higher budget, so this is an important detail to share with anyone who might contribute financially.
Practice the conversation ahead of time.
Since you'll be leading the discussion, it's important to have a plan of what you're going to say and how much money you're asking for. It might feel unnatural to be direct when you're asking for money, but taking the initiative to be clear about your wedding goals will eliminate any confusion and ultimately help you get a yes or no answer. It's also respectful to give your parents a heads up that you'd love to talk about wedding planning so you can agree on an appropriate time that works for everyone.
Go into the conversation with a few examples of wedding costs—this will help your parents decide if it's doable for them to contribute toward some or all of the bill. You can present them with vendor pricing quotes and discuss additional details that might impact your overall budget, like getting married on a popular Saturday date during peak wedding season. Come prepared with a list of bullet points to go over during your talk, including how you envision splitting the payments, what the money would be used for and how you'll take their opinions into account (which you should be willing to do in return for anyone who's contributing financially).
Keep the conversation respectful.
Money can be a stressful topic, especially when multiple families are involved, so it's important to keep the conversation respectful and avoid making people feel obligated. You should do some preliminary wedding budget research ahead of the conversation, but we don't recommend going into the discussion expecting a certain amount of money. Any financial help from your parents is generous, so be sure to express your gratitude for whatever they can offer. Even if your parents or in-laws can't offer money, they may want to help by offering their time, such as helping you stay organized or fielding all of the wedding-related questions from your relatives. Keep an open mind and remember that if they're not able to contribute as much as you'd like (or anything at all), it doesn't mean that they aren't just as excited about your wedding day.
Share regular updates about wedding planning.
Once you've figured out how to ask parents for wedding money and they've agreed to contribute (congrats!), it's important to keep them in the loop throughout the planning process. Traditionally, whoever gives money to the wedding also has a say in details like the guest list and other hidden wedding costs that are directly impacted by their contribution. If your parents are helping pay for the wedding, it's important to take their ideas into consideration, especially if they're paying for a specific service or vendor (think band, florist or caterer). They'll appreciate having some input in how their money is spent, so listen to their thoughts and aim for ways to compromise so that everyone feels included.
How to Ask Your Family for Money to Help Pay for the Wedding
It's best to be straightforward when asking your family for wedding money, but figuring out how to do it politely is a whole different story. Follow these prompts and templates to start the conversation.
How to Ask Parents for a General Wedding Contribution
Asking your parents to review your wedding budget is an easy way to start the conversation. If they don't offer financial help after reviewing the budget, ask them directly if they would be able to pay for some of the expenses.
Example: "We've prepared a general wedding budget and would appreciate your help reviewing it. Will you be able to contribute financially at all to our day?"
How to Ask Parents to Pay for a Specific Wedding Vendor
Some parents prefer to know exactly how their money will be used toward your wedding budget. If they want to control how the money is spent, you can ask them to help you cover the cost of a specific vendor or other expense (but keep in mind that this gives them the right to weigh in on the final decision for that category).
Example: "We found a venue we love, but it's a little over our price range. Would you be willing to help cover the cost?"
How to Ask Parents to Split the Wedding Cost Equally
If you're asking both sets of parents to contribute, or if your parents are divorced and you're talking to them separately, divide the budget into halves or quarters to keep an even playing field.
Example: "We're asking each of our parents to contribute to one quarter of the wedding budget. Is this something you can help with?"
How to Ask Parents if They Can Contribute Financially at All
Your parents might not be able to contribute money, and that's okay. Approach them with the goal of finding out how involved they want to be with the wedding, financially or not. This question opens up the conversation and gives them an opportunity to share other ways they'd like to help with the planning process.
Example: "How would you like to be included in wedding planning? Are you willing or able to contribute financially, and what would that process look like for you?"