Insider Tips on Changing Your Name in New Hampshire
There are some important things Granite Staters should know that can simplify the surname switch.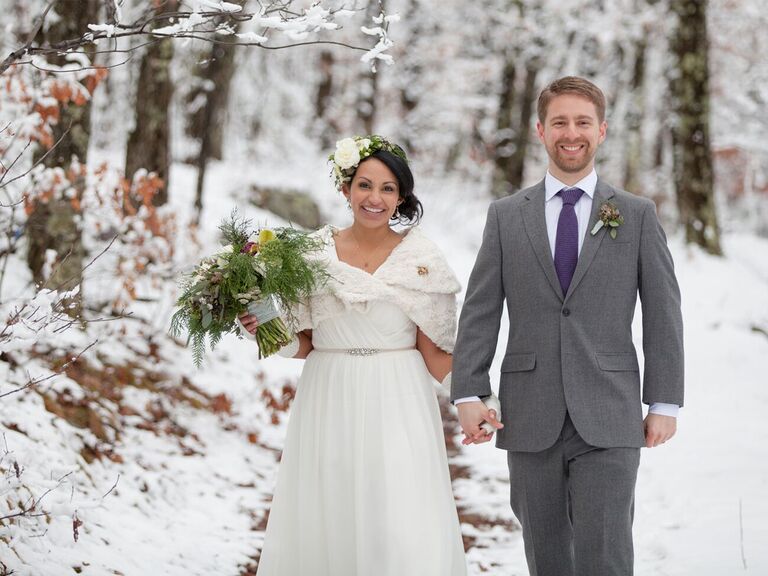 Mon Petit Studio
We have included third party products to help you navigate and enjoy life's biggest moments. Purchases made through links on this page may earn us a commission.
If you've decided to change your name after getting married, you're probably excited to make the switch but not-so-excited about the paperwork. That's totally understandable! There's actually a lot to do—and know-how for making it happen. For example, did you know that a NH name change starts with the marriage license? Noting your new name on the license can make the whole process easier.
We could go on and on (and we will) but if you're already feeling intimidated by the idea of completing all the paperwork, know that help is available! The name change service HitchSwitch can take care of a bunch of the most stressful parts of changing your name. It'll autofill many of the forms for you, and provide you with personalized instructions for sending it all in. Yep, no research or tedious paperwork for you to do!
So, check out our rundown on how to change your last name in New Hampshire below. Then, decide if you could use a little assistance with the process.
How to Get a Marriage License
As mentioned above, the first step in getting a name change happens before the wedding: It's the marriage license. A marriage license in NH is obtained in any city or town clerk's office in the state.
What forms do you need?
You and your future spouse will need to head to the office together and fill out a marriage license application. Some clerk's offices have the form posted online, so you can fill it out in advance to save time, if you like. (Here are the forms for Manchester and Bedford, for example.)
Marriage license requirements in NH also include showing:
Photo ID (driver's license, passport)
Proof of age (driver's license, passport, birth certificate)
Proof of a previous marriage ending, if either of you has been married before (divorce decree, annulment decree, death certificate)
New Hampshire marriage licenses are valid for 90 days, and there's no waiting period—so you technically could get married on the same day as receiving your marriage license (though we think getting your license at least a few days before your wedding day is a better idea!).
How much does it cost?
How much is a marriage license in NH? $50.
Important things to remember:
On a NH marriage license application, both people are asked to declare their legal name after marriage. This is an important section! So before you go, know exactly what you want your new name to be. Filling it in accordingly can make your post-ceremony name change steps much easier.
How to Petition for a NH Name Change
There are some instances where a name change after marriage in NH requires a court order. This would be the case if you didn't write your new name on your marriage license application, or if you didn't get legally married. It may also be necessary if the name you want is something other than your spouse's last name.
To get a court order, you'll have to petition your local Circuit Court. For full info on how to legally change your name in NH, see the instructions for a name change at the New Hampshire Judicial Branch website. You can also fill out its NH name change form.
If you're unsure as to whether or not you need to petition the court for a name change, you can send HitchSwitch a photo of your marriage license, and they'll help you you figure it out. Pretty simple, right?
How to Change Your Name on Your Social Security Card
Even if you've noted your new name on your marriage license, a name change after marriage in NH isn't made official until you alert the Social Security Administration and get your card updated with the new name. You'll also need the new card before you can change your name on important IDs, including your passport and driver's license.
What forms do you need?
Mail or bring the following documents to your local SSA office. This is what you'll need to submit:
Completed Form SS-5, an application for a Social Security card
Proof of your name change (marriage certificate or court order)
Official ID (your current driver's license, state ID or passport, for example)
Proof of citizenship (your birth certificate or passport), if this isn't already established with the SSA
Looking for your local SSA office? Search for New Hampshire locations here.
How much does it cost?
In most cases, a Social Security name change is totally free. (Hurray!)
Important things to remember:
You'll need an original or certified copy of each of the necessary name change and citizenship documents, which means you may have to request these (and pay for them) before you can make this switch.
How to Change Your Name on Your NH Driver's License
Once you've made the switch with the Social Security administration, it's time to notify the DMV. In fact, the law requires a NH driver's license name change be done within 30 days of the legal switch.
What forms do you need?
Visit the New Hampshire DMV, with a completed and signed name change form in hand. Also, bring:
Your current driver's license
Proof of your name change (marriage certificate or your legal name change decree)
And yes, you will have to visit the DMV in person to complete this step!
How much does it cost?
It's free to change your name on your NH driver's license. Most other states' DMVs charge a fee, so we'd say that's a pretty great deal!
Important things to remember:
Bring the original or a certified copy of your name change proof. A photocopy won't be accepted.
How to Change Your Name on Your US Passport
Next up? Changing your name on your passport, if you have one. (If you don't, maybe it's time to get one. A trip abroad is a fun idea, right?)
You can find full instructions on changing your name on your passport at the US Department of State's website. We've outlined the basic process for you below.
What forms do you need?
Check out your current passport. Depending on when it was issued and its current condition, you'll need one of these three forms:
1. Form DS-5504, the passport correction form, should be completed if you received your current passport less than a year ago. Mail it in along with:
Your current passport
Your original or certified name change document
A color passport photo (This is included in the $99 HitchSwitch package)
2. Form DS-82, the passport renewal form, should be used if you have a passport that was issued more than a year ago and less than 15 years ago. But you must have been at least 16 years old when you received it, and it must still be in good condition. Mail it in with:
Your current passport
Your original or certified name change document
A color passport photo
3. Form DS-11, the passport application form, should be used if the above two descriptions don't fit your passport. Sorry, but for this one, you'll have to visit a Passport Acceptance Facility in person. Bring the application and:
Proof of identity, plus a photocopy
Proof of citizenship, plus a photocopy
Your original or certified name change document
A color passport photo
If you're in a time crunch, you can visit a Department of State Passport Agency for expedited service.
How much does it cost?
Passport correction is free (woo hoo!), while a passport renewal is $110 for a passport book and/or $30 for a passport card. If you need to apply for a new passport, you'll pay $110 for a book, $30 for a card and $35 in extra fees.
Important things to remember:
If you're planning on traveling internationally any time soon, it's important to time your passport name change right. That's because your name on your travel tickets and reservations need to match your name on your passport. Some people wait until they return from their honeymoon to initiate their name change, for example. Others will pay for expedited passport service to ensure their change goes through before their next vacation.
More Steps for a NH Name Change
Once you've gotten your most important IDs updated with your new name, you can give yourself a big pat on the back. That's a huge accomplishment. But wait, there's more!
Then, you'll need to make sure all your accounts and records reflect the new name too. This likely includes any bank or credit card accounts, loans, your employer's files, all your insurances (health, auto, life, home, etc.) and more.
Don't freak out just yet. HitchSwitch can help with much of that too. The service offers its customers assistance every step of the way, offering checklists and instructions for just about every single name-change to-do.