Planning for the Honeymoon? Get the Lowdown on Passports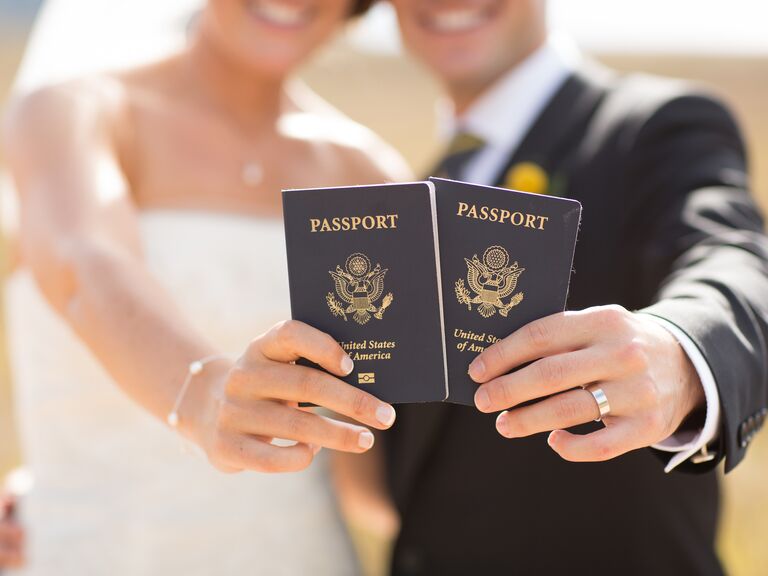 ShutterChic Photography

Jet-set accessory trends may careen from pashmina to python purses, but there's one must-have you'll always need: a passport. Plan ahead and it's a cinch to get: it's valid for 10 years, and is the ultimate proof of citizenship. Below are the basics. Comprehensive passport information, entry requirements, and downloadable forms can be found online under passport information on the U.S. State Department's Bureau of Consular Affairs home page.
Forms of I.D.
To visit any country outside the United States and its territories (such as Puerto Rico and the U.S. Virgin Islands), you will need some form of identification. The entry requirements for each country vary and can include one or more of the following:
Passport or proof of U.S. citizenship (see below)
Proof of onward travel -- or a return ticket
Visa (not the credit card!) -- basically it's predeparture approval, which is often required for longer visits or even short visits to some countries
Tourist card -- usually available from a country's consulate or the airline
Proof of sufficient funds -- a credit card or bank statement will do the trick
Proof of hotel reservations
Immunizations -- some countries also require immunizations and/or an AIDS test (usually required for "certain entertainers" or longer visits only). Check www.cdc.gov/travel for details.
A passport is handy to have and fun to fill with colorful entry stamps, but some countries will also accept the following as proof of U.S. citizenship:
Certified, original birth certificate (or certified copy thereof)
Military ID card
Certificate of naturalization
Certificate of citizenship
Voter registration card
Expired U.S. passport
With all of the above, you must bring some form of photo ID such as a valid driver's license, non-driver's ID (issued by the motor vehicle authority), or government identification card.
Important to Note
If you already have a passport, note that some countries require that it be valid for at least six months or longer beyond the dates of your trip.
Some Middle Eastern and African countries will not issue visas or allow entry if your passport indicates travel to Israel.
Passport forms can be downloaded from your computer or picked up at major post offices, county clerk offices, or passport agencies. You should be able to get the required 2 x 2" passport photo shot at a one-hour photo shop, Mail Boxes Etc., Kinko's, or your local drugstore.
Most visas must be procured before you leave; some can be obtained upon arrival. Call the country's embassy or consulate for details.
For each country's entry requirements, visa instructions, and contact information, visit the U.S. State Department website.
Taking Your Husband's Name
No problema -- but plan accordingly. You have to book your airline tickets and secure your passport before your honeymoon, and the name on both must match, so book your ticket and apply for your passport under your maiden name. When you've returned from your honeymoon and received your marriage certificate, make a certified copy and send it along with a Passport Amendment/Validation Application and your new passport to the nearest passport agency. You'll receive your "married" passport back in about three weeks at no charge.
Plan Ahead, Save Money
Passports normally take about five weeks to process. During the busy travel months, May through August, it can take up to eight weeks to get your passport by mail. If this is your first passport and you don't have a certified birth certificate handy, add another six weeks to procure it (alternate forms of citizenship proof and first-time requirements can be found online).
Renewers can do everything by mail; first-timers have to apply in person at a passport agency (located in 15 major cities) or at one of more than 3,600 designated post offices or court houses (find one near you online at the State Department's searchable database). Newbies should proceed according to this rough time-line:
Nine Weeks or More Before
You're definitely in the no-stress zone. Simply gather your materials and head down to a passport agency or designated post office. Note: Lines are longest January to July. Also, passport agencies may require an appointment and/or may only accept appointments if you're traveling within two weeks.
Five to Nine Weeks Before
Consider the season and expedite -- or not -- accordingly (see below).
Three to Four Weeks Before
Play it safe and expedite your order for an additional fee. If you use two-way overnight delivery (ship overnight -- or do two-day delivery depending on your leeway -- and include a prepaid overnight shipping label for the return trip), you should receive your passport in 7 to 15 business days, depending on the season.
Two Weeks Before
Two options here: You wait in line or you pay someone to wait in line for you. Short on funds, flexible schedule? Make an appointment, if required, at a passport agency (some only accept appointments if you're traveling within two weeks but can turn passports around in a matter of hours). Short on time, but money to spare? Pay an expediter to wait in line for you (see below).
Two Days (gulp)
Don't panic! Yet. If you don't live near a passport agency or can't get an appointment, passport expediters can help you get your little blue book in a jiff. Instant Passport, (800) 284-2564, and It's Easy, (212) 586-8880, for example, charge handsomely for one- to two-day turnaround. (If you live near a passport agency, you could conceivably messenger your materials to the expediter in the morning and get your passport back that same afternoon. And, of course, longer lead time costs less money.) Keep in mind that you will also have to pay the regular fees for renewals or new passports, an expediting fee, and any transport costs such as roundtrip overnight shipping or messenger services.
First-timers using an expediter, here's the catch: Because you are required to apply in person for your first passport, you must send the expediter a sealed government envelope containing an application form signed and notarized by an acceptance agent that verifies you're who you say you are. Where do you find these magic acceptance agents? You guessed it: a designated post office or passport agency. In short, you'll still have to spend some time in line but you can have a spanking new passport in your hands 24 hours after the expediter receives your materials (faster if you live near a passport agency).
Be forewarned: Waiting is dangerous. If you forget to include something or don't fill out a form correctly, your plan is foiled. Also, while expediters can help speed up the visa process, no one can procure a visa in less than 24 hours.