Hidden Photographers Is A Hot New Proposal Trend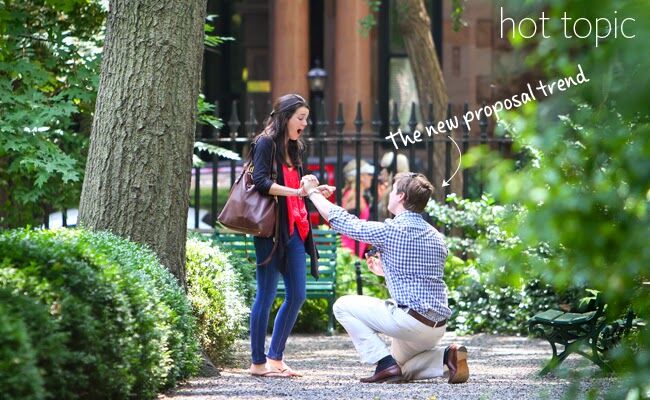 Paparazzi Proposals
When you're planning your wedding, having a photographer there isn't even a question. You know you want every single special moment captured on film forever. But what about the proposal? It's an equally special and personal moment, and photographing the proposal is becoming more and more of a trend. "People are starting to realize what an important day it is in your life," says Tiffany Wright from The One Romance in the UK (but they plan and photograph proposals all over the world!). "Although the wedding is often thought of as 'the best day ever', the proposal is actually that one time when it's just about you and your partner, which makes it even more special."
These new proposal photographers are known for being discreet and hiding to capture the moment someone drops down on one knee. James Ambler, owner of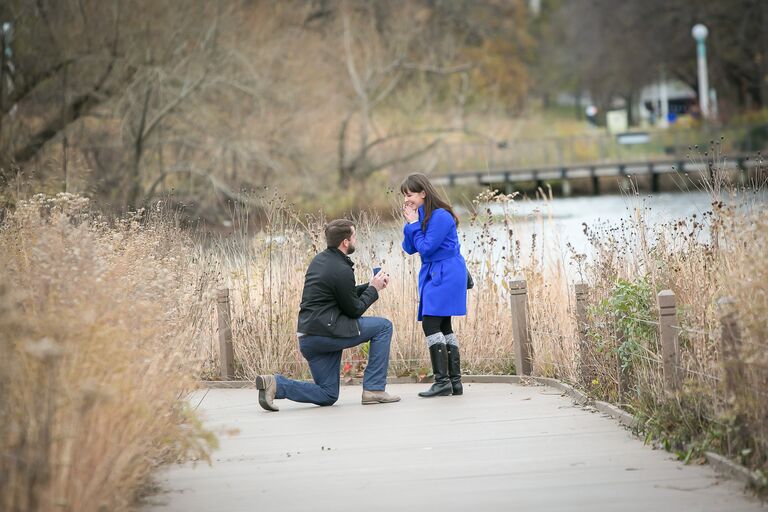 | blog.theknot.com">
in New York City (which was featured on Shark Tank), was trained as a paparazzi for years. "I was trained and worked discreetly for many years photographing things and no one would really know I was there," he says. He came up with the idea to start discreetly photographing proposals after he proposed to his now wife. "When we started to tell our friends and family about the proposal, being a photographer, they were like, 'Where are the pictures?' And that's where the idea came about," he says. "It would have been so nice just to have had those pictures, but at the same time I was an absolute nervous wreck and I wouldn't have wanted someone close by me with a camera."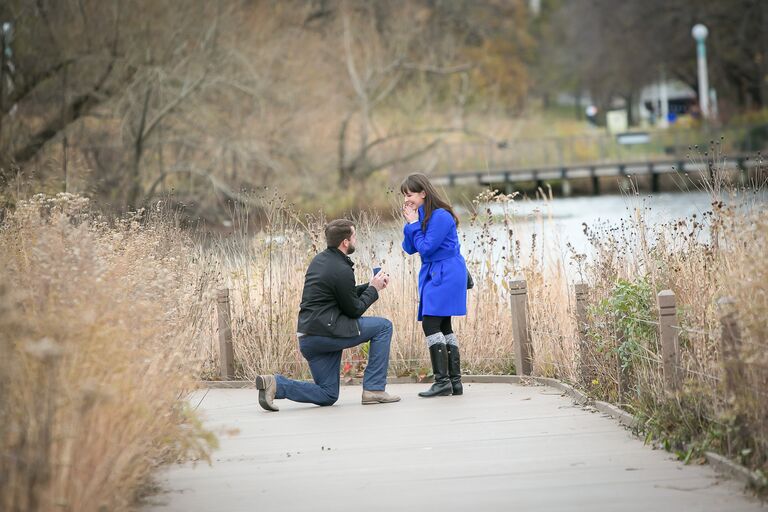 | blog.theknot.com">
|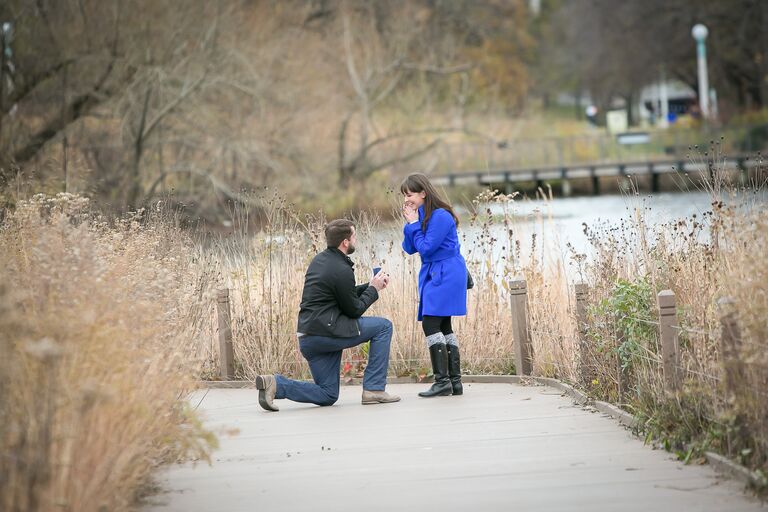 | blog.theknot.com">
One of James's favorite proposal stories involves a graffiti collector and his girlfriend. Bradley had given his girlfriend Caitlin a book of poems on murals by a graffiti artist. One of the poems was a love poem painted in Philadelphia, and the last line was "Forever begins when you say 'yes.'" They both loved the poem and he wanted to come to Philadelphia and propose in front of the actual mural. Unfortuntely, James checked out the area ahead of time and realized it wasn't a very romantic setting for a proposal. Bradley got really discouraged, but then found a group of artists in New York City who were willing to paint the phrase on a canvas. They set the canvas up in Central Park and Bradley took Caitlin on a romantic stroll and then proposed in front of it. Check out the touching video below:
"It was so tailored to her. That's how it should be, tailored to just the person you're proposing to," James says. "I'm a bit worried about guys feeling the social obligation to spend a lot of money on the proposal. And I'm advocating going in the opposite direction. The gesture of getting down on one knee and giving her a ring, that in itself is actually a beautifully romantic and simplistic gesture. It doesn't need to be tarnished with 800 flash mob dancers."
Ash Fox, of Ash Fox Photography agrees. "There's a real turn back to basics these days where there was for a while a trend towards the bigger the better with flash mobs and billboards," she says. "I actually prefer, and most of the guys I work with, just want a raw simple beautiful moment in a beautiful location and have it be about them."
James Ambler says that people love bouncing proposal ideas off of him because they may not want to talk with their friends and family about it. "It's a kind of a lonely process of planning a proposal and buying an engagement ring," he says. "Guys get very closed off about it all. It's not like they go out to the pub and chat with their friends, like 'Oh dude I'm about to buy an engagement ring, what cut should I get?'" Once people start asking for his help, he offers up ideas and suggestions tailored to their relationship. Then he goes through maps, photos, diagrams and will even do a walk through of the location before the proposal.
Tiffany Wright and The One Romance will also help plan the proposal, and they can help plan how to ask your partner's parents for permission. "We figured that for the parents, being asked is a momentous occasion, so it should be thoughtful and memorable too," she says. "We have just helped one guy ask his girlfriends parents' permission – he took the parents for a walk in the woods and as they walked, they stumbled across some gorgeous signs that said things like 'I have loved your daughter for 1095 days' and 'I promise to make her smile every moment of every day.'"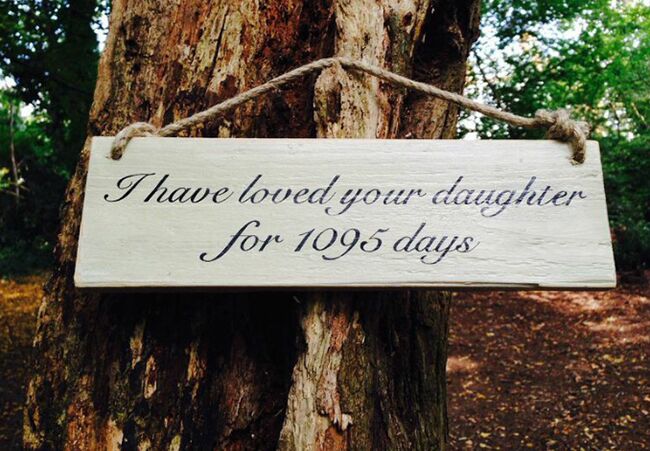 |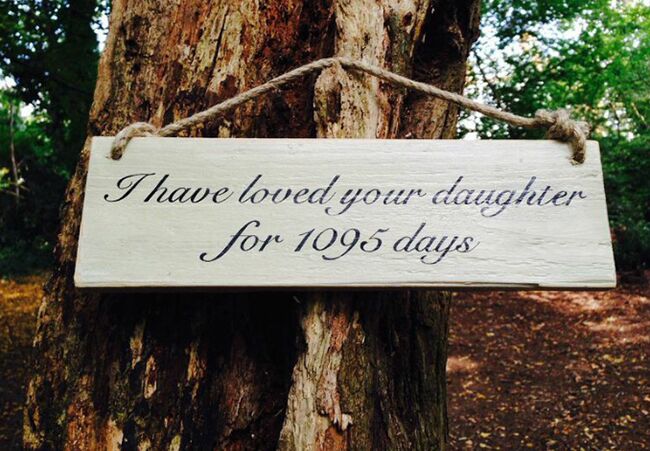 And if you want to create an amazing proposal for you partner, it's not as difficult as you may think. James has some advice for when it comes to making it a moment to remember. "Don't over think it," he says. "Simplicity and genuine reasons are going to mean so much to them. It's way more important than being over the top. Go with something very intimate to you that only they will absolutely love."
| blog.theknot.com">
|
Want more? Right here!
> Check out 5 proposal stories we're loving this week