Everything You Need to Know About Taking Engagement Photos
Ready to take your engagement photos? Capture the perfect shots with our guide.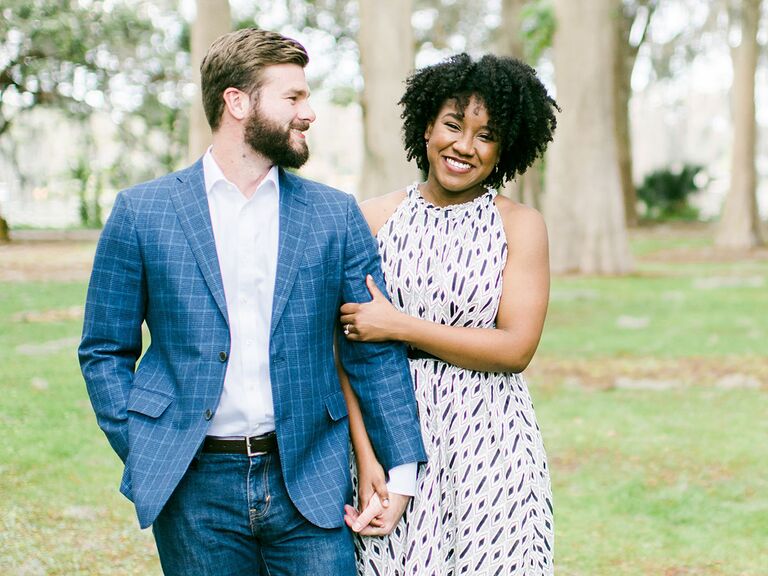 Molliner Photography
Why take engagement photos? The best reason is it's a great opportunity to work with your wedding photographer for the first time and get comfortable in front of their lens and with their style. (Most photographers also include an engagement session in their wedding photography packages.) You can also submit a shot to your local paper with your engagement announcement, use them creatively in your save-the-dates and wedding day décor, or give framed prints as gifts to your families. Read on for the basics to help you make the most of your premarital photo session.
Make It Snappy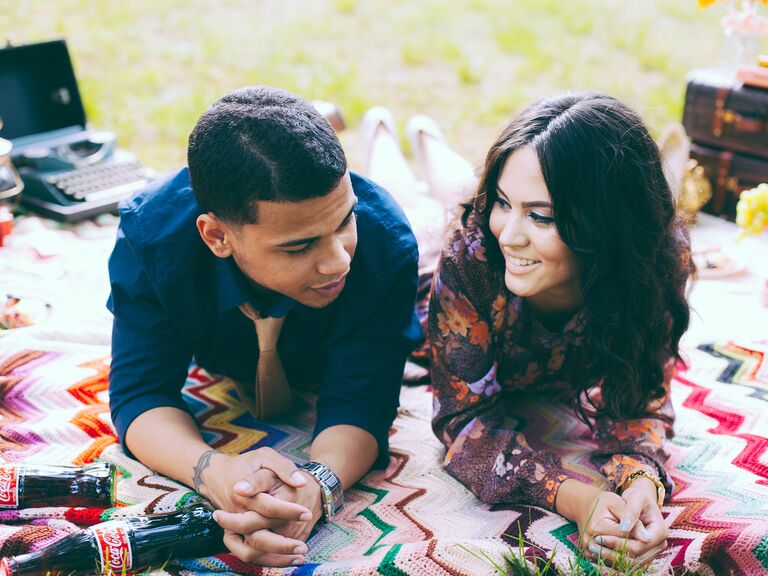 The best time to snap your engagement photos depends on how and when you plan to use them. Here's a rundown of photo scheduling options—choose whatever works for you:
Day one/two: Take a picture of yourselves to commemorate the moment you get engaged—you'll already be wearing a naturally happy smile!

First month: Schedule a photo shoot early in your engagement if you plan to submit a formal engagement announcement with a photo to your local paper. (Check your paper's guidelines for specific pose or print quality requirements, which are often listed on the newspaper's website.)

When you set the wedding date: Have a photo taken for your wedding website or save-the-date—many couples incorporate photos of themselves into the design. If this appeals to you and you're planning to send guests an early heads-up, have photos taken 8 to 10 months before the wedding, in time to print and send save-the-dates no later than six months before the wedding.

Six to eight months before: You can also take engagement pictures once you've booked your wedding photographer or when you're narrowing down your final choices (which should occur about eight months before the wedding).

Three months before: If you plan to submit a shot with your newspaper wedding announcement, check their guidelines for specifics and schedule a picture-taking session at least three months before the wedding. Larger newspapers ask to receive wedding submissions up to six weeks before the event, and you'll want to factor in four to six weeks before that deadline to see your proofs and make prints.

Two months before: Trying out wedding day looks? Schedule hair and makeup trial appointments the same day as your engagement photo session to capture a preview of your wedding day fabulousness on film (you could do the salon in the morning and the photo studio in the afternoon). Factor in some in-between time for damage control, on the off-chance that the salon results aren't as great as you hoped.

Up to one month before: Planning to feature your smiling faces on the wedding program or favors? Schedule pictures in plenty of time to see proofs, select your favorites and get everything you need printed .
Who Calls the Shots?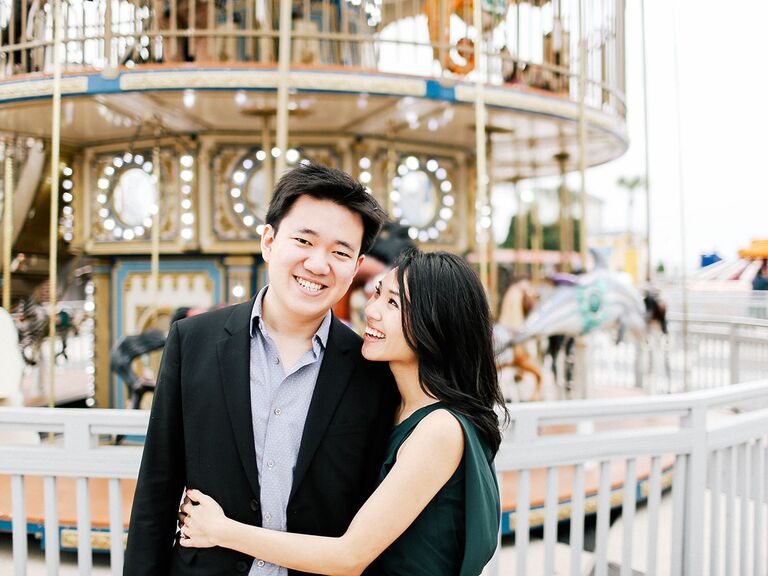 Many photographers include an engagement photo session as part of the overall package, which presents a good opportunity to see your photographer in action. It also gives them the chance to experiment with flattering angles, poses and lighting levels before the wedding day. If you haven't booked your wedding photographer yet, look at engagement photos as a chance to audition your top choice, and book them for your wedding immediately if you love them.
Where to Take Aim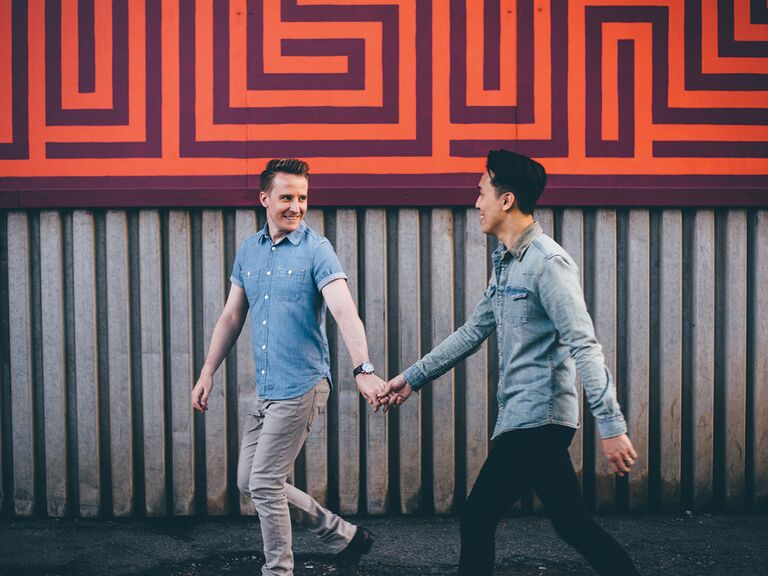 Before you call a single photographer, have a discussion with your partner about what kinds of engagement photos you'd like—posed or candid, formal or casual. Once you figure that out, you can choose the perfect location (or locations!) for your engagement pics. Where you decide to take your engagement photos is an important decision and can really help set the mood for your entire wedding. Are you looking forward to a future event that's casual and fun? Or formal and elegant? Go ahead and set up your engagement photo shoot accordingly.
It may be helpful to let your decisions be guided by how you plan to use the pics: Will they be hanging on grandma's wall, reproduced in black-and-white newsprint or shrunk down to the size of a quarter for personalized favor stickers? Advance planning will help you make the most of your pictures. Some photo-friendly options to consider for your engagement shoot:
Bring it outside: There's no need to spend a day cooped up in a photographer's studio if you don't want to. A lot of couples appreciate the sights, sounds, and smells of the great outdoors. Why not attempt to capture these senses as part of your engagement photo session? When surrounded by nature, the possibilities for memorable shots are endless. You can visit a nearby arboretum, local park or botanical garden. If you live by the ocean or near a lake, waterfront backgrounds make a soothing (and themed) background. You can also choose to hit your favorite downtown landmark for either a modern or historic take. If you're not sure which outdoor location would be best, your photographer may be able to suggest local sites that make great backdrops for pictures too. We recommend that you talk about locations you like with your chosen photographer when you make your initial appointment.
Make yourself at home:Your home is your comfort zone, and when you're comfortable, you look better on camera. Choose an area like your living room or a cozy nook. Of course, your backyard, deck or balcony could also be a great locale if you prefer to be outside but still within the comfort of your own surroundings.

Showcase an activity that you love to do together: Do you just love curling up under a blanket together in front of a roaring fire? Do the two of you regularly bond over cooking elaborate meals in the evenings? Perhaps you met in a running group or while playing a sport –– and that continues to be a big part of your lives. One fun, contemporary twist on engagement photo shoots is to showcase couples involved in a meaningful activity. This is a great way to share a little bit more about your pre-wedding lives with your friends and loved ones.
Around your world in a day: Create a meaningful backdrop for your engagement photos by revisiting nearby sites that are significant to the two of you: the restaurant where you had your first date, the ice cream shop you frequent on Sundays, the bus stop where you shared an umbrella—you get the idea. While the camera's snapping, retell your best couple stories and relive a few of the moments that brought you together—it's a perfect recipe for a series of romantic, fun candids.

Get close: You probably don't need to be persuaded to get close to your partner, but do plan to get a few affectionate close-up pictures: hug, hold hands, sling your arm around their shoulders. You're in love, show it off! Besides, if you're planning to submit a photo to a newspaper with your announcement, many publications specifically request close-up couple shots. The New York Times, for instance, asks that couples position themselves with their heads close together and (no joke), their eyebrows on exactly the same level.
Ready, Dressed, Go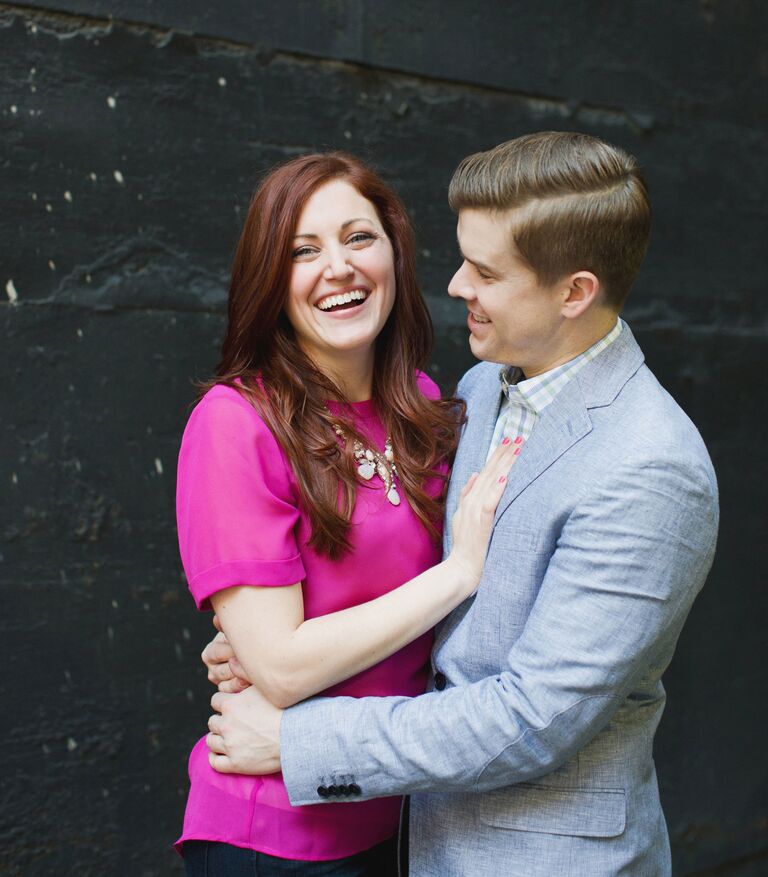 An engagement photo definitely doesn't require you to shop for coordinating outfits. But clashing patterns and colors may be a bit much. Here are some of our basic guidelines for dressing the part:

The wardrobe: Whether you're going formal or casual, solid colors are a must. Try to avoid plaids, florals, patterns and head-to-toe black or white clothing—and keep the silhouettes streamlined. Some couples coordinate their clothing palettes to the point of looking a bit matchy, but there's no need to go overboard. If you're worried about color, pick a neutral and a few coordinating color tones you both like and stick to those hues.

The accessories: Keep your jewelry ultrasimple to avoid flashy distractions in your pics. For men, that means leave your watch and any rings at home. Women should stick to unfussy earrings with a simple necklace or bracelet (or one statement piece), and your engagement ring.
Photo Funds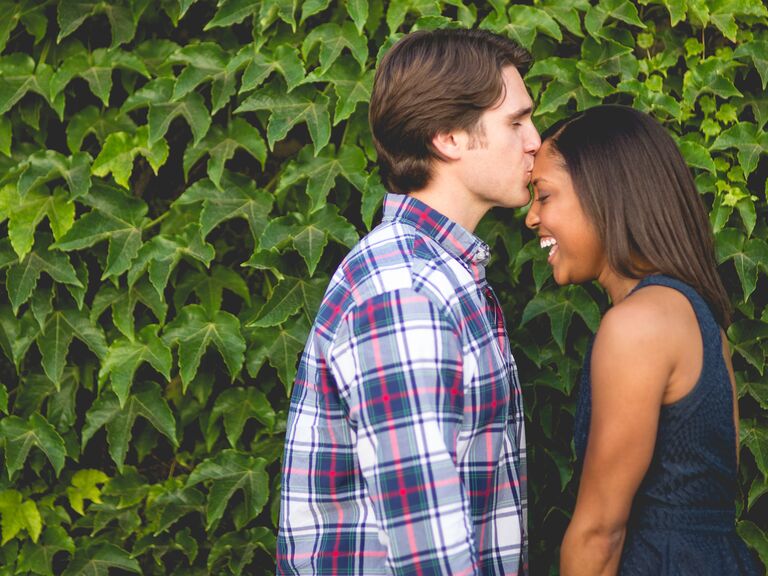 If an engagement session isn't included in your wedding photo package, hire an à la carte photographer instead. For a basic portrait sitting at a photography studio and a couple prints, you can expect to pay a few hundred dollars. Hiring a professional for an afternoon's worth of photo ops will cost several times that much—the final cost will depend on where you live and the popularity of the photographer.
Find photographers in your area here.