Planning a Public Proposal? Here's What You Need to Know
It's giving main character energy.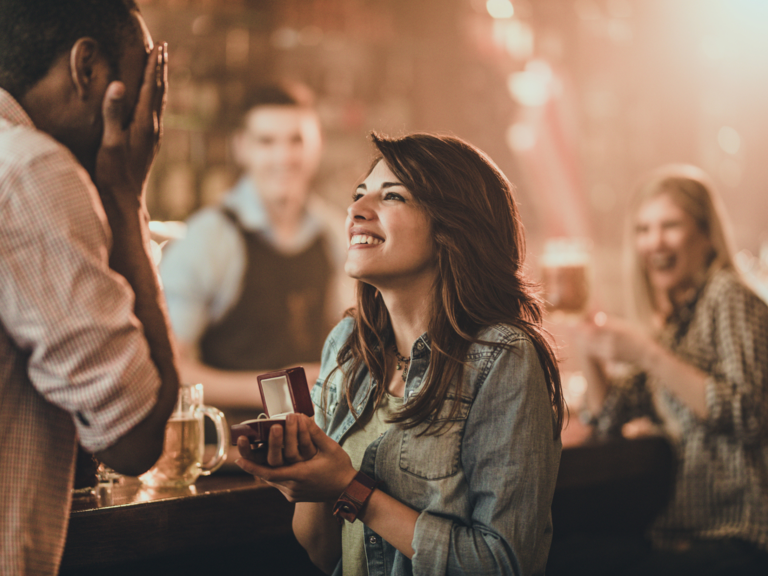 Photo Credit: Sky Nesher / Getty Images
One of the beauties of marriage proposals is how creative couples can get with them. From simple and intimate to luxurious and extravagant or somewhere in between, there are endless ways to pop the big question. One option worth considering? A public proposal. A public wedding proposal is—you guessed it—a proposal that takes place in a public location such as a beach, a park, or the middle of Times Square, explains Michele Velazquez, co-owner of The Heart Bandits. While there is no right or wrong way to propose, there are some pros and cons to consider when it comes to public proposals. Read on to learn more, plus tips on what to do and not do when proposing in public.
In this article:
The Pros And Cons Of A Public Proposal
When planning a public proposal, it's important to consider both sides before deciding if it's a good option for you and your partner. Here are the pros and cons to consider.
Pros of a Public Proposal
One of the pros of opting for a marriage proposal in public is budget, as public locations are often free or inexpensive. "If you want to rent a private venue, you would have to pay the owner of the venue a rental fee, and sometimes those are quite pricey," Velazquez notes. "But a public location can either be free, or you may need a permit which is usually pretty affordable."
Velazquez adds that a public proposal is also a great option if you invite a large group of people, such as friends and family members, to watch the proposal. "They can easily come to a public location to witness it," she says.
Furthermore, a public proposal is great for couples who love to be outdoors or enjoy having an audience. "For an extrovert, a public proposal can be ideal," Velazquez says. "With a public proposal, people are often there to witness the proposal and clap and bring energy to the proposal."
Cons of a Public Proposal
While some people may love the idea of a public proposal, it's not for everyone. So it's essential to remember your partner's personality and preferences. Heather Vaughn, founder, and CEO of The Yes Girls, says most clients she helps with proposal planning opt for a private proposal because they prefer intimacy when getting down on one knee. "Unless your partner is the type that screams public displays of affection and attention, it's a safer bet to keep it on the semi-private to private side," she says.
Velazquez seconds this advice: "An introvert would be mortified by a flash mob proposal in a mall. They may prefer a private location with no one else around." Plus, she adds, there is a lot of pressure that comes with proposing in general and more so when doing it in front of other people. "This pressure is felt by the proposer because they know everyone is watching, and they are hoping for a yes," she says. "And it also makes the proposee feel pressured to say yes."
Lastly, with public proposals, there are many things you can't plan for, and outside factors that can impact the experience, so keep that in mind. "Public proposals have a lot of outside factors, like strangers not being aware of what is happening and accidentally interrupting the moment," Vaughn says.
"There are a lot of things that can go wrong with a public proposal that you can't control," Velazquez adds. "For example, you could plan on proposing somewhere, and there was a closure you didn't know about. Or you could be proposing on the beach, and it rains."
How To Propose In Public
With all the pros and cons in mind, if a public proposal is the way to go for you and your partner, here are some tips on what to do and not do, including some public marriage proposal ideas to get your creative juices flowing.
Plan for every scenario.
As Vaughn and Velazquez mentioned, with a public proposal, many external factors beyond your control can impact the proposal. For this reason, anticipating things that can go wrong and planning for them is super important to ensure the public proposal goes as planned. Some common things that can derail the plans include unexpected weather changes, strangers accidentally interrupting, or the public space where you plan to propose not being available. So be sure to also have a plan B at the ready in case any of those things occur.
Obtain any necessary permits.
Just because a location is open to the public doesn't necessarily mean you can swing by and propose to your partner. So in the planning stage, check with the location to see if you need any permits for a public proposal. This is even more crucial if you're going big and inviting lots of friends and family members or want to set up props and decorations.
Invite loved ones to witness the proposal.
Everyone's situation is different, but if you know your partner would be thrilled to have their closest friends and family members at the proposal, by all means, invite them to be there. They can either surprise your partner before you propose or blend in with the crowd and surprise them after they've said yes. Either way, loved ones get to witness that special moment and be there to celebrate with you after.
Make it special.
When planning a proposal, whether public or private, it's important to keep your partner's preferences in mind and make it a special and meaningful experience for them. So think of what public locations are important to them, a landmark in your relationship (like where you had your first kiss, for example), or perhaps a notable event that you have coming up. Whatever public location you choose, ensure that it is special and meaningful.
Opt for a semi-private public proposal.
If you're worried about strangers watching the proposal, Vaughn recommends making the proposal semi-private by having the "public" be a large group of friends and family in disguise. "For example, we set up a mock fashion show in Chicago [for a client] where his girlfriend was asked to be a model for a fun local event and walk the runway," she says. "She walked the runway to find all her friends and family in the audience, and her now husband proposed on stage!" This is an excellent option if you want the vibe of a public proposal but want more control over all the planning logistics.
How Not To Propose In Public
To ensure a smooth and memorable public proposal that goes off without a hitch, here are some tips on what not to do when you propose in public.
Don't wing it.
Again, many things can mess up your proposal plans when you're doing it in public. So being spontaneous may not be the best option if you want to make it a memorable experience. Be sure to plan as best you can and adopt a go-with-the-flow mindset in case you need to switch things up at the last minute.
Don't propose without discussing marriage beforehand.
As Velazquez noted, public proposals put pressure on the person being proposed to. So one tip on what not to do when proposing in public is to do so without discussing marriage beforehand. Even if you have good intentions to surprise them with a public proposal, it's unfair to put the person in a situation where they feel pressured to say yes because people are watching, especially if they're not genuinely ready to commit. In other words, before you plan a public proposal, ensure that you're both on the same page about marriage and it's a step you both want to make.
Don't make it all about you.
Lastly, a proposal should be about both of you. So even if you would love to propose to your partner in public (maybe you're more extroverted than they are, for example), but you know they would prefer something more intimate, don't bypass their desires. Ensure they feel comfortable, safe, seen, and loved in whatever setting you propose.