Turks and Caicos Is a Top-Rated Destination for Honeymoons
The Caribbean's most beautiful backdrops and a vacation drink await.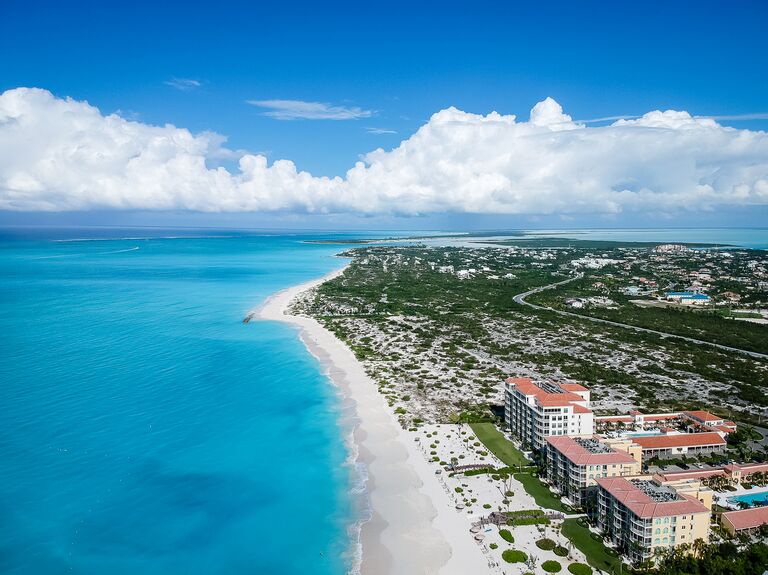 Jpbarcelos / Shutterstock

We have included third party products to help you navigate and enjoy life's biggest moments. Purchases made through links on this page may earn us a commission.
You may have heard of Turks and Caicos in passing, as if it's even a mythical location. The ideal romantic destination for weddings and honeymoon getaways, Turks and Caicos is a British territory located southeast of the Bahamas, about 600 miles from Miami and among the British Virgin Islands.
Its name is derived from "Turks," which refers to either the native Turks Head cacti or Turkish pirates, who once sought refuge at this destination, while the "Caicos" comes from "caya hico" or "string of islands," translated from Lucayan, the language of the Taino Indians. These original island inhabitants of Turks and Caicos called the tropical destination home, long before Europeans stumbled upon it. Today, the official language of Turks and Caicos is English.
If you're seeking pristine, white sand, turquoise water and world-class resorts, there is no better destination for honeymoons. When traveling, Turks and Caicos is far more convenient for East Coast residents in large cities, who can reach Providenciales airport in less than two hours from Miami and five hours from New York. Depending on the departure location, Southern couples can expect a four to seven-hour trip, while those from the Midwest should anticipate much of the same. Trip times near double if you're coming from the West Coast, ranging anywhere from eight to 11 hours.
Currently, all visitors are required to complete their TCI Travel Authorization forms to be permitted into Turks and Caicos. Requirements include a negative COVID-19 test within five days of travel and proof of health insurance covering COVID-19 treatment.
Is Turks and Caicos Good for Honeymoons?
The Pros: The islands are beyond welcoming to honeymooners with high-end resorts and full-service accommodations. If you're an active set, you can't go wrong with meeting dolphins, diving into gorgeous reefs, and luxuriating on the world's best beaches.
The Cons: If you love nights out or more culture, you might crave a busier locale. Also, if your taste for outdoor adventure goes beyond water sports, you might want to consider someplace larger with more diverse terrain.
The Best Times of Year to Go on a Turks and Caicos Honeymoon for Good Weather
December to April is the ideal time frame for travel to Turks and Caicos if you want sunny days and relief from brutal winters up north. Make note of hurricane season in Turks, which runs from June to November. Mid-August to September are, in fact, the most likely time to anticipate storms.
Places to Visit in Turks and Caicos for a Honeymoon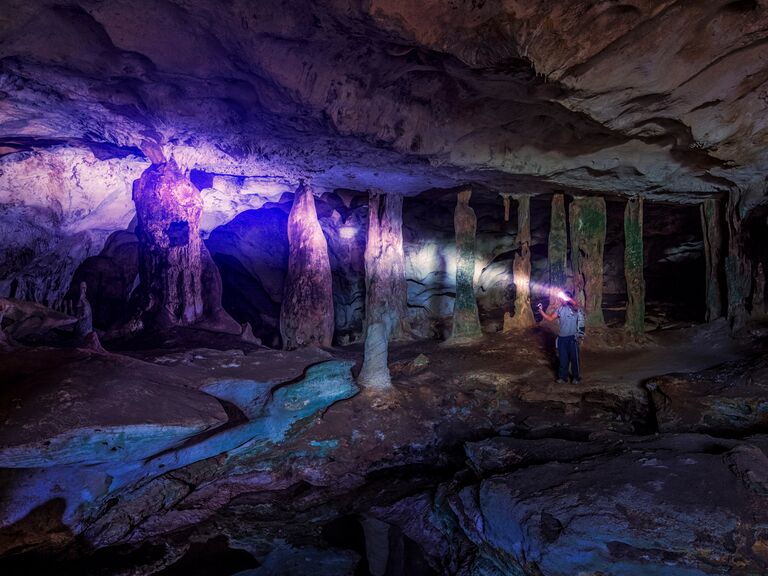 Providenciales (Provo)
Providenciales, or Provo, is home to Turks and Caicos' international airport. Grace Bay Beach, a TripAdvisor Travelers' Choice winner, and Long Bay Beach, a more secluded area with shallower waters, are also located in this region.
Grand Turk
This island is home to Turks and Caicos' capital, Cockburn Town, and historical sites. Grand Turk has its share of undeveloped beaches and boutique hotels.
North Caicos
North Caicos is a less-developed island northeast of Providenciales. Here you'll find boutique hotels, private islands and hiking sites.
Middle Caicos
You can reach Middle Caicos, where the landscape varies from rocky beaches to mangroves, by road from North Caicos. Here you'll find nature preserves and more secluded waters.
Salt Cay
This underdeveloped island was once home to the salt industry, and it's a great taste of the past, with colonial architecture and cart-pulling donkeys on the roads.
Things to do on a Turks and Caicos Honeymoon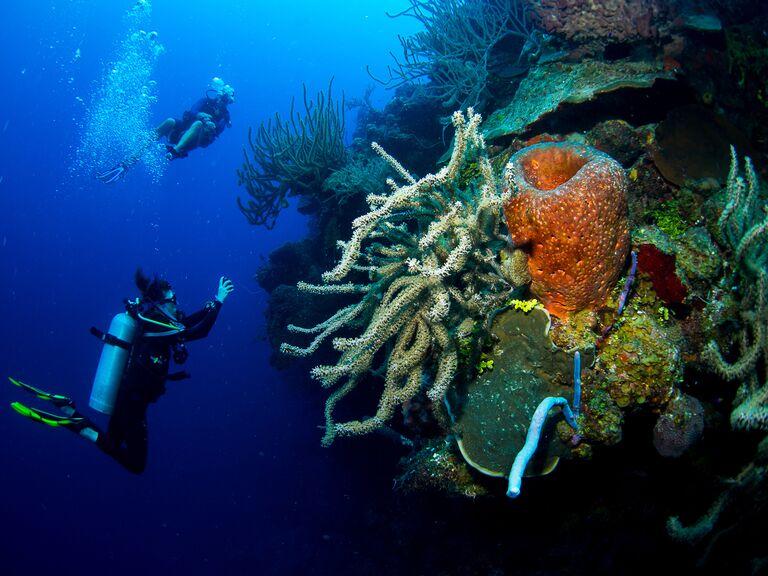 Watersports
Provo's Bight Reef and Smith's Reef are great for beachside snorkeling, while Northwest Point and Princess Alexandra are for more experienced snorkelers. For scuba divers, companies like Dive Provo and Big Blue Collective provide tours throughout Turks and Caicos.
Grace Bay Beach is known for its snorkeling, parasailing and kayaking. Long Bay Beach, where the water is shallower, is perfect for kiteboarding. But really, Turks and Caicos has abundant opportunities for watersports and your hotel concierge will have plenty of choices available.
Meet Animals
For whale watching there's Salt Cay, where TripAdvisor reviewers say you can hear the whales "sing to you," while North Caicos is the spot for meeting dolphins. Long Bay Beach is known for horseback riding, while Little Water Cay is the place for spying on iguanas.
Salt Cay is where adorable donkeys roam, while flamingos call the secluded Three Marys Cays home. Most snorkeling sites on Turks and Caicos house sea turtles and marine life, but for baby sharks, you'll need to head to Prince Alexandra National Reserve.
Explore Natural Wonders
Middle Caicos is home to the majestic Conch Bar Caves, an above-ground limestone wonder, Ramsar Natural Preserve and its marine wetlands and Indian Cave, a breathtaking entanglement of papaya trees and roots.
Chalk Sound National Park
These are protected waters where motorboats aren't allowed, but kayaks quietly glide through the sanctuary. We recommend a guide for these rocky beaches, as there's no designated parking and paths can get tricky.
For Sightseeing
The plethora of guided boat and yacht tours in Turks and Caicos is a great way to "cay hop" and take in the beauty of the region. The secluded Bambara Beach in Middle Caicos is also a great secluded place to amble about.
Some History
The Grand Turk lighthouse stands next to an old US Navy base, and the Turks and Caicos National Museum, also in Grand Turk, is where you can see remnants of old shipwrecks and learn more about the Taino Indians.
Gaming and Shopping
Grace Bay is home to Casablanca Casino, Provo Golf and shops like Anna's Art Gallery and Serene.
Best Hotels and Resorts in Turks and Caicos for a Honeymoon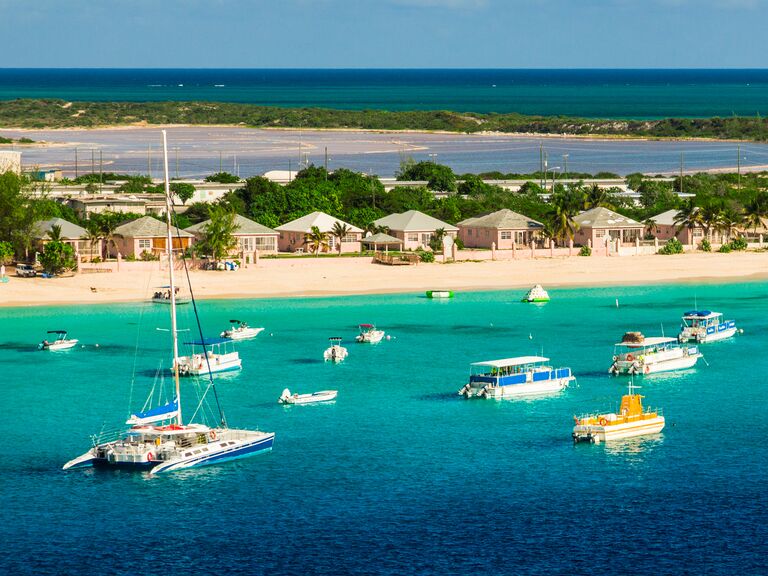 Grace Bay Club
This luxury resort provides separate adults-only and family-friendly areas amid its oceanfront rooms. Newlyweds can enjoy private sunset dinners, while the wedding packages are a steal: You could get live musicians, decorations, an officiant and a cake, among other wedding musts, for about $9,000 before taxes.
The Palms, Grace Bay
This resort boasts a wellness spa, infinity pool, tennis courts, gym and watersport excursions. Destination wedding couples will appreciate the kids' club and larger penthouses, while honeymooners receive complimentary bubbly and chocolates upon arrival.
Wymara, Grace Bay
This resort near the crystal clear waters of Pelican Cay emphasizes packaged offerings, which can range from wellness deals to couple's trips. Package experts are available to help with planning, and there are also large villas and penthouses for wedding groups.
Amanyara, Providenciales
This eco-conscious hideaway amid the lushness of Northwest Point National Park provides glass-walled pavilions and villas with private pools and beaches. Adventures like snorkeling, horseback riding and kayaking are available, and there are movie nights and kids programs for younger destination wedding guests.
COMO Parrot Cay
This award-winning resort is on a private island at the northwest tip of North Caicos. COMO offers packages for elopements and weddings of all sizes, including whole-island reservations. Honeymooners can book a "Just for Two" package with couples massage and private dinner.
Seven Stars Resort & Spa, Grace Bay
This expansive resort boasts suites for small and large parties, an adults-only area and family activities. There's also a private villa collection for groups that want privacy.
The Shore Club, Long Bay Beach
If you're looking to elope, you can visit The Shore Club without any plans for a little over $1,000. But it's likely you'll want to stay, as the architecture and decor are almost as stunning as its private beaches. There are accommodations for parties of all sizes and several gorgeous backdrops for the perfect "I do."
Meridian Club, Pine Cay
This private island resort offers beach cottages and adventures ranging from jet skis and scuba to yacht tours and fishing. You can book the whole island for a destination wedding, and a wedding planning service is available onsite.
What to Pack for a Turks and Caicos Honeymoon
Turks and Caicos Tourism officials emphasize biodegradable, reef-safe sunscreen. Insect repellant, medications, sunglasses, a hat and long sleeves and pants for protecting against sun rashes are also recommended. You'll also want to carry extra cash for cash-only shops and restaurants, and you might consider something to carry cold drinks and snacks in for outings.