8 Major Benefits of Working With a Honeymoon Travel Agent
Now more than ever, couples are relying on trip designers to plan a highly-customized postwedding getaway.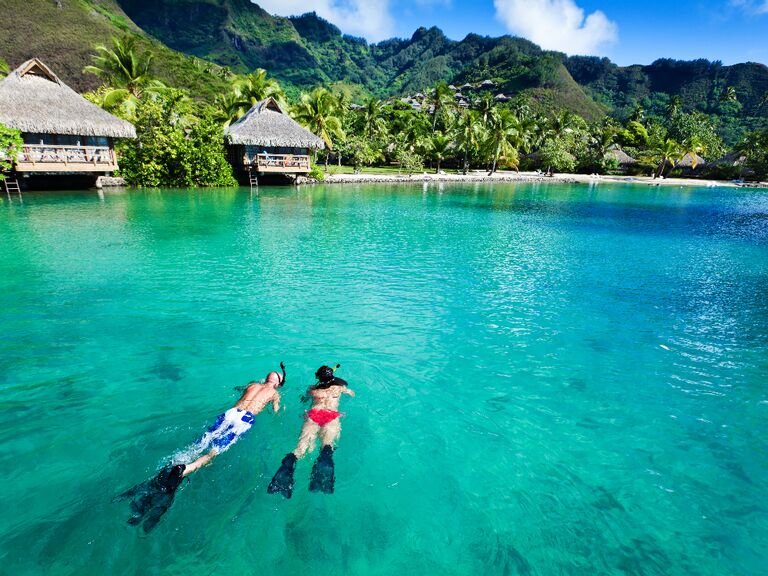 Martin Valigursky/Shutterstock.com
We have included third party products to help you navigate and enjoy life's biggest moments. Purchases made through links on this page may earn us a commission.
Planning a wedding can feel demanding at times. With plenty of deadlines to meet, contracts to sign and stylistic decisions to make, the thought of simultaneously planning your honeymoon can sound downright exhausting. That doesn't, however, mean you have to give up your dream of enjoying a little R&R after the big day. Enter, honeymoon travel agents.
For couples that want to embark on their dream honeymoon without the planning stress, hiring a honeymoon travel advisor may be the right move. Not only do trip designers take away the most stressful elements of planning a fantastic vacation, they also offer exclusive perks and deals you might not have access to on your own. So, should you hire a honeymoon travel agent? We spoke to a few seasoned trip designers to share the biggest benefits of hiring a honeymoon travel advisor. (Spoiler alert: They live up to the hype.)
1. They'll Help You Navigate COVID Travel Complications
One of the biggest challenges couples faced during the pandemic was determining how to honeymoon safely. While 2020 welcomed a rise in "homeymoons," travel has commenced again as vaccinations ramp up and countries re-open to visitors. Given the resurgence of the industry, experts are noting a newfound interest in working with travel advisors—especially for special trips like a honeymoon. "We're seeing a renaissance of travel advisors," says Michael Johnson, president of luxury travel agency TravelEdge. "Anyone can book a flight or a hotel, but travel advisors know how to unlock experiences and help you maximize your time."
The expertise of a honeymoon travel agent is especially helpful for navigating the ongoing complications of the pandemic. "Risk tolerances are different for everyone, but a travel advisor is connected to the latest safety protocols and rules in a specific destination," he adds. "While a travel agent isn't a replacement for medical advisors, like the CDC or the World Health Organization, they can help you navigate travel amid the pandemic."
Plus, because travel advisors have unrivaled knowledge about the honeymoon destinations they frequently book, they can help you understand specific COVID-related travel rules. So, should regulations change shortly before your trip, they'll assist with adjustments as needed. "Aside from complimentary VIP perks and amenities couples can enjoy by booking through me, I'm up-to-date on the constantly changing COVID protocols and can quickly come up with a 'Plan B' if needed," explains Ane Lowe, a trip designer for travel platform Reco.
2. They'll Reduce Unnecessary Planning Stress
If planning your dream luxury honeymoon in tandem with your wedding day sounds nearly impossible, you aren't alone. "The number one thing I hear from honeymoon clients is that they have no time to focus on honeymoon planning because they're so focused on the wedding," Lowe says. "I can take planning such a special trip off their plate—and the bonus is that I'm able to quickly narrow down options for clients so they can easily make a decision based on their budget, preferences and interests."
Plus, as Johnson adds, a few weeks spent working with an advisor will leave you with a stress-free experience. "The value of the advisor is found in their ability to maximize the most precious resource: time," he shares. "You have one honeymoon to experience as you embark on marriage with your partner, so you want a trip that's well-crafted and personalized, and that's where the advisor comes in."
3. They'll Design a Trip Customized to Your Interests
Perhaps one of the most challenging aspects of planning an unforgettable honeymoon is picking a destination that excites you and your S.O., especially if you have different interests. But by working with an experienced advisor, you can tailor any trip to fit your niche preferences. "A good local advisor knows the country by heart," explains Louise Roe, a Belize travel agent and founder of ROEming Belize. "As a result, they can craft a bespoke itinerary with the best places to see, locations to stay and things to do to make sure the honeymoon is just what you want it to be, if not more."
4. They Have Insider Connections for Special Perks
Picture this: After a long day of travel, you arrive at your exotic honeymoon destination and walk into your suite to find a tray of your favorite chocolate sitting next to an icebox with a bottle of bubbly. If this sounds like your dream scenario, you can experience it with a honeymoon travel agent. Though some resorts and hotels will add special perks for honeymooners, travel agents have exclusive connections with property managers that can be used to completely enhance your experience. "While advisors can help you determine where to go and where to stay, they also have relationships with properties that can unlock amenities, like your favorite bottle of champagne chilling on ice when you arrive," Johnson says.
Whether you want a private picnic on the beach or a private session in the resort spa, you deserve to be treated like royalty on your honeymoon—and a trip designer can make it happen. "No request is too big or small, and that's the beauty of working with a travel agent," Roe explains. "We've helped couples craft unforgettable magic moments for their honeymoon, from private waterfall picnics to helicopter tours and even lunch on a deserted palm-studded island."
5. They'll Find The Best Deals For You
If you'll be traveling to a brand new country, you might not be sure how to find the best deals, upgrades or all-inclusive honeymoon packages. While you likely want to stay at the best resort or eat at the most famed restaurants, finding great options in your price range can be a challenge—but that's where your honeymoon travel agent comes in. "As a local advisor, I know the ins and outs of the country," Roe says of her work in Belize. "My localized expertise allows me to provide hidden glimpses and authentic experiences into the country." So, instead of staying at over-priced tourist spots, your travel advisor can help you find budget-friendly deals that'll give you a unique experience you might not be able to secure on your own.
Working with a honeymoon specialist travel agent will also help you avoid unwanted surprises on your vacation, like a closed restaurant or limited hotel spa offerings. "Travel advisors spend a lot of time working with suppliers and agencies to understand all of the different properties and experiences a client can expect," Johnson explains. "For example, anyone can book a hotel online, but you might not know that the pool has restricted hours or whether or not the restaurant you want to go to will be open. Our advisors are constantly engaging with our supplies to understand what's happening in real-time."
6. They'll Offer Support Throughout Your Vacation
The goal of a honeymoon is to unwind after the wedding and soak up that "just married" bliss with your new spouse. But if booking connecting flights or coordinating rides to and from restaurants and excursions will cause you added stress, a honeymoon travel agent will handle all of the smaller planning tasks—including the ones you don't want to worry about.
In fact, according to Lauren Yanko and Erik Ornitz of Reco, a honeymoon trip designer can offer guidance every step of the way, from the moment you start planning your trip until you arrive back at home. "When you book with one of our Trip Designers, you'll receive ongoing support not just leading up to your trip, but also throughout your travels," they say. "If something unexpected comes up, your Trip Designer will help you adjust your plans accordingly. We're here to help you plan an unforgettable trip that you can be present throughout."
7. Travel Consultants Promote Responsible Tourism
Today, more couples are wedding planning with a conscious mindset. From hiring diverse vendors to planning sustainably, there are plenty of ways your wedding can be an ethical celebration. The same is true of honeymoon planning too. There's a newfound focus on responsible tourism, especially as countries recover from challenges caused by the pandemic. And because travel specialists are well-versed in the areas they represent, they can help you travel responsibly.
"We see that travelers want to choose hotels and suppliers that are truly supporting the country they're visiting," Roe explains. "Moreover, they want to learn about the country instead of just purely visiting it, so responsible tourism and cultural immersion interwoven into honeymoons have become major trends." By working with an experienced travel agency, you can be confident that your romantic getaway is an ethical one.
8. You Can Register for Cash Funds to Pay for Their Services
The cost of working with a honeymoon travel agent largely depends on the company. "While some agents will charge you a planning fee, many agencies do not charge extra for travel planning services," Roe explains, noting that working with a travel specialist can actually help you save some extra money in the long run.
But, if the online honeymoon travel agent you want to work with does come with a fee, you don't have to pay for it out of pocket. Instead, you can register for money to cover their travel services through a tool like The Knot Registry. Thanks to our all-in-one registry, you can easily create a cash fund to pay for any part of your travel experience, from airfare to drink packages at an all-inclusive resort or even travel agent fees.
In fact, we encourage all couples to register for cash to help fund their perfect honeymoon. While paying for luxury travel may not feel possible while simultaneously planning a wedding, we make it easy to register for the wedding gifts you want most—especially if that includes poolside cocktails in the Maldives or backpacking in New Zealand.