Exclusive: Actress Perry Mattfeld Gives an Inside Look at Her Hawaiian Bachelorette Party
Psst: You can easily recreate the CW star's tropical "wellness retreat" getaway.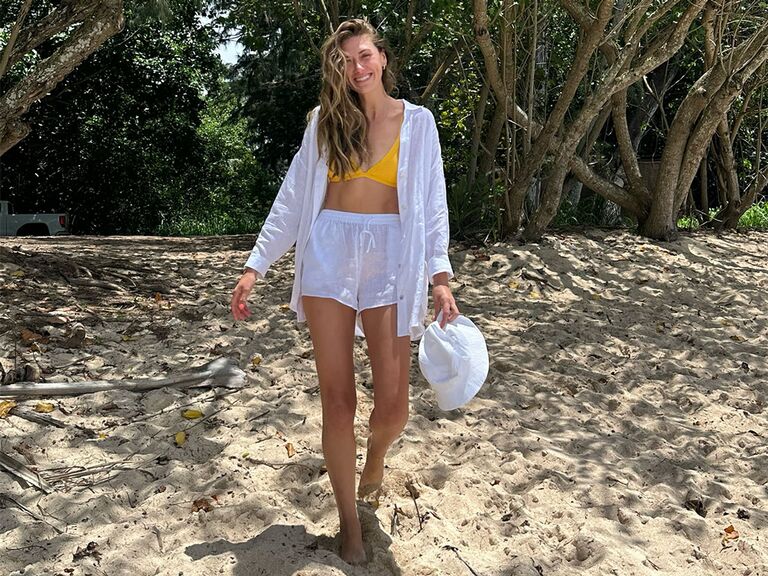 Photo: Courtesy of Perry Mattfeld
We have included third party products to help you navigate and enjoy life's biggest moments. Purchases made through links on this page may earn us a commission.
As much as we love celebrating celebrity weddings, we can't help but have a soft spot for celebrity bachelorette parties too—because, yes, stars really are just like us. Ahead of her May 2023 wedding, actress Perry Mattfeld sat down with The Knot to give us an inside look at her Hawaiian "wellness retreat" bachelorette party, which included plenty of sun, sand and relaxation.
You might recognize Mattfeld as the star of The CW's crime drama In The Dark, or from her roles in Shameless or Wizards of Waverly Place. She got engaged to former NFL player Mark Sanchez in May 2022 and embarked on a busy year of planning and traveling leading up to their 2023 nuptials. Here, Mattfeld takes us inside her recent Hawaiian getaway, giving us the scoop on where she stayed, what she did, and the tried-and-true wedding advice she wants fellow to-be-weds to hear. Plus, if you've always dreamed of feeling like a celebrity at your own bach party, we break down how you can easily replicate her tropical trip. (Psst: It's more attainable than you realize!)
In this article:
Inside Perry Mattfeld's Prewedding Bachelorette Party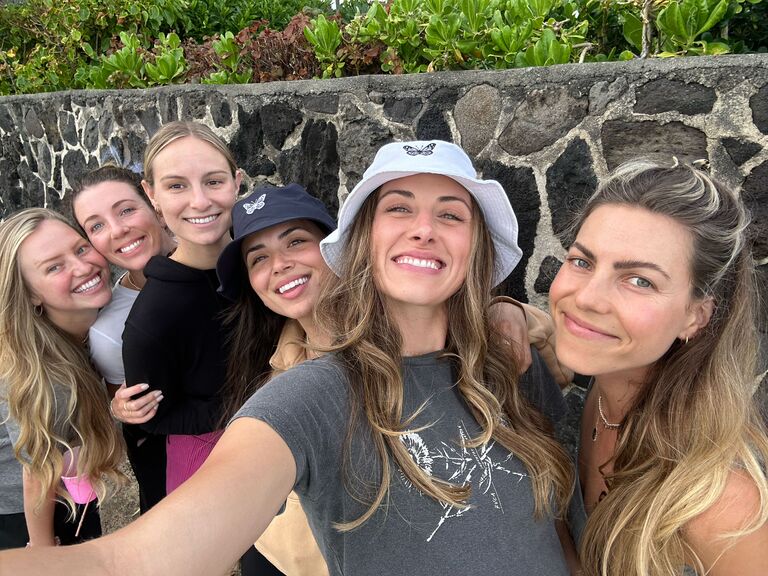 So, what does a celebrity bachelorette party look like? Perry Mattfeld had a clear vision for her prewedding trip from the very beginning. "All I wanted was to swim in the ocean with my girlfriends, drink beers at sunset on the beach, and stay out late talking," she tells The Knot. "That's exactly what we did."
She Selected a Tropical Location
As a Southern California native, Mattfeld's affinity for the beach played a key role in selecting her bachelorette party destination. She landed on Diamond Head, a volcanic cone on the Hawaiian island of Oahu. "All I did was find the place we were going to stay, and from there, my friends planned a boat outing, dinners, beach trips and hikes," Mattfeld explains.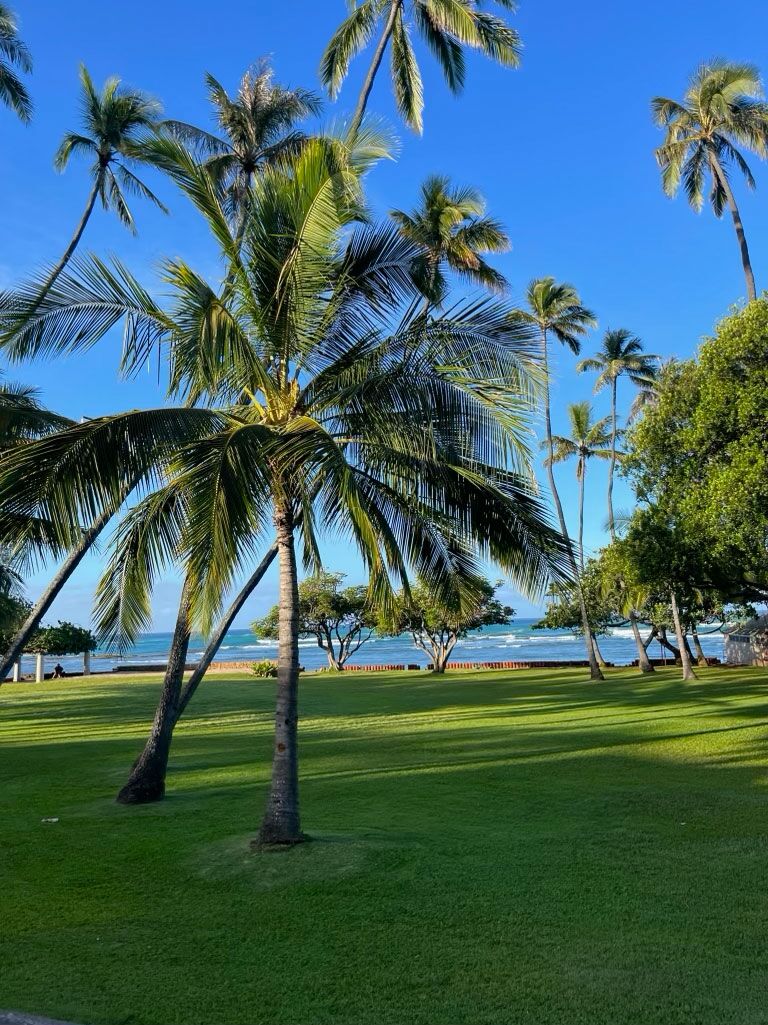 "It was funny because it was initially going to be a four-day trip," she says of the spring 2023 vacation, "but as it was getting closer, we were getting more and more excited to go to Hawaii. One by one, we each kept extending our travel and booking our flights earlier and earlier. We ended up there for six nights."
Perry Mattfeld's bachelorette trip was a combination of all of her favorite things, from quiet beach time to self-care activities. "Rather than trying to push the idea that this was 'my last party at a club' or something like that, I just enjoyed having quiet, private time with my girlfriends," she explains. "Instead of over-planning, I loved that we slept in, had breakfast at 11 a.m., and walked to the beach. It was slow and intimate and perfect."
The Bride-to-Be Was Joined by 10 of Her Closest Friends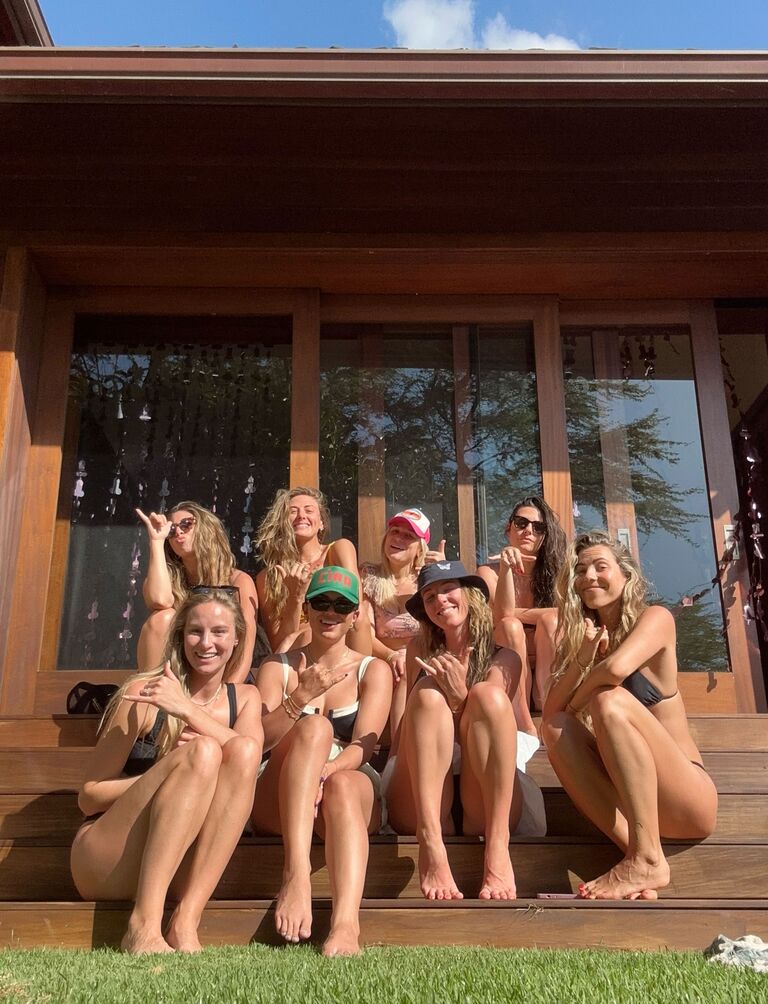 Reminiscing on the trip, Mattfeld tells us that she was joined by 10 of her closest friends, all of whom will have a role on her wedding day. "The trip was a mix of childhood friends, college friends and work friends," she shares. "I'm very lucky to have girlfriends that have known me since way before anything happened as an actor."
Referencing her job in the entertainment industry, Mattfeld says, "No one really told me before I started acting that it's a very isolating career. I end up all over the world shooting in different locations alone or with different groups of people that I don't see again. Given that, my friends are my foundation."
The "Intimate" Trip Served as a Full Circle Moment
Of the seven days spent soaking up the sun and enjoying quality time with her loved ones, one particular memory stands out as Mattfeld's favorite from the entire trip. "On our last night, I just wanted to swim in the ocean until it got dark," she muses. "We all had drinks at Waikiki Beach and swam way far out at night. It was iconic."
Interestingly enough, another core memory happened on the plane ride to Hawaii before the party even began—and it's something that will resonate with many other to-be-weds. "You spend a lot of your life thinking, 'I wonder if I'll meet someone,' or, 'I wonder if I'll ever get married, and if I do, what would I do for my bachelorette?' It was a surreal realization where I thought, 'This plane that I'm on right now is going to my bachelorette party because I'm getting married,'" she says, urging other couples to prioritize mindfulness during their wedding planning journey. "I had been so preoccupied that I hadn't really soaked in what was happening. I remember telling my girlfriends, 'Can we just pretend it's a girls' trip? Because if it's a bachelorette, then that means it's over.' You daydream about it, and then it just happens."
Shop Perry Mattfeld's Bachelorette Gifts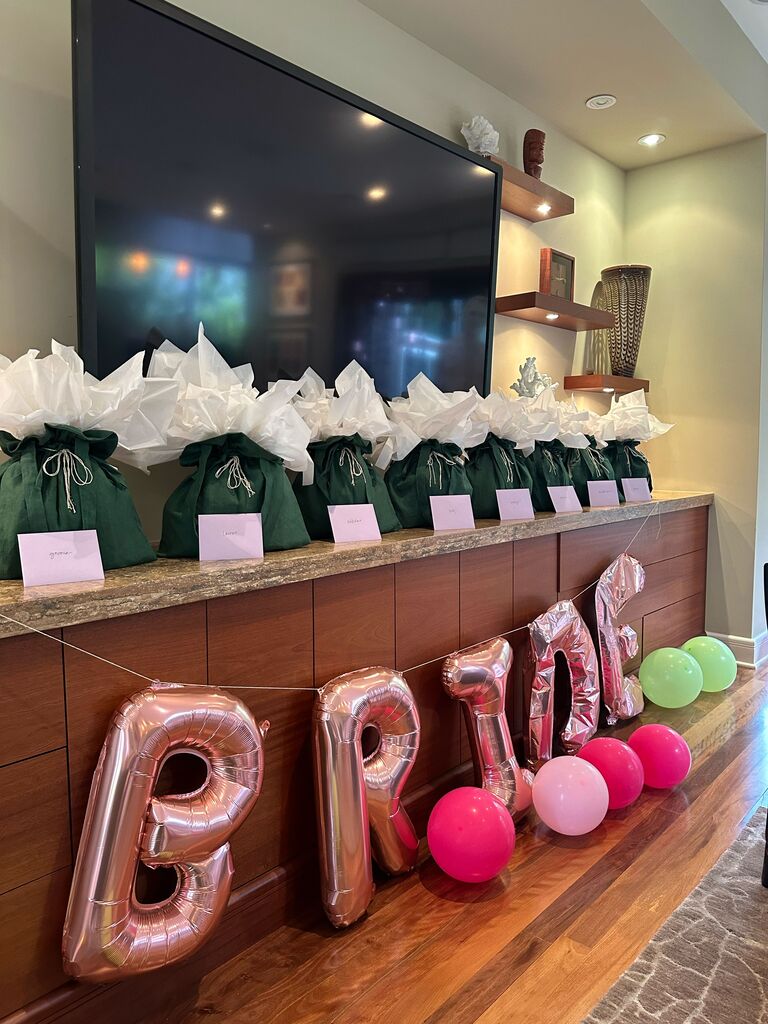 Mattfeld's friends surprised her with quite a few activities and gifts throughout the duration of her bachelorette, including a cheeky eight-foot cardboard cutout of her fiancé (which Mattfeld proudly still has, telling us with a laugh that she had to "check it as baggage" on the way home.)
While it's common for bach party guests to shower the bride with goodies, Mattfeld stressed the importance of giving back to her VIPs. "My girlfriends kept saying, 'We're supposed to give you gifts, not have you give us gifts.' But when they started giving me gifts I was like, 'Hey, can we switch this? Can I give you this?' It was like a thank you for being by my side, some for as long as almost 20 years."
From trendy sunscreen to luxe beach towels, here's a peek inside Perry Mattfeld's bachelorette party gift bags. The best part? These picks are perfect for any bach trip, which means you can buy your favorite items on the spot to give to your own bridal party.
Supergoop Sunscreen
Whether you're soaking up the sun in Oahu or hitting up honky tonks in Nashville, sunscreen is always a must—and that's why it was an essential part of Perry Mattfeld's gift bag. "Not only were these gifts some of my favorite products, they were perfectly relevant for being in Hawaii," she tells us. "Supergoop is my favorite brand. I use their sunscreen serums every day, so that was an awesome surprise for my friends."
Tower 28 Beauty Products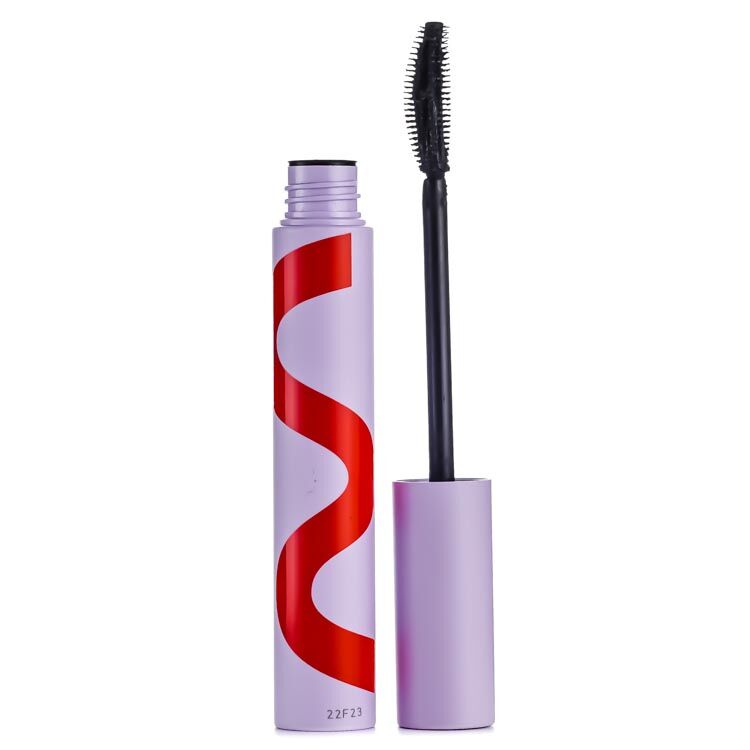 Another one of Mattfeld's gifts was a sentimental beauty selection: "Tower 28 gifted makeup for the gift bags. This was an awesome touch because a lot of my girlfriends are fellow USC grads like myself, and Tower 28 was created by USC alums."
Gorjana Pearl Necklaces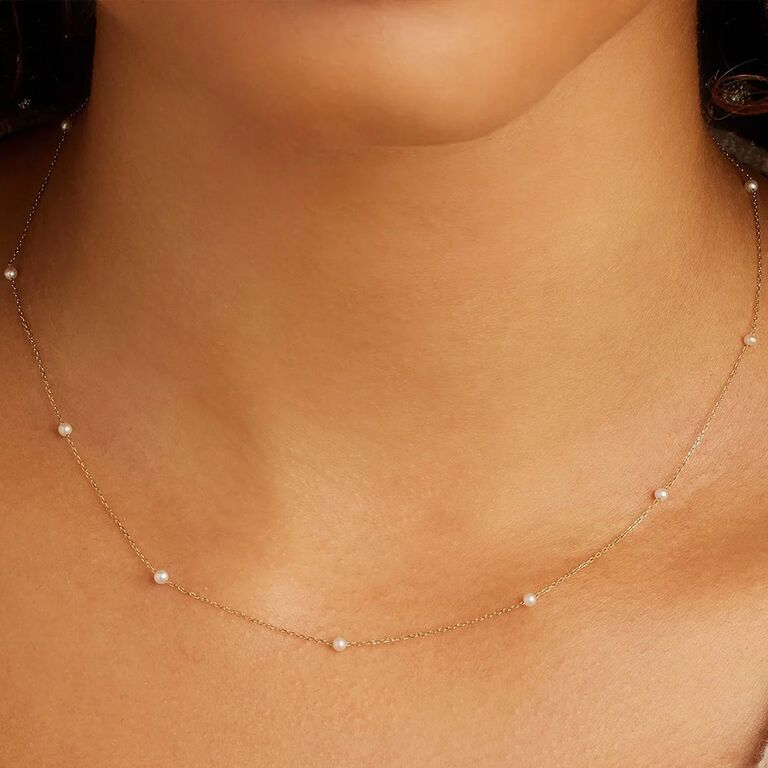 Mattfeld's gift bag to her friends also included a delicate pearl necklace from Gorjana, a thoughtful item that'll easily be repurposed in the future. "Not only are those perfect for Hawaii, but they'll be able to wear them for my wedding," she says.
Havaianas Sandals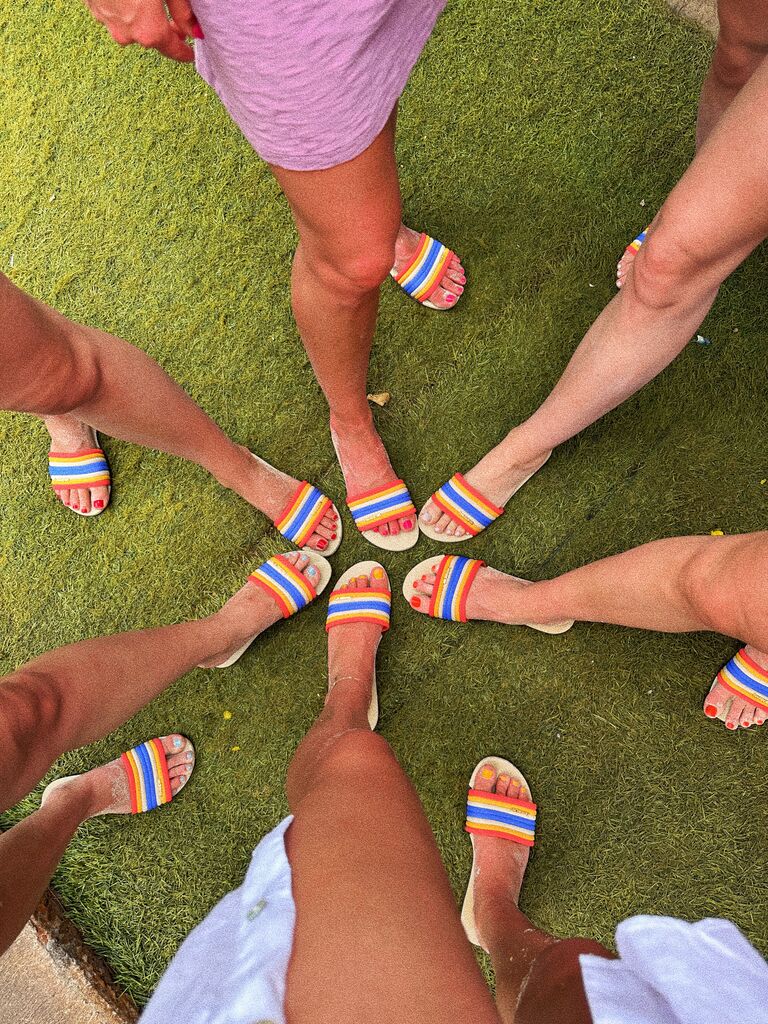 Perhaps the most Hawaiian gift bag addition was a pair of colorful Havaianas sandals for each of her guests. "It was very obvious that we were on a bachelorette party when we went to the beach because we were all matching," Mattfeld jokes.
Slip Hair Ties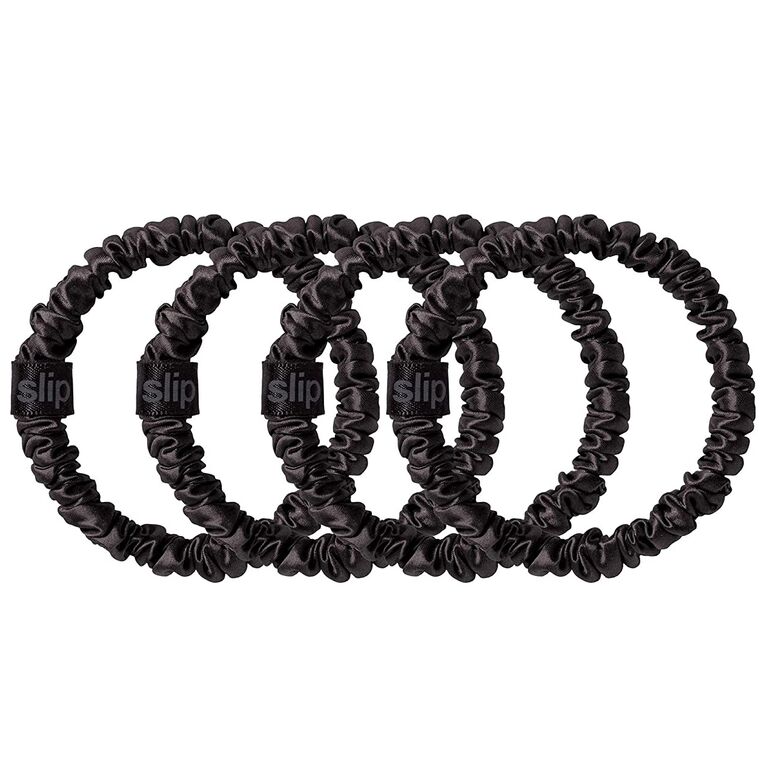 No beach bag is complete without a hair accessory, so Mattfeld treated her besties to "super cute Slip hair ties to throw our hair up after sandy beach days."
Slowtide Towels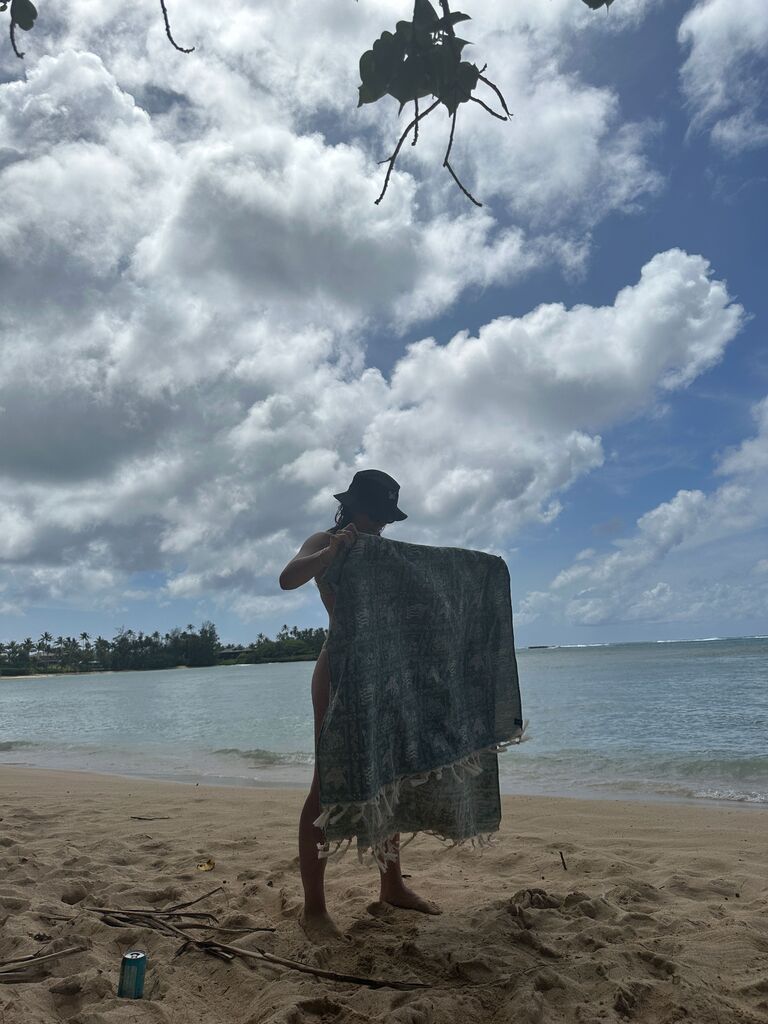 Colorful slides weren't the only matching merch Mattfeld's friends received. Everyone also received coordinating Turkish Slowtide towels in a Hawaiian-inspired green print—Mattfeld's favorite color.
MagicLinen Tote Bags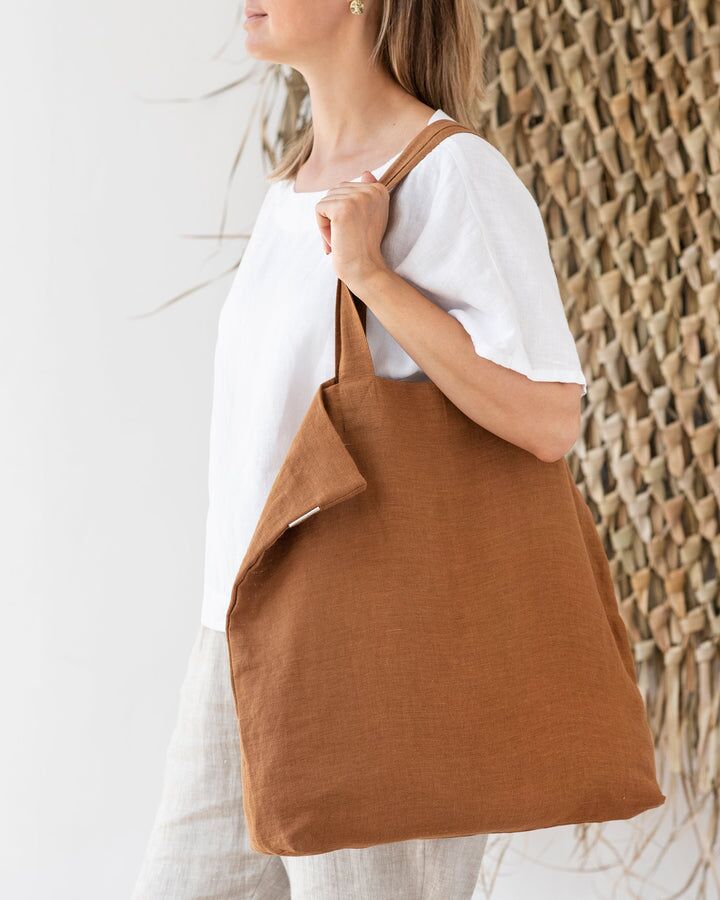 With so many beach essentials, the bride's crew needed an easy way to transport their goodies to and from the shore. Rounding out Mattfeld's gift was a MagicLinen tote bag for each guest—in matching colors, of course.
Perry Mattfeld and Mark Sanchez's Love Story
Looking back, Mattfeld tells us that her bachelorette trip happened at just the right moment in her wedding planning timeline. "When we booked our Hawaii trip, I was worried that it was going to be too close to the wedding and that I wasn't going to be able to relax, but I felt the opposite effect," she says. "I really felt like it was the perfect way to kick off the fact that the wedding is happening."
Perry Mattfeld and Mark Sanchez's wedding comes nearly six years after they first connected. "We met in 2017 right before I started filming In The Dark, so nearly our entire relationship has been long-distance except for quarantine," Mattfeld reflects. "That year was really the first time we were like, 'This is it. This is our life.'"
Sanchez, who previously played as a quarterback for the New York Jets and the Philadelphia Eagles, proposed to Mattfeld on May 9, 2022, on Anguilla, an island in the Eastern Caribbean. ("I definitely did not see the engagement coming," she quips.)
Looking ahead, Mattfeld tells us that she views married life as an opportunity to connect with Sanchez on a deeper level. "I still don't even feel like I've adjusted to the word fiancé, so it's a whole new situation," she says. "Not only is this a new chapter that gives us an opportunity to fall in love again as husband and wife, but I'm also excited for the official extension of unity as a family."
While reflecting on her planning experience, Perry Mattfeld has one resounding tip for all couples—and it relates back to prioritizing mindfulness, just as she did on her bachelorette trip. "Ask for help," she urges. "A lot of people will say, 'Let me know if you need anything,' but that's an open-ended offer. When I started creating tangible things for people to help me with, it really took a lot off my plate. The details matter, but at the end of the day, being able to be present is more important than the color of your bridesmaids' shoes."