O'ahu Honeymoon: Weather and Travel Guide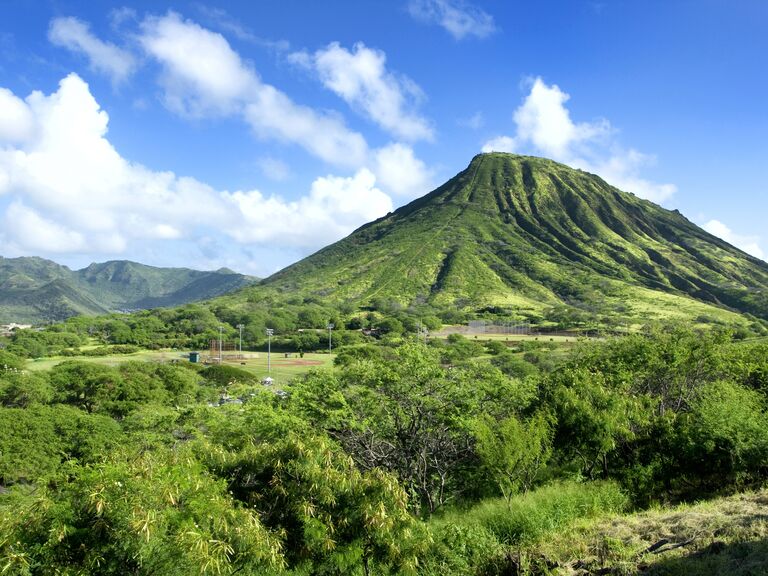 Thinkstock
The scene is instantly familiar -- a sparkling white beach with an unmistakable crater at the far end. Palm trees lolling lazily in the breeze. It's the epitome of tropical paradise, the quintessential beach vacation. It's Honolulu's world-famous Waikiki Beach on the island of O'ahu. Honolulu proper, which includes Waikiki, is a city of nearly one million people. But it takes up only about one eighth of O'ahu, the second-most northerly isle in the Hawaiian chain.

Before You Go: Need-to-know info
Language: English, Hawaiian and Pidgin (a blend of English, Hawaiian, Japanese and Portuguese)
Flight time: 11 hours to Honolulu from New York City; 6 hours from LA
Getting around: Car, bike and taxi

When To Go: O'ahu at its best
Best weather: Trade winds keep things comfy all year-round. The average temperature is between 75 to 85 degrees Fahrenheit. Summer is drier and has higher temps (April to November) while winter (December to March) is a little cooler.
Best prices: Mid-April to June and September to November

What to Do
Bountiful beaches: Sandy shores rim the island; there's literally a beach or state beach park every five minutes as you drive around it. Some to check out when you're taking a leisurely coastal drive: Sandy Beach, with its mongo waves for surfing; Makapu'u, thick with seaweed and kind of rough, but its black-cliff backdrop is famous for its cameo in From Here to Eternity; Kailua Beach, in a pretty, sheltered residential area as you follow the coast north; and Chinaman's Hat, an islet off of Kualoa Beach near the village of Kaawa you can reach swimming during low tide, or by kayak to get to the tiny beach on its backside.
Swimming and snorkeling: Widely known for some of the very best snorkeling and diving on the island, Hanauma Bay is home to all kinds of fish and coral, and the clear turquoise, shallow cove, reached after a walk (or ride) down a steep trail, is beautiful. Make a quick stop at the Halona Blowhole, just another few minutes by car past Hanauma Bay, where foamy waves flow through a lava tube and spew 30 feet into the air.
Get a history lesson: No visit to O'ahu is complete without a visit to the USS Arizona Memorial at Pearl Harbor. You'll take a boat out to the monument, located in the middle of harbor directly over the wreckage of the warship, which commemorates the Japanese attack that brought the US into World War II. Go back even further in history, to the time before Hawaii was a US state, and visit Iolani Palace, home of the Hawaiian monarchy until 1893 and the only royal palace ever to stand on US soil.