13 Pittsburgh Rehearsal Dinner Venues for Hosting a Wonderful Prewedding Event
Trust us, you're going to fall in love with these Pittsburgh spots.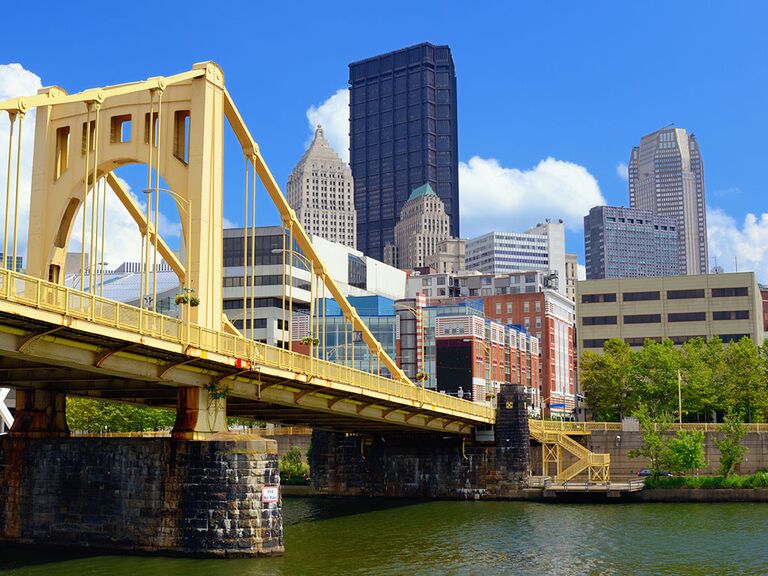 Shutterstock
Yes, Pittsburgh is filled with many beautiful bridges, but it is also filled with many beautiful venues fit for hosting a rehearsal dinner ahead of your wedding. If you're reading this, you are likely trying to find a rehearsal dinner venue in Pittsburgh that will leave your guests well-fed and relaxed ahead of the big day. Don't fret, we're here to help you find the very best venue for your prewedding event needs.
When choosing a venue for hosting a rehearsal dinner in Pittsburgh, indoor venues are best as the weather tends to be cooler for the majority of the year aside from the summertime. From the Strip District to downtown Pittsburgh, we've compiled a list of the best rehearsal dinner venues throughout the Pittsburgh area where you can enjoy a meal and take in the city's beautiful sights. Beyond those listed below, you can also check out The Knot Marketplace for a complete list of great rehearsal dinner locations in Pittsburgh. Continue reading to learn about some of our favorite venues for hosting rehearsal dinners in Pittsburgh.
Vallozzi's Pittsburgh
Looking to add some Italian influence to your rehearsal dinner? Vallozzi's Pittsburgh is the perfect location for hosting a nice sit-down or family-style meal. This family-owned establishment in Pittsburgh's Cultural District, on the edge of Market Square, is known for its authentic Italian cuisine with dishes comprised of meats and cheeses flown directly from Italy to your table.
The restaurant is equipped with several event spaces. Skatagglia is a semi-private room that can seat up to 16 people. The Wine Room is a private room located downstairs in the wine cellar and can seat up to 20 people. Colonna is a private room located on the main floor and it can seat up to 32 people. The Lounge, the space's bar area, is ideal for more of a standing cocktail and hors d'oeuvres event as it can accommodate 70 standing, or 30 seated if you prefer. However, larger groups of up to 144 can be accommodated by combining spaces and our main dining room.
Southern Tier Brewing Company
Whether or not you're a fan of beer, you can host an amazing rehearsal dinner in a modern taproom at Southern Tier Brewing Company for up to 300 guests. Your guests will love the establishment's industrial-chic decor with its exposed ceiling beams and modern furniture around the place. No matter whether you plan to feed guests with lots of appetizers or a full dinner buffet, you can work with the in-house team to create a menu that is right for your event. Additionally, you will impress your guests as they sample the brewery's beer offerings. It is important to note that only semi-private event space is offered so be prepared for other patrons to be around.
Buca di Beppo Station Square
Nothing brings together loved ones more than a family-style meal at Buca di Beppo Station Square. Buca di Beppo Station Square is equipped with several semi-private dining areas that can hold more than 300 guests. You can work with their party experts to discuss pricing and choose which bar and dining package filled with traditional Italian favorites works best for your special event. Family and friends will love the decor and home-like atmosphere of the restaurant. Plus, no rehearsal dinner is complete without food. Your attendees will also enjoy delicious food which will be sure to leave them feeling full and ready to go ahead of the big day.
Cadence at the Strip
Treat your guests to a dinner at a historical venue located within Pittsburgh's Strip District. Cadence at the Strip is filled with modern event spaces allowing you to host the wedding rehearsal dinner of your dreams. The Cityline Banquet room is well-suited for entertaining receptions of up to 350 guests. If you're looking to host a smaller rehearsal dinner, the Cadence Cellars Room can accommodate up to 150 guests.
Your guests will not be disappointed with the catering service team you work with to create a custom menu for your dinner whether you're wanting a plated or buffet-style meal. If you're wanting passed hors d'oeuvres, vegetable maki and a petite chicken taco are some of the options. Your guests will definitely remember their night filled with delicious wine and tasty food.
PNC Park
Even if you're not baseball's biggest fan, you shouldn't strike out PNC Park from hosting your rehearsal dinner. In addition to being widely considered one of America's best ballparks, PNC Park also makes for a wonderful venue with several event spaces including the Home Plate Club which can accommodate anywhere between 20 and 425 guests and the clubhouses which can host between 25 and 100 guests for smaller gatherings. PNC Park works with Aramark, a caterer from which several packages are offered to provide the dining experience of your choosing. Whether you want stations or a plated dinner, you can work with the team to bring it to life.
Hofbrauhaus Pittsburgh
If you want guests to experience the best of Germany without having to leave Pennsylvania, look no further than Hofbrauhaus Pittsburgh. You can invite up to 100 guests to enjoy both German and American entrees in a brewery modeled after the more than 400-year-old original found in Munich. This venue is wonderful if you envision hosting a rehearsal dinner with a Bavarian touch. The restaurant can host events of up to 100 guests in the Stube and 140 on the Terrace. Whether you choose The Works Dinner, The Taste of Hofbrauhaus, or the Appetizer Display Menu, they have options for a wide variety of dinners with the addition of a dietary menu for gluten-free and vegetarian guests.
Olive or Twist
Looking to impress your guests with an upscale rehearsal dinner at one of Pittsburgh's leading martini bars? Olive or Twist located in Pittsburgh's Cultural District on 6th street is the perfect location to accommodate up to 200 guests for the evening in the Upstairs Lounge and VIP Room. The establishment's exposed brick walls and modern style will leave guests feeling relaxed and prepared for the next day's ceremony. Their menu is filled with delicious entrees including cajun shrimp pasta and Pimento Pig in addition to signature cocktails such as Dark Night and Dragonberry Cosmo. We can't think of a better place to spend the night before your wedding.
Voodoo Brewing Co.
In addition to dinner, guests for your event at Voodoo Brewing Co in Pittsburgh's North Shore area will be able to enjoy more than 20 taps of beer. What is great about Voodoo Brewing Co. is its diverse menu suitable to meet the palates of a variety of diners with vegan, vegetarian and gluten-free options. They have build-your-own bars for tacos, sliders and mac 'n' cheese available as well as buffet options and a la carte appetizers and boards. There is an indoor event space, decorated with artwork and greenery that can fit up to 50 guests seated. There is also an outside area with a patio with multiple spaces providing amazing views of the river and city. Anywhere from 20-250 guests can be accommodated depending on the outdoor space chosen.
The University Club at the University of Pittsburgh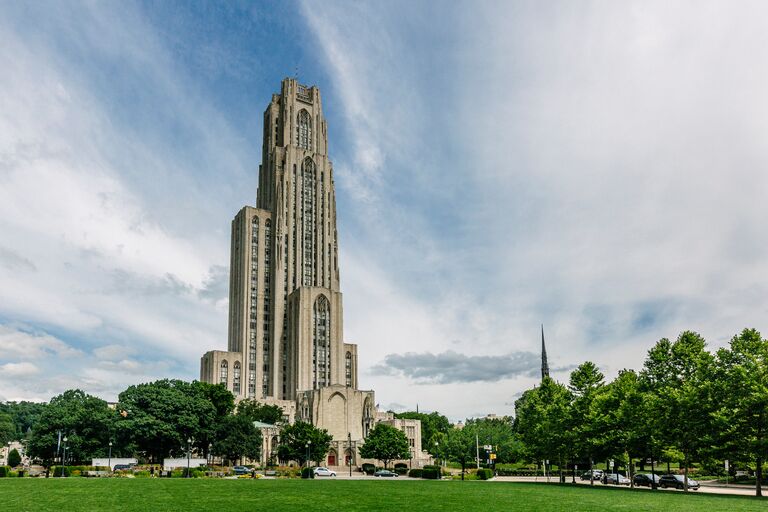 Take your guests back to school with a rehearsal dinner at The University Club at the University of Pittsburgh. This building, constructed in 1923, has been renovated to combine old-fashioned charm with modern luxury. There are on-staff event planners and a supervisor available to help you coordinate every step of your special meal. Guests will love the rooftop terrace providing breathtaking views in addition to the elegant decor with neutral linens, china and flatware. Plus, if you want to display any slideshows or listen to any special music while dining, the venue comes equipped with integrated and high-quality audio-visual capabilities. Ballroom A and Ballroom B can accommodate at least 100 guests, making them perfect options if you're looking to host a larger dinner.
The Church Brew Works
Looking for a unique historic venue for your rehearsal dinner? The Church Brew Works was a cathedral that was turned into a restaurant in the historic Lawrenceville area of Pittsburgh. The venue offers both buffet and sit-down menus depending on what kind of dinner you're looking to have for up to 100 guests. Entrees may include pasta primavera or lobster ravioli depending on the menu you select. In addition to wonderful food, The Church Brew Works does not take dessert lightly. From cheesecake to German chocolate cupcakes, there are a variety of desserts you can choose to add to your meal if you wish. Guests will remember the heavenly dining experience they had here for years to come.
Ditkas Restaurant - Pittsburgh
Ditkas Restaurant - Pittsburgh is located near the Pittsburgh Downtown area and Pittsburgh's International Airport which makes it a convenient location for guests who may be traveling from both near and far. The restaurant is equipped with three private dining rooms. The Panther/Hall of Fame room can accommodate 32 guests. The Board Room can seat ten guests. The Coach's Room can hold up to 18 guests. With multiple dinner menu packages ranging between $55 and $88 per person (excluding fees and taxes at the time this story was written), you can work with their private dining team to select which one works best for you and your budget.
National Aviary
Let your wedding festivities take flight when you host your rehearsal dinner at the National Aviary. Home to more than 600 exotic and endangered birds, this venue will provide a unique dining experience that your guests will cherish forever. The Garden room is a unique and cozy space that can accommodate up to 200 guests. Its stone fireplaces and large windows provide the perfect atmosphere for dining and birdwatching. In addition to the birds, you will also adore the exclusive caterer, Atria's Specialty Catering, who you can work with to create the perfect dining experience for you and your guests.
Bado's Pizza Grill & Ale House
If you want to host a more casual rehearsal dinner, Bado's Pizza Grill & Ale House has the perfect place for dinners with about 35 guests (20-25 guest minimum) in their upstairs banquet room. There is also an outdoor deck that guests can enjoy between early spring and October. The restaurant is known for its famous beer and pizza party package with all-you-can-eat cheese and pepperoni pizza, unlimited Yuengling, Miller Lite, and Coors Lite on draft, party hoagie or sandwich ring and a veggie and cheese tray. You'll definitely impress your guests with this simple, yet effective and tasty classic dinner.