24 Rehearsal Dinner Invitations That Will Get Guests in the Mood to Party
Stationery so nice, you just may want to frame it.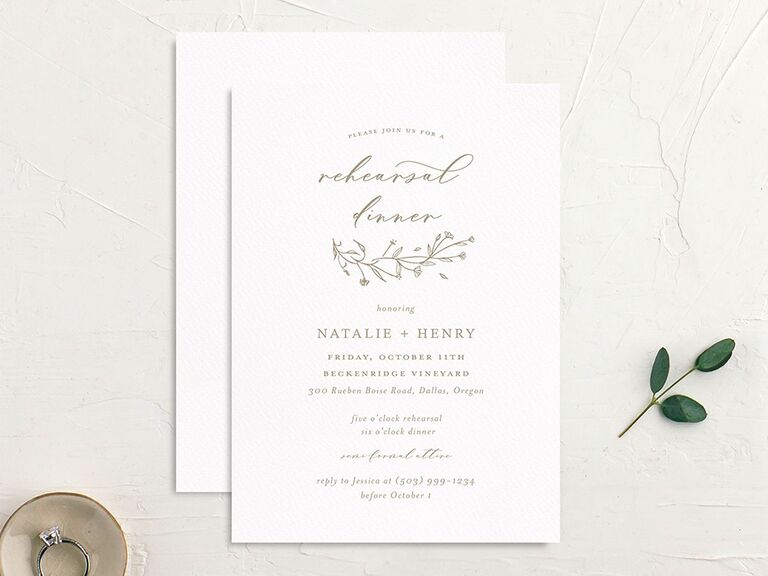 We have included third party products to help you navigate and enjoy life's biggest moments. Purchases made through links on this page may earn us a commission.
The wedding shower went off without a hitch and that bachelorette weekend was an epic success (if you do say so yourself). Now, there's only one party left to throw before the big day arrives: the rehearsal dinner! If you haven't chosen your wedding rehearsal dinner invitations yet, do yourself a favor and don't wait until the last minute. You'll want to stick those envelopes in the mail as soon as you've nailed down the who, what, when and where of the night—even if you think your wedding party already knows the drill.
Sending out formal party invitations for your rehearsal dinner won't just keep your wedding party up-to-date with all the important details of the night and answer their FAQs (like whether they can bring a plus-one). It will also head off any unnecessary headaches from older relatives who don't live their lives via text (because you just know you're going to get some confused calls from Grandma once the date inches closer). Plus, your rehearsal dinner invites are a great way to capture the look, style and feel you want the night to have, which will get your bridesmaids, groomsmen and family members amped about all the fun wedding events to come (and that's really what this is all about, right?).
Need some inspiration to help get you started? Browse through some of our favorite rehearsal dinner invites below—including picks from our very own wedding stationery collection, The Knot Invitations.
The Knot Rustic Vines Rehearsal Dinner Invitations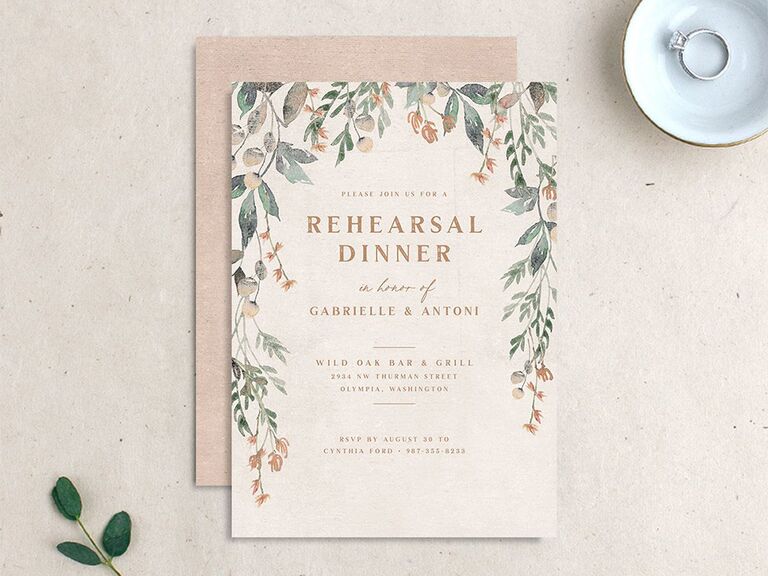 With warm earthy tones, lush florals and hanging vines, this invitation reminds us of walking through a pretty English garden. Aside from a timeless style, this luxe design is printed on quality card stock with a slightly textured surface that gives it a more expensive look and feel.
Phrosne Ras Fancy Foiled Marble Rehearsal Dinner Invitations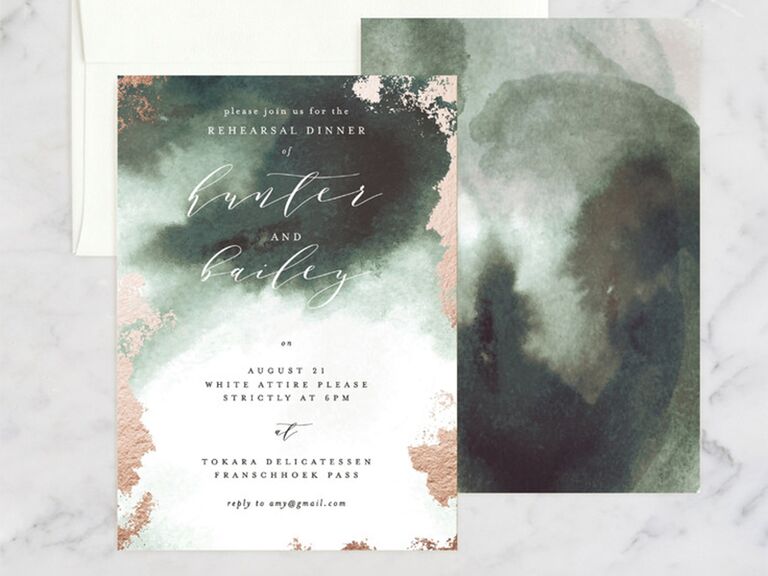 If you're into dark and moody colors, look no further. This gorgeous gold foil wedding stationery is a whole vibe. You can even customize the back to include photos of you and your partner for a personalized touch.
Rebecca Durflinger Sweet Silverware Soiree Rehearsal Dinner Invitations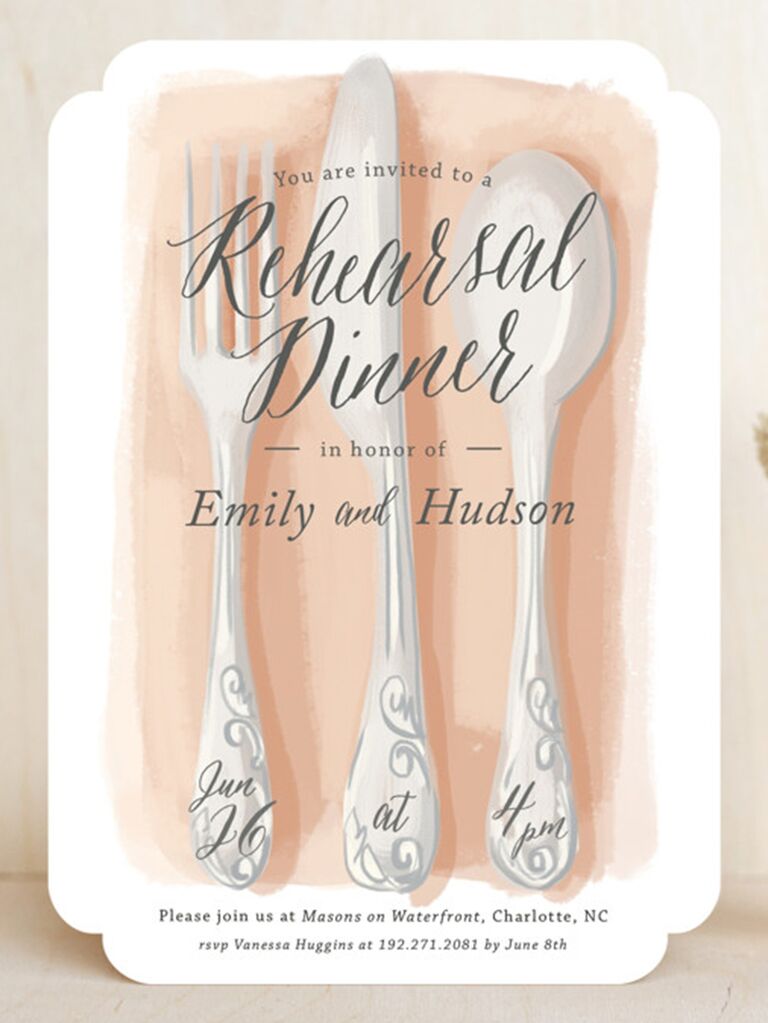 Remember, your rehearsal dinner doesn't have to mimic your wedding theme if you don't want it to—and it definitely doesn't have to follow the same style as your wedding invitations. This whimsical silverware invite is a great way to strike a light-hearted tone while reminding your guest list of what the night is really all about—the food! (Okay, and the great company.)
The Knot Lush Greenery Rehearsal Dinner Invitations
This simple yet elegant wedding stationery suite (which also incudes everything from main invites and RSVP cards to menus) offers plenty of room for all the important details your guests need to know. We especially love the soft and understated style—pretty sprigs of greenery add a subtle pop of color, while incorporating the watercolor trend that's so popular lately (for obvious reasons!).
The Knot Painted Mountains Rehearsal Dinner Invitations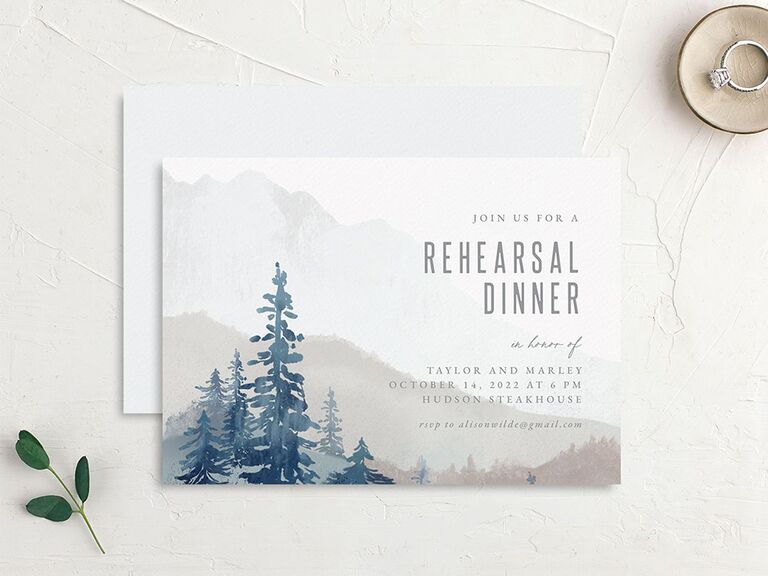 Whether you're planning a rustic destination wedding or just love the gentle nod to Mother Nature, you've gotta admit, there's something about this watercolor design that's kind of mesmerizing. It's almost like staring into a mini-painting that's tacked to your bulletin board.
The Knot Stacked Initials Rehearsal Dinner Invitations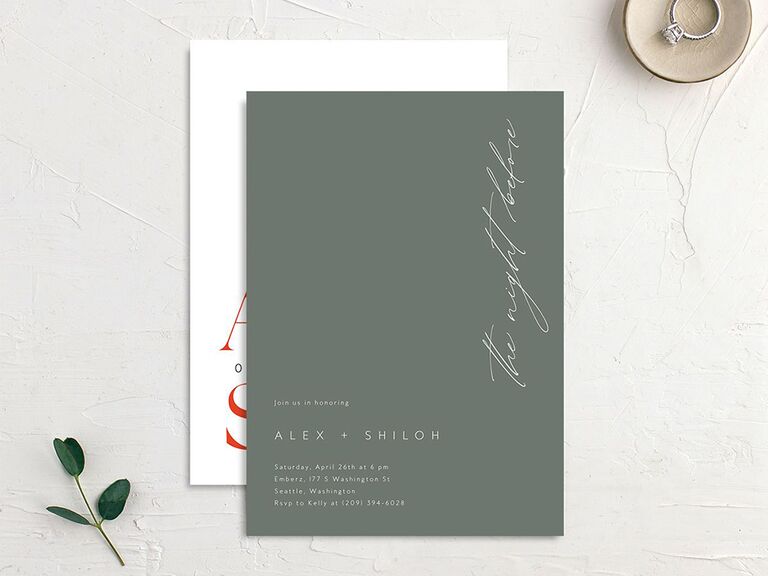 If you've got a soft spot for minimalistic design, then this rehearsal dinner invitation is for you. The backside of the invitation boasts a unique display of both partners' initials, plus the event date. But front is what you'll really love: the words "the night before" are scrawled across the side in a long and elegant script that will give guests a hint of the excitement (and style) to come.
Fresh & Yummy Paperie Whimsical Calligraphy Faded Photo Rehearsal Dinner Invitations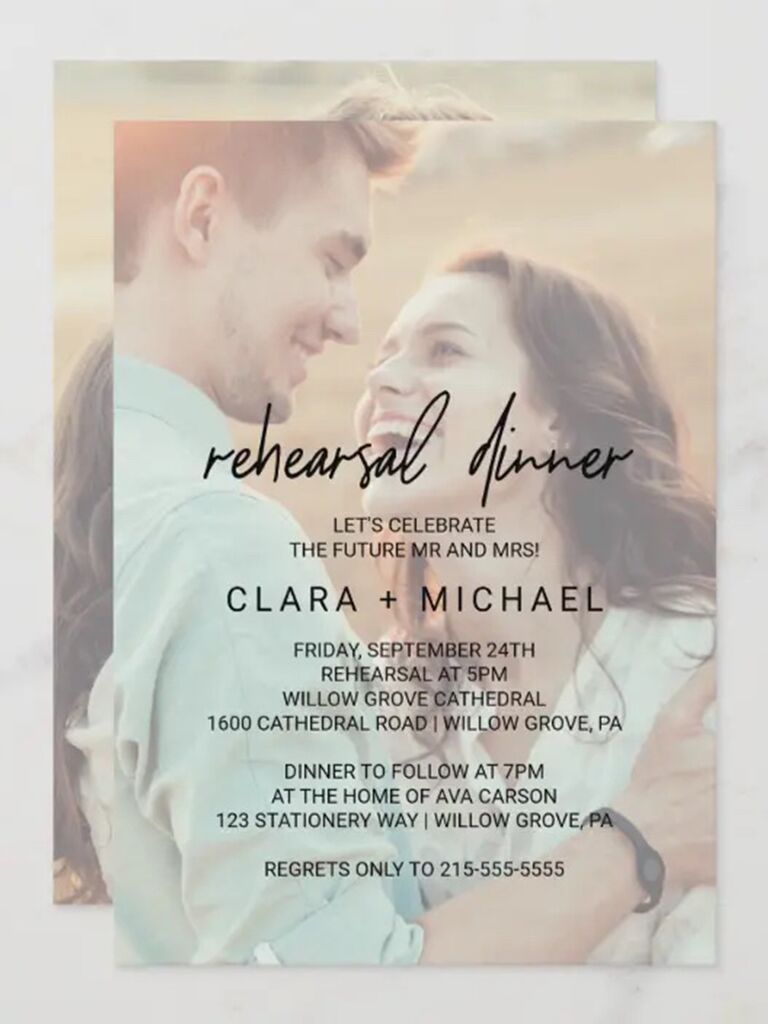 After posing for all those engagement photos, you might as well put them to good use! This customizable template allows you to display the details of your rehearsal dinner atop a faded photo of your choosing for a personalized spin that adds just the right touch of sweetness. We can almost guarantee your guests will love opening their invite to see your smiling faces staring back at them.
The Knot Leafy Hoops Rehearsal Dinner Invitations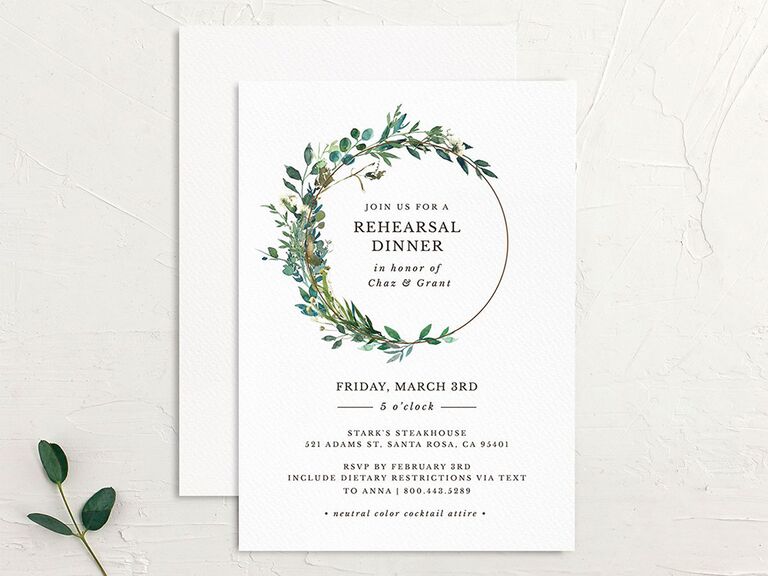 The wedding greenery trend is clearly here to stay, and we've got zero complaints about that. This pretty design weaves together lush leaves of eucalyptus and ivy on a "hoop" to create a look that's earthy and sophisticated.
The Knot Classic Cascade Rehearsal Dinner Invitations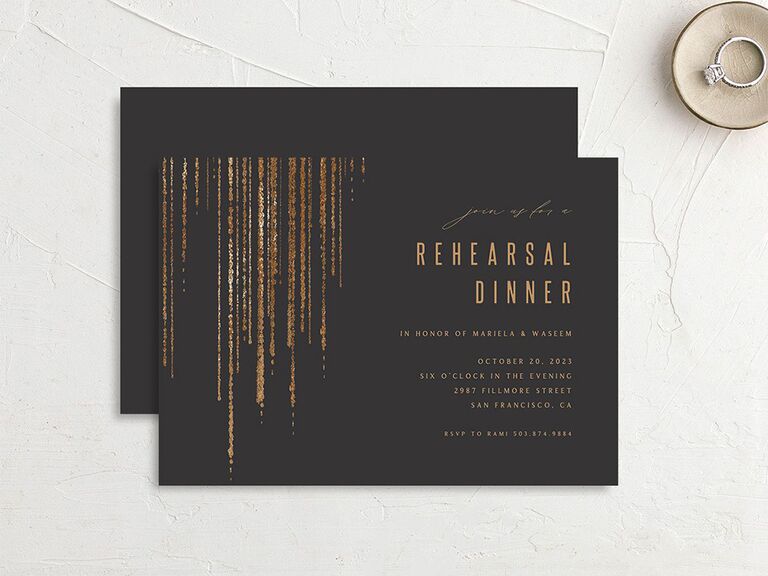 Your rehearsal dinner vibe is totally up to you—it can be laid back and chill, or fancy and lavish if that's more your thing. For those who fall into the latter camp, this sleek gilded invite is perfect for a luxe affair that will let guests know they're in for a night to remember.
The Knot Blooming Botanical Rehearsal Dinner Invitations
"Florals for spring? Groundbreaking." (Sorry, we had to.) While this blooming invite does work especially well for a spring or summer party, let's be honest—a botanical theme is always in style. Plus, with multiple background color options, this rehearsal dinner invitation is a year-round contender no matter when you're celebrating.
Styles With Charm Woodland Forest Rehearsal Dinner Invitations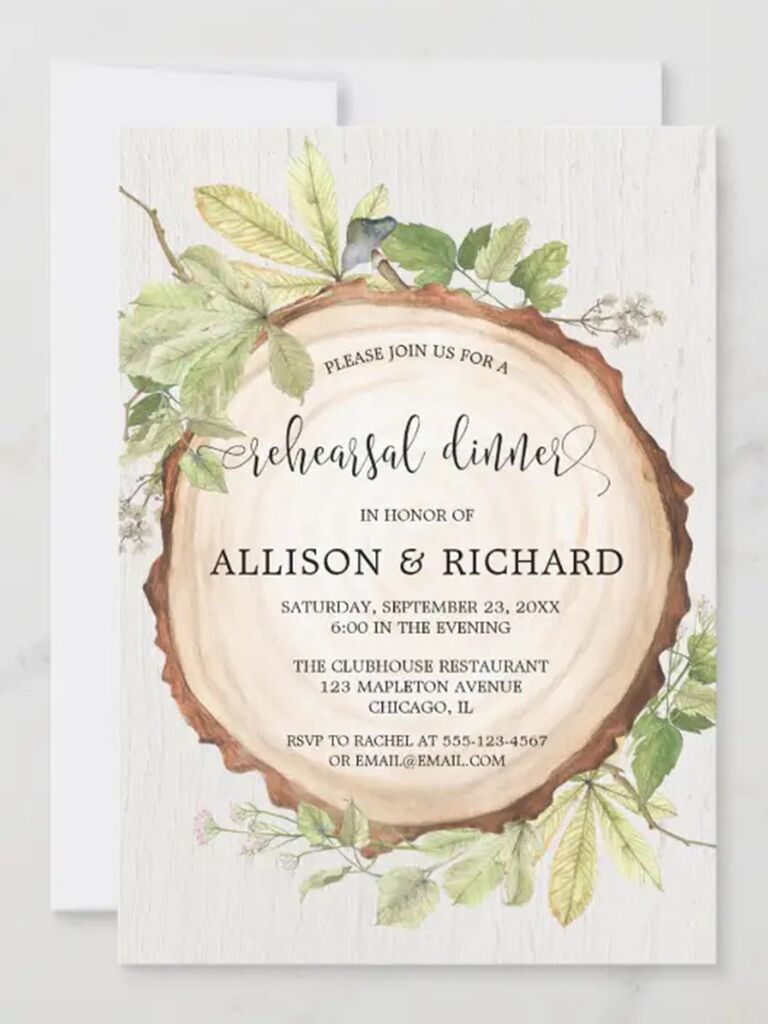 How's this for rustic-chic? If you love a woodsy-meets-fairytale look, you can easily customize this nature-inspired template to fit your vibe. Choose from more than 12 different paper types, personalize it with the night's most important details and voilà—it'll look like you've etched a secret message into a tree in the middle of an enchanted forest.
The Knot Minimal Leaves Rehearsal Dinner Invitations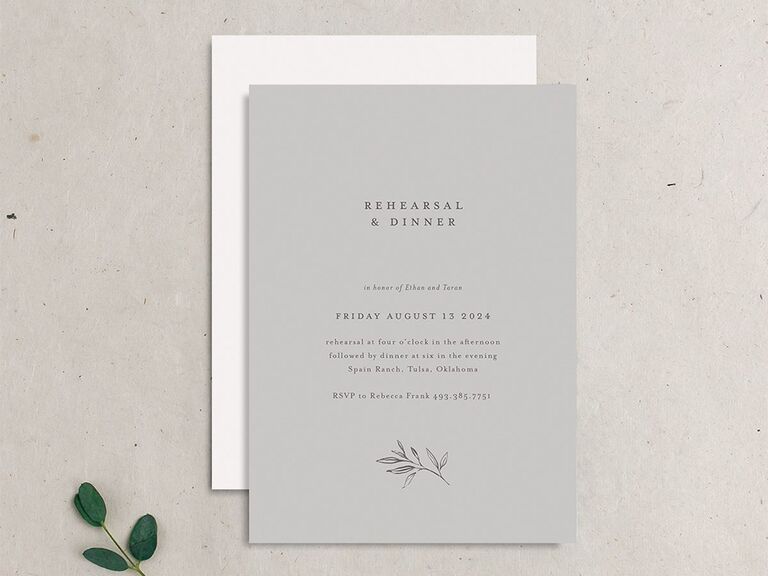 Not a fan of flowery wedding themes and feminine decor? Don't worry—we've got you. This minimalistic design offers a simple and classic layout with a few elegant touches that don't go too overboard. Plus, with eight different background hues to choose from, you can easily match it to your wedding day color palette.
Lani Kai Peterson I Do BBQ Rehearsal Dinner Invitations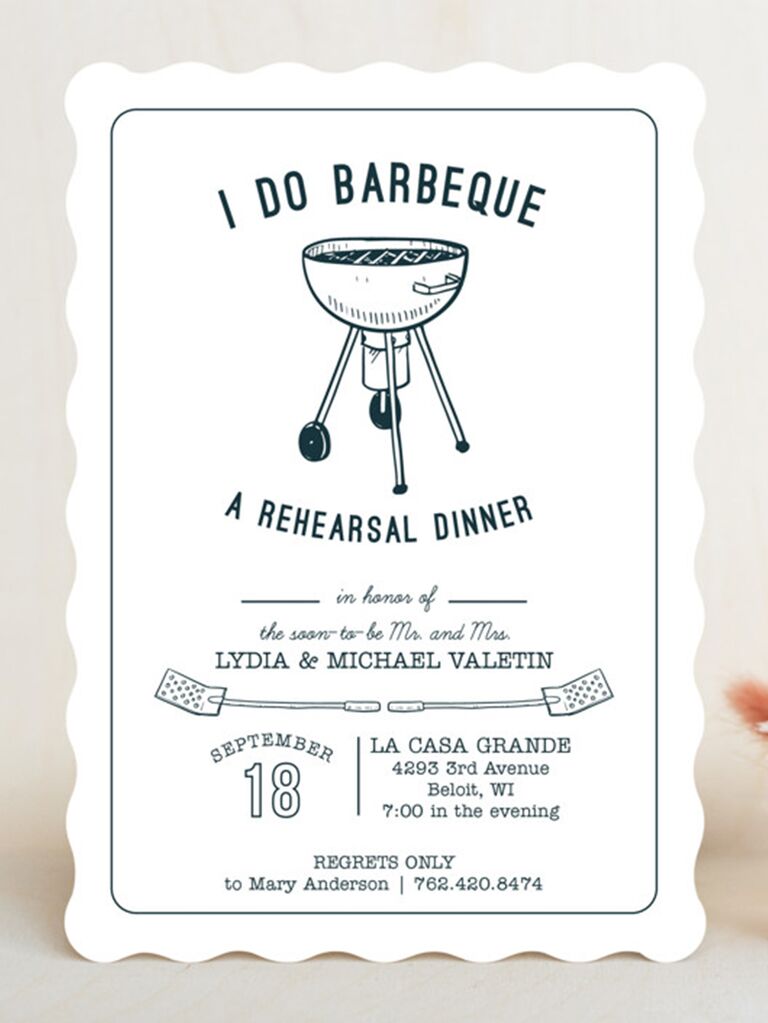 If an easy-going (and delicious!) bash is your goal, look no further than this BBQ-themed rehearsal dinner invitation. The cheeky lingo and grill illustration show guests that you're a casual couple that's just down for a good time before "We do."
Laura Bolter Vintage Sign Rehearsal Dinner Invitations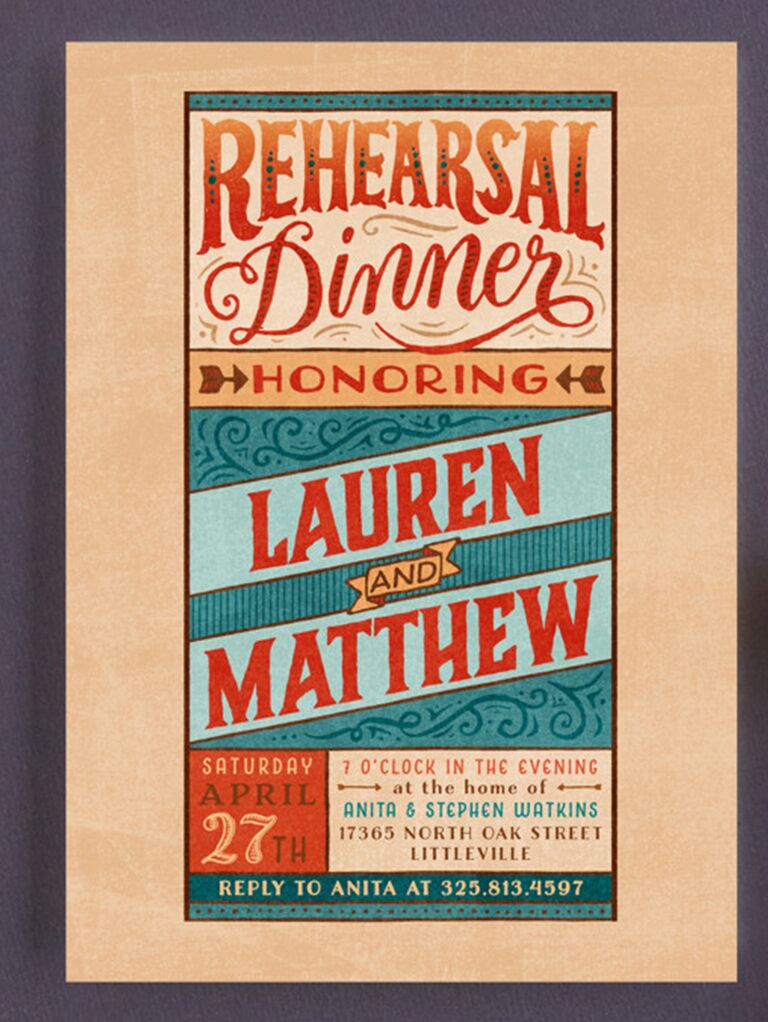 Non-traditional couples will appreciate the quirky design of this rehearsal dinner invite, which comes printed on luxe kraft paper. You can even customize the back to include a photo of you and your partner to make it a bit more personal.
Unique Invites Cute Old Photos Rehearsal Dinner Invites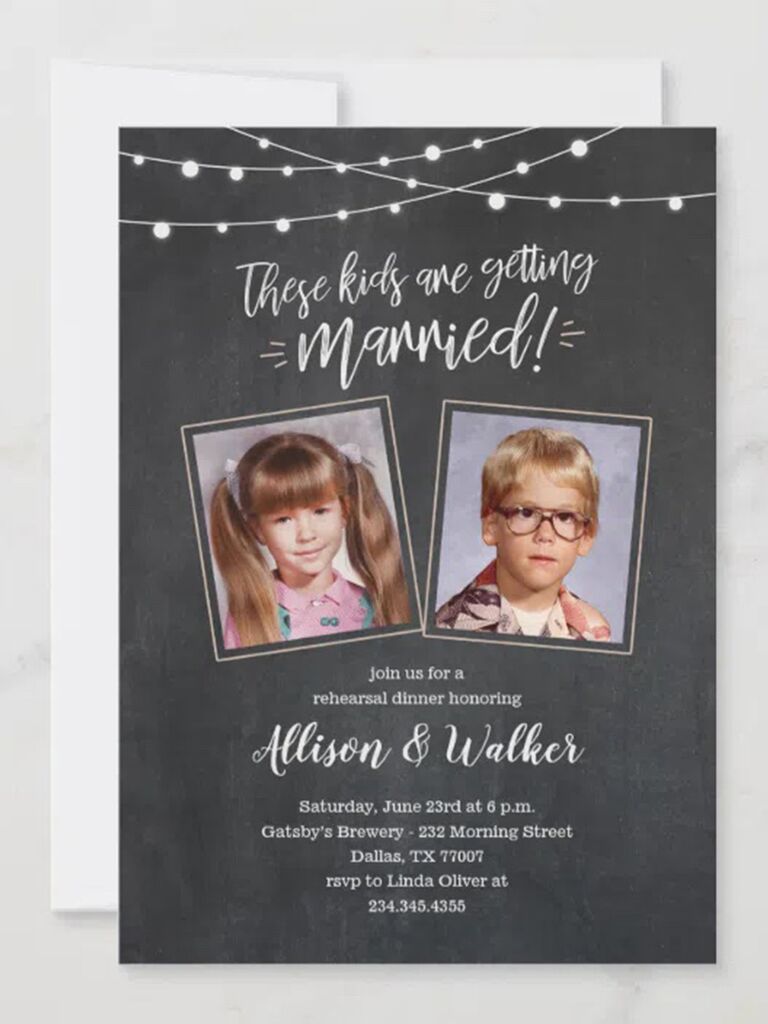 Everyone's a sucker for some adorable (or hilariously awkward?) throwback photos, which makes this invite template a hit every time. Customize it to include your old baby photos or maybe take things back to those awkward pre-teen years—either way, your guests are bound to love it.
The Knot Painted Desert Rehearsal Dinner Invitations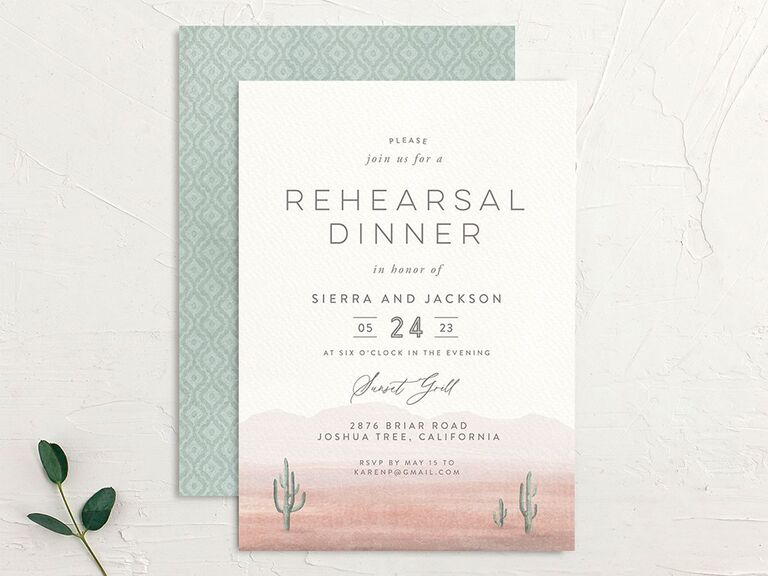 This gorgeous watercolor invitation has a laid-back and earthy vibe to it, which makes it the perfect fit for a boho-style wedding. With a hazy mountain range painted in the background (and some adorable cacti at the bottom), your guest list will be dreaming of the warm, California sun. If you're throwing a destination wedding, you can even check out the full invitation suite for matching items.
The Knot Refined Elegance Rehearsal Dinner Invitations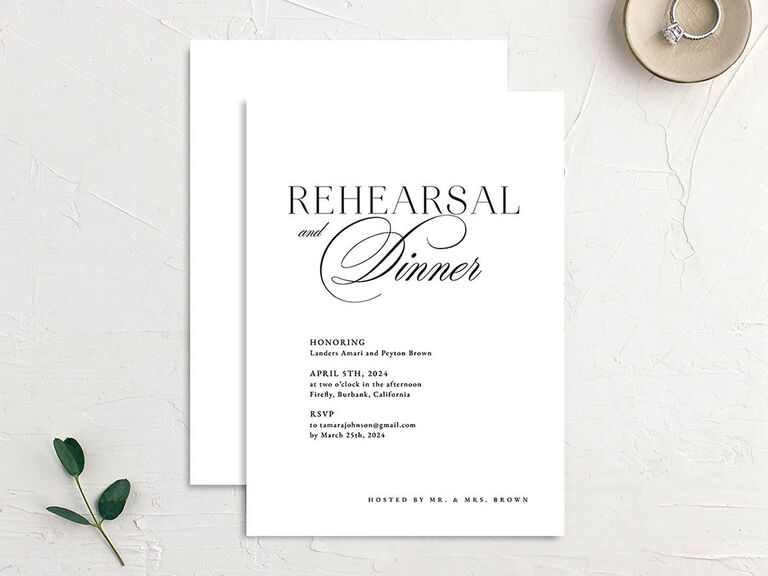 For a totally classic take on a rehearsal dinner invitation, we love this black and white style. It has a quiet elegance to it thanks to the beautiful script and flourishes, and will go with almost any style of celebration, from a southern soiree to a black tie wedding day.
Merry Mack Creative Let's Eat Brunch Rehearsal Dinner Invitations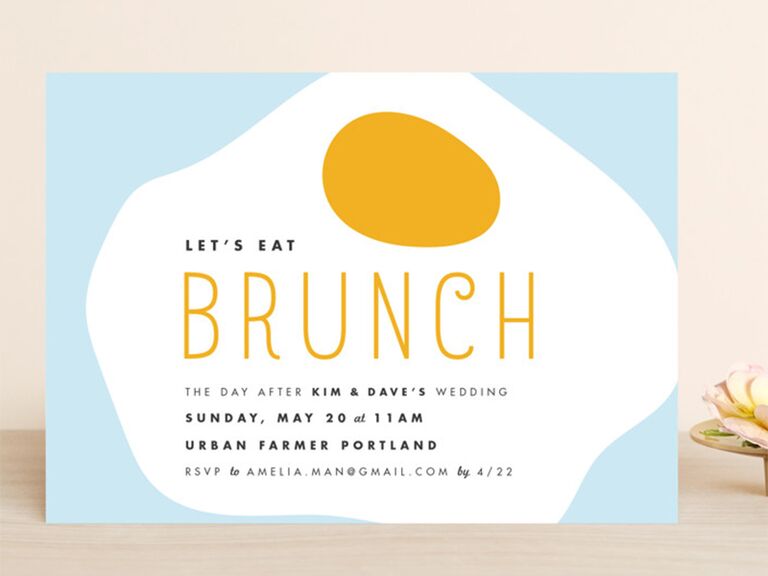 There's no rule that says your rehearsal dinner has to be, well, a dinner! This is your wedding—you call the shots. A morning rehearsal, followed by a yummy midday brunch, might actually be better than a boozy late-night dinner, especially the night before your wedding. Factor in this adorable invitation design and you have all the makings for a new prewedding tradition.
The Knot Natural Monogram Rehearsal Dinner Invitations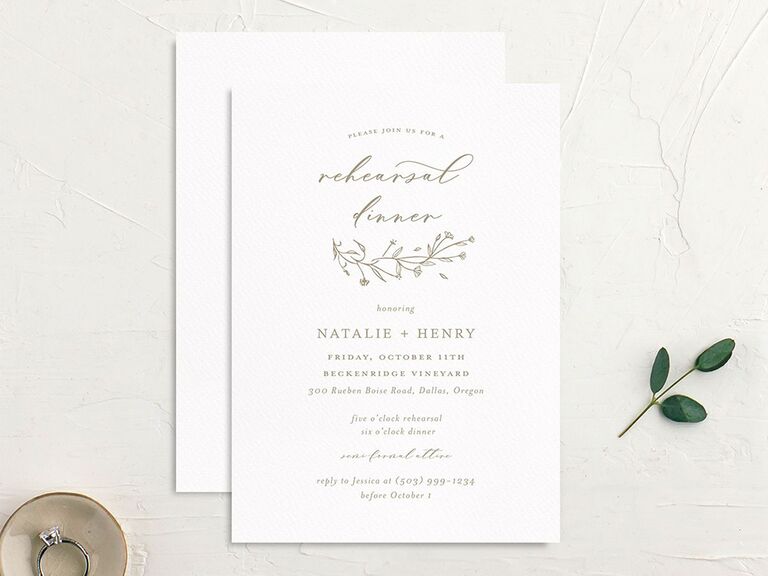 If sweet and simple is the vibe you're going for, this elegant invitation hits all the right notes. With a mix of crisp, modern typography and beautiful calligraphy, it has a sophisticated look that's easy to love—especially when it comes in the form of delicate, hand-drawn wildflowers.
Redwood & Vine Happily Ever After Rehearsal Dinner Invitation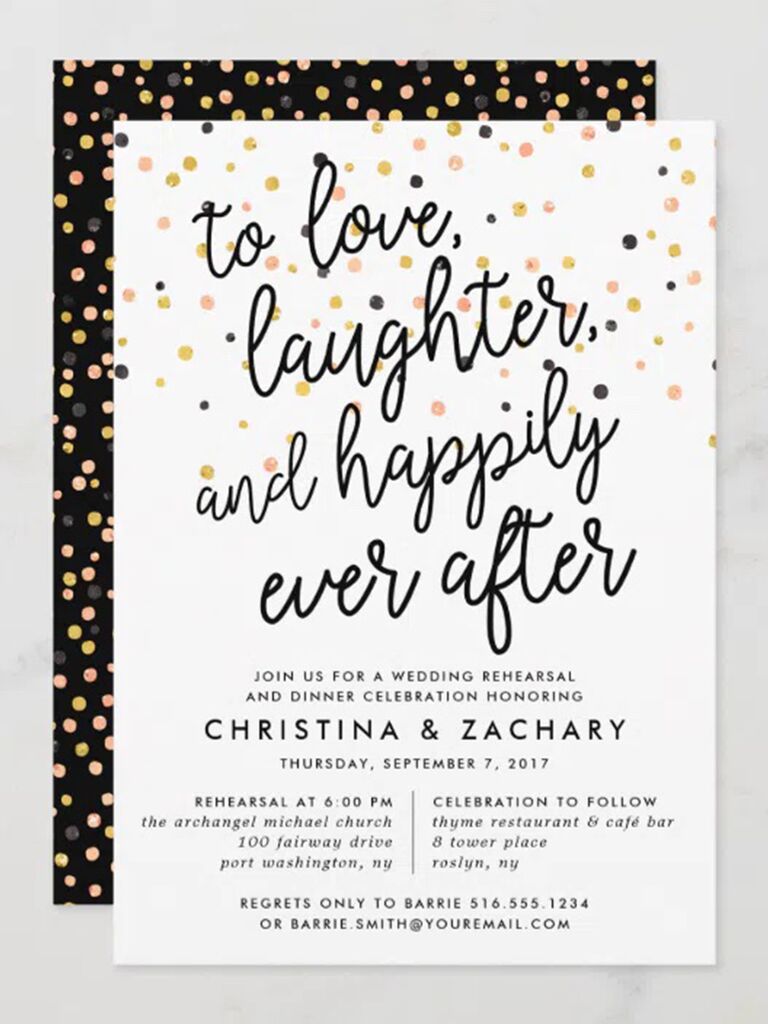 Strike a fun and whimsical vibe with this celebratory invite, featuring bold black script and a burst of multicolor confetti. Whether you're hosting a formal rehearsal dinner or a night of dancing, cocktails and finger foods, there's plenty of room on this template to fill your guests in on all the deets.
Scissor Tail Prints Co. Skyline Rehearsal Dinner Invitation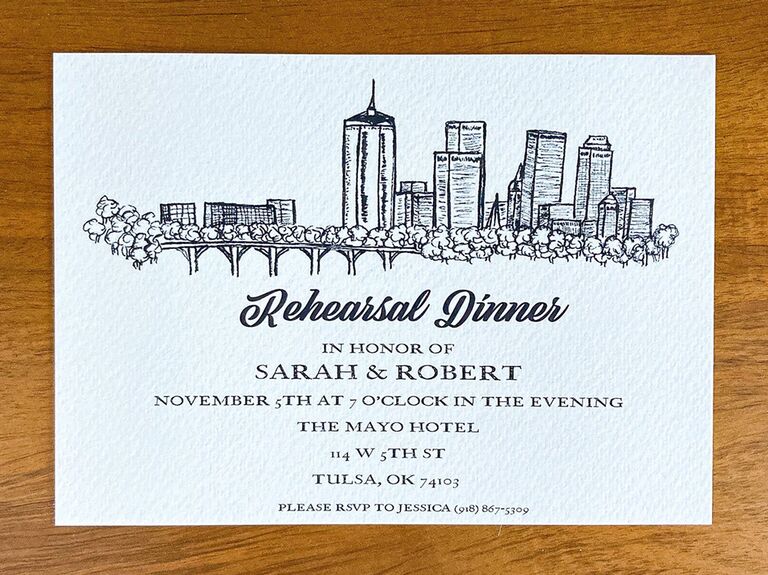 Whether you're hosting a destination wedding in your favorite place or simply want to pay tribute to the city where you first fell in love, these one-of-a-kind invitations are a great option. Simply tell the artist what city skyline you want in the background and prepare to be amazed by the beautiful hand-drawn sketch that comes back.
The Knot Muted Floral Rehearsal Dinner Invitations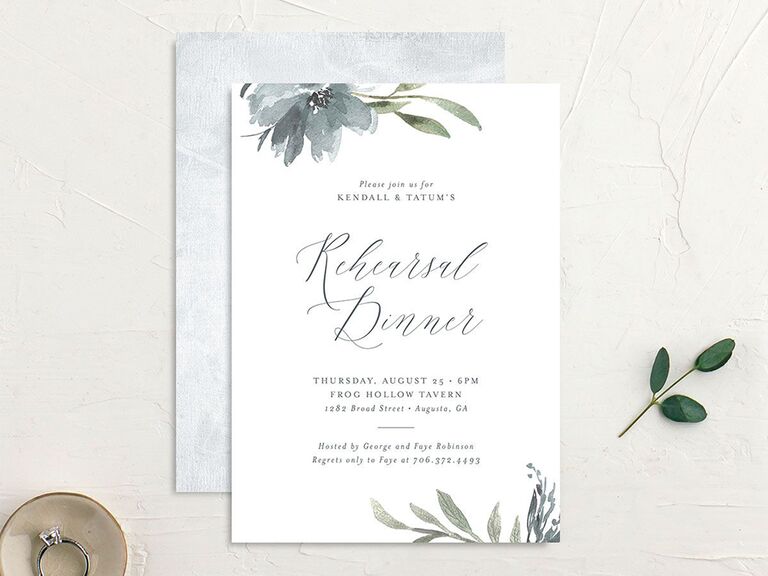 This gorgeous wedding stationery design lets you embrace your love of florals without going overboard. With a soft, muted color palette and delicate floral details, it's an elegant way to toast to new beginnings. You can even echo the invitation's blooms in your tabletop arrangements for the evening.
Alaina Cherup Colorblocked Rehearsal Dinner Invitations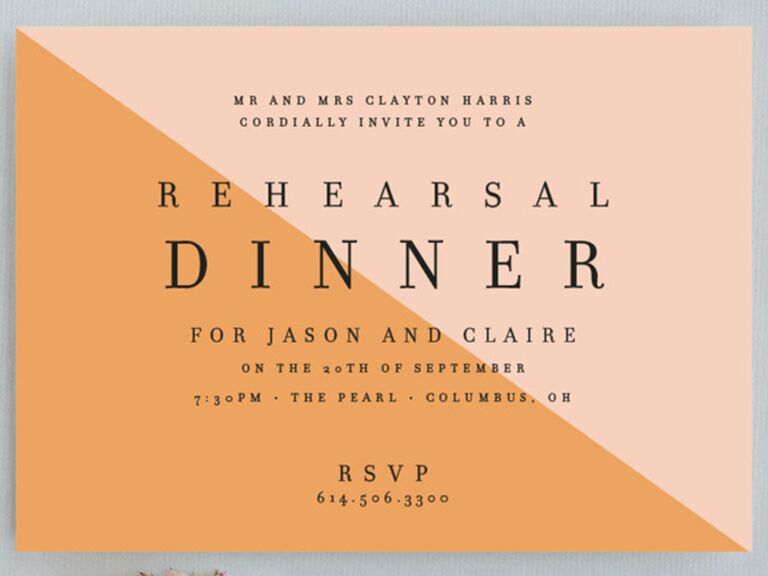 Simple, chic and oh-so-modern. This sleek horizontal invite plays into our love of bold colors and clean lines, thanks to its sleek color-blocking and elegant layout. If you're not a fan of busy design templates that incorporate too much detail, keep things short and sweet with this one.
The Knot Simply Us Rehearsal Dinner Invitations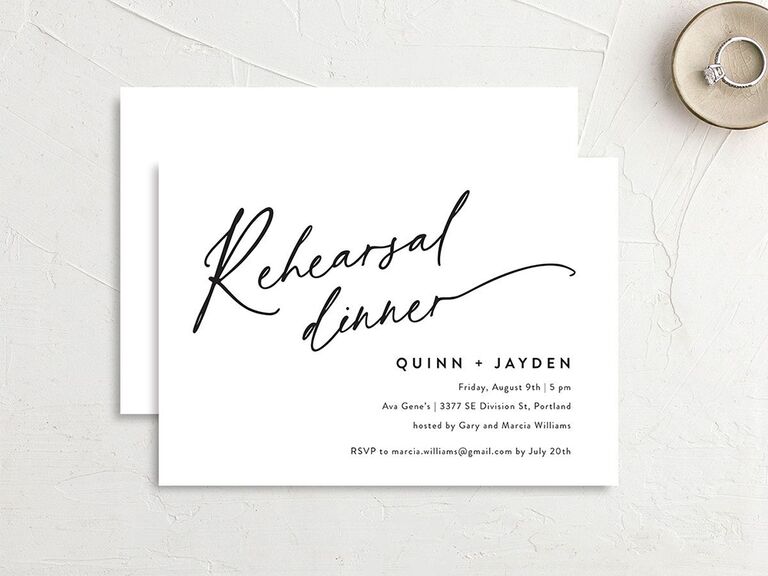 Overwhelmed by all the options? This simple yet sweet design is perfect for the couple who wants a no-fuss invite that just states the facts. (That's all your guests really need, anyway!)