16 Questions to Ask Your Rehearsal Dinner Venue
Ready to start scouting your prewedding celebration venue? Read our guidelines first.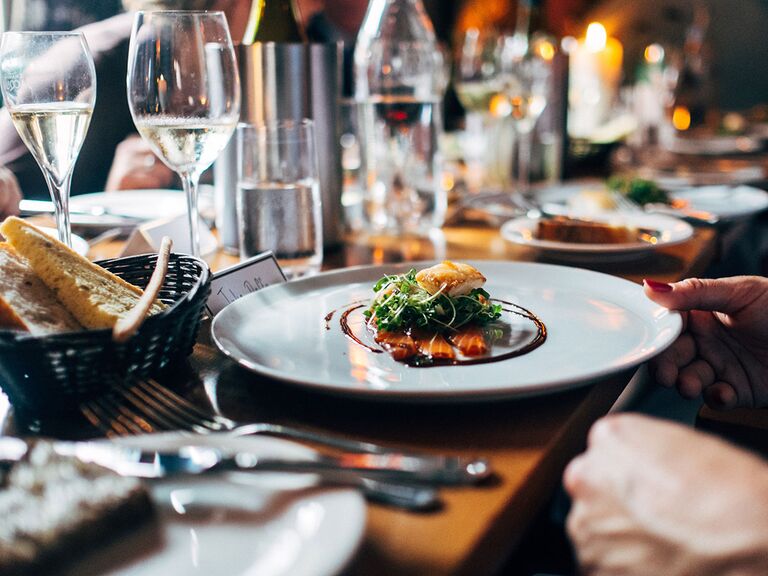 Jay Wennington/Unsplash
It's smart to start nailing down the details of your rehearsal dinner at least six months in advance. That includes deciding who's hosting your rehearsal dinner (it's traditionally the groom's family, but nowadays, anyone can host), starting the guest list and looking for the venue. Typically, wedding rehearsal dinners are hosted at restaurants, country clubs or hotels (venues that usually have in-house catering), but there are lots of other event spaces to choose from.
When you're ready to start your rehearsal dinner venue search, visit The Knot Marketplace to compare and read reviews of different spaces in your wedding location. Once you've got a few potential places in mind, schedule a site visit and consider these questions to ask a rehearsal dinner to make sure it's the perfect spot for your group.
1. Are you available the night before our wedding?
While you can be a bit flexible with choosing a wedding date, your rehearsal dinner date is fixed—the night before your big day, and the kick off to your wedding weekend (or weekday!). You can only consider a rehearsal dinner venues that's available on this date, so checking their calendar should be your very first question.
2. How many guests can you comfortably hold?
We highly recommend creating your rehearsal dinner guest list before starting your venue search. Of course, all rehearsal dinner guests should also be invited to the actual wedding, but beyond that, you can handle the rehearsal dinner guest list in a few different ways. Some couples opt to only invite immediate family members, close friends and members of the wedding party (bridesmaids, groomsmen, etc.). Others extend rehearsal dinner invitations to all out-of-town guests (since they've traveled to your event, it's nice to give them a meal!). And still others invite everyone on the guest list to the rehearsal dinner! The choice is yours, but it's important to find a venue that can handle your chosen guest count.
3. How far is the venue from where the wedding rehearsal will take place?
Your rehearsal dinner isn't the only event that will occur the evening before your big day—a wedding ceremony rehearsal will likely also take place. Oftentimes, the wedding ceremony rehearsal will take place at the wedding venue. If this is the case, you'll want to ensure that your VIPs (anyone who will be walking down the aisle the next day), can easily get from ceremony venue to rehearsal dinner venue. If having your wedding rehearsal at your ceremony venue isn't possible, you may also be able to do a quick run through at your rehearsal dinner venue with your wedding planner's help.
4. How far is the venue from guest accommodations?
Overall, you want the commute to your rehearsal dinner to be convenient for your guests, especially ones from out of town, so consider choosing a venue that's walking distance from the hotel and ceremony site. If you have your heart set on somewhere that requires transportation to get to, make sure there are taxis, car services or public transportation readily available. If most guests have their own cars, location can be a smaller part of the decision making.
5. Do you have a private room, or can we rent out the entire venue?
If you know you're going to have a large, lively group, renting out a private space in a venue or restaurant is a good way to go, since you won't have to keep a check on volume or disturb other patrons. And if you know there'll be a slideshow displaying embarrassing childhood photos or toasts with adult humor, it's best for your group's eyes and ears only. Just make sure the contract states when you have to leave by so you don't get charged extra.
6. What's the venue's vibe?
Just because you're having a black-tie wedding doesn't mean you can't opt for a more casual affair the night before. While a sit-down dinner at a hotel venue or upscale restaurant are often go-tos, there's no reason to feel limited to that. You can have your rehearsal dinner anywhere from your parent's backyard to the beach. And feel free to use the term "dinner" loosely—cocktails and hors d'oeuvres, a buffet and a casual BBQ are all great options. And if you're not quite sure what your desired vibe is, let your favorite foods, the place you went for your first date or even your honeymoon destination drive the theme, which can in turn guide the menu and décor decisions.
7. Does the pricing fit within our budget?
According to The Knot Real Wedding Study, the average cost of a rehearsal dinner is $2,300, but pricing depends on your guest count, location and venue. As with wedding planning, it's important to set a budget before starting to research rehearsal dinner venues. Be upfront with any venues you're considering about how much you can spend, and see if their pricing fits within budget.
8. What meal service styles do you offer?
As with your wedding reception, you'll need to decide on a meal service style. Typically, the choices are buffet, seated dinner, family style or cocktail style, and there are advantages to each. You'll want to work with your venue and caterer to decide how you'd like your rehearsal dinner meal to be served. Don't forget to ask if cocktail hour and dessert will be included.
9. Do you offer all-inclusive packages?
You want to make sure the cost for your rehearsal dinner is full service, no matter if it's a buffet, seated dinner or served family style. This means all tables, chairs, linens, utensils, waitstaff and labor should be included in the price. Most venues have meal packages as well that include appetizers, entrées, desserts and beverages that can be tailored to your budget and taste. You'll also want to find out about alcohol—are bar services and bartenders included as well?
10. Are there additional charges and fees we should know about?
While an all-inclusive package should include all charges, you'll want to check on any additional fees, including corkage fees, gratuities and service charges. These can add up quickly, so it's important to know the final cost upfront.
11. Is decor included or will we need to use an outside vendor?
If you're hosting a rehearsal dinner at a restaurant, you might not need to provide any decor. However, if the venue is more of a blank slate space, you may want to bring in additional decor and rentals, like centerpieces and signage. There's no need to make this celebration a fully decorated event (save that for the wedding day!), but a few small touches can really bring the event together.
12. Are there any rules or restrictions we need to know?
Venues may have certain rules, including dress codes and noise restrictions, that may affect your event. Make sure you're clear on any venue rules, especially ones that will need to be communicated to your guests.
13. What are the menu options like? Can you accommodate dietary needs and restrictions?
A big part of any rehearsal dinner is the food—so make sure you like the options! If you're hosting your rehearsal dinner at a restaurant, you can dine there to try different menu items. Or ask your venue coordinator is a tasting would be possible. You'll want to make sure that there are options for all of your guests, especially those who have allergies and dietary restrictions.
14. What will the seating chart look like?
While you don't need to have assigned seating for the rehearsal dinner, it's still a good idea to know how the tables and chairs will be set up. Will there be long tables or rounds? How many guests can sit comfortably at each table? Make sure you're comfortable with the seating plan before moving forward with a venue.
15. What are the acoustics like? Do you have audio and visual capabilities?
There will likely be a few toasts made during the rehearsal dinner, so you want to check that there's no echo in the room, or that a microphone can be hooked up if the space requires. Some venues can provide audio and visual equipment, but if not, you'll need to find an outside vendor who can rent out microphones, speakers, screens, etc.
16. What are your cancellation and refund policies?
No one ever plans to cancel or postpone a rehearsal dinner, but things happen. Find out about your venue's cancellation policy, and the latest date you can cancel to receive a refund. There's likely a nonrefundable deposit to book the space, but other fees may be refundable before a certain day.