The Top 5 Wedding Rehearsal Dinner Etiquette Q&As
Avoid any rehearsal dinner faux pas with these top etiquette tips.
by The Knot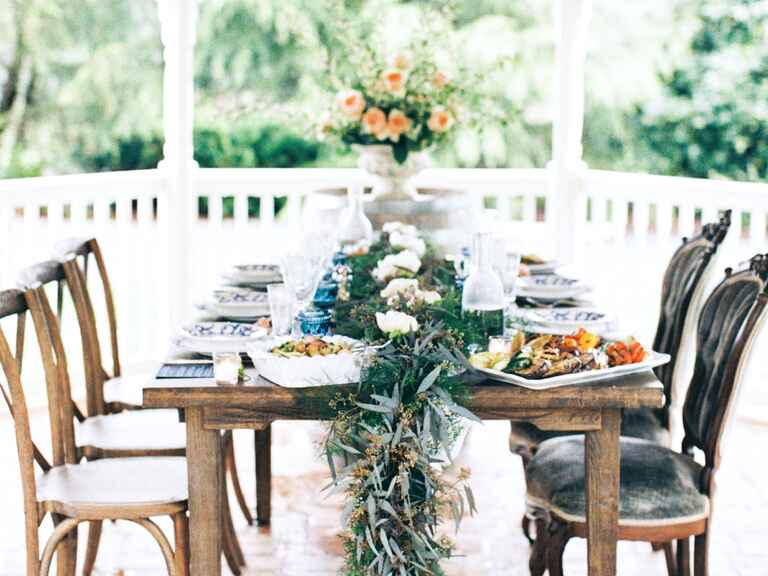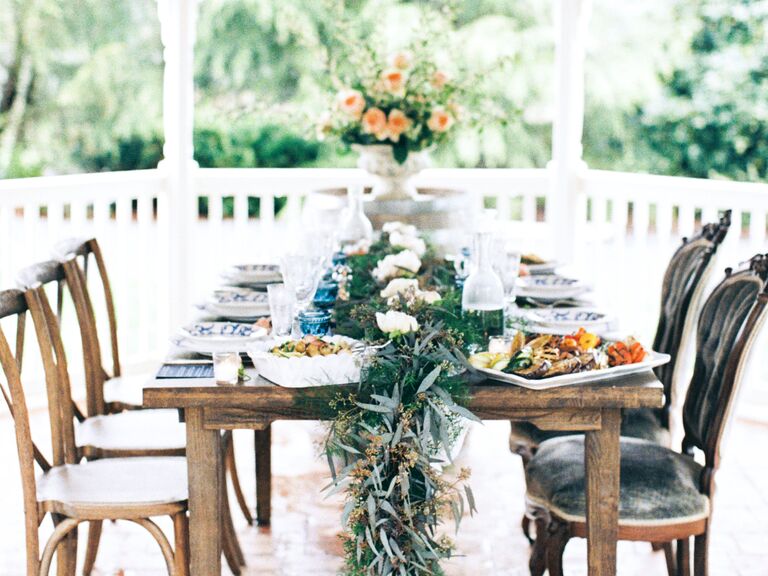 photo by
Stephanie Yonce Photography
Does wedding rehearsal dinner planning have you a little confused? Don't worry—we've got answers to help you piece together your pre-party puzzle.
Q: What are the rules for the wedding rehearsal and rehearsal dinner? Who comes and who doesn't? I'd like to spend as much time as possible with visiting friends and relatives, but I also want the ceremony to remain a "surprise."
A: There are no rules. The guest list is pretty much up to you—it can be as simple as you two, your immediate families, the wedding party and their spouses and/or significant others. Or you can make it a bash and invite all your out-of-town guests. It's a great opportunity to maximize your quality time with friends and family—you'll be more relaxed than at the wedding, and you'll have more time to chat. And don't worry about ruining the "surprise" for them; they don't come to the actual ceremony rehearsal—that's only for the wedding party and your immediate family. Everyone else joins you afterward for dinner.
Q: My partner's family either has no idea they're supposed to host a rehearsal dinner, or they just don't care. My parents can't afford it, but suggested I invite everyone to a catered party at my house (my partner and I will pay for it). Aside from their ignorance of wedding matters, my partner's divorced parents can't stand each other. Would it be really awful if I didn't invite them to the rehearsal dinner? I'm stressing about whether or not they'll ruin it.
A: Remember, no matter who they are or what they're like, your partner's parents will soon be your in-laws. Even if you're worried about they way they'll act, you should start off on the right foot by inviting them to this party. Trust us, there'll be more trouble if you don't invite them than if you do. Grit your teeth, grin, and bear it. And it's true that your partner's parents may not realize they're supposed to host the rehearsal dinner. It's up to you and your partner to either bring it up with them or host the dinner yourselves. The fact that they're divorced and don't get along may make asking them to host it more trouble than it's worth. Remember too, the rehearsal dinner doesn't have to be a big to-do—it can be as simple as a home pizza party or burgers on the backyard grill. Look at it as a way to kick back before the wedding. Concentrate on your family, your partner and your wedding party (this is a good time to present them with their thank-you gifts) instead of dwelling on what his parents might do at the event.
Q: I'll be hosting more than 45 people at my rehearsal dinner. Would it be okay to have the dinner at an Italian restaurant/bar/bowling alley? My wedding is very formal and my in-laws are concerned that they'll look cheap, but I think it'd be fun for everyone to get to know each other. What's a good plan?
A: The rehearsal dinner is the perfect opportunity to let your families hang out together in a more casual atmosphere. Sometimes, the more formal the wedding, the less formal the rehearsal dinner should be. It's not tacky at all! The formal wedding will be more fun because the key players are already comfortable with each other. And a casual rehearsal dinner doesn't have to be completely unstylish—you can go to a fun Italian restaurant or popular pizza joint and have a blast.
Q: Should I mail invitations for the rehearsal dinner?
A: The invitations depend on your dinner. If it'll be a big party with lots of out-of-town guests in a hotel banquet room or somewhere equally official, then you should send invitations. They can be either formally engraved or handwritten on cards, depending on the occasion's formality. You'll also want people to RSVP to have a head count for the caterer. If your rehearsal dinner will be fairly low-key—a party at a casual restaurant or a barbecue at your parents' house with just the wedding party, you two and your immediate families—then you don't really need "official" invitations. Just make sure everyone knows where they need to be and when.
Q: I'm curious about the etiquette involving toasts at the rehearsal dinner and the reception. I'm the groom and would prefer not to address the group if I'm not obliged (I have enough to worry about already!). Does the bride generally make a toast nowadays? Also, even if the couple is not obliged to speak, does the obligation arise once others start making toasts?
A: Here's the deal with rehearsal dinner toasts: It does vary, but chances are some people will toast you—your parents, some of your groomsmen and so on. When you're toasted, you should definitely rise in thanks, and perhaps make a toast in return. The bride may also do a toast if she likes. Truthfully, the rehearsal party is traditionally the groom's and his parents' thing, so you can't just fade into the background. Don't stress out about it, though. You don't need to say anything earth-shattering—just thank whoever toasted you, tell your partner you love her and can't wait for your day to begin, and thank your parents for all they've done for you. At the reception, the couple generally doesn't respond to toasts, so you're off the hook there. If you get nervous, just remember—it's the best man who's expected to be witty, not you!

Everything you need to know about planning a rehearsal dinner, right here.
Eleven fun rehearsal dinner themes, right here.