5 Rehearsal Dinner Rules You're Definitely Allowed to Break
Forget what you thought you knew about your post-rehearsal gathering.
by Maggie Seaver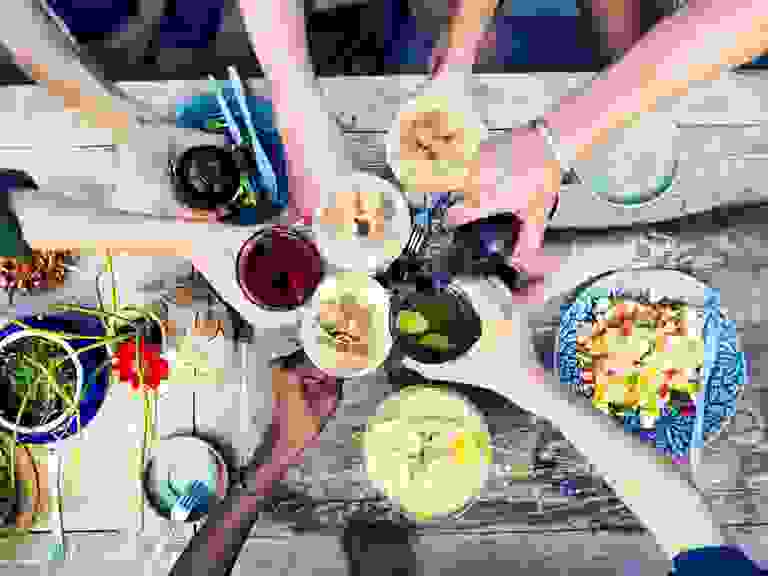 When it's time to start thinking about your rehearsal dinner, you'll have your tried-and-true etiquette basics to consider—but don't think of these traditions as rigid rules. What's done traditionally is just that—tradition—so think of them more as guidelines you can tweak to suit your budget, family dynamics and personal style preferences. Ready to break these rehearsal dinner rules?
1. The groom's family has to host.
This expectation is often still adhered to if the bride's family is hosting the actual wedding—it's a nice way to split up costs and give whichever side of the family isn't footing the main event a chance to be a generous host. While the majority of families do divvy up wedding hosting duties the traditional way, it's not a hard-and-fast rule by any means. Either family can host, or the couple can do it themselves. Do what works for you.
2. It needs to be formal.
Totally false. Formal rehearsal dinners are lovely, but they're not for everyone. A barefoot clambake on the beach, a potluck barbecue or a casual restaurant setting all work beautifully (to name a few ideas). Low-key rehearsal dinner vibes also help mix things up if your wedding will be a bit more buttoned up.
3. Dinner is your only option.
We know it's called a rehearsal dinner—and it does have a nice ring to it—but who says you can't have a morning ceremony rehearsal, followed by a rehearsal brunch or lunch? Actually, you may not have an option if your ceremony venue's only available for rehearsal in the morning. Just think of the unexpected perks: Brunch fare is always a hit, and you can spend the day sipping mimosas, resting, avoiding a day-of hangover and checking off last-minute to dos—but hopefully there won't be too many of those so you can kick back and enjoy.
4. It should fall the night before your wedding.
Rehearsal meals are typically held the day before the wedding, but we see it done differently all the time. When would this work best? If you want only VIPs at the actual rehearsal dinner, but also want to spend time with other guests who've traveled far and wide—especially if you're having a destination wedding. Host your rehearsal dinner two nights before your wedding, then enjoy welcome drinks and bites for out-of-towners after they arrive the night before.
5. You can only invite your wedding party and immediate family.
While rehearsal dinners tend to be a smaller affair, it's still your party—extend the invitation to as many people as you'd like. Maybe you have out-of-town guests you haven't seen in ages who aren't in the wedding party. And don't forget to invite your officiant and your wedding party members' significant others (and their kids, if you want).
Find the best venue for your rehearsal dinner (and every other wedding party!) on The Knot Market Place.