A Wedding Planner Dishes on the Surprising Rehearsal Dinner Rules You Can Break
It's ok to buck tradition, sometimes.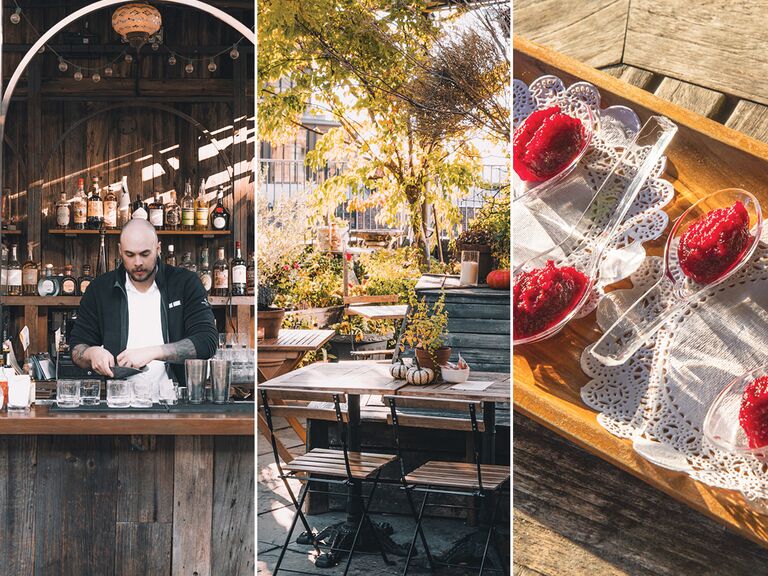 The day before the big day—while the rehearsal dinner is just a dry run for the main event—the actual wedding, it's still a key part of the wedding weekend and involves a significant amount of planning. To help you plan the perfect wedding rehearsal dinner, we sat down with wedding planning expert Jason Rhee. Rhee, who's the owner of Rheefined Company, gives us the scoop on how to plan an epic event that is special but doesn't steal the thunder of the main event. Rhee recently planned the pre-party for The Knot Gala 2022 at Gallow Green at The McKittrick Hotel—like couples planning rehearsal dinners, he was tasked with creating a great kick-off event that was memorable, yet distinctly different from the main event. As a seasoned wedding professional, Rhee opens up about which planning rules you can break and other surprising elements to-be-weds may encounter while planning a rehearsal dinner. Read below about all the rehearsal dinner rules you can and can't break.
1. Who pays for a rehearsal dinner?
"Traditionally, this is hosted by the groom's parents, since the bride's family is customarily paying for wedding," says Rhee. "But since that has evolved, and now we have both brides, or both grooms, it can be the side who is not hosting the wedding, or even hosted by the couple." In short, there is no rule that the groom's family must host and pay for the rehearsal dinner.
When deciding who should pay for and host the rehearsal dinner, take into consideration who is paying for the wedding itself. If one family is footing the bill for the main event, it can be nice to divvy things up and let the other family contribute to the rehearsal dinner. Either way, there are no hard-and-fast rules. Either family can host, or the couple can do it themselves. Do what works for you.
Find your kind of venue
From barns to ballrooms, discover reception venues that feel like you.
2. How formal is a rehearsal dinner?
Formal rehearsal dinners are lovely, but they're not for everyone, especially if you're having a formal wedding reception the following day. "We all love a formal dinner party, but make sure it speaks to who you both are as a couple, and also it's the first event that sets the tone of your wedding, so have fun with it," advises Rhee.
A barefoot clambake on the beach, a potluck barbecue or a casual restaurant rehearsal dinner venue all work beautifully (to name a few ideas). Low-key rehearsal dinner vibes also help mix things up if your wedding will be a bit more buttoned up.
3. Can you have a cash bar at a rehearsal dinner?
This is no rule Rhee is adamant couples should adhere to—no cash bar at the rehearsal dinner. If need be, he suggests you "limit bar offerings, or only offer a signature cocktail, but try to avoid any guests or wedding party members having to pay."
4. Must a rehearsal dinner serve dinner?
We know it's called a rehearsal dinner—and it does have a nice ring to it—but who says you can't have a morning ceremony rehearsal, followed by a rehearsal brunch or lunch? "If your rehearsal happens to be in the morning, you can do a lunch," says Rhee. "You have some more options and pricing may be better at some locations." Actually, if your rehearsal venue has another evening event on the books, you may be required to do a morning rehearsal. But just think of the unexpected perks: Brunch fare is always a hit, and you can spend the day sipping mimosas, resting and checking off last-minute to-dos.
5. Who is invited to the rehearsal dinner?
Let's set the record straight on rules relating to the rehearsal dinner guest list. While rehearsal dinners tend to be a smaller affair with a limited guest list, it's still your party—extend the invitation to as many loved ones and wedding guests as you'd like, there's no rule that you have to limit attendees to immediate family and members of the wedding party. Maybe you have out-of-town guests and close friends you haven't seen in ages who aren't in the wedding party to whom you'd like to offer a rehearsal dinner invitation. And don't forget to invite your officiant and your wedding party members' significant others (and their kids, if you want). Rhee notes that "tradition has changed and evolved, but I do think its important to extend this celebration to the family who is not hosting the wedding, so they do get the opportunity if they want to, to contribute to the wedding."
6. When is the rehearsal dinner?
Rehearsal meals are typically held the day before the wedding, but we see it done differently all the time. When would this work best? If you want only VIPs at the actual rehearsal dinner, but also want to spend time with other guests who've traveled far and wide—especially if you're having a destination wedding. Host your rehearsal dinner two nights before your wedding, then enjoy welcome drinks and bites for out-of-towners after they arrive the night before. Ultimately, this is your event so feel free to leave traditional and rules to the wind if that's what works best for your situation.