Our 11 Favorite Rehearsal Dinner Themes
There's no rule that you have to have a sit-down rehearsal dinner. Steal one of these ideas to make your rehearsal dinner just as memorable as the wedding itself.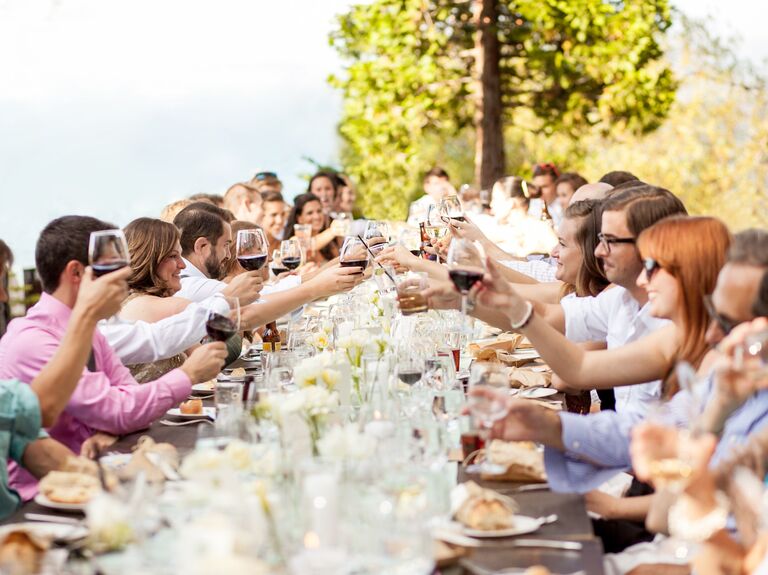 Mike Larson Photography
Half the fun of planning your rehearsal dinner is that it's supposed to be less formal than your wedding, so anything goes, really. Love the casual Mexican restaurant you went to on your first date? Never miss trivia night at your favorite bar? It's all fair game for rehearsal dinner ideas, especially since your rehearsal dinner guests will love kicking back and having fun. If you're having trouble brainstorming the kind of vibe or setting that fits you the best, here are 11 rehearsal dinner themes and ideas to steal. 
1. A BBQ Rehearsal Dinner
Host a relaxed outdoor dinner with all of your cookout favorites on the menu, like burgers, hot dogs and mac and cheese. Upgrade traditional BBQ dishes and serve a gourmet version. Think: pulled-pork sliders and caprese salad kabobs. Have it in a backyard, at a local BBQ joint or even a nearby public park. Decorate the tables with wildflowers in galvanized tin pails and tie in classic details, like a checkered-print tablecloth and homemade citronella candles.
Bonus tip: Like any outdoor event, you'll need to prepare for the elements with anti-mosquito spray, fans (or heat lamps if it's chilly) and an indoor plan in case of rain.
2. A Fondue Rehearsal Dinner
Instead of a traditional sit-down meal, guests can mingle over a buffet-style feast from fondue pots or fountains. Start with slices of crusty French bread and various cheese pots—blue cheese and Gruyere are good starters. Move on to meats, potatoes and veggies, which can each be dipped in sauces, like teriyaki and red wine, and cooked right on the table. For dessert, have fresh fruit, squares of pound cake, brownies and marshmallows, and pots of melted chocolate, caramel and marshmallow.
Bonus tip: Fondue can be messy. You'll want to have plenty of napkins on hand, as well as tables and chairs for guests to sit down and eat. If you're hosting at home, you may want to hire a cleaning crew to wipe up tables and chairs throughout the night to keep the fondue neat and tidy.
3. A Bowling Rehearsal Dinner
There's no rule that says a rehearsal dinner has to be just dinner. Bowling and arcade games are just the kinds of activities that will help break the ice between your families and friends. You could even make it a competition and give awards at the end of the night (don't forget to honor "Most Gutter Balls"). Serve up beer and pizza right there at the alley or move to a nearby restaurant after the games are over.
Bonus tip: Aim to rent out private lanes or even a separate room for dining. 
4. A Casino Night Rehearsal Dinner
Host a Monte Carlo–inspired affair, complete with classic casino games, like blackjack and roulette. Send out rehearsal dinner invitations on customized playing cards for your casino night, and decorate surfaces with chocolate poker chips. Hire a dealer for blackjack, poker and other game tables, and consider having bingo and raffle prizes. No casino is complete without lots of chic sips, so keep the champagne flowing as gambling guests spend the evening toasting the couple. 
Bonus tip: Because guests will be moving around the room and having fun with the games, it may feel less intimate than if everyone is sitting at tables. You can solve this by having a seated dinner or cocktail hour first, so guests don't miss out on mingling.
5. A Clam or Lobster Bake Rehearsal Dinner
If you're near a beach, go the most traditional route and hire a crew to dig a two- or three-foot-deep pit lined with rocks and build a wood-fire top (there are catering companies that can take care of this for you). The alternative landlocked version works too: Order steamed clams and sides and then set them up on big picnic tables for everyone to nosh on. Top your tables with checkered tablecloths and a few fresh flower arrangements. If you have the space, end the night with a bonfire and s'mores.
Bonus tip: It's messy, so make sure your guests who aren't as familiar with this style of party know they should wear super-casual attire.
6. A Sports Game Rehearsal Dinner
Get the wedding festivities underway with a rehearsal dinner excursion to a local football or baseball stadium for some tailgating followed by a game. Look into group packages—many ballparks have them, and some even offer options like a congratulatory message on the scoreboard. Have all the guests sign a "game ball" for you to keep.
Bonus tip: You're a superfan, but some of your guests probably aren't. So instead, consider having the game-going portion of the night follow a more formal dinner. If you actually want to host the evening at the ballpark, choose a game or team that's fun to watch, but that you won't be glued to, like a minor league game.
7. A Wine or Beer Pairing Rehearsal Dinner
It's your typical dinner, but with a twist. Bring in a wine, beer or even whiskey specialist to help craft the menu to teach your guests how to pair the perfect sip for every course (even dessert!). So you might choose six to eight different wines of the same grape varietal (do all Shiraz or all chardonnay), so guests can really taste the difference. And make sure to pair each course with a great cheese. Décor-wise, let your theme be the guide. Use grapes and cheese boards as your centerpieces. If it's a beer tasting, fill cute vintage beer bottles with a few fresh flowers.
Bonus tip: You'll want to get in on the fun, but don't drink so much that you start off your wedding day with a hangover. Plan for plenty of food, so no one's staggering into the ceremony the next day—and drink lots of water between courses.
8. A Tee Time Rehearsal Dinner
Go one step further than the traditional country club or golf course rehearsal dinner and let everyone spend cocktail hour perfecting their swing at the driving range. At dinnertime, name the tables after scores (birdy, par, bogie and eagle) and decorate with miniature hole flags anchored with colorful tees. 
Bonus tip: Golf courses and country club venues can be pricey, but don't let that stop you. This idea also works in your backyard with a homemade, obstacle-laden, mini-golf course.

9. A Picnic Rehearsal Dinner
Spread out in a park with your guests for a low-key, outdoor affair during the day or early evening. Set up a traditional picnic spread (think: finger foods, sandwiches and lots of fresh-squeezed lemonade). You'll want a mix of tables and blankets for seating, but use picnic baskets with a decorated handle filled with food instead of traditional centerpieces. 
Bonus tip: Even though it's picnic style, you still need enough food for your guests to make a meal, or you should let everyone know it will not be a full meal with some careful wording on the invitations. If you don't want to be responsible for an entire meal, move the time to sometime in between lunch and dinner.
10. A Dessert Buffet Rehearsal Dinner
Here's a sweet alternative to the traditional sit-down dinner hosted at a later hour (around 9 or 10 p.m. in the evening). It's great if a lot of guests will be traveling in and won't be able to attend until later in the day anyway. Host the dessert buffet at a local coffee shop, dessert bar or even at your home with a variety of pastries, chocolates, tarts and candy. Offer a few non-sweets too, like fruit or even bite-size sandwiches.
Bonus tip: If your ceremony rehearsal has to happen early, but the party doesn't start until late, you may have some time to kill in between. That's okay—just spread the news. Guests will most likely end up finding dinner on their own before the dessert party. You can do your part by suggesting a few restaurants in the area.
11. A Beach-Inspired Rehearsal Dinner
Going somewhere tropical for your honeymoon? Give guests a little sneak peek and transform your rehearsal dinner into your honeymoon destination. Hang hammocks from trees in your backyard, serve dinner buffet-style on long surfboards, and blend up some pina coladas and daiquiris. For fun favor ideas, try personalized messages in glass bottles or flip-flops. 
Bonus tip: Transforming a ballroom or restaurant into a tropical paradise might require quite a bit of decor, so it's best suited for a spot that's outdoors (when it's warm of course!) or that already comes with a built-in beachy vibe.