This Is How Much It Costs to Host a Rehearsal Dinner Today
Here's how much to budget for this prewedding soirée.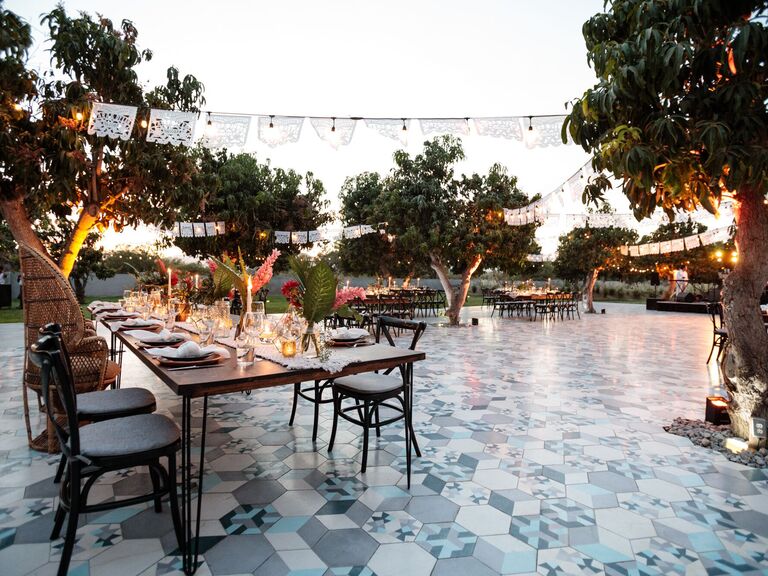 Anna Gomes Photo
Once you've made all the decisions for your wedding ceremony and reception, it's time to focus on one of the most important prewedding events: your rehearsal dinner. Not only is this an ideal time to greet guests who've traveled from out of town, it's a great way to kick off your wedding weekend. Whether you keep it intimate or invite a large group of your loved ones, a rehearsal dinner is a must-have wedding event. Not only is it necessary for, well, rehearsing, it's a special time for you to enjoy your wedding weekend before the excitement of your big day. For this reason, the average cost of a rehearsal dinner tends to be on the higher side. From invitations to catering, it's important to set a realistic budget. So, how much does a rehearsal dinner cost? Read on to find out.

The Knot Real Weddings Study, an internal study of over 15,000 couples who got married in 2021, reveals that the average cost of a rehearsal dinner is $2,300. This is representative of all related expenses, including venue, invitations, catering and décor. If you're debating whether you should have a rehearsal dinner, know that it's the most popular prewedding event. Nearly 80 percent of couples hosted one, making it more common than bachelorette parties, bridal showers and honeymoons.
The 2021 average cost of a rehearsal dinner is an increase from previous years. In 2019, couples spent $1,900 on average for their rehearsal dinner. The increase in cost reflects what we've been hearing—in an effort to improve the guest experience, couples are extending rehearsal dinner invitations to more loved ones, making these events bigger and more involved than ever, complete with open bars, a full team of vendors and more.
Traditionally, the groom's parents host and pay for the rehearsal dinner. But since it is 2022, after all, couples are putting their own spin on wedding planning and etiquette rules. Whether you host your own rehearsal dinner or you're a loved one preparing to host in honor of the couple, it's important to have an honest conversation about the average cost for a rehearsal dinner. It's certainly not an inexpensive event, so be sure to budget accordingly.
There are several factors that come into play when it comes to the cost of a rehearsal dinner. Those hosting international destination weddings spent an average $3,700 on this prewedding celebration, much more than those who had hometown weddings (average cost: around $2,000). This would make sense as couples hosting destination weddings tend to invite their entire wedding guest list to the rehearsal dinner, making for a pricier event.
And as with the average cost of a wedding, regionality comes into play here, too. Those marrying in the Northeast and New England spend, on average, about $2,800 on their rehearsal dinner, while those in the Midwest spend the least, around $1,700.

An intimate party of just wedding party, immediate family members and very close friends means the cost will be lower, but this could also be a great time to welcome out-of-town guests and loved ones you don't see often. The guest list is up to the discretion of the host.

The venue will also play a large factor in your rehearsal dinner budget. Some reception spaces offer packages to host a rehearsal dinner the night before the wedding. If this is an option, you may be able to book the space at a lower cost. However, this is also a great way to introduce guests to the location of the wedding, especially if it's a sentimental spot for the couple. Scope out local restaurant private rooms, event spaces or party halls for potential rehearsal dinner venues. Or, host something in a loved one's backyard for a casual and affordable evening of toasting.

Once you've nailed down the location, you'll want to finalize the decorations and food. While you don't have to serve a five-course meal, hors d'oeuvres and a selection of entrees (along with beverages) is suitable for a rehearsal dinner menu. Restaurants or caterers may offer service packages for rehearsal dinners, so always check with your pros to consider all possible options before making any final decisions. Attire will also be an added cost for the to-be-weds. The rehearsal dinner is a great occasion to rock a bold outfit or a trendy accessory that you won't be wearing on your wedding day.

Remember that the price of a rehearsal dinner is a reflection of the national average. Cost varies by region and event style, so use this as a general baseline to guide your budget. Ultimately, what you spend on our event is completely up to you. Whether you opt for an upscale soirée or you keep things casual with a backyard party, one thing is certain: Your rehearsal dinner is an important prewedding event, and it'll serve as the ultimate beginning to your nuptials.