Start Planning Your Seychelles Honeymoon With These Need-to-Know Details
This hidden treasure of a honeymoon destination is perfectly romantic and secluded.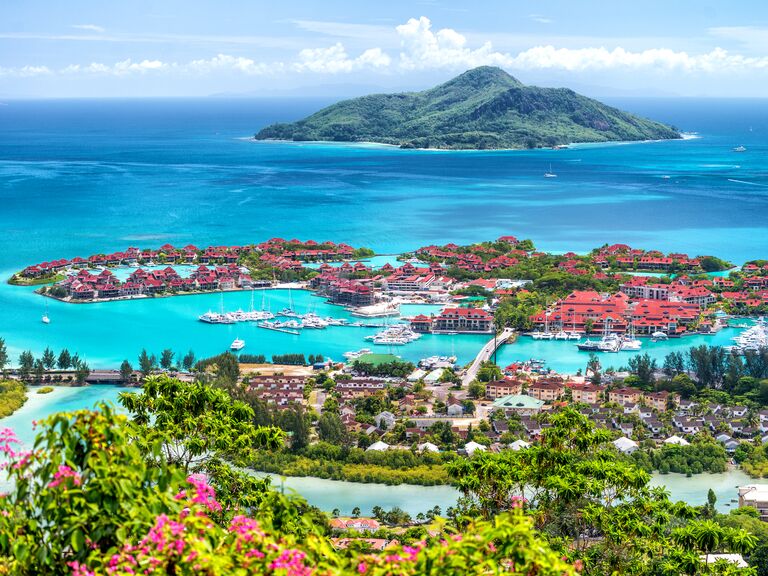 Gagliardi Photography Shutterstock
We have included third party products to help you navigate and enjoy life's biggest moments. Purchases made through links on this page may earn us a commission.
Dream of getting away to a tropical paradise that's remote and (mostly) untouched by human hands? Imagining your honeymoon taking place in an exotic locale that's not just your average tourist hot spot? A Seychelles honeymoon might just be the perfect pick for you.
Situated in the Indian Ocean off the coast of East Africa, the Seychelles islands are an archipelago with 100-plus islands in total, though only a small portion of them are inhabited. The remote destination calls to the upper echelon of world travelers, catering to luxurious tastes with five-star boutique hotels, as well as cultural and nature-centric activities you won't find anywhere else.
Does Seychelles sound like the perfect honeymoon to you? Then get to planning. Below, you'll find everything you need to get started.
Is Seychelles Good for a Honeymoon?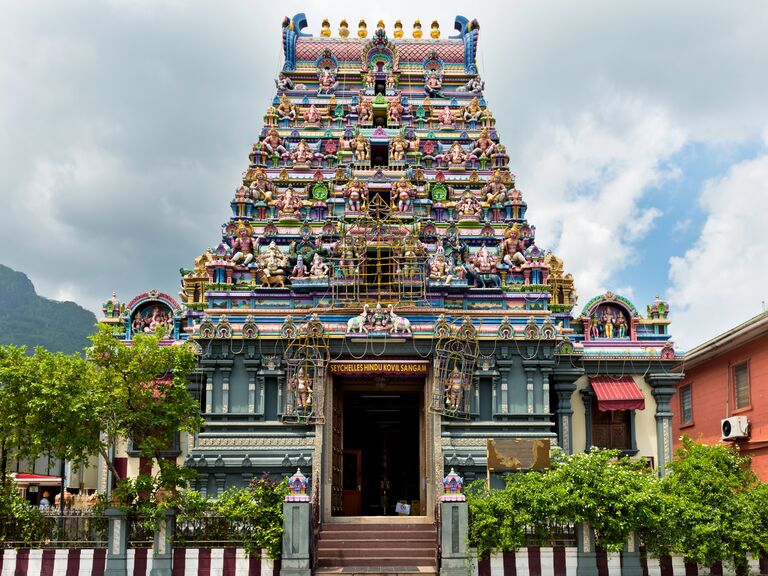 Pros of a Seychelles Honeymoon
Luxury is the name of the game in Seychelles. The remoteness of the islands makes them exclusive and somewhat difficult to get to (in other words, you won't be hopping on a direct American Airlines flight from your local regional airport to get there), and so a visit definitely includes rubbing elbows with the elite and maybe a celeb or two. A Seychelles honeymoon comes with its fair share of status and is sure to impress—not only you and your sweetie, but also your friends and family.
Beyond this, the islands offer many of the same activities you might find in other Indian Ocean or South Pacific honeymoon destinations, including unique cultural experiences and water sports.
Cons of a Seychelles Honeymoon
With all that exclusivity and luxury comes a big price tag. A Seychelles honeymoon is by no means on the budget-friendly side. And because it's a somewhat difficult destination to reach (even compared to other nearby spots like the Maldives, Dubai and Mauritius), you don't want to plan a short honeymoon there. You'll want to account for a day or two of travel both ways, and then, because it took you so long to get there, at least a week or more on the islands.
It's also worth noting that reaching the international airport in Seychelles doesn't necessarily mean your journey is done—if you're staying on a smaller island, you'll need a boat or helicopter transfer to get you there.
The Best Times of Year to Go on a Seychelles Honeymoon for Good Weather
The Seychelles tropical climate is split into a wet season and a dry season. The wet season, which is November through March, comes with slightly higher temperatures and high humidity.
The dry season, which runs from June to September, is slightly cooler, but you'll likely find the season a little more agreeable. Low temperatures hover around the low 70s, while high temperatures climb to the low 90s. Given all this, most travelers will enjoy a visit to Seychelles most from June through September.
Things to Do During a Seychelles Honeymoon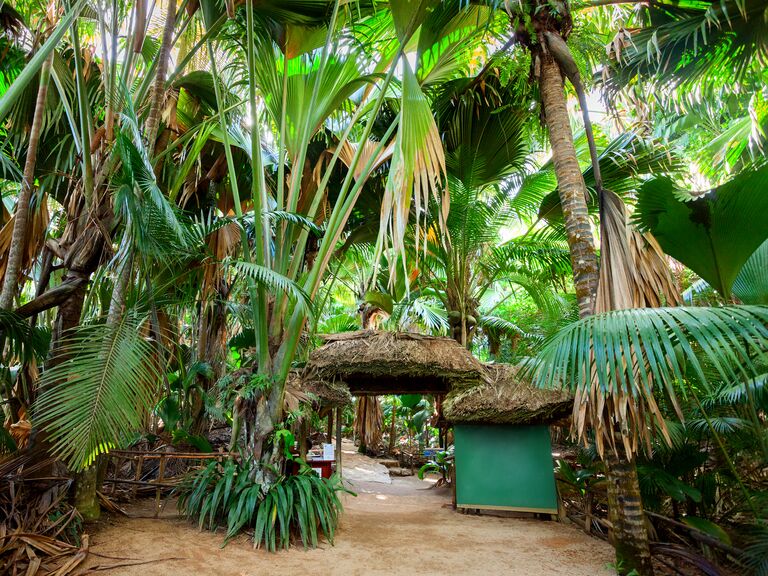 Hop Between the Islands
With more than 100 islands, you'd certainly have a time of trying to visit every corner of Seychelles, but you can at least hit up a few islands while you're there.
You'll probably end up staying on Mahé island, the most popular and populated of the main islands, but you can easily find tour providers who will take you to some of the other isles worth visiting during your honeymoon.
White sand beaches, hiking and water sports await on neighboring islands such as Praslin and La Digue. On Praslin Island, be sure to visit Vallée de Mai, a UNESCO World Heritage Site and nature reserve within the larger Praslin National Park, where you can spot rare flora and fauna like the Seychelles black parrot and giant coco de mer trees.
Hit the Water
Yes, you can have a great time lounging about on Seychelles' beautiful beaches (they're some of the best beaches in the world), but it's also worth actually getting out on the turquoise water instead of simply enjoying the view from afar.
Island hopping will give you the chance to hit the waves from a catamaran or yacht, depending on the tour or experience you book. It could also be worthwhile to look into what kind of couples experiences your hotel can arrange. Snorkeling and scuba diving are extremely popular here, thanks to the vibrant coral reefs and marine life (including sea turtles) located just offshore. If you and your honey are more into adrenaline-pumping thrills, try parasailing.
Experience the Local Nightlife
Beaches are fun, but honeymooners should make sure to experience the local Seychelles culture as well during their getaway. The Beau Vallon Night Market is a fun stop near the Beau Vallon Beach. Here, you can not only shop for interesting local souvenirs to take home to friends and family (or maybe an impromptu post-wedding gift for your beloved), but also enjoy some live music and dancing. Street food is also plentiful; the Seychelles food scene boasts Indian and Creole influences and incorporates lots of fresh seafood.
Best Hotels and Resorts in Seychelles for a Honeymoon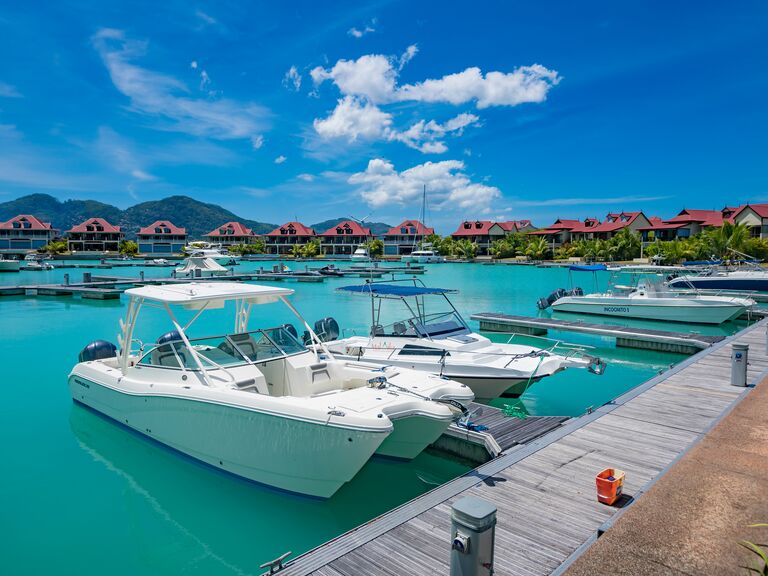 When staying in Seychelles, you really can't go wrong with any of the luxury island resorts across the archipelago. But the Four Seasons Resort Seychelles is the place to go for breathtaking beach views on Mahé. The resort's beach is private, adding an extra level of exclusivity to your experience. If you book a villa, you'll enjoy additional privacy from the lush outdoor space, which includes an infinity pool overlooking the ocean.
This luxury resort is an all-villa property, with villas scattered across a rocky outcrop on a peninsula that juts out into the ocean. With only a handful of villas available, you're assured an unprecedented level of privacy. Choose a beachfront villa for direct access to the water, or a forest villa for more privacy and better views (though none of the views are what you would call "bad"). Whatever villa you choose, you're guaranteed your own private pool.
If you'd rather stay on Praslin than Mahé, opt for Le Château de Feuilles, a gorgeous property that rolls out the red carpet for its guests. Your trip begins with massages and champagne, and whenever you decide to leave the property, you can trek out to the hotel's own private island and beach, where snorkeling and sunbathing are on the menu.
What to Pack for a Seychelles Honeymoon
Be sure to bring all of your beach gear, from swimsuits for laying beachside to swim shirts and water shoes for snorkeling sessions. Sunscreen is, of course, a must. And don't forget a few nicer outfits for evening wear if you decide to visit one of the resort's fine-dining restaurants. If you plan on doing any hiking, you'll want hiking boots and bug spray, too. For a more complete packing list, check out our full guide of what to pack for a tropical honeymoon.