Proposing the Second Time Around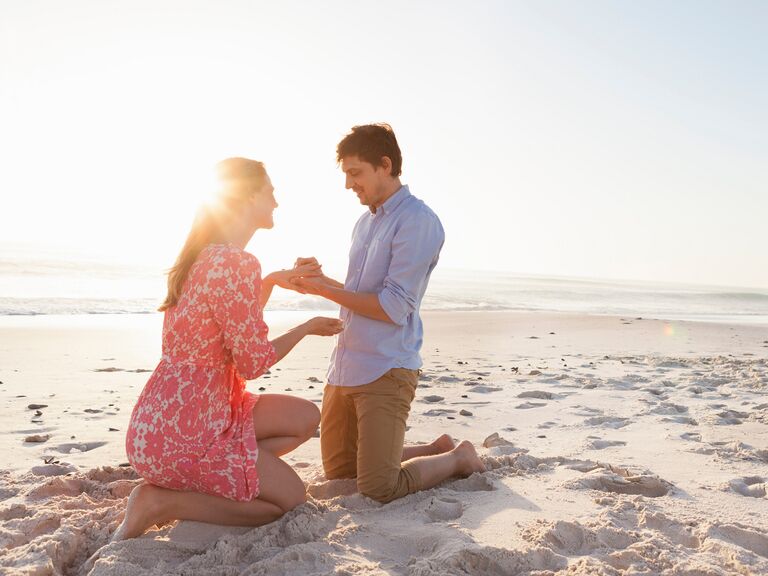 Getty Images

Let's face it: Planning your proposal to the person you love can be a bit nerve-racking and confusing. There are so many questions: Where should you do it? What should you say? And if you've proposed once before, you'll most likely have a few more questions to add to the list. Oftentimes the hardest part is just knowing where and how to begin. So we've asked Jenifour Jones, founder of Go Get It Events, a custom event-planning business, to give us some tips. "Most of my proposals are second marriages," says Jones. "They're with the person they feel that they're meant to be with. They're so in love and really want to have a great proposal story." For years, she's made dreams come true for those looking for memorable proposals. And to help you get started, she weighs in on some standard dos and don'ts for proposing the second time around.
DON'T think that there's some sort of higher standard for your second proposal. "The same rules apply as the first marriage," says Jones. "Make it unique to your partner and your relationship."
DO make your proposal as personal as possible. "Having a fun or even gimmicky proposal is fine if that fits your individual personalities, but just make sure that when the time comes for the actual asking, you speak from your heart. Tell the person why you want to spend the rest of your life with them and what they mean to you," urges Jones.
DON'T read about other proposals and try to imitate them because they were successful. Searching outside of your relationship for inspiration on what will work for yours is never a good idea. "Each relationship has a whole history complete with past memories, inside jokes, and special moments," says Jones. Those are the makings of a great proposal plan, not anything else you'll find.
DO keep the moment between you and your partner. The moment is yours and yours alone, so it's best to keep your family out of it. If including your loved ones is important to you, Jones recommends "having the family meet up after the proposal" as a great way to share that special moment. But she cautions that as a courtesy, you should "ask your partner before your family gets there."
DON'T try too hard to mask your intentions. Jones says that in her experience, many men are "obsessed with 'tricking' the woman into thinking they're not going to propose." This is absolutely unnecessary, and it could in fact backfire in unexpected ways. "What [these men] fail to see is that the anticipation is 85 percent of the fun," says Jones. "If the woman knows that you may propose at the end of a scavenger hunt, a mysterious trip, a series of clues, etc. but doesn't know what's going to happen around each corner, it makes the whole proposal event so exciting!"
DO avoid listening to other people's advice on how you should propose. Everyone will have their opinion, but it's your moment. Jones warns that there's one piece of advice you should listen to though: "Don't put the ring in food or drinks!" Not only will it get messy, but if you're not careful, you could damage or lose the ring. Otherwise, Jones says, "It's your day and your moment, so do what you want to do!"
DON'T feel the need to ask your partner's children for permission or approval. It sounds respectful, but it can actually become more emotionally complicated than it should. "That would start a whole series of 'asking' children permission for your personal life," says Jones. So if your partner has children, it's best to let them tell their kids.