Everything You Need to Know About Wedding Gifts for a Second Marriage
Follow these suggestions for the perfect gift.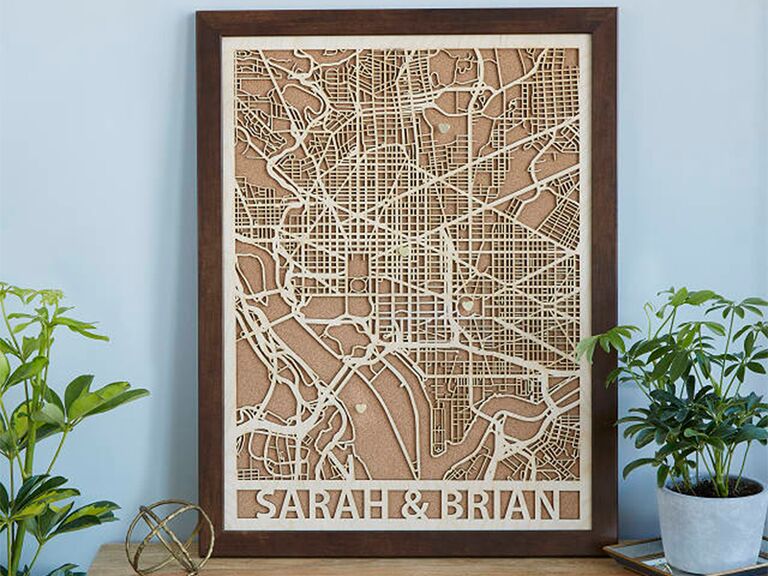 We have included third party products to help you navigate and enjoy life's biggest moments. Purchases made through links on this page may earn us a commission.
If you're shopping for a couple that's saying "I do" for the second time, you've come to the right place. Finding the perfect wedding gift can be tricky. Every couple needs different things, and this is especially the case if the happy couple has already been married before.
When it comes to second and third marriages, you might be curious about the etiquette around giving gifts. While there is no hard and fast rule when it comes to wedding gifts for second weddings, it's always a good idea to err on the side of generosity. A thoughtful gift is a great way to let them know you support their love and are thinking of them on their special day. However, what kind of gifts are appropriate for a couple who has everything?
(Note: if you're looking for registry suggestions for weddings that are being redone because of Covid, we've also got you covered!)
Gifting Etiquette for a Second Wedding
While it may be their second marriage or third marriage (or hey, even fourth!), it's important to remember that the happy couple is excited to be starting a new life together. It's a fresh start and it should be celebrated and treated as such. It's important to keep this in mind when selecting a wedding gift for the future newlyweds. As a general rule of thumb, avoid potentially offensive gag gifts, cards or comments on their wedding day that refer to their previous marriage. And whatever you do, don't buy—or mention—the same gift you bought them for their last wedding, even if you thought it was amazing.
What Kind of Wedding Gift Should You Buy?
Unlike a couple who is getting married for the very first time, there's a good chance that this pair of soon-to-be newlyweds already have a household that is well stocked with essentials like glassware, towels and kitchen gadgets. They probably don't have the need for a slew of new cookware or a brand new ice cream maker (unless they've registered for it, of course!). Instead, we encourage you to think outside of the box and go for gifts that really speak to who they are as a couple.
If they're an older couple or have already been cohabitating for a while, they might appreciate a one-of-a-kind piece of personalized home decor or a luxe upgrade to an item they already own. Subscription boxes also make for a great couple gift because they give newly married couples something to enjoy together throughout the year.
Oh, and don't forget about gift certificates! You may think gift cards are impersonal, but they're actually the perfect gift for a couple who has everything. The same goes for experiences that the newlyweds can enjoy together on date night. From wine tours and cooking classes to outdoor adventures, The Knot Registry Store has a great selection of fun couple's classes, date night experiences and gift cards to choose from.
Best Wedding Gift Ideas for a Second Marriage
At the end of the day, every couple is different and likes different things. That's why many couples will take the time to put together a personalized wedding registry that lists items for their new life together. When in doubt, always check their wedding registry for gifting ideas (Psst, if your couple is registered with The Knot you can find their wish list here.)
Whether you're shopping for wedding presents or you're a to-be-wed in search of registry inspiration, we've rounded up some of the best wedding gift ideas for couples who are celebrating their second marriage. From personalized home decor and cute date night ideas to luxe glassware, here are some great gift ideas for a second marriage.
Imagineered Personalized Doormat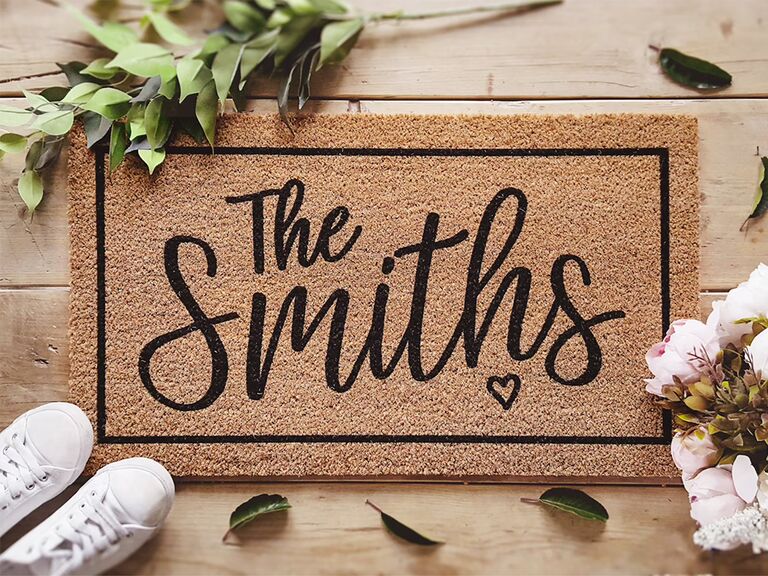 If you're looking for a unique wedding gift for a second marriage, this personalized doormat makes a thoughtful present for new homeowners. Made from durable natural coconut fibers, this eco-friendly wedding gift can be easily personalized with the happy couple's names printed in a lovely script. This is also a great option if you're looking for an anniversary gift or bridal shower gift.
Waterford Elegance Tempo 38-ounce Crystal Wine Decanter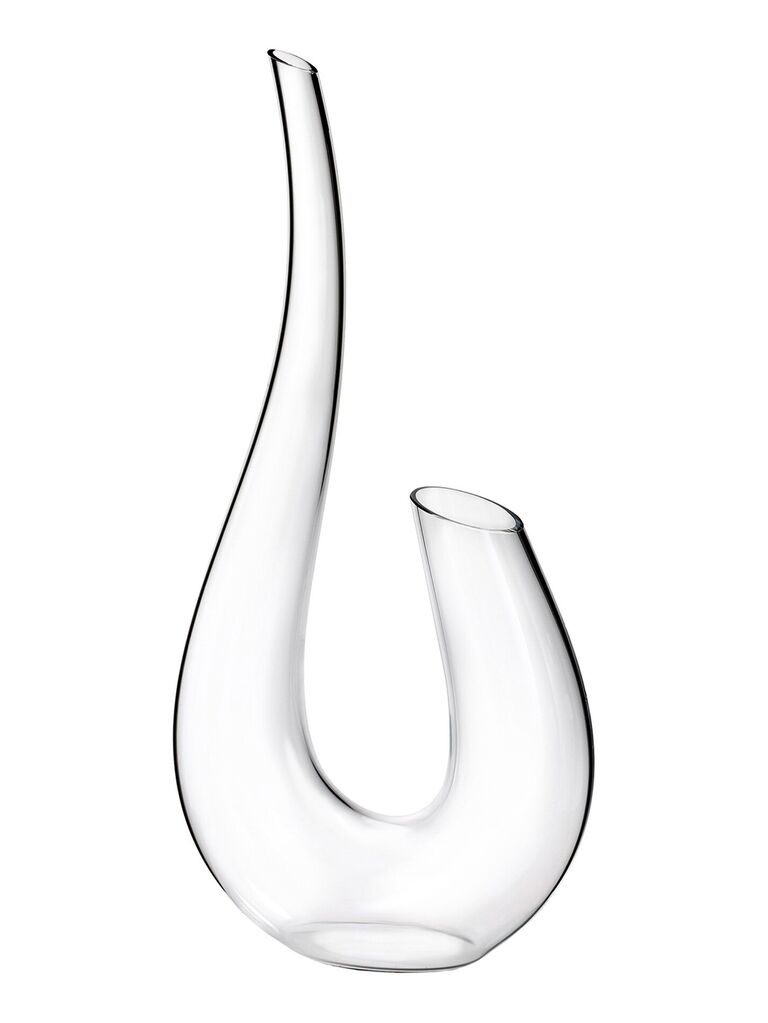 Even the couple who has plenty of glassware will appreciate this beautifully designed, award-winning crystal wine decanter. Handmade from high-quality crystal, this decanter brings out the best flavor in your favorite bottle of wine. With its stunning curved shape and capacity to hold approximately four glasses of wine, this decanter is the perfect gift for wine lovers and couples that enjoy entertaining together.
Sfoglini Seasonal Pasta Subscription Box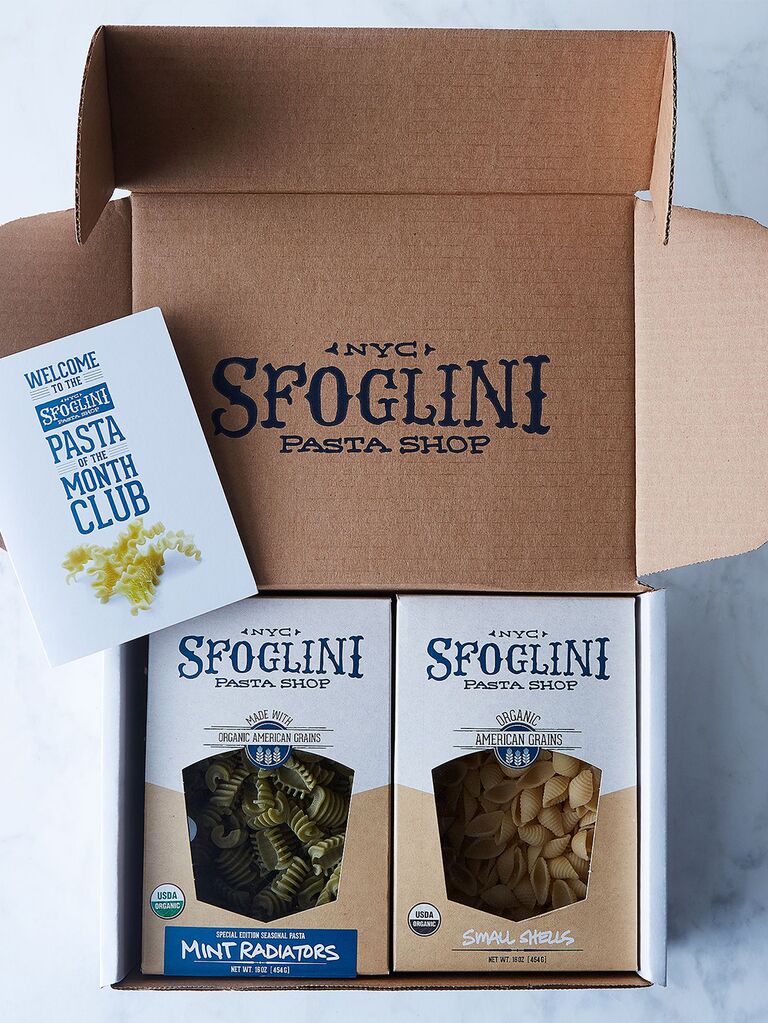 What married couple doesn't appreciate a well-stocked pantry? The newlyweds will love this pasta subscription box that features Sfoglini's 100% organic Brooklyn-made pasta. Known for unique flavors made from locally-sourced ingredients, this foodie-friendly subscription is an easy way to upgrade everyday meals.
Winc Wine Membership Subscription Gift Card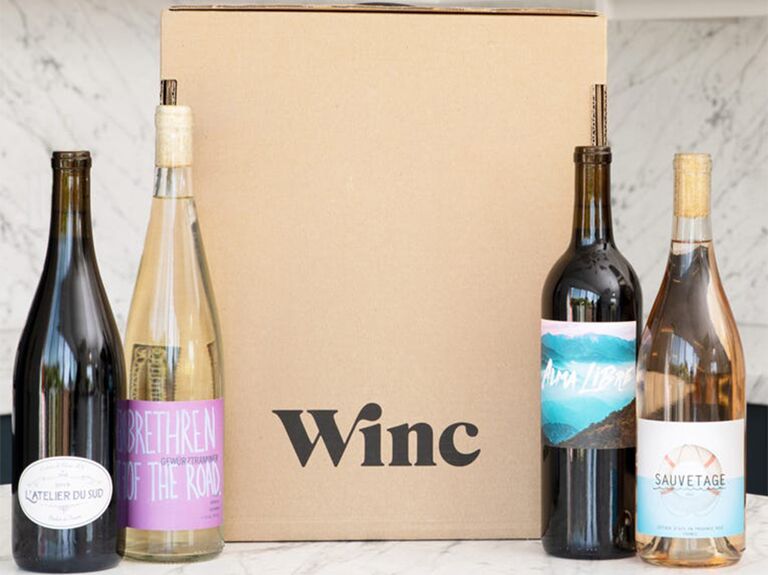 Give the happy couple a world of wine options with a Winc Gift Card. Perfect for date nights and entertaining, Winc ships world-class vino straight to your door. Even if the happy couple aren't wine connoisseurs, they can go online and complete a quiz that will gather information about their tastes and provide them with recommendations they'll love.
Uncommon Goods Personalized Wood Cut City Map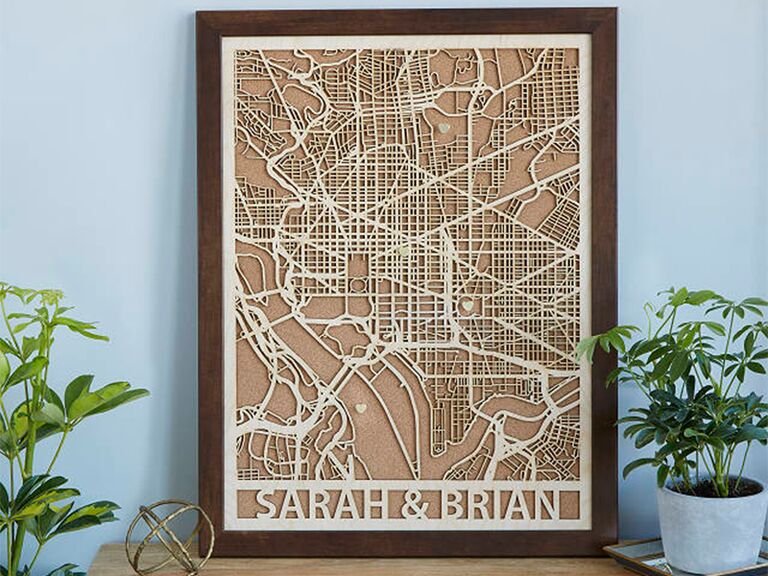 Looking for a romantic one-of-a-kind sentiment? Personalized home decor always makes a unique wedding gift. This stunning piece features a laser-cut wood and cork map of a special locale that's part of the newlyweds' love story—the couple can even mark their favorite spots using the included heart pins. They also have the option to display a meaningful address right in the middle of the map.
Fuego Box Small-Batch Quarterly Hot Sauce Subscription Box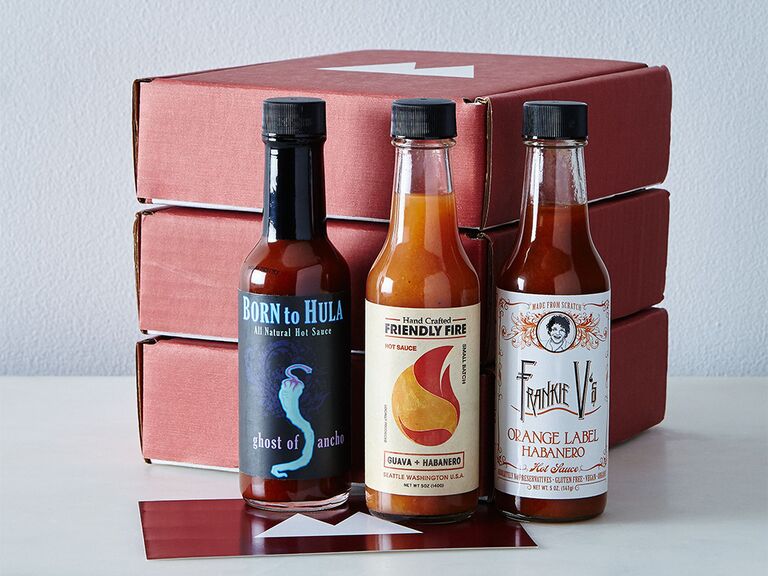 Variety truly is the spice of life with this gourmet subscription box that features a monthly selection of quality craft and small-batch hot sauces from all over the world. A perfect gift for foodie newlyweds, this subscription box includes four quarterly shipments of hot sauce that are perfect for (quite literally) spicing up date night.
Grain Woods Personalized Butcher Block Cutting Board with Juice Groove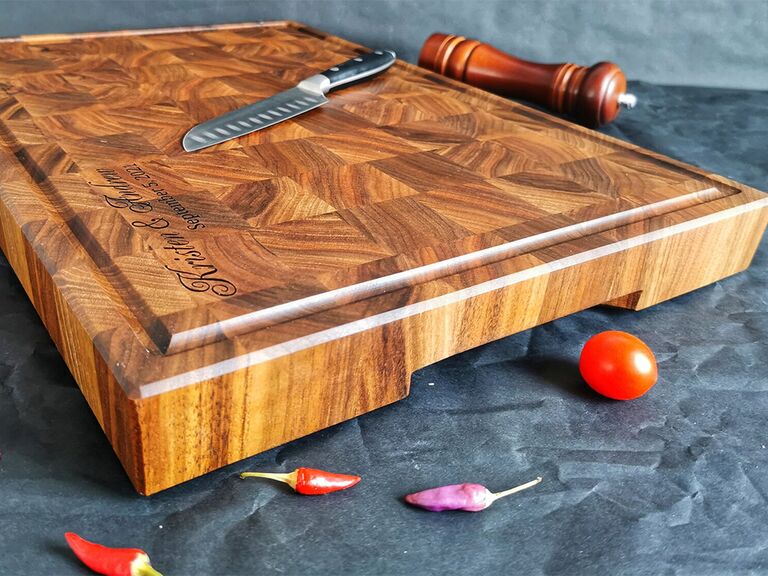 Couples getting married for the second time will love this gorgeous personalized cutting board. Made of ultra-durable maple and walnut wood, this cutting board is designed to keep knives sharper longer. It can also easily be personalized to include the happy couple's names and wedding date.
Havenly Mini Refresh Design Package Gift Card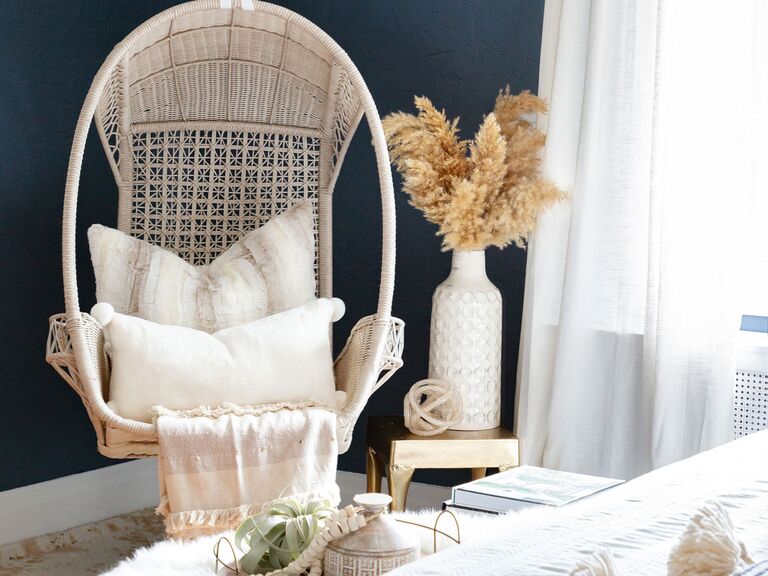 Moving into a new home? Help the newlyweds begin their new life together with some fresh home decor. With Havenly's Mini Refresh Package, the couple receives design inspiration and custom solutions from a professional designer who works with them to spice up their space or refresh a room.
Couples Experiences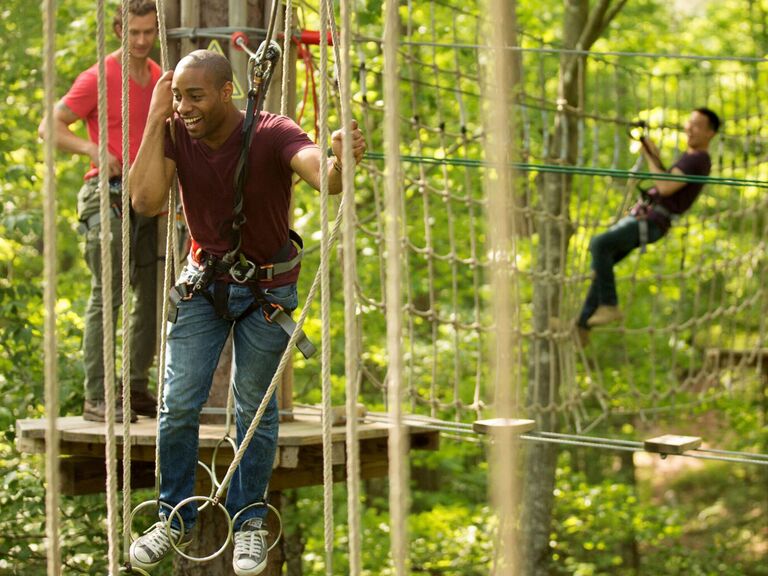 Cooking classes, wine tasting, a couple's spa day—these are all experiences that newlyweds can enjoy whether they're walking down the aisle for the first time or celebrating their second marriage. If you're looking for a wedding present idea for the couple that literally has everything, consider a Virgin Experience Gift Card. It doesn't matter if you want to treat the newlyweds to a personal chef for the evening or an afternoon of indoor skydiving, there's an experience for every kind of couple.