The 18 Best Reggae Wedding Songs for Your Big Day
From Bob Marley to Jah Cure, we've got the perfect reggae playlist for your big day.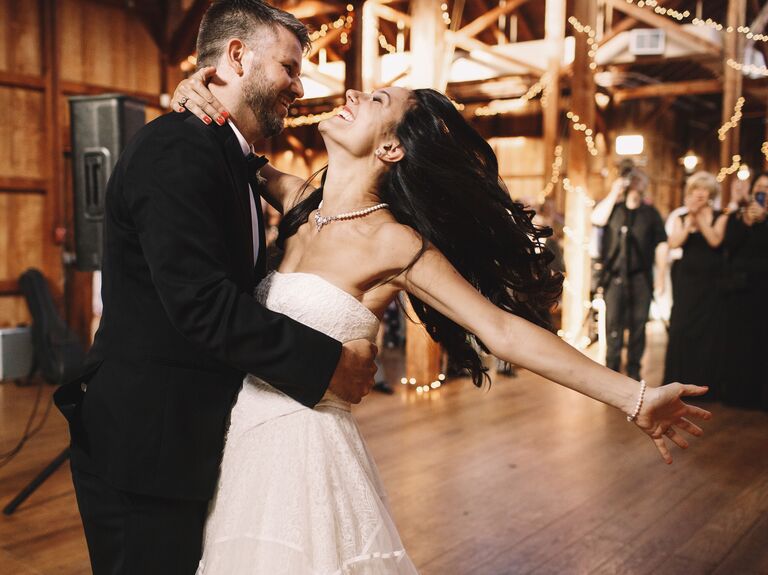 IVASHstudio / Shutterstock.com
For couples who can't imagine getting hitched anywhere but a Caribbean beach, or for duos with Jamaican roots, no wedding playlist is complete without reggae hits. Soulful, vibrant and full of the kind of lyrics that not only melt your heart but encourage you to groove, reggae music is romantic and sexy. Numerous artists across several generations provide various tones and dazzling lyrics, like Bob Marley, Tarrus Riley, Jah Cure and many others. If you're interested in including reggae music in your wedding day, you might hire a live band that specializes in the genre or work with your DJ to come up with the perfect playlist.
From your processional and recessional to your grand entrance into the cocktail hour and reception, these are the top reggae wedding songs.
"Satisfy My Soul," Bob Marley & the Wailers
Lyrics you'll love: "When we (bend) bend a new corner/I feel like a (sweep) sweepstake winner/When I meet you around the corner (round the corner)/You make me feel like a sweepstake winner"
This song was first recorded in 1970 with a different name ("Don't Rock My Boat") but was rerecorded in 1977 as a single in the band's album. The lyrics from legendary Bob Marley are fairly clear as a wedding song pick: you satisfy my soul, and you make me feel like I've won a sweepstakes. Talk about romance!
"I Can See Clearly Now," Johnny Nash
Lyrics you'll love: "I can see clearly now the rain is gone/I can see all obstacles in my way/Gone are the dark clouds that had me blind/It's gonna be a bright (bright)/Bright (bright) sunshiny day"
For most people, dating is not a walk in the park. It's full of heartbreak, disappointment, and, frankly, a lot of frustrations. It can feel near impossible to believe you're actually going to meet your forever person, so when you do, it's like you're seeing clearly for the first time. Released in 1972 by Johnny Nash, it instantly went to the top of charts in the U.S., Canada and South Africa. Forty years later, it's still a reggae wedding banger.
"La-La (Means I Love You)," The Delfonics
Lyrics you'll love: "Now, I don't wear a diamond ring/I don't even have a song to sing/All I know is/La la la la la la la la la means/I love you"
You might recognize this 1968 from its appearance in a handful of films, like The Family Man, Jackie Brown and Crooklyn. It's also been covered by iconic artists, like Prince. As a reggae wedding song, it's fun, loving, upbeat, and a perfect jam to sway to with your new spouse after a few glasses of champagne.
"Unconditional Love," Jah Cure
Lyrics you'll love: "You never see it coming/Then the next thing you know/Unconditional love",
For bilingual couples, this reggae wedding song choice features both Spanish and English lyrics. Originally released in 2013, it talks about the experience of finding an unconditional love that you never see coming and takes you by storm. Think about dancing to this, wrapped up in your lover's arms, on a Caribbean beach at sunset. Sounds just about perfect.
Find your kind of venue
From barns to ballrooms, discover reception venues that feel like you.
Close to You," Maxi Priest
Lyrics you'll love: "You make my dreams come true/I just wanna be close to you/And do all the things you want me to"
This reggae wedding song choice was released in 1990 and soon rose to the top of the charts in the United States, Australia and the United Kingdom. It's sultry and romantic—one of those love songs that's subtle but memorable.
"She's Royal," Tarrus Riley
Lyrics you'll love: "I never knew anyone so divine, no/The way she move to her own beat/She has the qualities of a queen"
No reggae song list is complete without mentioning the iconic Tarrus Riley. He released this song in 2006 on his album Parables. It not only became a sensation in the genre, but the official music video for the song has almost 90 million views worldwide. It's also pretty much how any bride wants to feel on her wedding day—royal and divine!
"Could You Be Loved," Bob Marley & The Wailers
Lyrics you'll love: "The road of life is rocky and you may stumble too/So while you point your fingers someone else is judging you/Could you be, could you be, could you be loved?"
On Bob Marley & The Wailers' final album, this infamous song made its debut. On your big day, it's ideal as a recessional or for your entrance into the wedding reception. It paints a realistic view of what relationships really require: the ability to weather rocky terrain but remember you're loved through it all.
"Forever More," Alaine ft. Tarrus Riley
Lyrics you'll love: "I wanna love you forever more(yeah yeah, yeah yeah)/And I'll be your husband/(I'll be your wife)"
Another hit from Tarrus Riley and the Jamaican-American singer, Alaine, this romantic 2009 song is a beautiful choice for walking down the sandy aisle of a Caribbean beach. It discusses love as magic, feeling a magnetic force and knowing your person is the person for you.
"Turn Your Lights Down Low," Bob Marley & the Wailers
Lyrics you'll love: "This potion might, this ocean might, carry me/In a wave of emotion to ask you to marry me"
Bob Marley & the Wailers released this song in 1977. You can choose their version if you want a classic reggae song or, for a more modern approach, you can select Lauryn Hill's cover from 1999. The lyrics are perfect for your wedding day (and first dance!) since they talk about how easy it is to love and how the waves of emotion make you want to get married.
"I'm In Love With You," Beres Hammond
Lyrics you'll love: "Yes, I'm in love with you / You're on my mind, oh baby"
When you think of how you want your spouse to feel about you, it's these lyrics. This 1979 classic from Beres Hammond's Just a Man album is a sweet option for any reggae wedding shindig.
"Angel," Shaggy ft. Rayvon
Lyrics you'll love: "Girl, you're my angel, you're my darling angel / Closer than my peeps you are to me, baby"
You may remember when this song came out in 2001 and quickly topped the charts in—wait for it—12 countries. Though it's probably not instantly what you think about when you consider reggae music, it does fit the category and features the Barbadian artist, Rayvon. Play it as a slow dance during your reception, and your guests will definitely stay on the dance floor.
"She's Mine," Barrington Levy
Lyrics you'll love: "Cause my love is her love and her love is my love"
Released in 1990, this reggae wedding song is the perfect romantic message to send to your spouse. It's an ideal song to dance to during the reception, or to play as background music during cocktail hour or dinner.
"Love Is," Jah Cure
Lyrics you'll love: "When you love someone, love from the heart/Cause love is the start, yeah/Love is the answer for every question"
For a more modern selection, consider this 2005 reggae love song. For a first dance, the processional or even as the last song of the evening, you can't go wrong with this Jah Cure choice. It sends the message that love is the only answer.
"One Love," Bob Marley & The Wailers
Lyrics you'll love: "One love, one heart/Let's get together and feel all right"
This Bob Marley hit was released as part of their very first album and quickly became a sensation (and perhaps best known for its role in the Jamaica tourism commercials). While it's often used as a song to unite people, it also makes sense as a wedding ballad. It makes a particularly fun last dance song—your guests will surely be singing along to this tune.
"No Letting Go," Wayne Wonder
Lyrics you'll love: "Got somebody she's a beauty/Very special really and truly/Take good care of me like it's her duty"
As one of Wayne Wonder's best-performing singles, this 2003 song is ideal for your celebration. It talks about finding your partner as beautiful and the responsibility of taking care of one another—definitely a sentiment worth adding to your wedding playlist.
"I Feel Good," Beres Hammond
Lyrics you'll love: "I feel good/When I'm wrapped up in your arms/Dancing to a reggae song"
Released in 2008, this modern reggae wedding song choice could be an excellent choice for your grand entrance as newlyweds. We love the lyrics, the beat and how it will get everyone up on their feet and dancing.
"Somewhere," Chronixx
Lyrics you'll love: "And I don't know if a beach or if a river side/But I wanna take you somewhere tonight"
When you fell in love with your partner, you wanted to be with them all the time. And as your relationship progressed and grew, you loved to see every beautiful thing through their eyes. This reggae dance song oozes sultry vibes and will help set the mood for your very special day.
"Red, Red Wine," UB40
Lyrics you'll love: "Red red wine, I loved you right from the start/Right from the start, and with all of my heart"
We all know—and love!—this reggae hit from UB40. After you've exchanged vows and rings and made it official, make sure to add this to your reggae wedding song playlist once everyone has had a few glasses of, well, red, red wine.