Rehearsal Dinner Planning: Everything You Need to Know
From crafting the guest list to creating the menu, follow our step-by-step guide to planning your rehearsal dinner.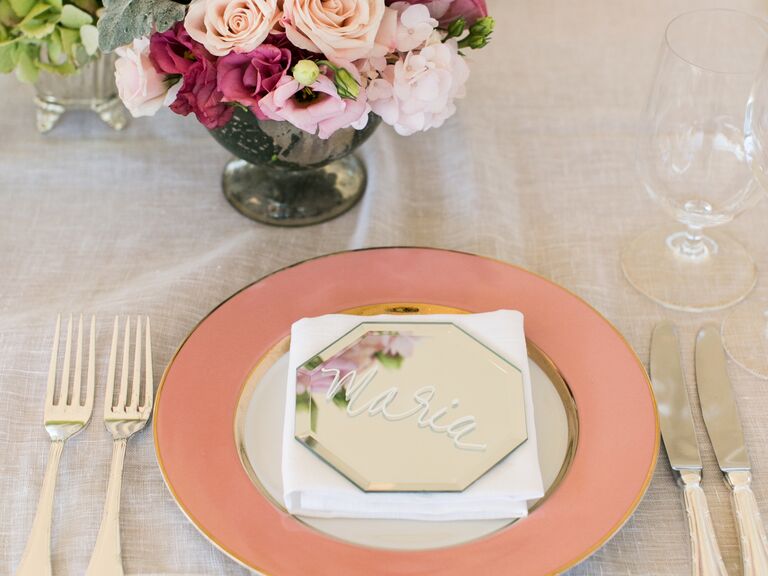 SAMUEL LIPPKE STUDIOS
Even though you're already throwing one huge celebration, don't forget about the smaller dinner party that goes along with it: your rehearsal dinner. Although it won't take as much planning, there's still a good amount of thought that should go into it. Find our top tips, below.
Step 1: Decide Who's Hosting
Traditionally, the rehearsal dinner is thrown in the couple's honor (usually by the groom's parents), but really anyone can host. Some couples even choose to do it themselves. One thing to keep in mind: The host usually takes care of the bill, which also means they get to be the creative director (as in flowers and invites are up to them).
Bonus tip: You should certainly give input on the big details, like the guest list and time frame, but don't get caught up in micromanaging the entire soiree. That's for the host to handle—stay focused on your wedding day!
Step 2: Put Together a Budget
This is the pregame, not the main event, so don't feel pressured to spend big on elaborate centerpieces and a four-course dinner. You're inviting a smaller group of guests and the focus should be on meeting and mingling, so let that guide your budget decisions. For example, instead of elaborate flower arrangements, you might splurge on upgrading the table to one long feasting table so everyone can sit together.
Bonus tip: Even if you're not the one hosting the rehearsal dinner, you'll still spend money on the event. Your outfits and any gifts you give out to your bridal party and family should all be budgeted for.
Step 3: Work Out the Guest List
The reason you're having a rehearsal dinner is to get quality time with those closest to you, so make sure they're on the guest list. The must-invites are your immediate families, your wedding party and their spouses or significant others, the parents of your flower girls or ring bearers, and your officiant and their spouse or significant other. If there are a lot of guests traveling from out of town (or you're having a destination wedding), then it's polite to invite most, if not all, of them. If that's just too many, give them nearby dinner ideas and directions on your wedding website.
Bonus tip: One way to include everyone without expanding the guest list for the actual dinner is to have welcome drinks or dessert for all of your guests after the rehearsal dinner.
Step 5: Know What You Want It to Look (and Taste) Like
If the host already has a location in mind, let that guide the menu and décor decisions. If not, give them suggestions. Even if you're having a classic, formal ballroom wedding, you could have a more laid-back affair the night before. Favorite foods, the place you went for your first date or even your honeymoon destination can drive the theme.
Bonus tip: You know your guests better than the hosts, so if anyone has any major allergies (like seafood, for example) let them know ahead of time so they choose a place that everyone can enjoy.
Step 6: Search for and Book the Rehearsal Dinner Spot
Restaurants and country clubs are the most common rehearsal dinner venues, but there's no reason you have to limit yourself to just those options. It could be on the beach, on a hotel rooftop, at a brewery, in a public park or even at a bowling alley.
Bonus tip: Think about location and the transportation situation for your guests (are there car services or will most guests have their own cars?), and tip the hosts off to any insider info you might have on the area (construction, traffic and so on).
Step 7: Send Out Invitations
Rehearsal dinner invites can be sent in the same envelope along with the wedding invitations or separately. For a casual rehearsal dinner, you don't need anything over the top. Send out simple paper invites, or for a small group, an evite or even a personal phone call with a follow-up email with all the details works too.
Bonus tip: Unless you're planning to invite everyone on your guest list to your rehearsal dinner, you don't want to include the rehearsal dinner on your main itinerary or wedding website.
Step 8: Tap Your Toasters
The rehearsal dinner is usually the time for the hosts to toast to the couple. You'll want to welcome the families together, thank everyone for attending and bring up sentimental stories that make everyone laugh (and cry!). The bridesmaids or groomsmen (except for the maid of honor and best man, who usually toast at the wedding), grandparents or anyone else could also give a speech.
Bonus tip: Give your toasters some time guidelines and let them know at what point during the night they'll be speaking (usually during or just after dessert), so when it gets to their turn, they're prepared. You may also want to prep a small speech for the rehearsal dinner to say a few words in honor of your soon-to-be spouse and thank guests, your wedding party and family for their support.
Step 9: Confirm the Timeline and RSVPs
One to two weeks before the rehearsal dinner, follow up with your officiant to double-check the rehearsal time as well as with the rehearsal dinner venue to make sure you're all set for the planned reservation. Call up any guests whom you haven't received an RSVP from to finalize the guest count for the catering and seating setup.
Bonus tip: The rehearsal is also a chance to make any last-minute announcements or reminders for the wedding day. Write down a list ahead of time for things you want to tell everyone, like what time the photos will be taken or where to meet for hair and makeup, so you don't have to track everyone down later that night.
Need sample wording for your rehearsal dinner invites? Right here.
Eleven super-fun rehearsal dinner themes, here.