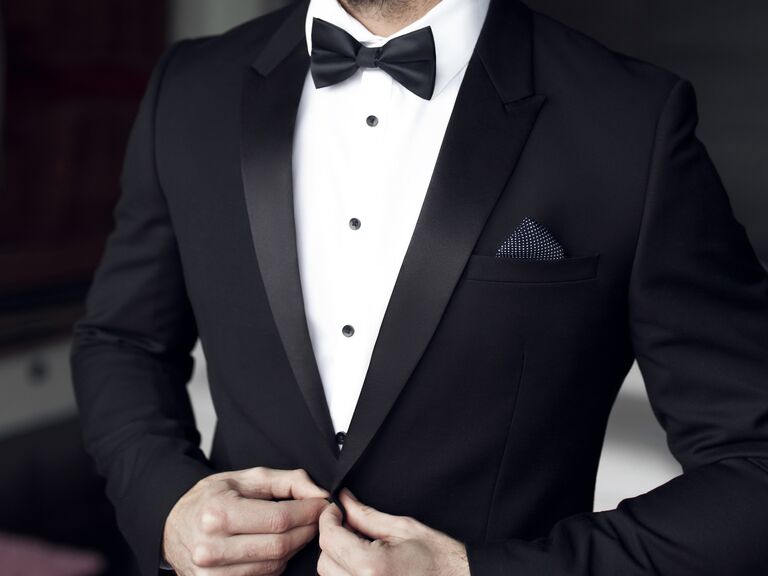 We're big believers in the idea that the clothes make the man. At least, they do on your wedding day—when you're beginning your new life as a husband, you want to look as handsome and polished as possible. (If not for yourself, for your partner!)

That brings you to some outfit-related choices. Do you rent a suit or tux, buy one or have one custom made? Here are the factors you should take into account when deciding what to wear.

1. Look at Your Budget
According to Joseph Abboud, menswear designer and chief creative director at Men's Wearhouse, renting will almost always be the most economical choice. Hands down, "it's less expensive to rent than to buy," he says. Another reason to rent? If you're the type who loves dressing up in the latest styles, renting allows you to wear something cutting edge without committing to that fashion for the next 20 events you go to.
2. Consider the Personal Significance
On the other hand, if personalization really matters to you, think about wearing a custom-made suit. Abboud explains that you'll have the most style options with a custom ensemble, from the lapels and pocket treatment to the fabric and even the lining. Plus, your suit or tux may mean a lot to you. After all, many brides keep their wedding dresses as mementos of one of the most important days of their lives, and you might want to do the same with your suit or tux. Whether or not you keep your outfit, you'll have the photos forever—so you'll want to be wearing something that makes you feel awesome.


3. Think About the Future
Will you have other occasions to wear your wedding suit or tux? "Renting is great when you need an outfit for a really specific occasion—like a wedding—and you're not going to wear it again," Abboud says. But if you have regular formal work events, or friends' and family members' weddings coming up, buying a suit or tuxedo can be an investment for the future that you'll get use out of for years to come.

...And Either Way, Know That You Can Tailor It

"People used to think you couldn't get a great fit in a rented suit, but that's not true anymore," Abboud says. "We tailor the suit to you," he says. Here's how it works at Men's Wearhouse: You'll have your measurements taken and see samples in the store, then order the style you want. A few days before the wedding, you'll pick it up and try it on—and if any last-minute adjustments are needed, they'll take care of them quickly. While the menswear designer acknowledges that you'll get the best fit when it's a custom-made suit or tux, he says you can definitely still look elegant and chic in a rented or off-the-rack suit. And not to worry—even if you're not a traditional size, rentals go all the way up to size 70.

The moral of the story: Don't let fear of an ill-fitting outfit stop you from renting. No matter what you choose, keep in mind that your look is just as important as your bride's. As Abboud says, "It's a very special day for the groom as well!"

We'll raise a toast to that.


The Knot and Men's Wearhouse Present Groom Style—a sponsored series full of inspiration and advice for putting together the perfect look for your wedding events. To check out more of the latest styles, visit MensWearhouse.com.