5 Ways to Save Money on Your Band or DJ
You can do it without sacrificing sound or style.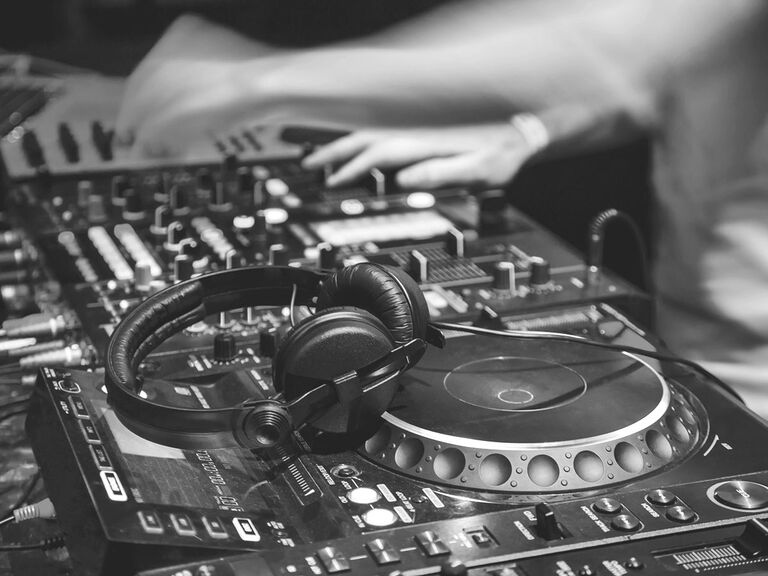 iStock
We totally get it: You want a dance party your guests will be talking about until your 10th anniversary—but there are limits to the budget. That doesn't mean you should have to sacrifice on quality music though. All you really need is a little creativity, plus these savvy tips.
1. Hire half the band or ask about DJ packages to cover your ceremony and cocktail hour.
If you're having a band at your reception, ask about hiring one or two members for the ceremony. "Because they're already planning to be at your wedding later on, they may charge less than you would pay for a separate ensemble," says Michael Taylor from Star Talent Inc. Similarly with DJs, see if you can get a package deal for one to play songs at both your ceremony and cocktail hour.
Bonus tip: Don't forget to come up with a plan for the after-party too—head to a nearby bar with live music or move to a smaller room and prep a playlist of songs for those guests who aren't quite ready to call it quits.
2. Decide to hire a DJ.
DJs usually tend to cost less than live bands. In 2016, couples spent on average $1,245 on a wedding DJ compared with $4,156 on a band (according to The Knot Real Weddings Study). Why so different? Mostly it's because you're hiring more than one person and, in many cases, paying for specialty sound equipment as well. But hear us out: There's a big difference between saving money on the music and choosing someone just because they're inexpensive: "You're entrusting your party to the DJ, so make sure you're using someone from a reputable company who will customize their performance," Taylor says.
Bonus tip: Like the adage goes, if it sounds too good to be true, it probably is—and a discounted price could mean they're skimping on equipment. "It doesn't matter if you have the best set of tunes if it's crackling through the speaker," says planner Annie Lee of Daughter of Design.
3. Opt for a smaller band.
If there's no way you're having a reception without a band (we hear you!), save by opting for fewer people. In other words, the smaller the band, the fewer people and equipment you'll need to pay for. It's not always an option, but cutting down your band from 12 pieces to eight or even six instruments and vocalists is an easy way to save on live music. "Depending on how powerful the band is, you may not notice a difference," says Harris Lane, founder of Hank Lane Music and Productions. "There are bands that can work in a five- to six-piece capacity and sound just as great as a 12-piece band," Lane says.
Bonus tip: There's no reason you can't scale down the size for your ceremony music too—instead of a trio or quartet, pick a professional soloist or duo.
4. Sign up for showcases.
If a band or DJ you're considering posts about a showcase, go. Think of it like a trunk show, but for music. And just like at a trunk show, sometimes attendees get access to special deals or discounts you wouldn't know about otherwise. Not to mention, seeing them in person means you'll get a great sense for not just their music, but their personality and style. "I know I would rather play for someone I see eye to eye with already over somebody who just saw my name and wants me to play music that isn't my specialty," says Michael Antonia, founder of The Flashdance.
Bonus tip: A lot of wedding bands and DJs are just as socially savvy online as they are on the stage. Usually, a DJ or band will post all their latest news (and maybe even discounts) on their Facebook, Instagram or Twitter accounts.
5. Book an associate.
If you really can't negotiate a price that works for you with a band or DJ you love, don't give up just yet. Ask about booking an associate. Oftentimes, great bands and DJs can recommend another person that works for them at a lower price, meaning you get a similar vibe and quality, just not the one most in demand. "I have five associates who work for me with all levels of experience, but who share the same philosophy and have a similar style to mine," Antonia says. "I work with them regularly to ensure consistency."
Bonus tip: Do a little bit of both. "The DJ may have an understudy who could set up the sound, and play the ceremony, cocktail hour and dinner, while the main DJ just comes for the dancing or after-party," Antonia says.
The top 10 wedding music myths, right here.
Don't make these music mistakes at your wedding.