Feast Your Eyes on Sofia Vergara's Sylvia Weinstock Wedding Cake!
The newlywed 'Modern Family' star didn't skimp on this five-layer masterpiece by Sylvia Weinstock.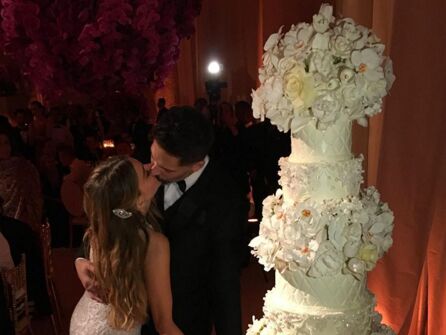 Instagram.com/SofiaVergara
When it comes to winning Sofia Vergara's heart, there's some serious competition between new husband Joe Manganiello—and cake! We all know the Modern Family actress has a super sweet tooth, so it's no surprise that her wedding cake from their Sunday night reception was out-of-control amazing. Celebrity cake baker Sylvia Weinstock designed this dessert to match the decadent venue. The cake was a five-layer masterpiece with a delicate quilted design and white and ivory flowers spilling over each tier. This cake designer isn't known as the "queen of cakes" for nothing!
Although the towering confection was clearly the star, dessert-lover Vergara couldn't limit the reception sweets to just cake—that would obviously be ridiculous! According to People, the rest of the spread featured The Breakers Resort's special sundaes (vanilla, strawberry and chocolate ice cream, of course) in gilded fluted cups made of dark chocolate. Toppings included marinated berries and pink hearts that read "Joe Loves Sofia."
See their stunning wedding cake here.