The Cutest Nashville Bachelorette Outfits For Stylish Brides & Guests
Look the part for a party in NashVegas.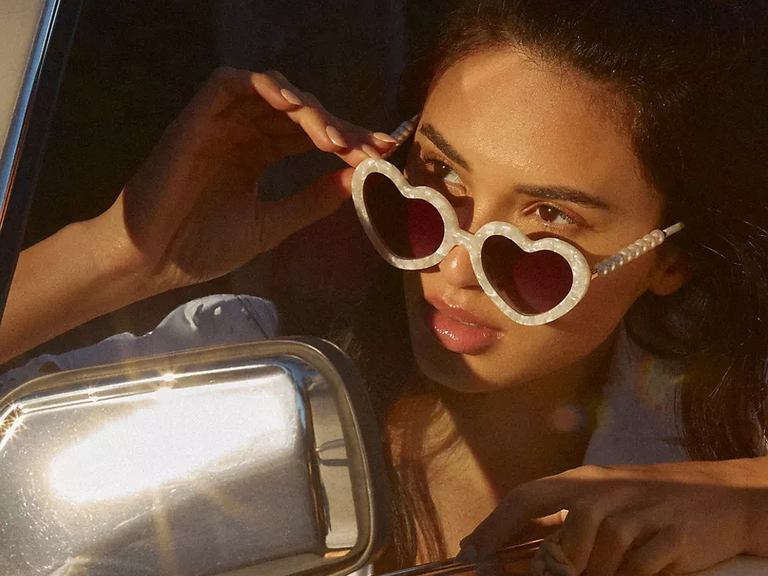 Photo: Anthropologie
We have included third party products to help you navigate and enjoy life's biggest moments. Purchases made through links on this page may earn us a commission.
If you have a serious love for country music, delicious food, and honky-tonk bars, then there's no better place to celebrate your upcoming nuptials than Nashville, Tennessee. It's one of the most popular cities to have a bachelorette party for a reason: it's fun, a little bit over-the-top, and full of Southern charm.
To really get into the vibe of this lively city, the bride and all of the guests need to dress the part. Nashville bachelorette party outfits should be fun and playful, and it doesn't hurt if they have a bit of a Western vibe to them as well. Before you search for the perfect outfit, make sure you figure out the theme of the bachelorette party. A disco cowgirl theme is going to be pretty different from a rock 'n' roll theme, for example.
You should also remember some general dress code rules: the bride is likely going to be wearing white and/or silver, so avoid anything ivory or white and stick to some color. Check-in with whoever is planning the party to find out if there are any theme nights where you're all going to be expected to wear something specific or if there are any events or days where you'll all be wearing matching outfits.
Once you know what to expect, you can start shopping. Continue reading to find out exactly what to look for to get the perfect Nashville bachelorette party outfit.
In this article:
Nashville Bachelorette Outfits for the Bride
It's your bachelorette party, which means there's never been a better time to wear outfits that really make you stand out. White, ivory, or silver are all obvious options that very clearly make the statement that you're about to get married. Of course, you don't have to stick with those shades—wear what you feel comfortable in.
Altar'd State Allure Floral Romper
This flouncy romper features a tie waist and double-layer bottom for a cute and flirty look. This is a versatile pick that can easily be dressed up with heels for a night out or dressed down with boots or sneakers for a daytime activity. It's cute and comfortable and can be worn again and again.
Size Range: XS-L
Altar'd State Kylan Western Boots
Authentic cowboy boots can get pretty expensive (think $400 and up). If you want the look but don't want to spend that much, these Western boots are a great alternative. They have a chic design on the side and hit mid-calf so you won't get too warm in them. Wear them out to a honky tonk bar or stroll the streets in them for a shopping trip.
Size Range: 6-10
Show Me Your Mumu Getting Hitched Jacket
This rhinestone-studded white denim jacket was basically made for a Nashville bachelorette party. It has an oversized fit with just enough sparkle to make it stand out, and it feels really bridal. You can wear this to pretty much any event, and it would also make for cute photos at the bridal shower, rehearsal dinner, or even the wedding.
Size Range: XS-XXL
Show Me Your Mumu Outlaw Romper
Cute, casual, and comfy, this white denim romper will quickly become a new staple in your wardrobe. It's easy to dress up or down, but it's really ideal for a casual outing when you still want to look Instagram-ready. You don't need many accessories for this look either, if you want to keep it low-key.
Size Range: XS-XXL
LoveShackFancy Arno Bustier
This white lace corset is romantic and sexy at the same time. It's a great pick if you're doing more of a rock 'n' roll theme and would look cute with a white skirt, a pair of jeans, or even a pair of leather pants. Throw a denim or leather jacket over it if needed.
Size Range: 0-14
Lulus Ravishing Allure White Strapless Fringe Dress
This strapless white mini dress features just a bit of fringe at the hem, making it a little more subtle with a definite Western vibe. This is beautiful on its own for a night out, but could also be dressed down with a denim jacket. Pair it with heels or even cowboy boots.
Size Range: XS-XL
Bride Pearl and Rhinestone Cowgirl Hat with Veil
You could just get a regular cowboy hat in a solid color… or you could be just a little bit extra and get a white cowboy hat that says "bride" on it in big, bold letters. The second option is a lot more fun. The sparkly silver accents on this are festive and make any outfit feel more special, and the veil adds a touch of romance.
Size Range: One size
Show Me Your Mumu Jacksonville Cropped Jumpsuit
White might be the bridal go-to for bachelorette parties, but there's no rule that says you can't do something different. If white isn't your thing, opt for a bright color, like this vibrant floral jumpsuit. It's comfortable and a bold choice for going out dancing.
Size Range: XS-XXL
12th Tribe Gatsby White Fringe Crop Top
This white fringe crop top is cute, bridal, and surprisingly versatile. Wear it with jeans for a more dressed down look, or pair it with a matching white fringe midi skirt for a full set. It's swingy and flirty and it's something you'll definitely wear after the bachelorette party is over.
Size Range: S-L
Lele Sadoughi Sweetheart Sunglasses
You definitely need to have a pair of sunglasses on hand if you're going to Nashville. If you want to splurge on an accessory, Lele Saoughi makes the most chic heart shaped sunglasses ever. Mother of pearl and gold details makes them feel extra luxe and they have a slight vintage vibe to them. Use them for some fun wedding photos as well.
Size Range: One size
We The Free Firecracker Flare Jeans
It's always a good idea to pack a pair of jeans when going away. These white flare jeans are really comfortable, with a stretchy fit and a high waist. The stars on the back pockets make them even cuter. Wear these with a crop top and heels for going out, but they'll look just as good with sneakers.
Size Range: 24-33
12th Tribe 'Til Death Black Vegan Leather Jacket
You simply can't go wrong with this option for a rock 'n' roll theme in Nashville. It's the perfect statement jacket and is made of super soft vegan leather. This would look good over literally anything and is something you'll wear again and again. This is another accessory that would make for some fun wedding photos on the big day.
Size Range: S-L
Free People Cecelia Sheer Mini Dress
This loose-fitting mini dress features delicate floral details, a sheer overlay, and a creamy ivory color. It's sweet with a little bit of edge, and makes for a great daytime dress or a going out option, depending on how you style it.
Size Range: XS-XL
12th Tribe Pippa Silver Disco Sequin Mini Dress
Going for the disco cowgirl or space cowgirl theme? Then you definitely need a sequin dress like this one. Silver feels almost as bridal as white, and this dress stands out enough to let everyone know you're the one who's about to get married. Cowboy boots dress it down just enough for a Nashville night out.
Size Range: XS-XL
Nashville Bachelorette Outfits for Guests
As the guests of a bachelorette party, there are only a few rules you have to follow: don't wear white and go with the vibe of whatever theme or matching night everyone has planned. For a Nashville bachelorette party, it's fun to get into the spirit of things with some Western-inspired looks, whether you're going out dancing or heading to brunch.
Show Me Your Mumu Billings Dress
Cute, casual, and fun, this denim mini dress features an adjustable belt and some smocked detail in the back. It definitely has a bit of a cowgirl look to it, especially if you wear it with cowboy boots or a hat, but you could also wear it with sneakers or heels. The bright blue color is so pretty.
Size Range: XS-XXL
PATLOLLAV Beaded Sequin Evening Cape
Pack this sequin cape in your bag to throw over just about anything for a night out. It will elevate any outfit, making it look just a little more fun. The gold sequins add some sparkle, and it's very lightweight, so it's good for a warmer climate.
Size Range: One size
Show Me Your Mumu Outlaw Dress
Although Nashville is known for its hot weather, there are certain times of year it can be a bit more chilly. This black corduroy dress is great for those days. It comes with an adjustable belt and will quickly become a casual staple in your closet.
Size Range: XS-XL
Lulus Shaniaa Chestnut Suede Fringe Knee High Boots
Not ready to fully commit to cowboy boots but still love the look? Opt for these suede fringe knee high boots. They have the same vibe and have a definite Western feel to them. Wear them with a mini dress when going out, or over jeans.
Size Range: 5-11
Retrofete Brielle Vest
Whether the party is Western themed or rock 'n' roll themed, this denim vest is a good choice. With a tighter cropped fit, it definitely has a sexy feel to it. Go denim on denim by wearing it with jeans, but you can also pair it with a solid colored skirt to go out.
Size Range: XXS-L
Jeffrey Campbell Dagget Western Boots
These fun cowboy inspired boots come in seven different colors. The gold is the most versatile option, and if you want something bolder, opt for pink or purple. These have a small heel and are comfortable enough to wear all day and all night.
Size Range: 6-11
Pink Lily Nashville Sage Acid Wash Rolled Sleeve Graphic Tee
This graphic tee is perfect for a retro cowgirl-themed bachelorette party, but even if it's not retro-themed, this is fun for Nashville. It has an oversized fit, and if you get it in a size up, you could probably pair it with boots as a mini dress. Otherwise, throw it on over jeans or shorts for a casual outing.
Size Range: S-L
Stoney Clover Lane Denim Scrunch Handle Bag
You don't want to pack your suitcase with too much stuff, so bringing one bag that will do it all is your best option. This small denim handle bag will be perfect during the day while shopping or at night when going out drinking. It's a great size and the denim will go with anything.
Size Range: One size
Miss Selfridge Western Suedette Longline Jacket
A fringe suede jacket like this one was made for a weekend of Western vibes. It's ideal for chillier weather, so you probably wouldn't want to pack it for a spring or summer bachelorette party. The fringe makes it a big statement piece.
Size Range: 0-14
Nasty Gal Contrast Fringe Straight Leg Jean
There aren't a ton of instances where these fringe jeans will feel like the perfect fit, but a trip to Nashville is definitely one of them. Wear them with a crop top when heading out for the night, or keep them dressed down with a tank and some sneakers while going to brunch.
Size Range: 2-10
Cleobella Rebecca Blouse
Puff sleeves, an elastic waistband, and a sweet picot detail at the hem make this feminine blouse something you'll wear over and over again. It's a versatile pick that can be dressed up or down, and it's good for almost any season (with or without some layers). The mustard yellow color is really nice too.
Size Range: XS-L
Lulus Light Up the Night Sequin Shift Dress
Whether the bachelorette party has a country theme or a rock 'n' roll theme, this dress is a good idea. The glimmering material will stand out (in a good way) and the v-neckline and short sleeves have a more classic vibe to it, making this feel both sexy and put together. It comes in a few different colors too.
Size Range: XS-3X
ASOS Weekend Collective Multiway Bandana and Top
The pictured model is wearing this bandana as a sort of strapless crop top, which is a very cute option. However, you can get creative and wear this a few different ways: over your hair or even as a little mini skirt. It has a definite Western vibe and is super versatile.
Size Range: One size
UO Nikita Lace Hanky Hem Midi Dress
The pointed triangular hem of this midi dress is really what makes it feel more unique. With pretty lace throughout, an empire waist, and thin spaghetti straps, this feels feminine and delicate. It would be so pretty for a night out.
Size Range: XS-XL
Types of Nashville Bachelorette Party Outfits
Your Music City wardrobe doesn't have to be all cowboy boots and fringe vests. There are so many different types of bachelorette party outfits you could wear throughout the weekend, from sexy night-out options to more low-key and casual daytime looks.
Western Bachelorette Outfits
There are so many different themes that go hand-in-hand with a Western vibe: Last Rodeo, Last Hoe Down, Nash Bash, Let's Get Nashty, Boots and Booze, and Disco Cowgirl, just to name a few. They all basically mean the same thing: you're going to need some really cute cowgirl-inspired clothing. Think fringe, cowboy boots, denim, cow print, and maybe some sparkle. These outfits can be worn throughout the whole weekend, whether you're heading out to the bars for a night of drinking or walking around shopping.
Rock 'n' Roll Bachelorette Outfits
Since Nashville's nickname is Music City, a rock 'n' roll theme just makes sense and is especially great for brides who want to do something a little bit different. Imagine themes like Rock 'n' Bach, Leather and Lace, 'Till Death Do Us Part, and Bride or Die. For these types of things, you'll want something a bit more edgy than just cowgirl chic. Sparkly blazers, leather jackets and pants, fringe shirts, ripped jeans, and maybe some cool band tees are all appropriate options. You can even add some Western-inspired vibes if you want to, like edgy cowboy boots.
Casual Bachelorette Outfits
Bachelorette parties aren't just about going to restaurants, bars, and clubs – there are plenty of low-key moments you'll need to dress for as well. Be sure to pack some casual outfits that don't require a lot of effort. You may want to pack a nice athleisure set for a group workout, a cute tee and shorts for daytime activities, or a matching sweatsuit for lounging.
Trendy Bachelorette Outfits
At the moment, bachelorette party outfits are all about having fun with your clothes. The trendiest looks feature over-the-top glam moments that are photo-ready for social media. This is your chance to try something different. For Western themes like Last Hoe Down or Disco Cowgirl, you might want to try a fringe skirt, a hot pink mini dress, bold cowboy boots, or a feathered top. For rock 'n' roll themes, look at leather pants, corset tops, oversized band tees, and cool sneakers. These trendy looks can be worn throughout the whole weekend.
Matching Bachelorette Outfits
It wouldn't be a bachelorette party without at least one set of matching outfits. The most popular option is to wear matching t-shirts one day or to one event. There are tons of options available online, like shirts adorned with little cowgirl hats or shirts that say things like "Let's go Girls." If the bride wants to skip that matching look, they might opt for a more subtle color-coordinated vibe, like having all guests wear black and pink or having everyone wear something silvery and sparkly.
Where to Shop for Nashville Bachelorette
There are plenty of shops and retailers that sell clothing that's perfect for a bachelorette party, but these are especially worth visiting.