A Tampa Bachelor Party City Guide to Plan Your Weekend
The ultimate Gulf Coast bachelor getaway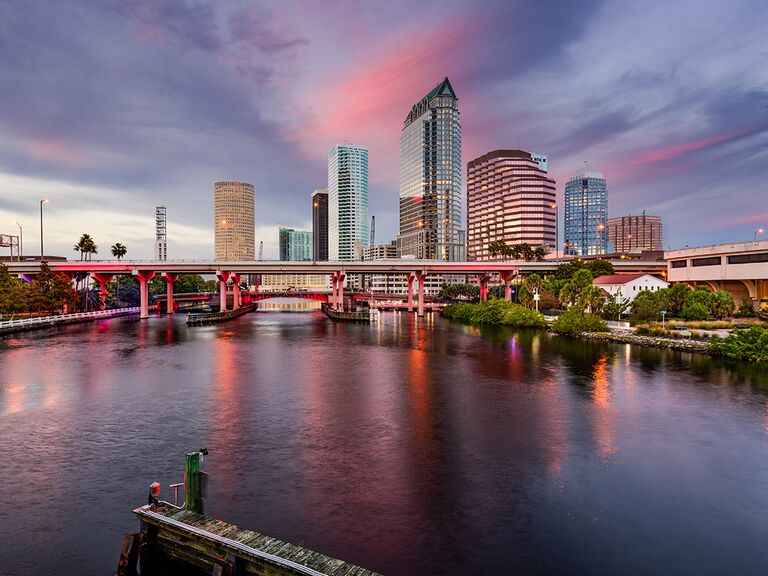 ESB Professional/Shutterstock
Most people think Miami when it comes to a Florida bachelor party, but it's time to think again: A Tampa bachelor party has plenty of the same party-scenes you'd find in Miami in its own Ybor City, with a laid-back beach town vibe in the mix. Plus, the under-the-radar destination means you won't be fighting as many long lines to get into the clubs. There's plenty of fun in the sun to be had—this hot spot destination gets 361 days of sun a year—with some of the countries best beaches, a range of water and land-based activities (boating and golfing, anyone?) and plenty to see in nearby Clearwater and St. Petersburg (better known as St. Pete).
What Are Some Tampa Bachelor Party Ideas?
For the groom looking to mix his time between land and sea, there's no better place to be than Tampa. Combine pristine beaches with plenty of activities from volleyball to paddleboarding with a raging nightlife, golf courses, and more and you won't be able to find a happier groom. Oh—and grooms, don't forget to thank the guys for making the trip with a custom gift from The Knot Shop.
For Water Dwellers
It should come as no surprise that this Gulf Coast paradise has plenty of options for adventures on the water. Choose between chartering a boat for a day of fishing, stand up paddle boarding, renting a party boat to take you to your own personal beach party, or just lounging the day away on the shores of Clearwater beach or another sandy mecca.
For Land Lovers
Rather spend your days on land? Tampa has you covered with more than 50 golf courses to choose from, a top-notch Topgolf, go-karting, and so much more.
For the Party Animals
The party in Tampa is by day and by night. While the sun is out, check out local breweries, cideries, and distilleries, (or book a party bus to try and taste them all); then at night head to local dive bars and upscale hot spots for live music, rooftop beer gardens, nightclubs, and more.
What Do You Do at a Bachelor Party in Tampa?
From the beach to the breweries, there's so much to do in Tampa. Here's how to plan out a Tampa three-day bachelor party weekend.
Day 1
Morning: Check into your hotel or AirBnB, then make your way to brunch at Cask Social Kitchenin downtown Tampa. Menu items include everything from a candied bacon jar and Nashville hot chicken to tuna poke bowls and deep fried French toast—the perfect way to start the ultimate Tamp bachelor party.
Afternoon: As you wait for the full crew to trickle in, take the day to enjoy one of Tampa's best beaches. Park yourselves on St. Pete's Beach, and make sure you set up near the Undertow Beach Bar. This no-shoes required spot offers a robust drink menu, served by bikini-clad bartenders and often has live music throughout the day.
Evening: Shower up and head to Franklin Manor for happy hour. Home of the $5 Ketel One and $3 Corona, this laid-back bar also offers $8 craft cocktails and tasty apps like Cuban nachos and asiago and truffle beer cheese house frites. Then it's off to dinner at a Tampa favorite: Oystercatchers in the Grand Hyatt Tampa Bay. Try to nab a table on the deck for the ultimate views (but interior tables don't suffer with large windows looking out to the beach). Dinner includes options like Gulf snapper and surf & turf, and we highly recommend a seafood tower for the table. Then pick your poison for a night out: Go for a chill vibe at Hub Bar, a local dive with a 1940s vibe, the party scene at the Patio with its rotating craft beers and live music in an ideal outdoor setting, or a speakeasy vibe at CWs Gin Joint, home to delicious and artisan craft cocktails.
Day 2
Morning: Brunch today is at the Rusty Pelican on the waterfront. The a la carte style brunch features fried chicken and waffles, hangover hash with braised prime rib, crab legs, belgian waffles, and of course, a mimosa bar where you can have unlimited pours of flavors like Tangerine Ginger and Pineapple for $18.

Afternoon: There's lots to see and do in Tampa, but for your second day, make the most of your location right on the Gulf with a day spent on the water. Choose between a party boat rental(choose between a private cruise or a party barge) where you can splash and drink the day away with nearby boaters, guided by a captain so you don't have to worry about anyone getting you safely home. Or try your hand at reeling in a big one with afishing charterwhere you'll cast a line for snook and trout.
Evening: Dinner tonight is a more casual affair at Crabby's Dockside in Clearwater. The fresh seafood menu includes an oyster bar, conch fritters, and mahi mahi. Don't miss the Crab Trap Bucket—a cocktail served, you guessed it, in a bucket, to get the night started. Make your way to the popular Ybor City for the rest of your night. Here you'll find The Ritz Ybor for live music and DJs, as well as other favorites including an outpost of the Coyote Ugly Saloon (yes, with bartenders on the bar), Red Star Rock Bar, The Dirty Shame, and Reservoir Bar—this area makes for the perfect night of bar and club hopping. If you need a late night munch, be sure to stop at Taco Bus for the perfect bite.
Day 3
Morning: Start the day with brunch at Datz(brunch is served on Sundays until 9 p.m., so it's okay if you get a late start!). Dishes like the Cubano breakfast sandwich, pork belly breakfast burrito, biscuits and crazy (a topping of sausage gravy, bacon, and potatoes), and salted caramel donut waffles are the ultimate hangover cure. Still not enough? Have a bit of the hair of the dog with their cocktails, including frose for my brose and "Dunk This Donut" a cocktail maid of Wild Turkey 101 Rye, Grind Espresso Liqueur, cold brew, black walnut bitters—and of course a powdered donut..
Afternoon: Today, let your groom pick what suits him best with one of the following: A day of golf—from one of the more popular public courses including the Copperhead Course at the Innisbrook Golf Resort, Lakewood National Golf Club, or TPC Tampa Bay, or hitting a few with beer in hand at the local Topgolf. Rather keep the party going? Tampa has a great craft beer scene. Take a self guided tour to spots like Cigar City Brewing, Cigar City Cider & Mead, and Tampa Bay Brewing Company. Or relieve yourselves of DD duty and take a tour viaBrew Bus's bachelor party package, which includes hand-rolled cigars, bourbon tastings, a tour of the craft breweries in the area, and even dinner at a restaurant of your choice.

Evening: Finish the trip with a true guys-night out. Start with dinner at Bern's Steakhouse, with 15 cuts to choose from, or go for luxe beef tasting. And don't forget to order from the seasonal array of sides and apps on the menu, too. Then head toShepherd's Beach Resort, where you can hop from the Tiki Beach Bar to its Wave Night Club to its Salt Tequila Bar and Tap Room all in one epic night.
Where Should I Stay in Tampa for a Bachelor Party?
Given that a weekend in Tampa can mean hopping between Tampa, Clearwater, and St. Petersburg, things can be pretty sprawling. Still, Uber and Lyft are easily and readily available to take you where you need to be, so if you don't care about walkability, where you plant yourselves for the weekend shouldn't matter.
Best Tampa Bachelor Party Hotels
Tampa Marriott Water Street is a great option for luxe amenities, waterfront views, and easy access to all activities in and around Tampa.
Shepherd's Beach Resort is an affordable option on Clearwater Beach, with a private beach, large pool, and access to a rowdy nightlife in the resort (not to mention suites for your crew).
Hotel Alba Tampa by Hilton is a great spot for a tighter budget still looking for upscale amenities. The hotel features a pool with lounge chair drinks and a free shuttle to take you to nearby spots.
Best Tampa Bachelor Party AirBnBs
For other home rental options, we've found success using sites likeVRBO and HomeAway.com.