These Taylor Swift Eras Outfits Were Made for Your Bachelorette Party
In our eras era.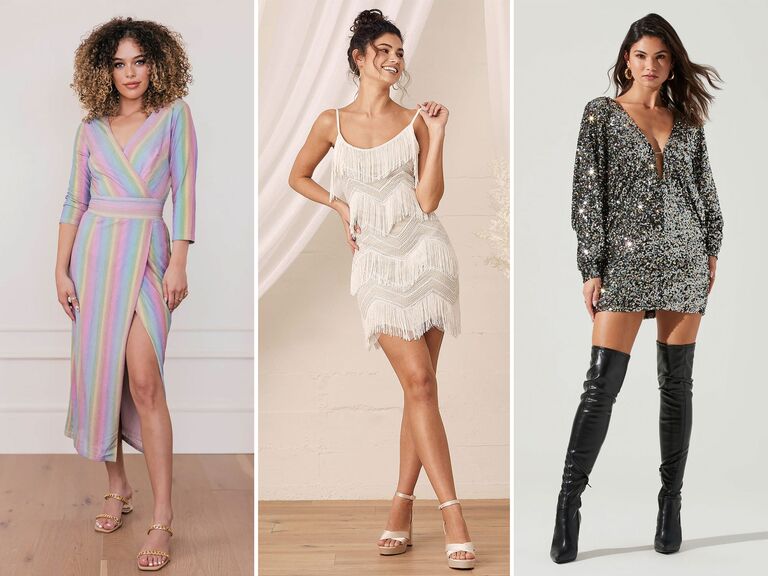 We have included third party products to help you navigate and enjoy life's biggest moments. Purchases made through links on this page may earn us a commission.
You may have been planning your Taylor Swift eras outfits, but what about your upcoming Taylor Swift bachelorette party?
From bejeweled jumpsuits and flowy Folkore-inspired frocks to crochet mini dresses and sequin two-piece sets, there's no shortage of bachelorette party outfit ideas out there to match your tour friendship bracelets. We even tapped The Knot's resident Swifties on some of their favorite Taylor Swift-era looks that are available to shop right now. Oh, and don't worry, we found the best bridal bachelorette dresses for each era, too. So drop everything now and get ready to add to cart.
One, two, three—let's go bach!
In this article:
Taylor Swift Debut Era Outfits
ASOS Labelrail x Pose and Repeat Mini Cami Dress with Butterfly
Give a nod to Taylor's debut album artwork with this summery cami dress from ASOS that has a sweet but subtle butterfly detail on the center bust. Plus, it comes with detachable diamond straps to customize your perfect bachelorette party outfit.
Size Range: UK 4-18
TK Editor's Pick: H&M One-shoulder Satin Dress
Recreate the iconic blue gown moment in the "Our Song" music video with this one-shoulder satin dress from H&M. Nic Taliaferro, The Knot's fashion content strategist, adores the lace trim at the upper and lower edges that give this bach party dress a casual country edge.
Size Range: XXS-XXL
For the Bride: Lulus Picnic Perfection White Eyelet Embroidered Ruffled Mini Dress
When you think happiness, we hope you think of this little white dress. Just add your favorite pair of cowboy boots and style your hair into Taylor's classic spiral curls, and you're ready for your bachelorette party in Nashville.
Size Range: XS-XL
Taylor Swift Fearless Era Outfits
Nasty Gal Strappy Tassel Mini Dress
When Taylor Swift said "I'd dance in a storm in my best dress," we like to believe this is the dress she's referring too. This Nasty Gal mini is the epitome of her Fearless era, complete with gold tassels and plenty of movement to keep the bach party going all night long.
Size Range: 2-20
TK Editor's Pick: Needle & Thread Dianella Sequin Mini Dress
If "Love Story" is your favorite Taylor Swift song, then you need to say yes to this Needle & Thread mini dress. This blush pink bachelorette party dress easily became an editor pick when we saw its high-shine floral sequins and soft pastel shades. It's also available in champagne for our brides-to-be who want to pick out a white dress.
Size Range: 2-14
For the Bride: Lulus Shake it Off White Sequin Fringe Sleeveless Mini Dress
Brides can get in on the Fearless-inspired fringe too. We can't get enough of all of the fringe, beads and sequins. Can you believe this bachelorette party dress from Lulus is under $100? Not to mention, this mini also makes a great 1989 pick.
Size Range: XS-XL
Taylor Swift Speak Now Era Outfits
Selkie Lilac Puff Dress
A gown shaped like a pastry never looked so good. Layers of gathered organza and puff sleeves will have all eyes on you. Not only does this dress come in the prettiest shade of lavender, but it's available in a wide range of sizes because everyone deserves to have their Speak Now moment.
Size Range: XXS-6X
TK Editor's Pick: Ivy City Co. Enchanted Dress
Our editors were wonderstruck when they came across this Ivy City Co. dress, and we know you will be too. The floral embroidery, flattering waistline and soft tulle fabric speak for themselves! Pair with wrist-length gloves and dainty closed-toe heels for an enchanting bachelorette tea party look.
Size Range: XXS-3X
For the Bride: ASTR The Label Clarita Cutout Puff Sleeve Mini Dress
Drop everything now, because sparks are flying over this ASTR The Label mini dress that was made for the bride-to-be. It's the perfect bach dress for evening cocktails with your besties or a morning brunch at a Charleston bachelorette weekend.
Size Range: XS-XL
Taylor Swift Red Era Outfits
Lulus Sheer Attraction Red Long Sleeve Ruffled Mini Dress
If Red (Taylor's Version) is on repeat, then you need the quintessential (and affordable) red dress to match for your upcoming bachelorette trip. The ruffled cuffs, a V-neckline and a flowy A-line miniskirt are showstoppers, which means everyone will remember this dress all too well.
Size Range: XS-XL
TK Editor's Pick: Expression Tees A Lot Going On At the Moment Shirt Dress
It wouldn't be a Taylor Swift outfit round-up without this iconic graphic tee from her "22" music video. Go retro and tuck it into black high-waisted shorts, then finish off the look with a black hat and heart-shaped sunglasses for a day exploring Austin with your BFFs.
Size Range: XS-XXL
For the Bride: Revolve Superdown Patty High Neck Crochet Dress
Oh my, what a marvelous dress. The crochet lace and high neckline give it a vintage touch, but if you really want to lean into the Red era as a bride, try accessorizing with a pop of color like a pair of bold red heels or statement earrings.
Size Range: XXS-XL
Taylor Swift 1989 Era Outfits
Nasty Gal Multi Metallic Tiered Fringe Shorts
When it comes to Taylor Swift themed party outfits for a 1989 bachelorette, this one from Nasty Gal was made for the new romantics. Available in multiple metallic colors, these tiered tinsel fringe shorts even have a matching jacket available if you want to go all out.
Size Range: 0-12
ASOS EDITION Square Paillette Sequin Crop Top and Midi Skirt
1989 was all about two-piece sets, vibrant colors, and, of course, lots of shimmer. So we found an outfit that checks all of the boxes for a Taylor Swift era themed party. The frayed-hem midi skirt and matching crop top are something out of our wildest dreams.
Size Range: 0-14
For the Bride: Amanda Uprichard Tish Top and Dale Mini Skirt
You'll be the bride that never goes out of style in this sparkly two piece set from Revolve. Pair with Taylor's signature red lip and a blunt bob, and you'll be ready for your New York bachelorette party weekend.
Size Range: XS-XL
Top:
Skirt:
Taylor Swift Reputation Era Outfits
12th Tribe Martini Black Mesh Mini Dress
Are you ready for it? This Reputation era outfit is a mesh black mini dress adorned with rhinestones and faux feather cuffs. Take it from us: This little black dress is gonna be your end game for your next bachelorette party.
Size Range: S-L
Lulus Flirty Moves Black Sequin Strapless Wide-Leg Jumpsuit
We won't blame you if you want a Reputation dress alternative, so look no further than this bachelorette party jumpsuit. Adorned with all-over black sequins, it has a strapless sweetheart bodice and wide-leg pants for plenty of drama. Wear it to your bachelorette party in Vegas and see where the night takes you.
Size Range: XS-XL
For the Bride: ASTR The Label Nebula Sequin Dolman Sleeve Mini Dress
Only bought this dress so you could... well, you know the rest. The high-shine sequin finish of this sexy bachelorette dress for brides is complemented by a plunging V-neckline and long dolman sleeves. Dress it up with a pair of high heels or a sultry pair of knee-high boots for your big night out.
Size Range: XS-XL
Taylor Swift Lover Era Outfits
JessaKae Luminaria Dress
We promise that your bestie will never find another like you when you wear this pastel rainbow dress from JessaKae! Whether you're going to a bachelorette brunch, dinner in Savannah or just attending a Taylor Swift era themed party, this midi wrap dress is a go-to choice.
Size Range: XXS-5X
TK Editor's Pick: Queen of Sparkles Rainbow Checkered Mesh Overlay Tee Dress
The Knot Account Executive, Rebecca Taylor, wore this Queen of Sparkles dress to the eras tour, and we also think it would be the perfect bachelorette party dress. Not only does it give us Lover vibes, but the rainbow checkers have colors from nearly every era.
Size Range: XS-XXL
For the Bride: ELLIAT Envisage Dress
Ladies and gentlemen, will you please stand? Because this dress was made for the Lover bride. This whimsical pastel midi dress has smocked cuffs, a ruffle trim, and an asymmetrical hi-low hem. You'll look like you stepped right out of the album cover.
Size Range: XXS-XL
Taylor Swift Folklore Era Outfits
Lulus Loveliest Looks Dusty Blue Floral Jacquard Tie-Strap Midi Dress
If Folklore is your favorite album but you're still trying to keep it semi-formal for a night out, check out this woven jacquard midi dress from Lulus in dusty blue and blush pink. You can still lean into your Taylor Swift era themed party and pair it with your favorite cardigan.
Size Range: XS-XL
TK Editor's Pick: Free People Extratropical Maxi Dress
Whether you're taking a stroll through the Hamptons or on Siesta Key during your bachelorette weekend, this Free People dress reminded our editors of the flowy dresses Taylor wore during her Folklore era on tour. Plus, it's a stunning maxi bachelorette dress that won't slip away like a bottle of wine, because you can wear it again and again.
Size Range: XS-XL
For the Bride: BHLDN Belize Embroidered A-Line Long-Sleeve V-Neck Gown
There goes the most gorgeous bridal bachelorette dress we've ever seen. With a plunging V-neckline, gorgeous embroidery, and subtle beading, this BHLDN maxi dress offers endless possibilities. Who knows if you never wore it what could've been?
Size Range: 0-18
Taylor Swift Evermore Era Outfits
Lulus Fresh Picked Mustard Yellow Floral Print Backless Maxi Dress
The allover floral print is the focal point of this stunning maxi dress, perfect for a daytime bachelorette party. Similar to the one Taylor wore for her Evermore set, the gown is a mustard yellow and has plenty of ruffles to complete the look. It's a chic design you can wear again and again.
Size Range: XS-XL
TK Editor's Pick: Needle & Thread Maybelline Sequin Micro Mini Dress
"'Tis the damn season" and wear this breathtaking Needle & Thread mini dress for a winter bachelorette party. Delicate frills and sequins add a festive touch to the design, while the frothy tulle fabric adds extra volume. Plus, the emerald touch will get you in the Evermore mood.
Size Range: 0-14
For the Bride: Sicily Dress With Flutter Sleeves
You'll have everything but champagne problems in this gorgeous dress from Ivy City Co. The delicate lace and midi-length dress comes in both standard and plus-sizes, and with over 170 five-star reviews, we know you'll be shining.
Size Range: XXS-5X
Taylor Swift Midnights Era Outfits
TK Editor's Pick: ELOQUII Multicolor Stripe Sequin Jumpsuit
Best believe you'll still be jeweled when you walk in the room when you wear this ELOQUII plus-size bachelorette party jumpsuit. Between the allover striped rainbow sequins and festive wide-length pants, you'll be ready to party way past midnight.
Size Range: 14-28
Lulus Favorite Moment Gold and Black Star Print Skater Dress
We're seeing stars in this bachelorette mini dress from Lulus. The plunging V-neckline is accentuated with a crisscross open back, and you can't beat the affordable $62 price point. Add a pair of moon and star earrings to polish up real nice.
Size Range: XXS-XL
For the Bride: 12th Tribe Diana Silver Disco Dress
Lately you've been dressing for your bach, and this 12th Tribe silver disco dress is just the way to do it. This sexy bachelorette dress is covered in 1" sequins, but it's important to note that it is unlined, so plan to wear it over a black strapless mini dress or undergarments for a spicy celebration. It's also available in black, fuschia or gold to suit your preferred era of choice.
Size Range: XS-XL