The Complete Atlanta Guide for Couples: Where to Stay & Things to Do
Our favorite things to do and see in ATL.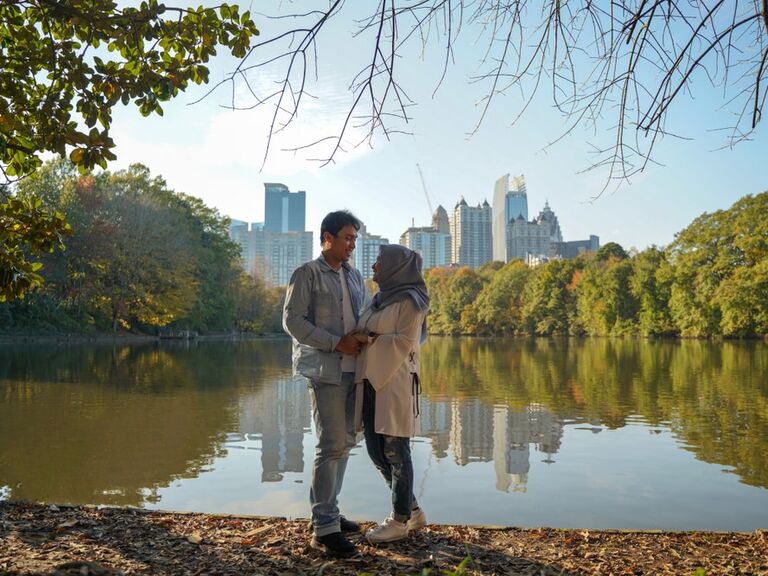 ferita Rahayuningsih / Shutterstock

We have included third party products to help you navigate and enjoy life's biggest moments. Purchases made through links on this page may earn us a commission.
Explore the capital of Georgia to experience a bustling metro area with plenty of creative couple activities in the city. Atlanta is full of entertaining date night ideas to experience together, keeping your relationship, and your vacation, fun and exciting. When you're planning a couples trip to Atlanta, there's plenty of activities to choose from including incredible restaurants, relaxing couples massages, beautiful gardens and more.
In this article:
Fun and Romantic Things to Do in Atlanta for Couples
Atlanta has a wide range of couples activities to explore and romantic things to do in the city. If you're looking for something new and fresh, plan some date nights together that include learning a new skill together (think cooking classes and dance lessons). Of course, bars are great too.
In the mood to boogie? Book a private line dancing class so you and your other half can practice your best Music City moves. This unique date idea will get both of you in the Nashville spirit, plus it's a great opportunity to try something new together. Who knows, maybe you'll go on to become line dancing pros. Taking a line dancing class is an especially great activity for couples in the early stages of their relationship. It'll help you loosen up and feel more at ease with each other, but it doesn't require as much intimacy as other forms of dance, like ballroom.
Get A Couples Massage in Atlanta
At Massage Infinity, there are plenty of spa treatments available for couples. You can get a couples massage together from 60 to 90 minutes, aroma treatments and even some unusual options like an "ionic foot detox" to reset your chakras.
3242 Peachtree Road NE, Suite B, Atlanta, GA 30305
Take a Couples Cooking Class
Just outside of Atlanta, Athens Cooks offers some truly incredible culinary crash courses for you to experience together. Guests can learn everything from how to shuck oysters to how to roll sushi; there are also bartending options available!
100 Prince Ave., Suite 103, Athens, GA 30601
Visit the Atlanta Botanical Garden
This famed botanical garden has nearly 30 acres to explore, including a garden of cacti, a butterfly enclosure and a wide range of local flora that play into the center's conservation efforts. Plus, it's close to Piedmont Park, so you can stroll away after your session.
1345 Piedmont Ave. NE, Atlanta, GA 30309-3366
Take an Adult Dance Class in Atlanta
Learn some new moves together at the Academy Ballroom Atlanta. (The Academy even offers private dance lessons if you're looking to choreograph a dance together or learn something specific—like a TikTok trend you're determined to master!) Classic skills like ballroom dancing and ballet are also offered.
800 Miami Circle NE. #140, Atlanta, GA 30324
Explore the High Museum of Art
With over 18,000 pieces in their archives, the High Museum of Art is the largest in the South. One Thursday a month, a DJ takes over the halls for an artful dance party to remember.
1280 Peachtree St. NE, Atlanta, GA 30309
Ride the SkyView Atlanta
Take a ride on SkyView Atlanta to get a great view of the skyline from above. The huge ferris wheel with individual gondolas brings guests up about 20 stories so they can see beautiful views of the city of Atlanta (and you'll be up so high that nobody will stare if you engage in a discreet makeout session). Enjoy being on top of the world!
168 Luckie St. NW, Atlanta, GA 30303
Explore the Krog Street Market
Built in the 1920s, this historic food hall has everything from homemade baked goods and local flower artisans to meat, cheese and candy stalls. Whether you're stopping by for a snack or collecting ingredients for a farm-to-table dinner date at home, this is a tasty stroll with something for everyone.
99 Krog St. NE, Atlanta, GA 30307
Visit Skyline Park
Miniature golf on the roof is just the beginning of Skyline Park's delights, which also include a fully stocked bar, a skee ball arcade and special late night bashes throughout the summer and fall. Going during the day? Pack your sunscreen—the rays hit hard when you're having fun!
675 Ponce De Leon Ave. NE, Atlanta, GA 30308
Get Creative at The Splatter Studio
Perhaps you have a deep artistic streak—perhaps you just think it's fun to throw paint against a bare white wall while screaming. Whatever your preference, grab a protective smock and get going at this color-drenched venue for wannabe Warhols.
792 North Highland Ave. NE, Atlanta, GA 30306]
Explore The Natural Landscapes
Take a hike out to Cascade Springs Nature Preserve to observe some truly beautiful landscapes, along with local plants and native birds. (Can you find a red-tailed hawk while you walk?) The main trail leads to a stunning waterfall, which feels like a tropical escape even though you're less than 30 minutes from central Atlanta.
2852 Cascade Road, Atlanta, GA 30311
Visit iFLY Indoor Skydiving
Jumping out of an actual plane? No. Feeling like you're jumping out an actual plane? iFLY Indoor Skydiving in Atlanta is just the place to do it, thanks to their anti-gravity activities without the actual parachute part. (Phew.)
2778 Cobb Parkway SE, Atlanta, GA 30339
View The Street Art at Krog Street Tunnel
Duck into the Krog Street Tunnel in Atlanta to peep some vibrant murals and street art created by local Georgia artists and graffiti taggers. First built in 1912, the overpass became a popular place for anti-war protest art in the 1960s and Black Power imagery in the 1970s, and has stayed a thriving Atlanta landmark ever since.
One Krog St NE, Atlanta, GA 30307
Explore the Fernbank Forest
The Fernbank Forest is part of the Fernbank Museum of Natural History in Atlanta. A natural reservoir for local trees and wildlife, the retreat is famed for its towering white oaks, along with swirling paths that take you through its 65 acres.
767 Clifton Road, Atlanta, GA 30307
Enjoy The Trap Music Museum
The Trap Music Museum celebrates hip-hop history and storytelling from the 1980s to the current day. Browse through the various exhibits and memorabilia displayed among the various rooms to understand how hip hop shaped Atlanta itself, and don't skip the interactive exhibits where you can become part of the journey.
630 Travis St. NW, Atlanta, GA 30318
Visit Martin Luther King, Jr. National Historical Park
Guests can take a tour through the home of Dr. King, and even visit the Ebenezer Baptist Church where he famously spoke. (Attending a service is also possible.) One of Atlanta's most popular destinations, this park also includes a memorial rose garden and a sculptural timeline of the Civil Rights Movement.
450 Auburn Ave. NE, Atlanta, GA 30312
Visit the Georgia Aquarium
Explore the massive indoor aquarium and all of its beautiful marine life. They have a wide variety of exhibits to see, even housing larger animals like whale sharks and rare species like beluga whales.
225 Baker St. NW, Atlanta, GA 30313
Date Night Restaurants in Atlanta
Atlanta has become a culinary hotbed for new and noteworthy fine dining, but there are plenty of old standbys and affordable options for date night in Atlanta, too. Here are places that always make the grade when it comes to a romantic night out in Atlanta.
Bones Restaurant
If you're looking for a good steakhouse, Bones Restaurant has juicy, perfectly cooked steaks on the menu and a selection of seafood, in addition to a wonderful ambience. It's been open since the late 1970s, and takes great pride in continuing the tradition of great food and service.
3130 Piedmont Road NE, Atlanta, GA 30305
Canoe
For a beautiful farm-to-table experience that supports local farms and neighborhood chefs, plan on dinner at Canoe. With views of the Chattahoochee River, the restaurant is the perfect place to share classics like Jumbo Lump Crab Cakes, or something unique like the Peppercorn Crusted Kangaroo. (It's great; we swear.)
4199 Paces Ferry Road SE, Atlanta, GA 30339
Poor Calvin's
A modern take on incredible Asian fusion cuisine, Poor Calvin's is actually rich with incredible flavors. (See what we did there? Chef Calvin Phan adds his own touch to every dish, like in their deviled eggs with chorizo, caviar, and lavender red wine jelly, or their lobster crawfish wontons. Every dish is full of innovative yumminess, and you'll be booking a return trip before dessert (a caramel and dark chocolate Fuji apple) even hits the table.
510 Piedmont Ave. NE, Atlanta, GA 30308
The Best Hotels in Atlanta for Couples
When it comes to finding Atlanta hotel packages for couples, you have options that range from luxury amenities to cool artisanal decor. Here are the hotels that will create a memorable stay for your romantic getaway in Atlanta.
The Ritz-Carlton, Atlanta
Right in the heart of downtown Atlanta is the Ritz-Carlton. A mainstay of music and Hollywood executives visiting town during album and movie production, this luxury hub boasts well-appointed rooms, a spa and unique benefits like bourbon tastings located within the hotel's bar, Club Lounge.
181 Peachtree St. NE, Atlanta, GA 30303
Waldorf Astoria Atlanta Buckhead
The Waldorf Astoria Atlanta Buckhead puts you in proximity to some of the city's best shops, entertainment and restaurants near Phipps Plaza. After a long day exploring the city, sign up for a spa treatment, take a dip in their indoor pool, or head to nearby Win Restaurant for a unique taste of Indonesia in the Peach State.
3376 Peachtree Road NE, Atlanta, GA 30326
The St. Regis Atlanta
For a beautiful five-star experience, the St. Regis in Atlanta is a great option. The service is impeccable, the beds are humongous and there are plenty of special amenities for guests like a refined afternoon tea at Astor Court.
Eighty-Eight, W Paces Ferry Rd NW, Atlanta, GA 30305
The Westin Peachtree Plaza, Atlanta
The Westin Peachtree Plaza in Atlanta has impeccable service, a fitness studio and an indoor/outdoor pool. But its best feature of all might just be its location: Just a short distance from entertainment like the Georgia Aquarium, this hotel offers an oasis in the middle of daily city adventures.
210 Peachtree St. NW, Atlanta, GA 30303
Four Seasons Hotel Atlanta
When you stay with the Four Seasons Hotel, you know you're going to be getting specialty treatment from their accommodating staff and luxury amenities. The location puts you near activities like the High Museum of Art and Piedmont Park, while offering you a relaxing stay with soothing white linens and great views of the city from most rooms. Don't forget a nightcap at their acclaimed cocktail haunt, Bar Margot.
75 14th St. NE, Atlanta, GA 30309