The Complete New Orleans Guide for Couples: Where to Stay & Things to Do
The Big Easy is known for more than just beignets and bar hopping.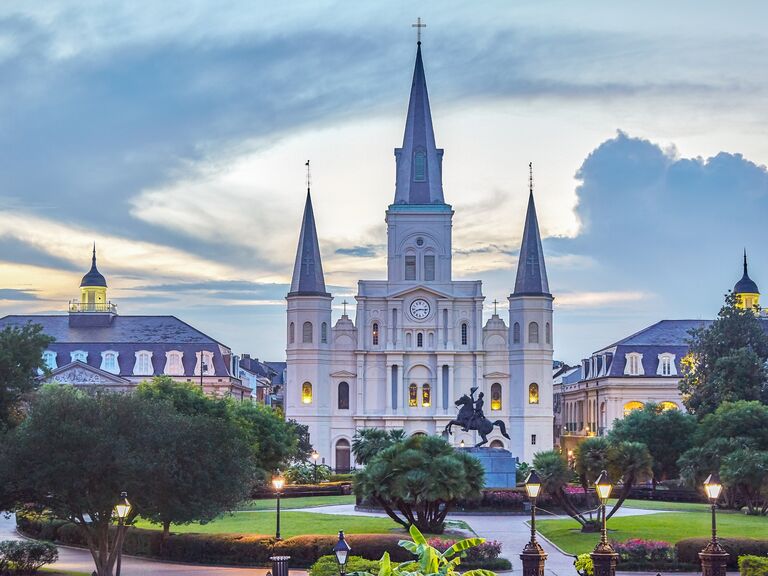 Photo: Peter Unger / Getty Images
We have included third party products to help you navigate and enjoy life's biggest moments. Purchases made through links on this page may earn us a commission.
When planning a trip to New Orleans, thoughts of Mardi Gras, colorful beads, hand grenade drinks and voodoo might initially cross your mind. But that's not all the city has to offer—there are tons of romantic things to do in New Orleans for couples, too. In fact, there's a side to this party city that's perfect for partners seeking rest and relaxation, as well as those who are foodies, adrenaline junkies and history buffs.
First, know that there are tons of places to go in New Orleans, so booking reservations in advance can be helpful. And one perk of the city is that there are a variety of ways to get around, whether it's walking, hopping on the trolley or calling a car. The following list of couple activities and date ideas covers the most fun and romantic things to do in New Orleans on your next getaway. Take a look.
In this article:
Fun and Romantic Things to Do in New Orleans for Couples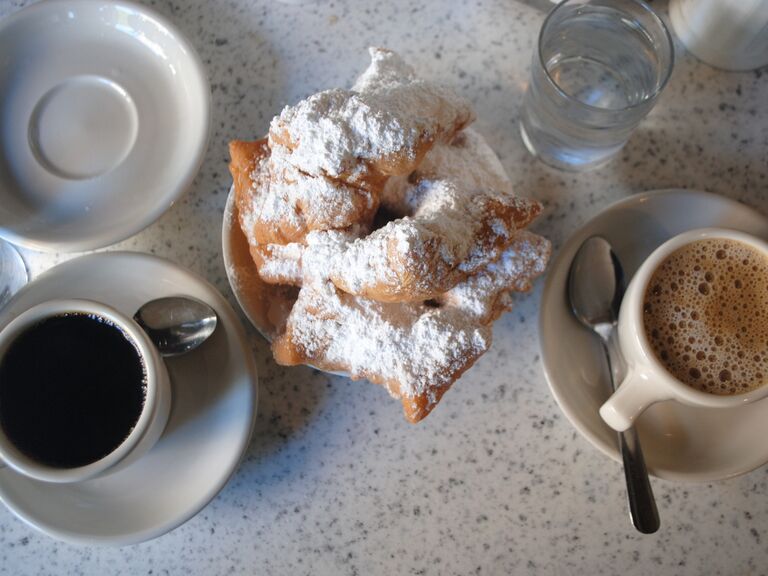 "Fun" is a typical descriptor for the city of New Orleans—and fun activities abound. But for romantic things to do in New Orleans, you might have to dig a little deeper. Here are some great ideas for date nights in the city.
It's cute. It's fun. It's kind of spontaneous. It's unique to New Orleans. And yes, it's even practical—not to mention very affordable ($1.25 for a one-way adult ticket). Your trolley ride can serve as transportation to your next date spot as you explore the city. It's an opportunity to discover new activities with every stop. Plus, you can take memorable couples photos along the way to commemorate your evening.
Getting a couples massage in New Orleans is a must. Your legs will likely need some rest from all that walking, and having time to relax and reset together as a couple is the perfect treat. Within this cozy space in the historic Hotel Monteleone, couples can choose from 60-, 75-, or 90-minute massages performed side-by-side in a couples suite. Champagne is also provided for couples massage recipients.
214 Royal Street (Mezzanine Level), New Orleans, LA 70130
You've likely sampled the local cuisine, so why not see how it's made? There are several kinds of couples cooking classes at the New Orleans School of Cooking, ranging from demos to hands-on learning. Participants can choose from sessions about gumbo, chicken creole, crawfish etouffee, pralines and more. Book in advance, as times and dates often sell out.
524 St. Louis Street, New Orleans, LA 70130
There are a bevy of adult dance classes in New Orleans, but Fleur de Dance offers couples of all dance levels the opportunity to learn West Coast Swing, Latin, country two-step, hip-hop and more. Some studio classes are free while others are $15, but every single session is made to be fun and friendly. If marriage is on the horizon, private wedding dance lessons are also available.
6610 Fleur De Lis Drive, New Orleans, LA 70124
In New Orleans, it's easy to wander into an art gallery without even trying. If you're a fan of The Blue Dog and want to see a local artist's work on display, look no further than George Rodrigue, who was born and raised in southwest Louisiana. At this gallery, original paintings, signed prints and jewelry are all available for purchase so you can take a piece of New Orleans home with you.
730 Royal Street, New Orleans, LA 70116
This stunning museum features exhibitions, a sculpture garden and collections of African art, paintings, antiques, textiles, photography, Native American art, Asian art, Pre-Columbian art and more. In the sculpture garden alone, there are more than 90 works of art. There's also a calendar of events that includes wellness sessions (like yoga and tai chi), film screenings, talks and other opportunities for education and entertainment.
One Collins C. Diboll Circle, City Park, New Orleans, LA 70124
They say couples who run together stay together, right? At this park, there's a 1.8-mile jogging path, as well as tennis courts and soccer fields. But the attraction that draws the most visitors is the park's ancient live oak trees. Couples can bring a blanket and a picnic basket to hang out before heading to Ochsner Island to see the flocks of birds flying and nesting.
6500 Magazine Street, New Orleans, LA 70118
Every year in July, Tales of the Cocktail Foundation, a national non-profit organization, holds events to educate, advance and support professionals in the cocktail/beverage industry. What started as a historic New Orleans walking tour more than 20 years ago has become the leading cocktail conference in the world. While most attendees are in the profession, there are a large number of cocktail enthusiasts who participate as well. Cheers with your partner over rounds and rounds of drinks!
In the Big Easy, there's a history of folklore, voodoo, ghosts and haunted houses. On a guided walking tour, you and your partner can learn more about the city's spooky past from a guide. You'll also get admission to the New Orleans Pharmacy Museum, the Old Ursuline Convent Museum and Lalaurie Mansion.
400 Royal Street, New Orleans, LA 70130
Skip the hearty, sit-down meals for a day and opt for small bites instead. Couples can get a taste of New Orleans while walking through the unique city. In small groups, foodies and snackers alike can sample delicacies (from baked goods to meat), get behind-the-scenes looks into kitchens, and see the sights of the French Quarter on foot. Pro tip: Because the tour is three hours long, bring your most comfortable walking shoes.
600 Royal Street, New Orleans, LA 70130
Although sports fans may be most familiar with the New Orleans Saints or the New Orleans Pelicans, there are other professional and semi-professional sports in the Big Easy. Love soccer? Cheer on the Jesters or Crescent City Football Club. Into Rugby? Go see a NOLA Gold Rugby game. Each team has different season dates, so check for ticket availability (or buy them in advance) before making your way to the stadium or field.
Jazz music is an essential part of New Orleans and its history. Although you'll likely hear street musicians playing as you walk through the French Quarter, consider watching a full performance at this local and historic venue. You may even get lucky and hear a local artist who's nationally renowned.
726 St Peter, New Orleans, LA 70116
Speaking of music—every year in late April, for a little more than one week, Jazz Fest draws in music fans from all over the world. Although it's called Jazz Fest, it's important to note that not all of the musicians on the bill exclusively play jazz. In fact, headliners include pop, R&B, country acts and more. There are also cultural exhibits, pavilions and food vendors to keep attendees satiated and hydrated during the outdoor festival.
1751 Gentilly Boulevard, New Orleans, LA 70119
For more than 30 years, this food and wine festival—which was started by chef Emeril Lagasse—has drawn thousands of attendees. With events ranging from pool parties and grand tastings to hand-rolled pasta-making classes, there's something for every type of drinker and eater. Award winners often get honored at this food fest, too.
Events take place at different locations in New Orleans.
At various spots in New Orleans during the week, vendors gather to sell their produce, seafood, honey, coffee and more. Whether you're looking to take a local good home to commemorate your day or gift your loved one something on the spot, there are tons of options to choose from. And, even if you don't buy anything, it's the perfect casual stroll.
In just 90 minutes, you and your partner can each create your own fragrance. No experience is required—everyone from novices to scent pros can participate and take home a unique and memorable gift for everyday use or special occasions. You can also name your own perfume. If you don't feel like going through all of the steps (or you're limited on time), there are standard pre-made fragrances—such as orange patchouli and fig—available for purchase, too.
631 Toulouse Street, New Orleans, LA 70130
Date Night Restaurants in New Orleans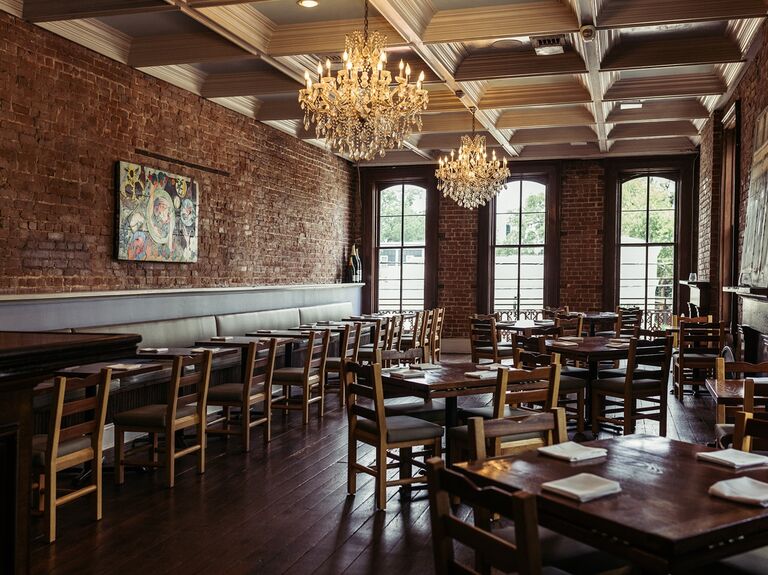 In between all of the romantic things to do in New Orleans, you'll need to refuel at some of the best restaurants in the country. Check out these top date-night restaurants.
The name of this Israeli restaurant translates to grandfather in Hebrew, but this isn't your grandpa's boring old date night. With two-time James Beard Award-winning chef Alon Shaya at the helm, this restaurant doesn't boast typical New Orleans-style cuisine. Instead, the fare is inspired by Shaya's birthplace of Israel. The seafood, meat and produce are all locally sourced. And with family-style platters on the table, this meal is meant for sharing.
5757 Magazine Street, Suite A, New Orleans, LA 70115
Coquette, Garden District
Whether you're celebrating a milestone occasion or simply looking to pull up two seats at the bar for a spontaneous date night, this New Orleans classic has been serving southern hospitality for more than a decade. With a robust cocktail menu, including non-alcoholic beverage options, the restaurant caters to drinkers, teetotallers and sober curious patrons alike. Consider the five-course blind tasting for a laid-back, hands-off approach.
2800 Magazine Street, New Orleans, LA 70115
This small and intimate spot offers a five-course tasting menu that is to die for. Executive Chef Ana Castro was raised in Mexico City, and the fare reflects her birthplace. The menu is not available in advance, as trust is a big component of the venue, but anyone with a dietary restriction or allergy can communicate those needs for accommodations. Reservations are needed to secure a table.
1245 Constance Street, New Orleans, LA 70130
The Best Hotels in New Orleans for Couples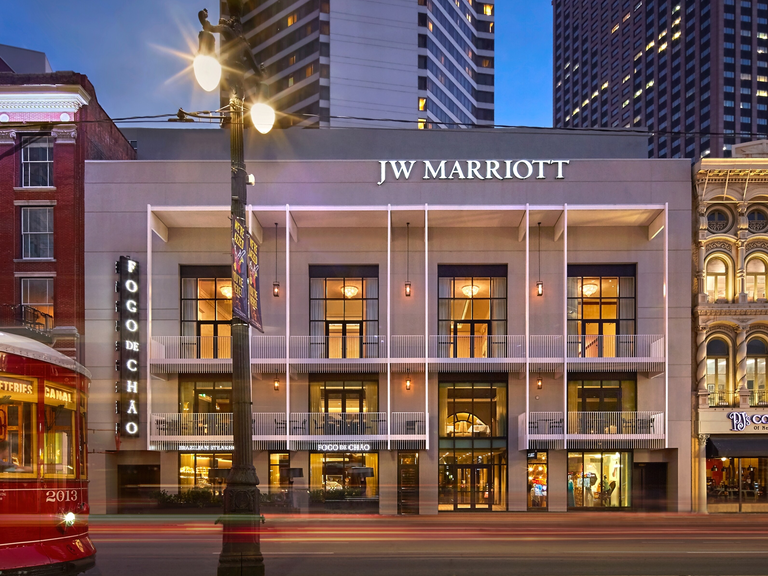 When the day is done (whether that's at 8 p.m. or 2 a.m.), there are a number of spots in the Big Easy where you can comfortably rest your head. Take a look.
If you're looking for luxury, this hotel delivers. It's the first and only AAA Five Diamond place to stay in the state. Upon entering the hotel, guests will be wide-eyed as they focus their sights on the opulent 15,000-crystal chandelier that sets the scene. Inside, grab an award-winning martini at the glamorous Chandelier Bar. With views of the Mississippi River, the property sits within walking distance of Riverwalk (for romantic strolls with your loved one) and Harrah's Casino.
2 Canal Street, New Orleans, LA 70130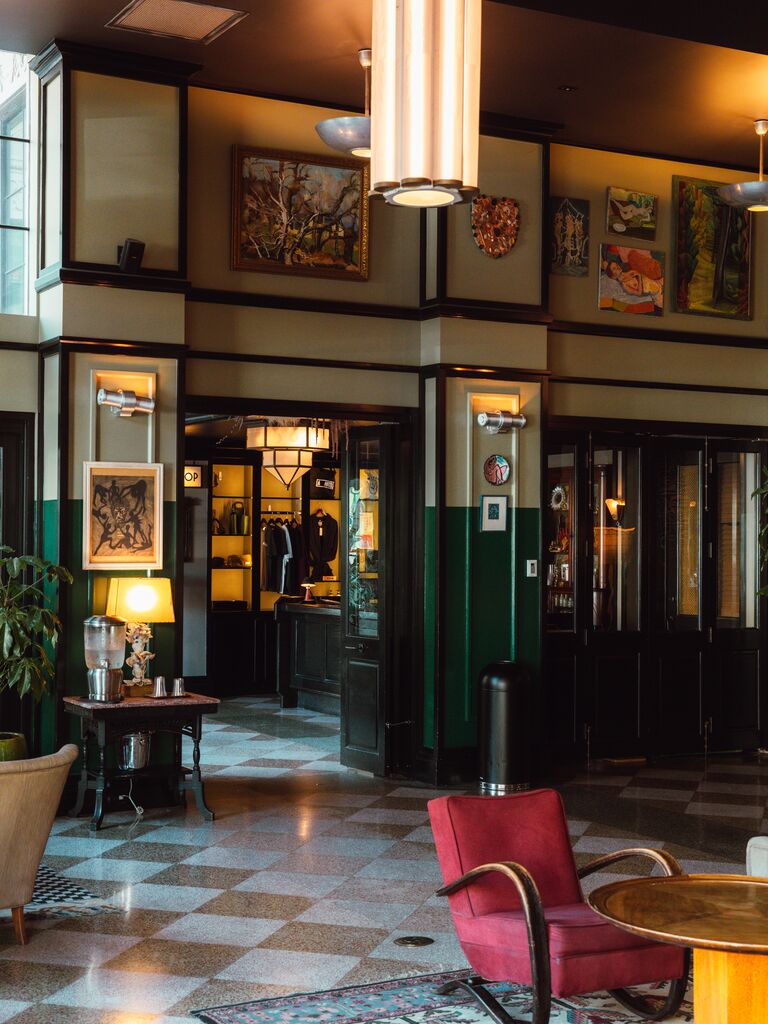 With an on-site music venue and five food and beverage outlets to choose from, this hotel boasts a modern, youthful energy. For couples who are lovestruck (and love oysters), book a room with the code LOVESHUCK to get a tarot-inspired highball glass, two drinks and a dozen oysters to share with your sweetie at Seaworthy (the Gulf Coast waterway-inspired hotel restaurant). For lovers looking for pizza and pizzazz, the ABOVE rate code will offer a discounted rate, poolside pizza and cocktails, and priority to the open-air rooftop garden Alto, which has a heated pool.
600 Carondelet Street, New Orleans, LA 70130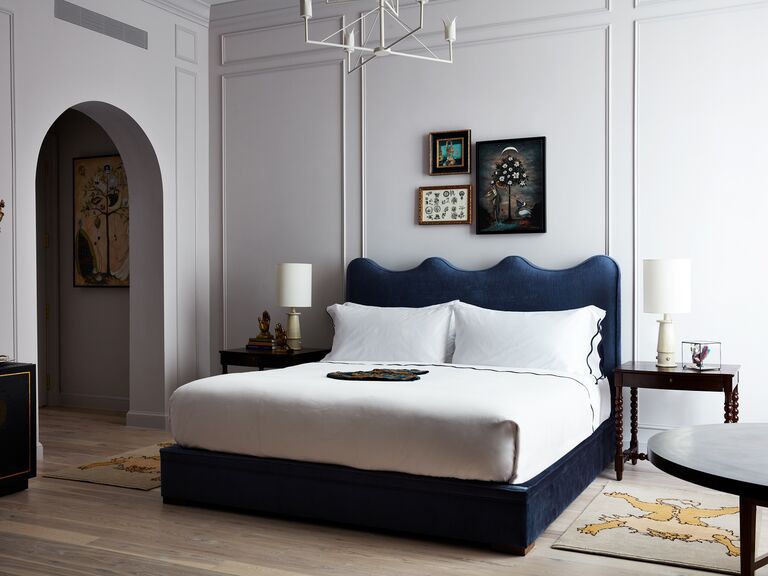 This hotel offers a distinctly different experience than other places to stay in the area, starting with the fact that there are just 67 guest rooms. The property, inspired by traditional Southern guest houses, offers the AMOURFOU package for a romantic rendezvous. The couples package includes an in-room couples massage, a petal turndown service, a bubble bath and a bottle of champagne in addition to a $100 food and beverage credit.
546 Carondelet Street, New Orleans, LA 70130
This vibrant venue offers burlesque brunches, so you can get a taste of New Orleans food and culture without ever leaving your hotel. On Thursdays, Courtyard Sounds brings live music to—you guessed it—the hotel's restaurant courtyard. Located close to Bourbon Street with views of the French Quarter, you are truly in the heart of New Orleans here. There's also a pool if you fancy a dip to escape the heat.
316 Chartres Street, New Orleans, LA 70130
Located just steps from Bourbon Street, this hotel is the perfect haven for a peaceful night's sleep. The House of Blues, Harrah's Casino and Audubon Aquarium of the Americas are also within walking distance of the hotel. Accommodations include recently redesigned rooms and bi-level suites (just in case your romantic getaway also involves bringing a child or other members of the family along). The lobby lounge is a convenient and easy way to start your date night with creative cocktails and shareable snacks.
614 Canal Street, (Driveway Entrance on 611 Common Street) New Orleans, LA 70130