The Best Dog-Friendly Vacation Tips for a Romantic Getaway or Honeymoon
You and your partner can travel with Fido across the US.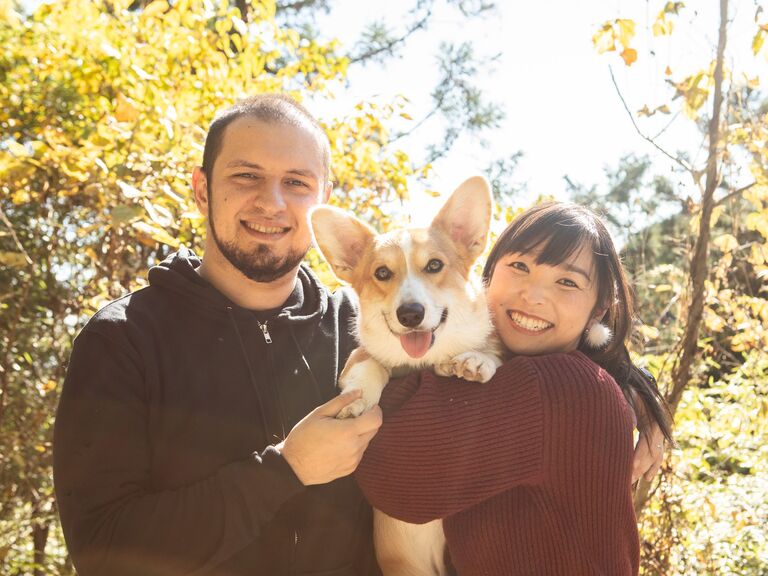 Taiyou Nomachi / Getty Images
We have included third party products to help you navigate and enjoy life's biggest moments. Purchases made through links on this page may earn us a commission.
As the average age of marriage in the US evolves, it's no surprise that most couples live together before getting married. And with that comes an increase in the number of engaged couples who share pets—which means more and more couples are choosing to include their pets in some capacity in the wedding celebrations. Planning a dog-friendly vacation, a dog-friendly wedding, or a dog-friendly honeymoon doesn't have to be as intimidating as it may seem. if you're never traveled with your pup before. It's possible to take a dog-friendly vacation, even even if your dog doesn't like being in the car, tends to bark at strangers, or has never stayed at a hotel. Here's how.
In this Article:
Choose a Dog-Friendly Vacation Destination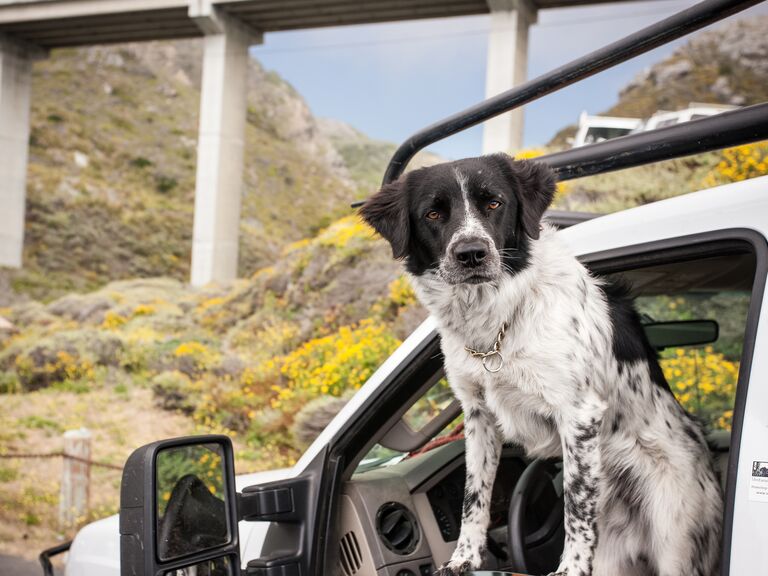 There's no point in taking a vacation with your dog if he or she is just going to have to stay in a kennel all day. That's why you want to pick a dog-friendly destination. That generally just means picking a place where parks and outdoor attractions are dog friendly, most hotels tend to welcome pets, and various cafes and restaurants allow you to dine with your dog.
Some towns even use the fact that they're dog-friendly as a marketing tactic, especially in places along famous road-tripping routes. For example, both San Luis Obispo and Carmel-by-the-Sea (two downright adorable California beach towns) are on Highway 1. That's one of the most gorgeous road trips you can take in the US, and since both of those towns are extremely dog-friendly, it makes taking a vacation with your dog stress-free.
Book Pet-Friendly Accommodations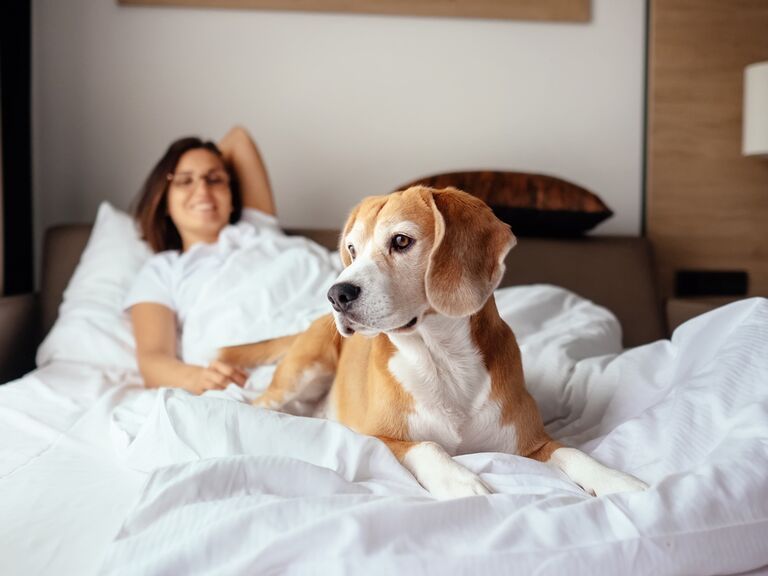 It goes without saying that you'll need to make sure you stay at a pet-friendly hotel (also called dog-friendly hotels). Most hotel booking websites have the ability to search for hotels that allow dogs, or you can usually find details on hotel "policy" or "about us" pages. (Note: there are different levels of "dog-friendly" properties. Some brands, like Kimpton Hotels, are extremely dog-friendly, offering complimentary amenities like in-room dog beds and optional dog-walking services. There's no fee for bringing a pet and no size or weight limit.)
Some hotels may allow dogs, but they may put limits on how big or heavy the dog can be, while others may charge an extra pet fee (sometimes refundable, sometimes not). Other hotels may have rules about not allowing the dogs to be left in the rooms by themselves at all, or charging extra fees if it looks like your dog jumped on furniture. If you book a hotel with rules against pets on the furniture and your dog is prone to snuggling at night, be sure to bring extra sheets or blankets to cover the hotel furniture, just in case. Also: many campgrounds are dog-friendly—just be sure you have everything your dog needs for the outdoors (and that there's extra room in your tent).
To make your dog feel comfortable in a hotel room, consider bringing a crate with a blanket that smells like home and his or her favorite toy. This will both create a safe space for your dog and assist in keeping them off of chairs and beds. You can find collapsible crates online that will lie flat in the back of most cars.
Pet-Friendly Hotels for Couples
Pet-friendly hotels are becoming fairly common in the United States, and many chain hotels are dog-friendly in some fashion. Other than Kimpton, hotel groups like the Under Canvas glamping resorts, most Hyatt Hotels (including Andaz and Thompson Hotels), and even most La Quinta are all dog-friendly in one way or another (meaning that fees and specific rules may vary between properties).
Some of the most popular drives in the US are used to welcoming travelers with pets. You can easily find dog-friendly hotels and suggested stops along popular routes like the Pacific Coast Highway (which hugs the central California coastline), the Blue Ridge Parkway connecting Shenandoah National Park to Great Smoky Mountains National Park, and pretty much every short one trip through the lush forests of Oregon.
Pet-Friendly Vacation Rentals for Couples
If hotels aren't your thing, or you think your dog may be too overwhelmed, opt for a pet-friendly vacation rental. Airbnb allows users to search for pet-friendly vacation homes, as do other rental companies like VRBO. Across the US, you'll find breathtakingly beautiful pet-friendly vacation rentals like this glass cabin near Zion National Park in Utah, this A-frame cabin in upstate New York and this modern desert-view abode near Joshua Tree in southern California.
Pet-Friendly Honeymoon Cabins for Couples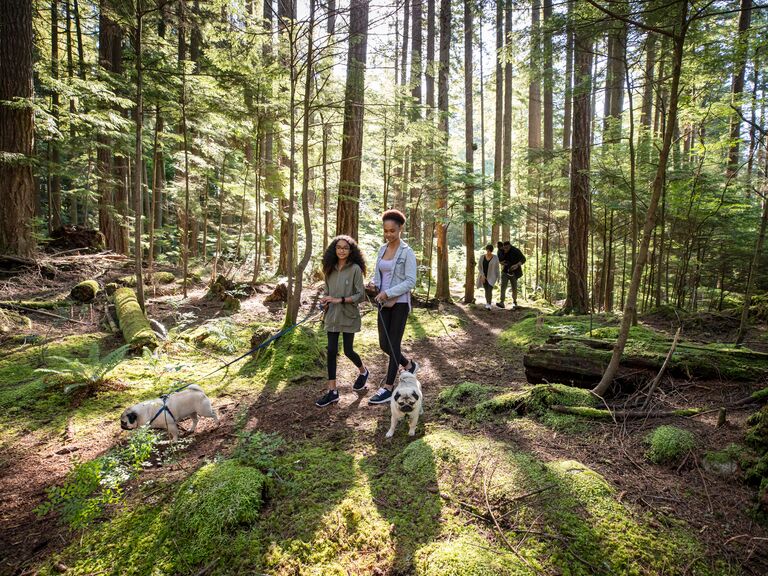 There are a lot of reasons to take a pet-friendly honeymoon. Having your dog with you means you can be gone for a longer time without worrying about pet-sitters or paying for an expensive dog hotel, and it also means you'll have your furbaby with you while you celebrate one of the best times of your life. You'll find gorgeous pet-friendly honeymoon cabins across the country. Some of the most unique pet-friendly honeymoon cabins under $300 a night on Airbnb are listed below.
Some hotels may also have pet-friendly honeymoon cabins, giving you the privacy of your own place with the convenience of having resort amenities just a short walk away. Good options include the luxury cabins at the rustic-chic Taylor River Lodge in Colorado, The Point at Saranac Lake in New York (which even offers complimentary life jackets so your pet can get out on the water with you, and Camp Long Creek wilderness resort in Missouri, which has both cabins and glamping tents perched on platforms overlooking the lake. All three resorts have pet-friendly honeymoon cabins, so all three of you can live in luxury for a few days.
Pet-Friendly Spa Resorts for Couples
Pet-friendly spa resorts can be a little harder to find, especially since many wellness destinations tend to promote serenity. (Sometimes, energetic dogs have a hard time being peaceful when they're having a good time.) Fortunately, there are a few dog-friendly spa resorts around the United States.
In the western US, The Resort at Paws Up is a five-star, pet-friendly spa resort with extensive wellness programs like yoga, guided wellness hikes and a full range of spa treatments. It also offers complimentary dog-walking services. In San Diego, Rancho Valencia Resort and Spa is a pet-friendly, five-star wellness resort that welcomes furry friends (and even has an in-room dining menu for dogs). And Utah's Blue Sky Auberge Resort also offers dozens of spa and wellness activities for guests of the five-star hotel—and furry friends are just as welcome.
Guests taking a pet-friendly vacation on the East Coast should consider Miraval Resort in the Berkshires or Chateau Elan, a working winery and wellness/spa resort in the foothills of Georgia. It should probably go without saying, but dogs are not allowed at any resort in the actual spa/treatment areas.
Pet-Friendly All-Inclusive Resorts
When it comes to a honeymoon or wedding, there are dozens of reasons to pick all-inclusive resorts—not the least of which is that they're easier for your guests and usually make wedding planning easier than doing it on your own. But there's no reason you can't plan a pet-friendly wedding or pet-friendly honeymoon at an all-inclusive resort. Some of the best dog-friendly all inclusive resorts include:
The Lake Austin All-Inclusive Spa Resort, Texas: Aside from looking like it belongs on a Caribbean Island, this lovely hotel includes pet amenities and a chef's menu for dogs. The property has a gourmet menu for dogs, plus several nearby walking trails. The resort is all-inclusive, excluding alcoholic drinks.
TradeWinds Island Grand Resort, Florida: Humans get huge rooms and access to a white-sand beach, and dogs get doggy play areas, access to the "Paw Court Bistro," and even doggy beach hammocks.
Research Nearby Dog-Friendly Activities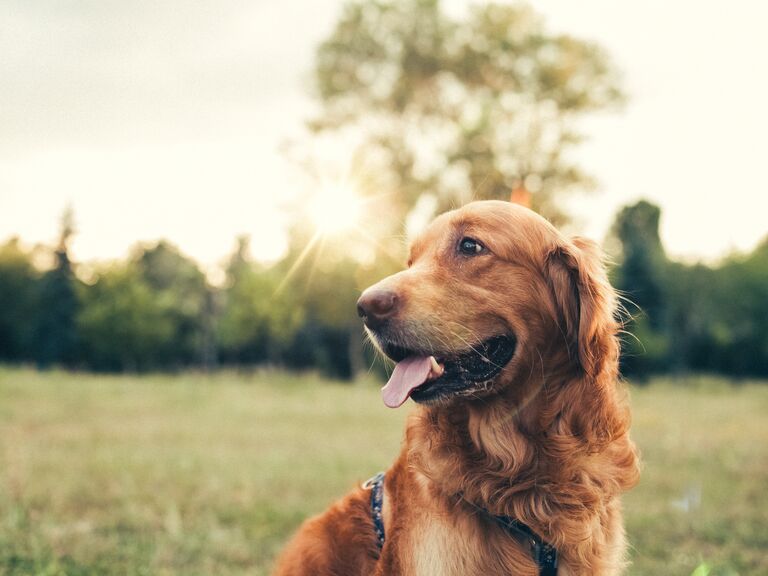 Don't set off on a dog-friendly vacation without having a plan on what you'll do with your pup. Most dogs won't do well being left in a car for too long (and should never be left in less-than-perfect temperatures), so you'll want to check ahead of time that where you plan to go welcomes pets.
Dog-Friendly Day Trips
Good dog-friendly day trips include state parks (most trails in most national parks are not dog-friendly), local farmers markets and street fairs (which usually allows dogs on leashes) and, of course, dog parks. There are no set rules between states or towns on where dogs are and aren't allowed, so use dog-friendly websites like BringFido or GoPetFriendly to find you where your furbaby is welcome. Some states also have park-by-park websites detailing rules about pets, such as California and Pennsylvania. And remember that you should always have a seat belt for your dog, even on short rides. A dog seatbelt can be a great wedding gift for pet parents planning a dog-friendly wedding or honeymoon also.
Dog-Friendly Wineries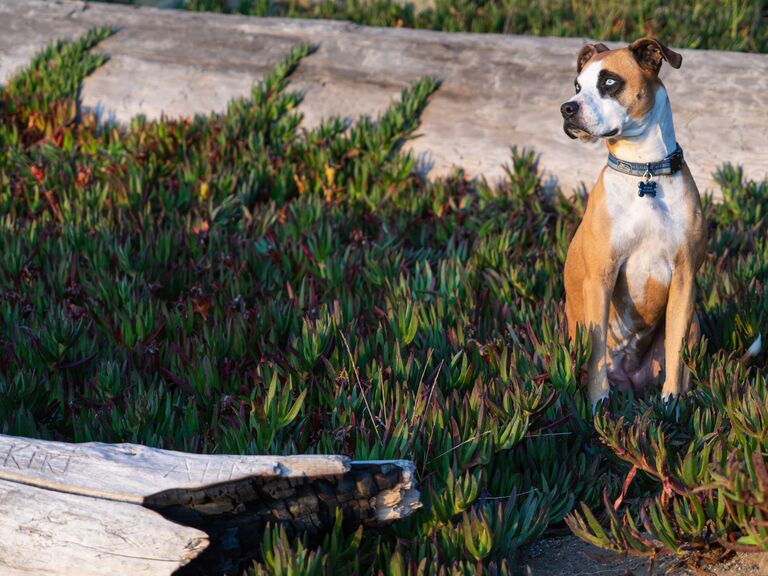 Wineries are some of the best places to bring Fido—especially in states known for being dog-friendly, like Oregon (which has more than 100 dog-friendly wineries in the Willamette Valley alone) and Washington. Some of the best dog-friendly wineries on the West Coast include:
The West Coast may be the most well-known for wine in the US, but it's not the only place where you'll find dog-friendly wineries. Other non-West Coast locations that welcome pups include:
Dog-Friendly Breweries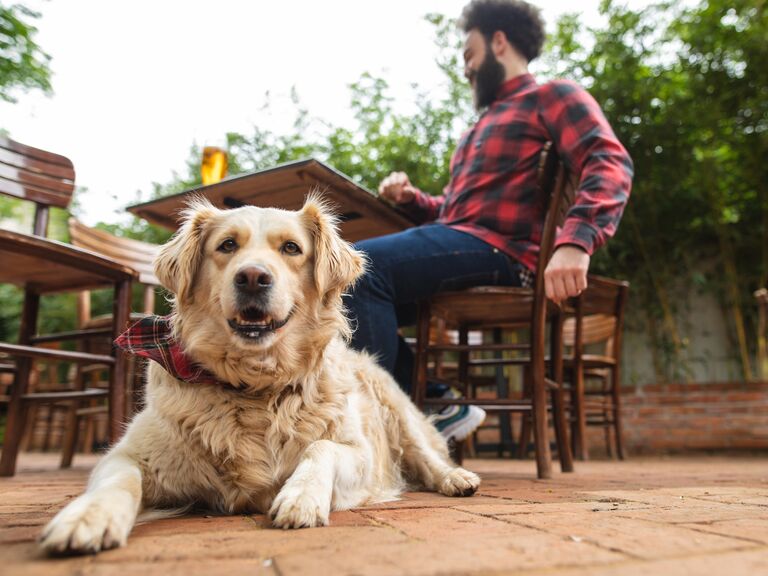 It seems like dogs and breweries were made to go together. Maybe it's just the fact that breweries are laid-back, or that so many have more of a "picnic tables in the sun" feeling than a "five-star-dining" feeling.The best way to find out if a brewery is dog-friendly is to check if they have outdoor space, then call to confirm. But you'll find that many, many breweries are dog-friendly.
Some of the dog-friendly best breweries in the US where dogs are welcomed with open arms include more than 100 in Colorado where dogs are welcome outdoors (and inside the tasting rooms, in at least half the cases) and dozens in cities ranging from San Diego to Atlanta to Knoxville. Just do a search for the place you're visiting plus "dog-friendly brewery" and you'll likely find dozens in your area to choose from.
Dog-Friendly Restaurants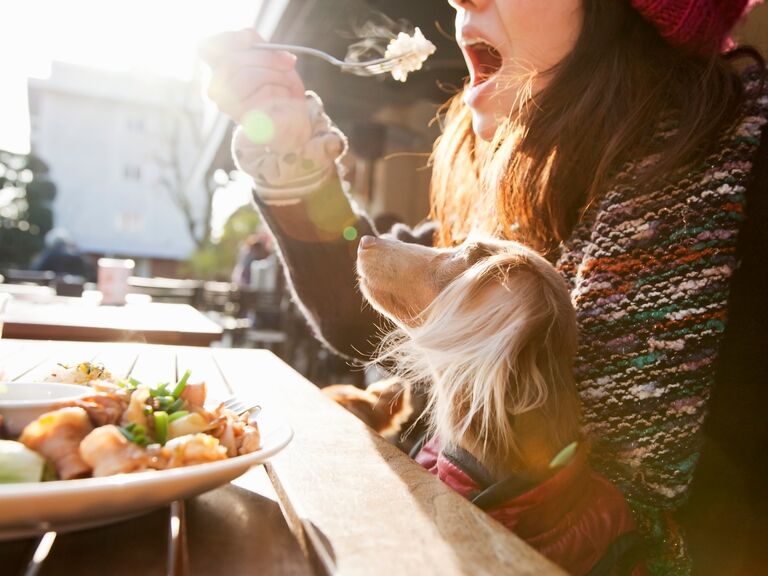 Finding restaurants to visit during a dog-friendly honeymoon or vacation with your dog isn't quite as easy as finding breweries, especially since many states have rules about how close animals can be to kitchens and food—and local counties and cities may have additional rules on top of those. Even places with outdoor patios may not allow pets, so it's best to do your homework ahead of time on this one.
As you may expect, dogs are usually more welcomed in warmer-weather states as those regions tend to have more outdoor dining options. But some especially dog-friendly cities where you're likely to be welcomed with Fido include San Francisco, CA; Portland and Bend, OR; and Seattle, WA, on the West Coast, Madison, WI; Cleveland, OH; and Minneapolis, MN, in the Midwest. On the East Coast, head to Asheville, NC; Tampa Bay, FL; or Washington, DC (where you'll often see dogs frolicing in front of the Washington Monument).
If you're looking for a pet-friendly restaurant where your dog may be prioritized more than the human guests, try Posana in Asheville (with a four-course doggy menu) or The Tin Shed in Portland, which donates to local pet charities if you buy a stylish bandana. And don't forget that fast-food restaurants like Starbucks and Dairy Queen, among others, have special menu items just for road trippin' dogs.
Dog-Friendly National Parks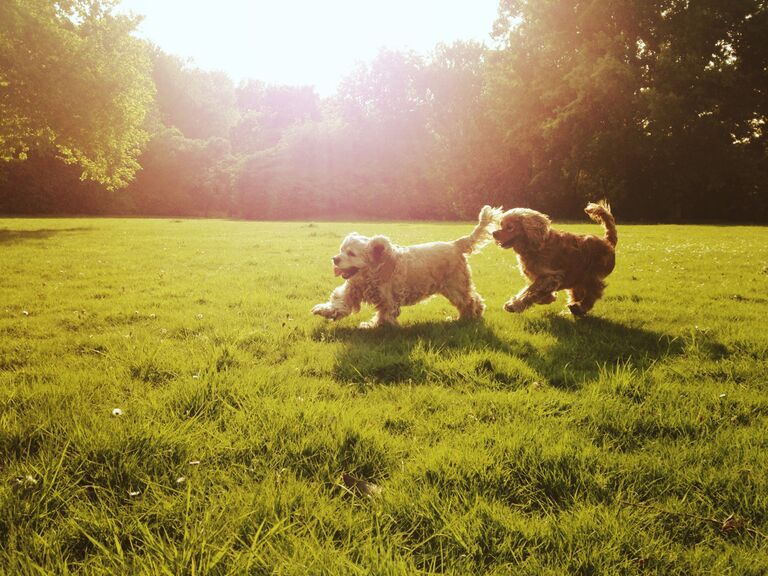 While it may seem like national parks should be very dog-friendly, many aren't—but it's for an obvious reason: dogs scare wildlife, and a major purpose of national parks is to protect wildlife. However, many US national parks do allow you to have dogs on leashes on paved areas, like visitors centers, overviews and lookouts and even in some hotels.
Some of the most dog-friendly national parks for road trippers include Yosemite National Park in California (which has several miles of paved path running through the famous Yosemite Valley); Acadia National Park in Maine, where dogs are allowed on many of the historic carriage roads around the park; and West Virginia's New River Gorge National Park and Preserve, which allows dogs on all trails in the park. To protect wildlife (and ensure pet owners clean up after their dogs), always keep your pet on a leash.
To find out where dogs are allowed in a national park near you, visit that park's official webpage and click "plan your visit" on the top left, then "pets." All national parks have a page with this information. By the way, ask a park ranger how your dog can become a—wait for it — bark ranger during his or her visit.
Dog-Friendly Beaches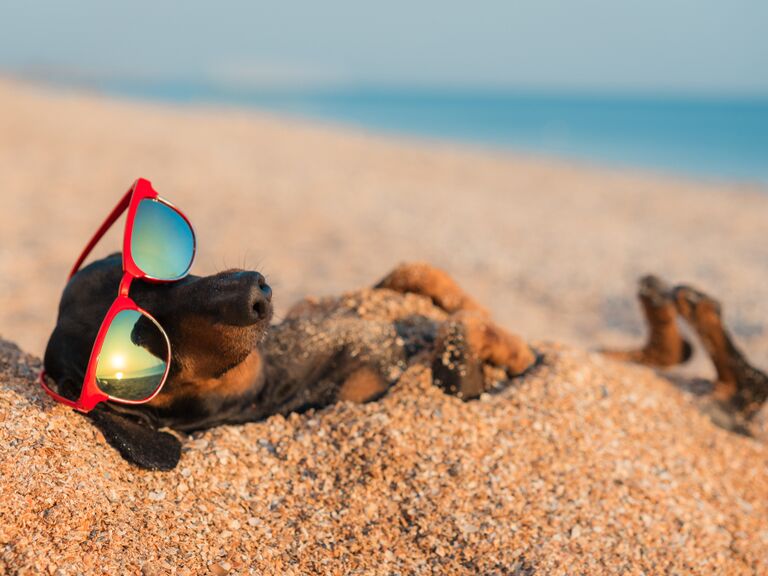 Most beach towns in the US will have at least one or two beaches that are dog-friendly, so all you need to do is search the town name, followed by "dog-friendly beaches." On the West Coast, visit the off-leash "Dog Beach" in San Diego for acres of space for your dog to frolic with other off-leash pups. While most LA beaches aren't dog-friendly, nearby Leo Carrillo State Beach is. Head up the coast, and you'll get to Carmel-by-the-Sea, where just about everything (from shops to hotels to all beaches) are very dog-friendly.
Once you get north of San Francisco, you'll find that most beaches will allow dogs, especially those that require a hike to reach or that are a little more out-of-the-way. In many places in the Pacific Northwest (save for Seattle, which has stricter rules), the rules around dogs on beaches are a bit fluid. The best advice is to be a good pet owner — make sure your dog is under your command at all times, don't let them bother people who don't want to be bothered and always clean up after them.
East Coasters will likely find that beaches popular with humans tend not to be dog-friendly; after all, no one wants to wake up from a nap in the sand and find that a dog stole their picnic lunch. However, most of the major beach towns up and down the East Coast will have dog friendly areas, from Gooch's Beach in Kennebunkport, ME, to Key West Dog Beach in Southern Florida.