The Best Things to Do in West Palm Beach for Couples
From beautiful beaches to big-deal restaurants, the city is brimming with romance.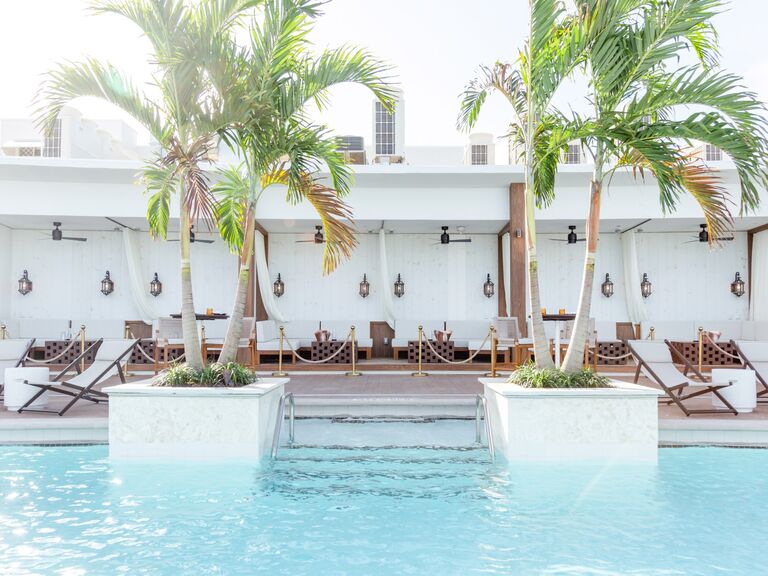 Photo: Courtesy of The Ben, Autograph Collection

We have included third party products to help you navigate and enjoy life's biggest moments. Purchases made through links on this page may earn us a commission.
There's much to do in West Palm Beach for couples, both in the sun and in the shade. Whether you live in South Florida or you're visiting West Palm Beach for vacation, you'll enjoy choosing between our romantic date ideas.
If you're based in Florida or the East Coast, you probably already know that temperatures run high on the majority of days and humidity is very real; it often rains for 15 minutes on and off. But don't fret about the weather ruining your schedule. You can plan couple activities in advance, some that offer rainchecks, and others that you can spontaneously decide to participate in when the weather is just right. Here are the most romantic hotels, tastiest restaurant date spots and cute things for couples to do in West Palm Beach together.
In This Article:
Fun Things to Do in West Palm Beach for Couples
A geographic area best known for its sunshine, the nearby Palm Beach oceanfront and warm temps, there are tons of romantic things to do in West Palm Beach. Whether you're looking to visit popular South Florida tourist attractions or finding unique couples activities, there are a plethora of ideas for date night—or a day date. Take a look.
Held every year in December, the Palm Beach Food and Wine Festival is full of celebratory events for those who love food and beverage. For the couple who enjoys wine, cocktails and fine dining—and can't wait to meet notable chefs—the festival offers beverage tastings, themed dinners, gastronomically charged lunches and mixology classes.
Various locations.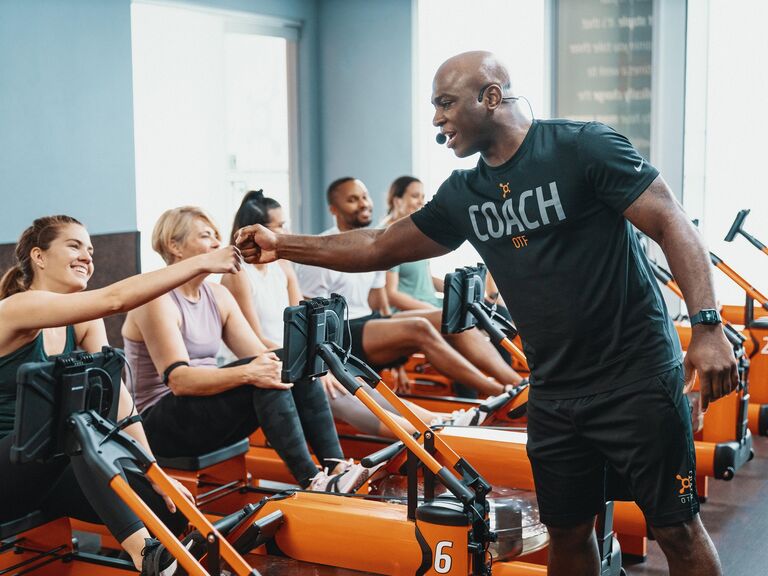 Sweat together during an intense group workout that includes a full-body treadmill, rowing and strength-training activities. During a one-hour session at Orangetheory, these three formats are completed with instruction in rotation. The best part? You can complete the exercises side-by-side with your partner.
1900 Okeechobee Boulevard Bay A-1, West Palm Beach, FL 33409
You can get a couples massage in West Palm Beach, but we recommend traveling over the bridge to the Four Seasons Palm Beach spa where they specialize in a "Very Suite Couples" treatment. Here, choose from a variety of soothing massage options to get alongside your partner in a private suite. Massages are available in 50–80 minute sessions, and will leave you both well-rested and relaxed.
2800 South Ocean Boulevard, Palm Beach, FL 33480
Even if you didn't expect to pick up a spatula and take a cooking class in West Palm Beach, let alone on vacation, rest assured: You and your partner will have a fun, unforgettable experience at Don't Burn It. Pick from a list of themes organized by cuisine type to choose what type of three-course dinner preparation to partake in (and eat, of course).
5601 Corporate Way, West Palm Beach, FL 33407
Whether you're looking for an outfit, a souvenir, a gift or an opportunity to stretch your legs, The Square Downtown West Palm Beach is a 72-acre experiential destination filled with fashion and accessory shops, home goods stores, health and wellness hubs, and spas—plus, it's walkable. If you get hungry, grab a bite and have an impromptu date at one of the area's many food and drink venues.
700 South Rosemary Avenue, West Palm Beach, FL 33401
Escape for the day, or at least get off land for a few hours. You can book a private charter with Delray Yacht Cruises (for you and more than 100 guests—or just you and your partner). There's also a more economic option, if you'd prefer, which is venturing on a public, two-hour cruise through the Intracoastal Waterway. On board, you'll be able to comfortably sightsee, nosh on food and drink adult beverages.
801 East Atlantic Avenue (Veterans Park), Delray Beach, FL 33483
For couples who love being outdoors, at Okeeheelee Park, the options to be active are endless. There are kayaks available to rent, a nature center, a bike path, a BMX track and many other activities you can participate in while soaking up the sun together.
7715 Forest Hill Boulevard, West Palm Beach, FL 33413
Grab your partner and take a dance class together in West Palm Beach. Palm Beach Dancing teaches couples how to tango, foxtrot, waltz, swing, hustle and more in 45-minute sessions. Group classes are also available. Walk-ins, as well as dancers with zero experience, are welcome to come learn new moves.
4372 Northlake Blvd, Palm Beach Gardens, FL 33410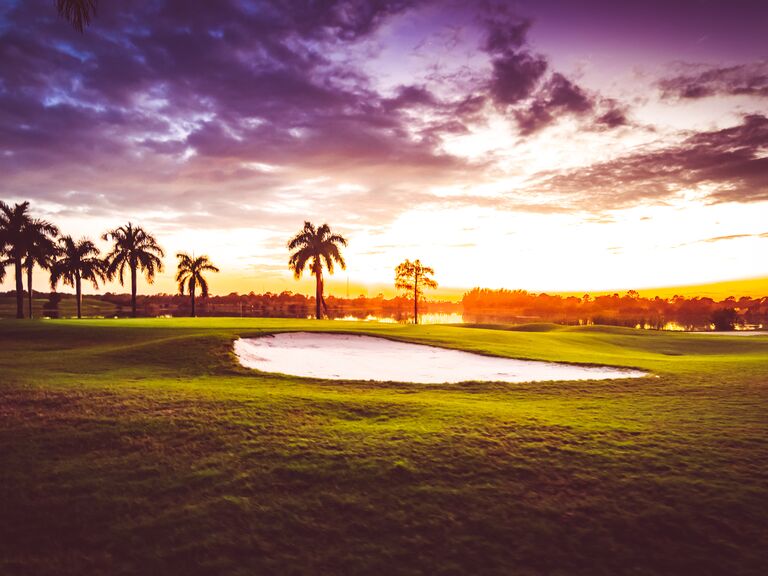 Residents and visitors don't just wear golf attire for fun—they dress to play. Find a public golf course, such as North Palm Beach Country Club, and book a tee time with your partner. Not up for a full game? Hit the driving range with your date for practice swings.
951 US Highway 1, North Palm Beach, FL 33408
You don't have to be an interior designer or a historian to appreciate items that have been around for generations. At Antique Row, there are 40 stores where you can buy, window shop or guess the price of items. Antiques aren't the only thing here, too. There are specialty shops in the area, as well as restaurants.
3512 South Dixie Highway, West Palm Beach, FL 33405
At Renegades in West Palm Beach, you and your date can ride mechanical bulls, line dance and listen to country music all in one night. At Renegades, the venue even offers couples country dancing classes on Friday and Saturday nights. Bar food is on the menu, and if you're feeling adventurous, you can even order fried gator tail.
600 Village Blvd, West Palm Beach, FL 33409
If beer makes your heart skip a beat, head to Mathews Brewing Co. for top-notch brews. Food trucks provide bites on site, but you can also order food delivery from local vendors. Hang out with your date in the taproom or the beer garden while sampling a variety of local sips, or plan to go on Saturday when the venue has live music to entertain the crowd.
130 South H Street, Lake Worth, FL 33460
There's always room for dessert. At Sloan's, split an ice cream sundae that comes in a sand pail or a real flower pot. While you're working your way through flavorful scoops, keep a lookout for the stars—a few famous faces have been known to visit from time to time.
112 South Clematis Street, West Palm Beach, FL 33401
Koalas, jaguars and otters, oh my! For a zoo experience with a Florida twist, go see the animals at the Palm Beach Zoo. While you'll see animals you can find anywhere else, you and your partner will also be able to see wildlife (like flamingos and sloths) that you may not have seen before.
1301 Summit Boulevard, West Palm Beach, FL 33405
Indulge your carefree inner child with arcade games, go-karts and laser tag at Fun Depot. Sure, you may have outgrown many of these pastimes as a teen, but you and your date can still be silly together. And that's fun, right?
2003 10th Avenue North, Lake Worth, FL 33461
Snorkel with a guide in West Palm Beach between hopping on and off a catamaran. Keylypso provides the equipment and designated snorkeling spots—you and your partner just show up for a swim (hand-holding optional).
105 Lake Shore Drive (Lake Park Marina), Lake Park, FL 33403
Date Night Restaurants in West Palm Beach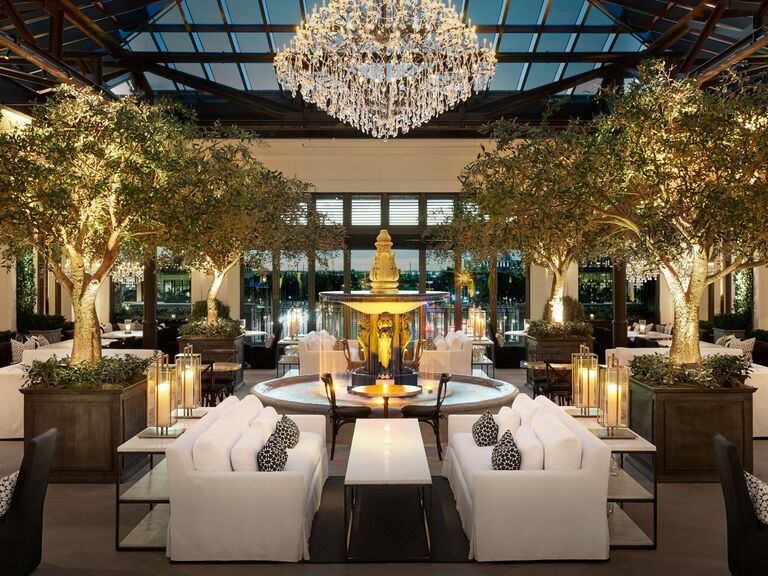 Florida oranges, anyone? West Palm Beach definitely has those, but citrus isn't the only food item we recommend you eat upon arrival in the sunshine state. When considering date night restaurants in West Palm Beach, we highly recommend these romantic haunts.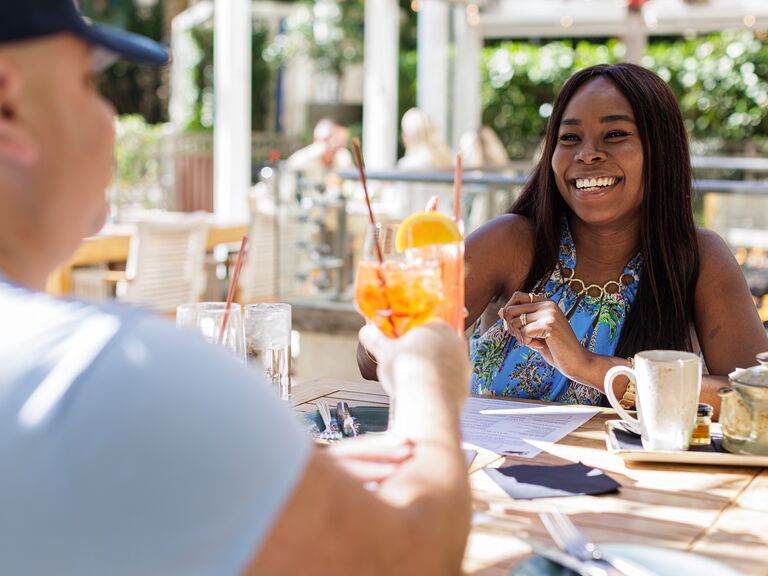 For a grill and bar experience featuring classic fare, check out Galley, which has a romantic fire pit and al-fresco dining. Guests can order small plates and handcrafted pizzas to share, or salads and a variety of seafood main dishes for dinner. If brunch is preferred, couples can order $50 bottomless tapas. Because being hangry is not romantic.
600 Okeechobee Blvd, West Palm Beach, FL 33401
This isn't a white tablecloth kind of romantic place. But if you and your partner love Mexican food and delicious sippable beverages, this is a fun spot for a casual meal. If you're sandy from the beach, feel like keeping things low-key or just don't want to change out of your flip-flops, then this is the romantic date spot for you. (Hot tip: order the yucca fries.)
118 S. Clematis Street,, West Palm Beach, FL 33401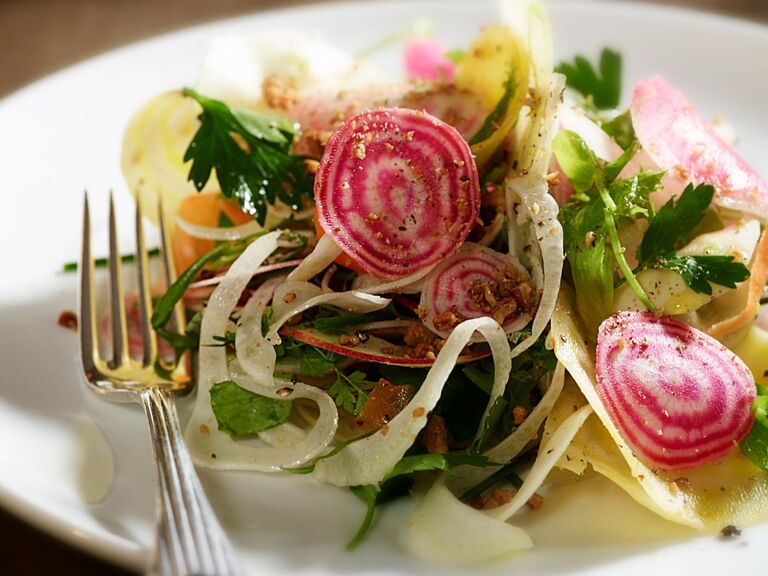 With an ingredient-driven menu and 60 wine options, RH West Palm is a romantic setting for brunches, lunches and dinners. Year-round, diners can enjoy the ambiance of the garden with trickling fountains, heritage olive trees and hanging chandeliers on the fourth floor. Couples looking to decorate (or redecorate) their homes can check out the rest of Restoration Hardware's offerings (read: furniture) before or after their meals.
560 Okeechobee Blvd, West Palm Beach, FL 33401
The Best Hotels in West Palm Beach for Couples
Picture-perfect hotels in Palm Beach County are easy to come by. But when you're traveling (or taking a staycation) as a couple, it's important to find a romantic hotel that really fits your personality. Here are the best hotels in West Palm Beach with excellent amenities and cool perks that will keep you and your partner smiling well after check out.
Located on the West Palm Beach waterfront, The Ben offers romantic views of the Palm Harbor Marina and the Intracoastal Waterway. The boutique design-forward hotel has 208 rooms and a rooftop with a heated saltwater pool, private cabanas and poolside cocktail service. If sunning at the pool isn't on your to-do list, there are several bars, restaurants and shopping within walking distance.
251 North Narcissus Avenue, West Palm Beach, FL 33401
This Hilton property is centrally located in the heart of West Palm Beach, making it easy for couples to walk to and from restaurants and nearby nightlife. Adjacent to the Square, couples will find respite in the heat under vintage-inspired umbrellas and a resort-style pool.
600 Okeechobee Boulevard, West Palm Beach, FL 33401
Squeeze the most out of your time traveling by knowing that the Palm Beach Airport is just a mere two miles away. When you arrive and depart, grab a complimentary shuttle so you can spend more of your hard-earned cash on fun activities. After getting some sun, enjoy a craft cocktail at the hotel's Bistro Lounge. If you're hungry, head to the hotel's Bistro Ten Zero where American-style cuisine is made from ingredients harvested in the venue's garden.
1001 Okeechobee Boulevard, West Palm Beach, FL 33401
Situated adjacent to downtown West Palm Beach, this small inn sits on a tree-lined street that is just a 15-minute walk from Rosemary Square's cafes, nightclubs and restaurants. Because of its smaller size (just nine rooms), the hotel can accommodate 22 guests max, making it a desirable place for couples looking for a quaint experience. There's also a pool where you can take a dip or sunbathe without worrying about a big crowd or onlookers.
1608 Lake Avenue, West Palm Beach, FL 33401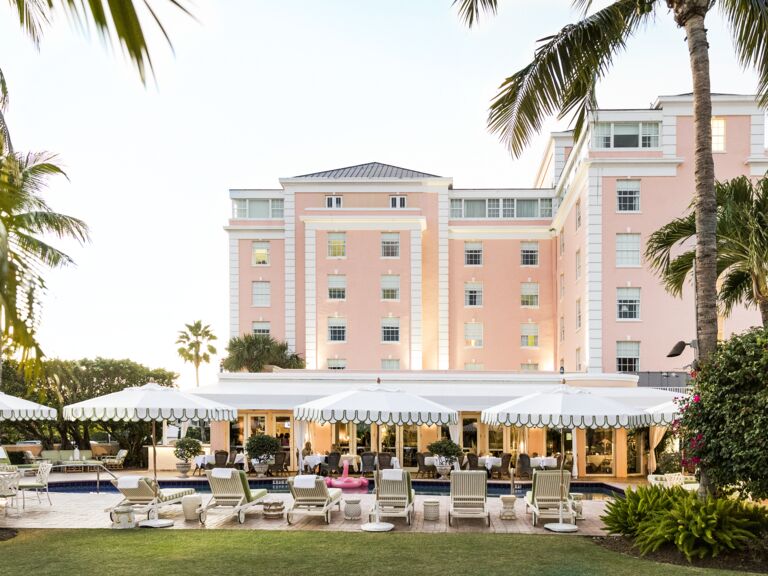 Although this one is technically located on Palm Beach Island, it's a short ride from West Palm Beach via the on-site bicycles that are available for hotel guests. In addition to riding bikes together (not in tandem, to be clear), the hotel offers the Pink Paradise Romance Package that includes a stay in a recently redesigned suite, as well as chilled Champagne and chocolate-covered strawberries upon arrival. The Colony's concierge can arrange golf or tennis dates for couples, as well as poolside dining at Swifty's, the hotel restaurant.
155 Hammon Drive, Palm Beach, FL 33480
Golf lovers, unite! If one afternoon of golf just isn't enough, stay at a resort that has a course of its own so you can play every day. After driving and putting on the 18-hole golf course (designed by pro golfer Jack Nicklaus), you can relax in a private cabana at one of the two pools on site. With three restaurants for you and your loved one to drink and dine at, you'll never have to leave.
2020 Banyan Resort Way, West Palm Beach, FL 33401