5 Things You Should Never Ask Your Bridesmaids to Do
Just don't!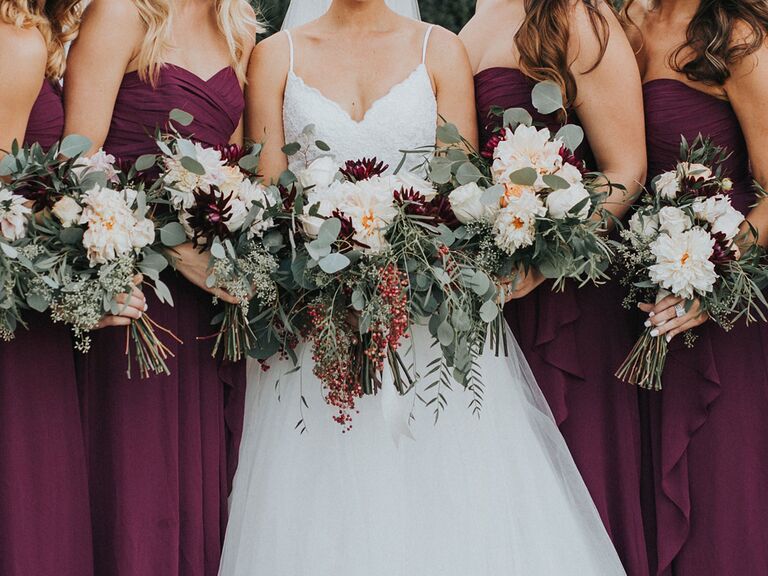 Corrine Kensington Photography
When it comes to wedding duties, your bridesmaids know to be ready to roll if you need anything—that's why they said "yes" when you asked them. Need extra hands to address save-the-dates? Call your bridesmaids. Can't decide on a braided updo, beachy waves or a smooth blowout? Consult the girls. Have a last-minute mix up with your limo drivers the morning of your wedding? Lean on your squad. But bridesmaid duties have limits too—here are few things you should never ask of your friends.
1. Spend Money They Can't Spend
Being in your wedding party is a voluntary decision. Of course, you'd love every one of your bridesmaids to be present at as many events and activities as possible (you love them!), but being in a bridal party is expensive and time consuming. Don't take it personally or make anyone feel guilty if they need to pull out of something for financial reasons. A good way to gauge from the get-go is to ask your friends what their budget limitations are so you know what kind of dresses to browse and which bachelorette party spots to scope out.

2. Pay for Your Wedding Dress
Your bridesmaids have enough to pay for—your wedding dress is all you. Trust us, they'd do a lot for you (within reason—they have lives too), but asking them to chip in on your dream dress is crossing a line.
3. Change Their Hair Color
Yes, hair can be trimmed and dyed more painlessly than other beauty treatments or physical alterations, but that doesn't mean your bridesmaids' hair is yours to change. Even if you think your friend's locks clash with your color scheme, you're going to have to deal (and you might want to rethink your priorities).
4. Lose or Gain Weight
This pretty much goes without saying, but any sort of body shaming, passive or otherwise, is off limits. Period. Your friends accepted your invite to support you, not to feel insecure about the way they look. You love your girls no matter what shape they are, and that shouldn't change once there's a ring on your finger.
5. Remove a Tattoo
By this point it's probably pretty clear: Requesting that anyone change their physical appearance (especially permanently) for the sake of your wedding aesthetic is not cool. Asking someone to remove a tattoo definitely falls in that category. First of all, it's really expensive. But secondly, it's their body, even if it's your wedding day. If you're really worried about it (maybe it's a string of inappropriate lyrics that will offend your grandparents during the ceremony), ask her diplomatically if she'd mind covering it with sleeves, a long dress or a wrap of some kind.
Want more advice? Read 13 things you shouldn't tell to your bridesmaids.