13 Things You Should Never Say to Your Bridesmaids
Because you want to still be friends with your bridesmaids long after your wedding day, right?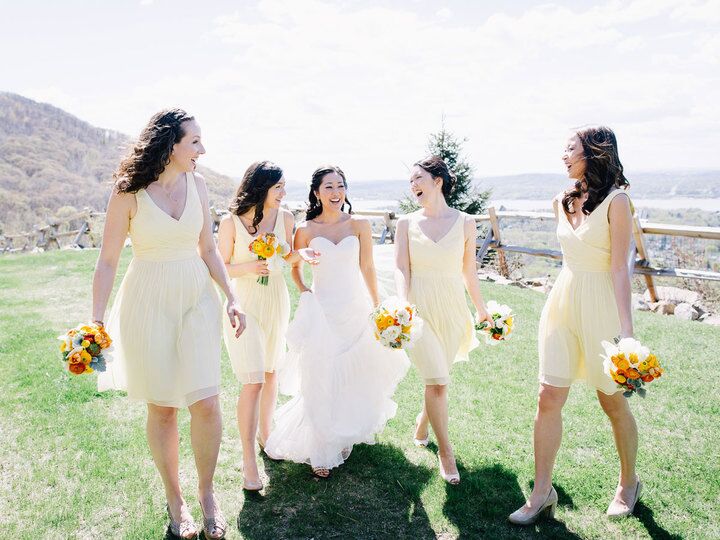 Joseph Lin Photography
Wedding planning has the ability to make any to-be-wed freak out from time to time, or get really excited for all the fun events—which is normal—and your bridesmaids will be there to ride the roller-coaster with you. But one word of advice? Treat them the way you'd want to be treated, even when planning gets the best of you. Here are 13 phrases to avoid when talking to them, and how to rephrase what you're thinking.
"I'm thinking a weekend in Vegas for my bachelorette!"
Why not: Where you see an awesome all-girl getaway, your bridesmaids see nothing but dollar signs. As in, "Great! Another massive expense I didn't see coming." Even if finance isn't a factor, this is one party-planning committee you don't necessarily belong on. Sure, you can give your two cents when asked specifics, like thumbs down on skydiving, thumbs up on barhopping. Otherwise, mum's the word on your end.
Rephrase it: "You guys know me better than anyone. I'm sure whatever you plan will be fabulous."
"My wedding, my wedding, my wedding. How are y— wait, that reminds me of another thing... about my wedding."
Why not: The day your honeymoon ends and it's real life reentry time, it will totally suck to be friendless. We're joking! But seriously, if you know you've been heavy on the wedding talk for a while, pick up the phone and call your bridesmaids. Ask her what's new, and really listen to her answer. Do your best to go the whole convo without uttering the W word once.
Rephrase it: "Hey girl, I'm just calling to check in. What's new with you? How's work going?"
"Surprise! I just picked out your (crazy-expensive) bridesmaid dress. Now all you have to do is pay for it."
Why not: Don't even think about browsing for gowns until you've polled your bridesmaids and are crystal clear on their budgets. What's more, shopping for pretty dresses is one of the most fun parts of wedding planning. Make a day out of it: Take your bridesmaids shopping to get a clear sense of their likes, dislikes and budget range, then go for lunch after.
Rephrase it: "I can't wait to help you all pick out the perfect dresses. Who's in for a fun girls' day?"
"Make sure you don't look too good—I don't want you upstaging me."
Why not: This isn't a pageant where the winner gets to take home the groom. Even if your bridesmaids wear white dresses and carry elaborate bouquets, they'll be hard-pressed to steal your thunder. What's more, they probably have no desire to. So take a deep breath, relax and encourage everyone to look their absolute best.
Rephrase it: "Wow! I can't believe how gorgeous you're going to look."
"Let's all get tans/Botox/personal trainers before the wedding."
Why not: This is wrong on so many levels—major makeovers (especially those of the permanent variety) are not what your bridesmaids signed up for. And while there's nothing wrong with passing around a little bronzing gel or inviting them to a fitness class or two, asking your girls to submit to and pay for any kind of prewedding regimen would be a massive overstep.
Rephrase it: "If any of you are up for crashing my new barre class, I could really use the support."
"Can you have your hair and makeup professionally done on the wedding day, and pay for it too?"
Why not: Having the entire bridal party groomed and glossed by a team of pros is something you'll probably want—but it falls into the same category as monogrammed aisle runners. Beautiful? Yep. Luxurious? Sure. But required? Nope. Unless this is something you're willing to finance yourself (whether it's their bridesmaid gift or just a perk you get for being a bridesmaid), let it go. Chances are, your ladies will be able to make themselves look fabulous.
Rephrase it: "Let's talk hair and makeup. Do you guys have any ideas?"
"I need you to cover up your tattoo for the wedding, okay?"
Why not: You knew what your friend looked like when you asked her to be your bridesmaid—but now that you're up to your eyeballs in Pinterest photos, her look's not cutting it? Not cool. Singling her out could hurt her feelings (and maybe the friendship). But if a bridesmaid gets new ink after committing to be in your party, it's fine to ask her to camouflage it. Even better: Offer to buy the special makeup required.
Rephrase it: "I know this may be a touchy subject, but how do you feel about covering up your tattoo on the wedding day?"
"Here's my wedding guest list of 100+ people. Please invite them all to the shower you throw me."
Why not: Unless you're actually trying to give your bridesmaids a heart attack, refrain from uttering the above. Here's the deal: Lots of brides have multiple, small showers (like one for girlfriends, a second for family on one side and even a third for family on the other side). But there's no rule that says bridesmaids have to throw you an enormous shower, so take a step back. If your bridesmaids ask for a guest list, hand it over, but make it clear that you're grateful for whatever they might be planning.
Rephrase it: "I'm super curious about shower details. What's the plan? Or is it all hush-hush?"
"For the next six Saturdays, we'll be wedding planning at my place. Attendance is mandatory, please!"
Why not: Just because you're engaged doesn't mean you get dibs on all weekends leading up to the wedding day. Remember, your bridesmaids have their own lives, and they don't want to spend every weekend tying tiny bows on ceremony programs. While it's totally fine to ask for their help a few times, acknowledge their generosity with dinner and wine while they help you, and don't get upset if they can't make it. Show them a good time and they won't hesitate to sign on for future craftaculars.
Rephrase it: "Who's up for a DIY night at my place? No worries at all if you can't make it, but if you can, I'll supply the vino and pizza!"
"I know you're a double D, but I'm loving this sheer, backless bridesmaid dress."
Why not: Not taking bridesmaid body types into consideration when choosing dresses is a surefire way to make your bridesmaids upset, whether they tell you to your face or not. True, they may not wind up with the dress of their dreams with anything you select, but they do deserve to have their needs and wants taken into account. (You also don't want anyone spilling out of their dress or hunching over in wedding photos if they feel self-conscious.) If your bridesmaids have very different figures (most do), consider choosing a color and letting each one find a dress that flatters her body. Nervous? Don't be. You retain final veto.
Rephrase it: "I want us to find a dress that makes you look and feel gorgeous."
"I'm so sorry, but only married couples are getting plus-ones to the wedding. My apologies to your boyfriend."
Why not: Sure, whittling down your guest list is the fastest way to battle going over budget—but each member of your wedding party should receive a plus-one, even if they're not dating anyone. It's not polite to expect and ask so much from a friend (planning one of your three showers, shelling out over a thousand dollars for all of your wedding events, going to all of your fittings with you and dealing with the florist at the last minute) without giving a little back. The members of your bridal party deserve VIP treatment and should get to have fun at your wedding with their significant other. (There's a chance they'll decline a plus-one anyway if they aren't dating anyone, but it's important to make the offer nevertheless.)
Rephrase it: "Mom, I don't think we'll be able to invite cousin Carol's new boyfriend."
"I'm really disappointed in how (insert bridesmaid name here) has been behaving."
Why not: Any comment that might create petty rivalries between bridesmaids is a no-no—nobody needs any added drama in their life. If one bridesmaid seems unenthused or isn't pulling her weight, talk to her directly. She may be going through something she hasn't told anyone about or you haven't picked up on. Don't be accusatory or confrontational. Instead, ask her if everything is all right. Admit you're feeling some distance and wonder what you can do to fix it.
Rephrase it: "(Bridesmaid name here), we should grab a drink to catch up."
"It's MY day, so here's what's going to happen..."
Why not: Let's put it this way: If it was really "your day," you'd be in a room, alone, wearing a gorgeous white gown. But there's your partner too, and you've asked guests galore (not to mention the members of your bridal party) to come celebrate it with you. So technically, it's really more of an "our day" kind of deal. Treat your bridesmaids more like honored guests and less like humble subjects and you'll all have a better time.
Rephrase it: "It really means a lot that you'll be standing up there with me. I have an idea and wanted to ask you how you feel about it."