The Ultimate Guide to Traditional Cambodian Weddings
Cambodian weddings consist of multiple ceremonies, grand gestures and age-old Buddhist traditions.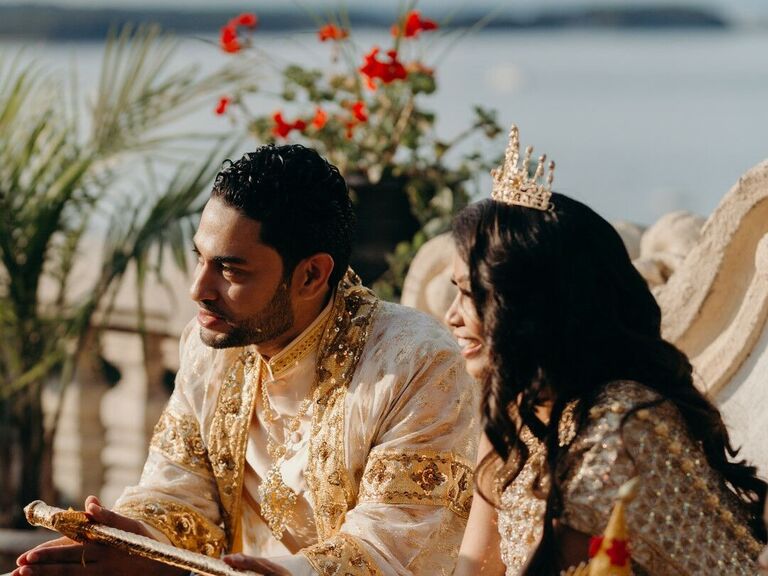 Traditional Cambodian weddings, also known as Khmer wedding ceremonies, are a culturally rich affair. It's hard to expect anything less considering Cambodia is home to age-long traditions, Buddhist practices and Chinese as well as Indian influences. Like other Asian wedding traditions around the world, Cambodians have traditions steeped in spirituality and rituals that have been passed down through generations.
Weddings are a big ordeal for people on this side of the globe and there's very little that is modest about how they celebrate. Here is everything you need to know about traditional Cambodian weddings and what a ceremony looks like today.
A History of Traditional Cambodian Weddings
Cambodia is located on the southeastern part of the Indochina Peninsula. The majority of Cambodians practice Buddhism—approximately 93 percent—while the remainder of the population are typically Christian, Muslim, Animist, Bahá'í, Jewish and Cao Dai adherents. Because the people of Cambodia are predominantly Buddhist, you'll see many practices that honor their religion embedded into their wedding traditions.
Traditionally, a Cambodian wedding can last for three days, but some modern-day couples prefer to squeeze the events into one or two.
Cambodian Prewedding Traditions
There aren't that many pre-wedding traditions that happen in Cambodia, but the two that take place are significant. A courtship or arranged marriage sometimes happens beforehand as well as the honoring of ancestors.
Courtships and Arranged Marriages
Arranged marriages are a norm in Cambodia and it has been that way for centuries. Usually, parents will choose a spouse for their children, facilitating the arrangement with the other prospective family. The children know who they'll be marrying when everything is finalized, wedding date included.
During the courtship period, the groom usually has to provide what's called bride service. He goes to stay with his future father-in-law for a period of time to serve him in whatever capacity required. Sometimes this happens after the wedding, once the couple are newlyweds.
Although arranged marriages are still very much ingrained in Cambodian culture, modern couples can also choose a spouse on their own. However, they're still expected to gain their parent's approval before moving forward with their decision.
Sien Doan Taa
Honoring ancestors is common practice in Cambodia, so young couples on the road to marriage participate in this practice too. They do so by offering tea to their ancestor's spirits as a way of inviting them to take part in the celebrations and honor them.
Traditional Cambodian Wedding Ceremony
Cambodians believe in going big or going home when it comes to weddings. You can expect to see hundreds of guests in attendance. They have several ceremonies that take place over two or three days, depending on the couple's preference. Here is the list of ceremonies that usually take place.
Hai Goan Gomlom
The first step is the groom's procession, which is like an introduction where the families meet one another. The groom and his family travel to the bride's family home and come bearing gifts. The family then greet one another and get well acquainted. Finally, the bride and groom exchange their wedding rings.
Gaat Sah
Also known as the haircutting ceremony, during the gaat sah, a symbolic haircut takes place for the Cambodian bride and groom. Don't worry–the bride and groom don't leave the ceremony bald, only a few strands are cut off the groom's hair and the bride's hair. This tradition symbolizes the couple saying goodbye to their past and starting a new life together.
Soat Mun
This tradition, also known as the monks' blessings, includes the blessings of Buddhist monks. During the ceremony, the monks sprinkle flowered water on the couple while chanting blessings for them. Guests are expected to observe in silence and bow their heads when necessary. If a monk isn't available, a priest or grandparent can officiate.
Bang Chhat Madaiy
To honor their parents, the couple holds an umbrella over them during what's called a parent veneration. The act of holding the umbrella over their parents symbolizes them protecting their parents as they did for them when they were kids. In addition to the umbrella act, the couple also thanks their parents for all the work they put into raising them and may shower them with fruits and sweets. There is usually an appointed presenter who facilitates the ceremony and shares Cambodian parables or stories.
Sompeas Ptem
The knot-tying ceremony is another symbolistic and spiritual tradition that the couple partake in together. They kneel down and hold a gold sword while their hands are clasped together. The sword originates from an old legend called "Holding the Knife"—it's a symbol of loyalty and protection for the couple.
While on their knees, family members take turns taking red string and tying it around the bride and groom's wrists. The red strings represent everlasting love and the joining together of two people to become one. Traditionally, the string should stay on their wrists for at least three days or until it naturally falls off.
At the end of this ceremony, the couple have palm flowers dipped in holy water and thrown over them. Attendees wish the new couple health, happiness and prosperity. Guests may also throw white palm seeds at the couple as a way of wishing them well.
Bongvul Pbopul
In many traditions, couples seek counsel from other married couples before and after getting married. During the bongvul pbopul, married couples sit in a circle around the couple and pass blessings onto them. They also pass three candles in the circle clockwise seven times to transfer experience, well-being and happiness. The officiant will usually recite a Buddhist prayer at some point. The ceremony is followed by a reception with guests where they can enjoy an orchestral concert.
Traditional Cambodian Wedding Attire
Cambodian weddings are a glamorous affair and the bride and groom certainly set the tone. Some couples change up to seven times throughout the duration of their wedding and can have one outfit for each ceremony. The bride's traditional wedding outfit is a kompot bottom or skirt and a top, but she transforms her look with each outfit change. She also drapes herself in luxe jewelry and her outfits comprise intricate beading and vibrant colors. Cambodian men will usually wear Khmer pants with a top.
Both the bride and groom's clothes are often made from expensive silk with gold threading.
Cambodian Wedding Gifts
Wedding gifts are never a must but it's definitely polite to bring one. Cambodian wedding guests usually bring cash and put it in a beautiful envelope for the new couple. Witnesses then make a note of how much each guest gave inside a notebook. If the couple is ever invited to a wedding of a guest who gave the money, they give them the same amount back.
Traditional Cambodian Wedding Reception Traditions
At a Cambodian wedding reception, get ready to dance Khmer when the beat drops. You may hear classic wedding songs like "Som Bon", "Bondait Kantong" or "Bok Leak". Some popular dancing styles among Khmer people include the Khmer folk dance or the court dance, which is a classical dance. As with most wedding receptions, your job is to eat, drink, dance and be merry.
Traditional Cambodian Wedding Food, Drinks and Desserts
It's advisable to go to a Cambodian wedding on an empty stomach because a feast awaits you at the reception. You'll get the chance to choose from a range of traditional Cambodian delicacies such as Amok, for instance. It's a famous dish made with relatively sweet curry, banana leaf and can be made with chicken, beef or fish. Khmer curry is another rich dish you may indulge in at the wedding, made of coconut milk, chicken, eggplant, green beans, potatoes, sweet potatoes and a red curry paste called kroeung.
You'll also find finger foods like Cambodian egg rolls, among other pastries, fruits, vegetables and sweets laid out on a table in a platter-like form.